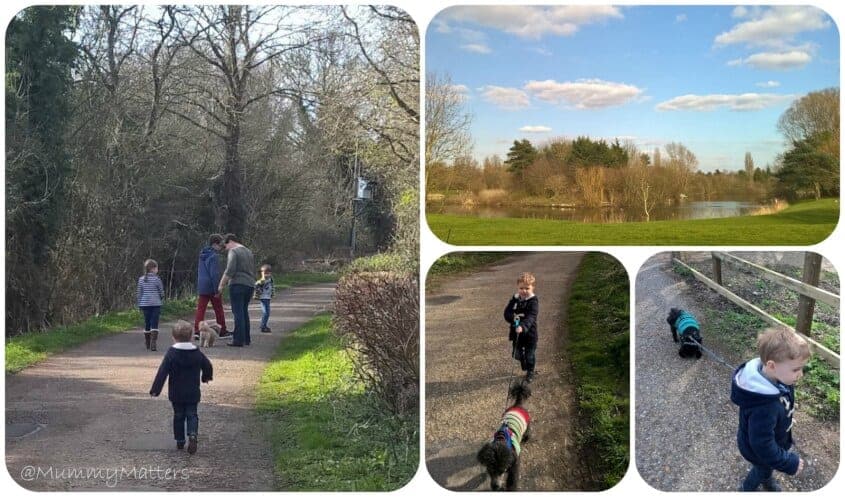 An extremely Good Friday
Easter has kind of crept up on me this year, I think because it's the start of the holiday instead of in the middle I wasn't really expecting it so soon and my mind has been so pre-occupied with car troubles and doing jobs around the house that I hadn't considered where we were with dates.
A day with family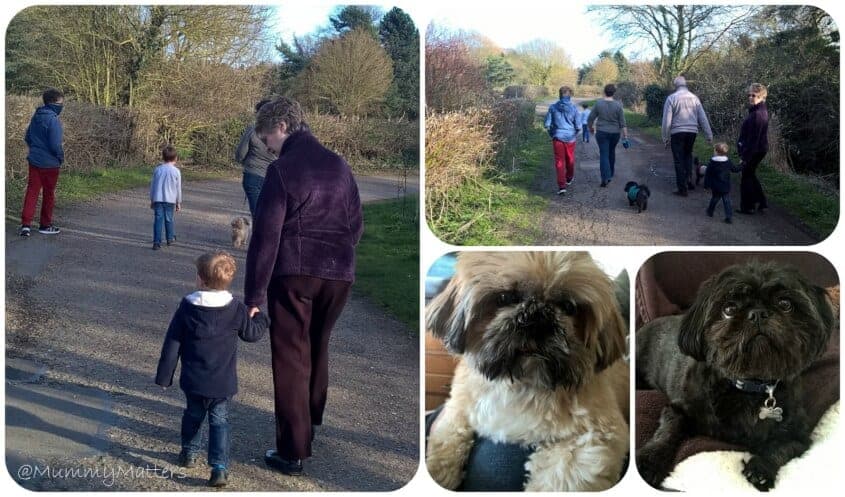 Today we spent a lovely day with Nanny, Grandad and Auntie E. Daddy and Little Bean went over to Nanny and Grandad's early to help to do a few DIY jobs around the house first and then the boys and I went over later to meet everyone for lunch.
We chose to go to our local Beefeater which sadly wasn't up to scratch, service was slow and the food wasn't as it's best but we had a nice time nonetheless. The sun was shining brightly and we weren't about to let anything spoil our day together.
After lunch we went for a walk, it gave the Beans a chance to run free after sitting at the dining table for so long and it gave us all a chance to let our food digest, have a chat and enjoy the beautiful sunshine.
Goldilocks and the Three Dogs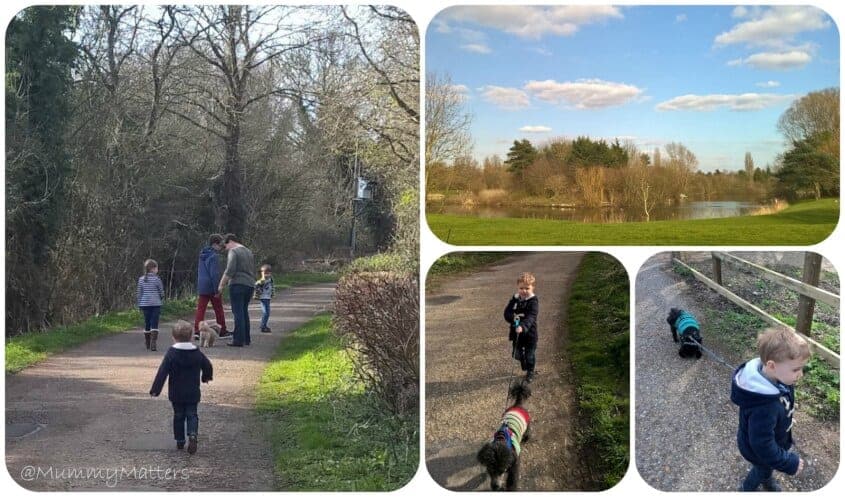 Jelly Bean was insistent that he wanted to walk the doggies, but rather like Goldilocks and the Three Bears, he needed to find the right doggy for him. He started with Buddy the black Shih Tzu, an adorable little fellow but one who will only do what he wants, when he wants. Jelly Bean called "I don't want this dog, he doesn't move" when Buddy refused to walk.
Next, he tried George, the black Toy Poodle but George is very excitable and he was a little too eager to go, so Jelly Bean shouted: "I don't want this doggy, he goes too fast for me". He ran off after Buzzby the light brown Shih Tzu who he decided "walks nicely for me".
Pooh Sticks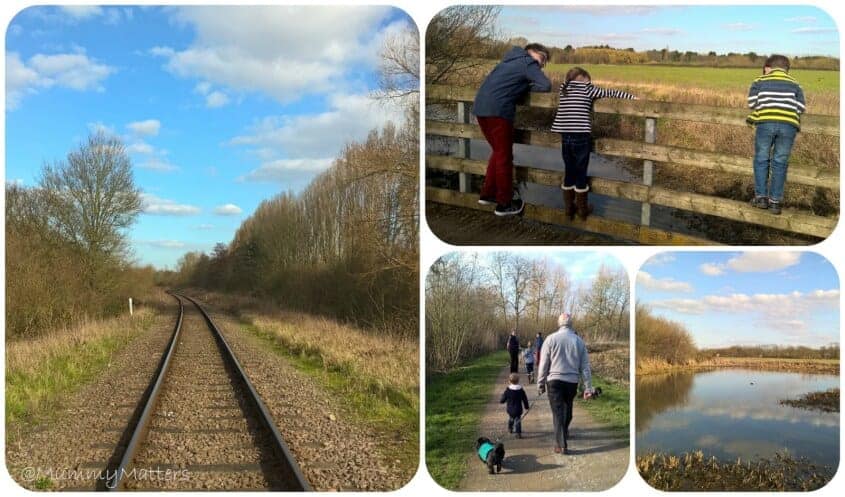 We walked towards Ferry Meadows which is a regular haunt of ours but we took a different route in, one which I didn't even know existed. We walked through a bird reserve, over the train track of the Nene Valley Light Railway and along the canal. Such a pretty walk and perfect for all the little legs we had in our group. The Beans played pooh sticks and ran happily along with each other.
Bird Spotting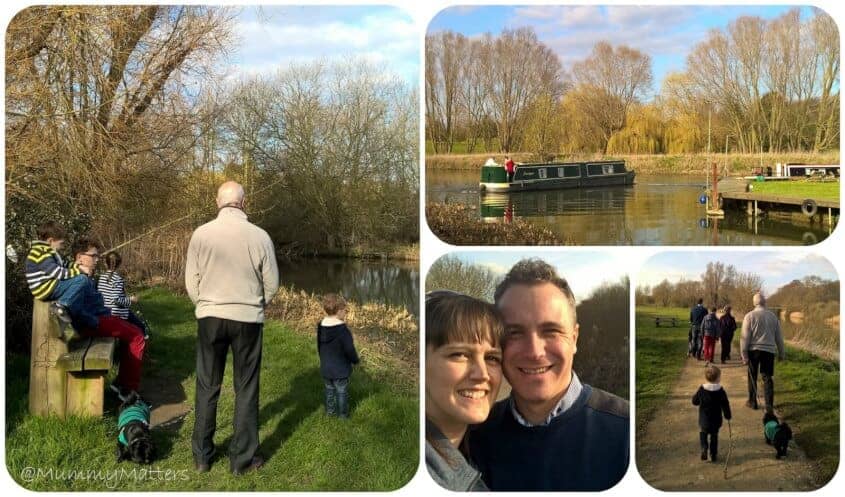 Grandad told us that if we were lucky we might get to spot a few Kingfishers, so he took the Beans to the spot where he had seen them previously and they all looked on patiently. Sadly they didn't spot any Kingfishers this time but we did get to see a few Canal boats moving around.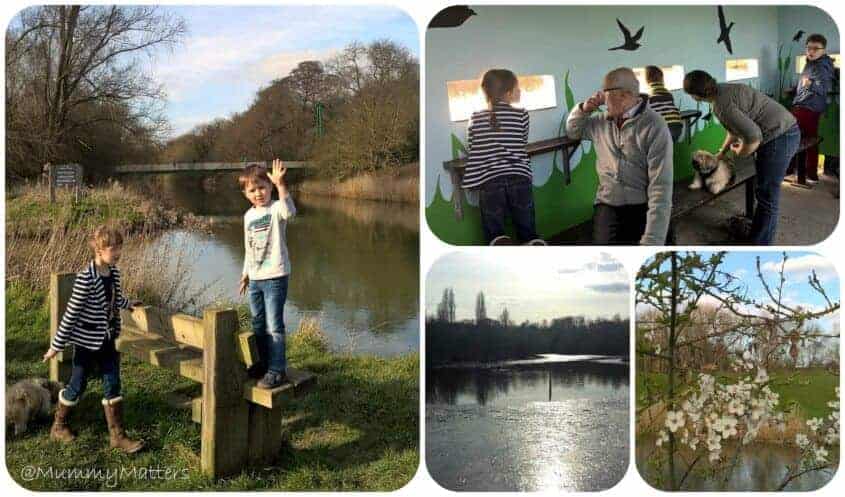 The Beans spotted the Bird Hide and watched patiently to see who they could spot out on the water. There were a few Herons fishing in the middle. Beanie Boy adventurously climbed onto this bench but didn't look before he grabbed a hold of the post and managed to put his hand in a fresh pile of bird poop. All along the path, there were signs of Spring-like this beautiful blossom.
Snap Happy Mum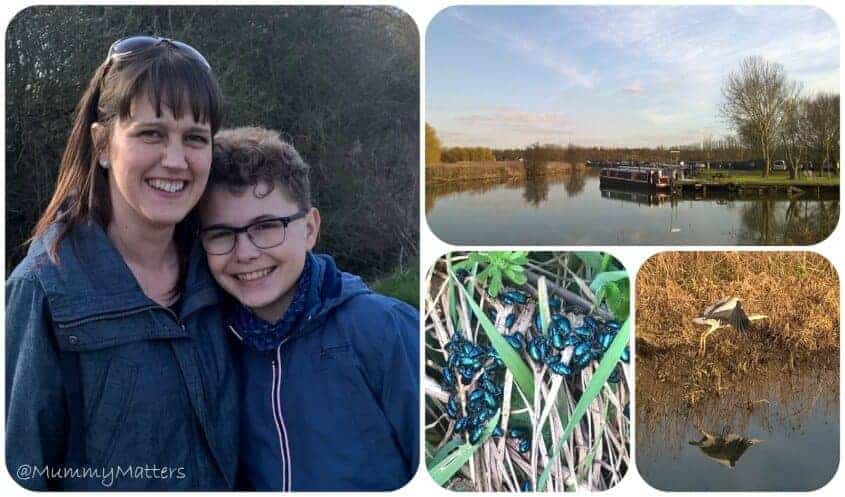 Curly is with us this weekend so I grabbed the chance for a quick snap with him. I take so many photographs whenever we go out but he is usually miles ahead climbing, running and looking for adventure so we don't get so many pictures of him. Whilst he was near I threw the camera to Daddy and told him to snap away before he disappeared again.
Little Bean spotted these green beetles on the ground, they looked gross crawling all over each other pretty at the same time. We also spotted this Heron who moved stayed just a fraction ahead of us all the way back. Each time we thought we could sneak close enough to get a photograph he flew off again.
Feeling grateful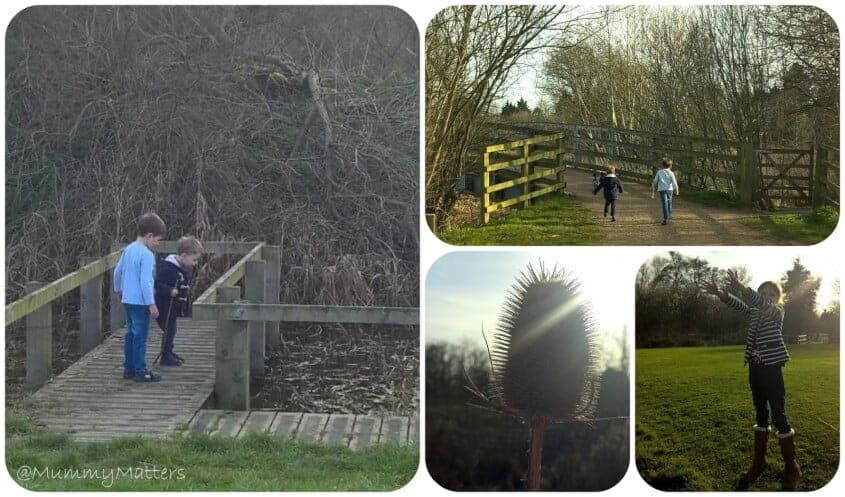 We couldn't have asked for better weather, it wasn't cold at all and the sunshine was perfect for taking photographs, I just wish I had remembered to pack my DSLR (though I didn't do too bad with my Nokia Lumia camera phone).
Grandad's Railway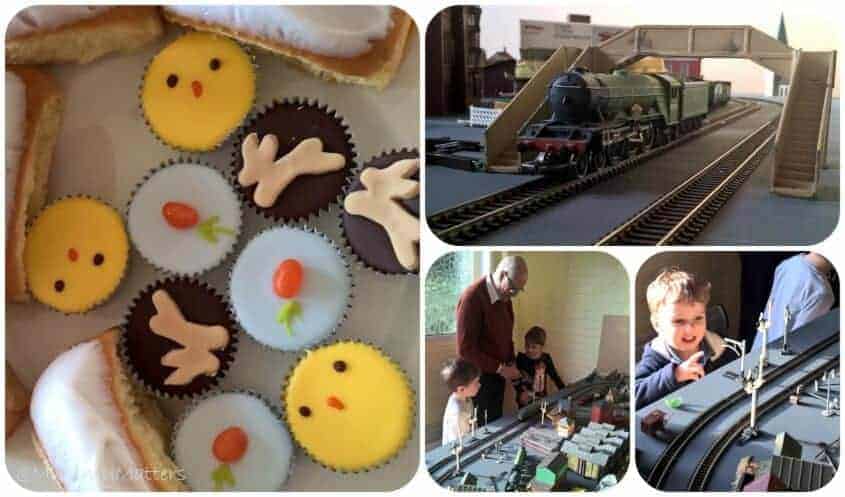 When we arrived homed back at Nanny and Grandad's we were all pretty pooped but Nanny was on hand with drinks and yummy Easter cakes to revive us. We finished our afternoon with a quick look at Nanny and Grandad's new joint project of a model railway. Nanny makes all of the buildings and set herself. Little Bean and Jelly Bean were very taken with the set and will be looking forward to watching how it progresses.
How was your Good Friday?
Happy Easter xx