Experience the Magic of Disney this Christmas
For me, there is nothing more magical around Christmas than seeing your children's eyes light up which is why I am doing everything that I can to make Christmas full of fun, happy and magical experiences.  I am trying to start new traditions which hopefully our children will look back on in their adult years with fondness and who knows, maybe even recreate with their own children when they become parents.
Disney on Ice – O2 Arena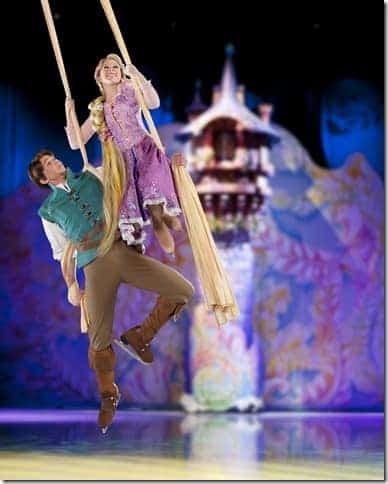 For the last two years, we have taken the children to see local pantomimes which they have loved and we will be looking to take them again this year but we also have something new for the children on our planner.  This year we will be going to see Disney on Ice at the O2 Arena in London only this time I am keeping it a secret because I want to surprise them but secretly I am SOOOO excited because I have never seen a live ice performance myself either OR any kind of Disney production so I'm really looking forward to it.
Dare to Dream
I'm pretty sure it will be a winner with all of the children since they are big fans of Dancing on Ice and of course Little Bean loves all the Disney Princesses. This year's Disney on Ice is 'Dare to Dream' which is a world of excitement where dreams come true.
Join Mickey and friends when they come to The O2 this December for Feld Entertainment's newest ice spectacular, Disney On Ice presents Dare to Dream. The new production combines the contemporary stories of two modern-day princesses, Rapunzel and Tiana, with the classic elegance of Cinderella.

Audiences will begin their journey in New Orleans with Tiana as she strives to open a restaurant and then travels with her to the bayou as she and Prince Naveen try to break their frog spell in order to turn back into humans. The trip continues to Cinderella's kingdom for her search for true love and follows Rapunzel as she discovers the world beyond her tower on her quest to see the floating lanterns. All of the Disney Princesses then come together for the first time on ice during the finale, to welcome Rapunzel into their royal court in the ultimate princess experience.
If you're looking for something special to do with your little ones this festive period then book your tickets today and have something fun to look forward to.
DISCLAIMER: We have been given complimentary tickets to see Disney on Ice at the O2 Arena for the purpose of this post. All words and opinions are my own. I have not been instructed what to write.