Epson EcoTank ET-7750 Printer Review
For as long as I have had a 'home office' I have had Epson printers. Back in 2016, we reviewed the Epson EcoTank ET-2550 which is still going strong today. Despite printing on it most days for school projects, photographs for home or work documents for me the ink has never had to be topped up. We are just reaching the 3/4 full stage on all colours.
Epson EcoTank ET-7750
We have now been asked to review the Epson EcoTank ET-7750 which has the capability to print documents up to size A3 which is great news for printing large family borderless photographs and school projects. The main focus for the ET-7750 is printing high-quality photographs at ultra-low-cost which means you don't have to make the hard decisions between which photographs to print, you can print them all and display them proudly for all to see. I'm a big fan of digital photography but you do find that so many never get to see the light of day if you leave them on the computer.
Features
Enjoy A3 photo printing: Print up to 3,400 photos with the included ink
High-quality photos: Four dyes and a pigment ink for great results (photos will last up to 300 years in an album)
Next generation ink filling system: Enjoy hassle and mess-free refills with the enhanced ink bottles
Wi-Fi & apps: Print from mobile devices
3-in-1 with 6.8cm LCD screen: Print, copy & scan – plus double-sided printing
In the box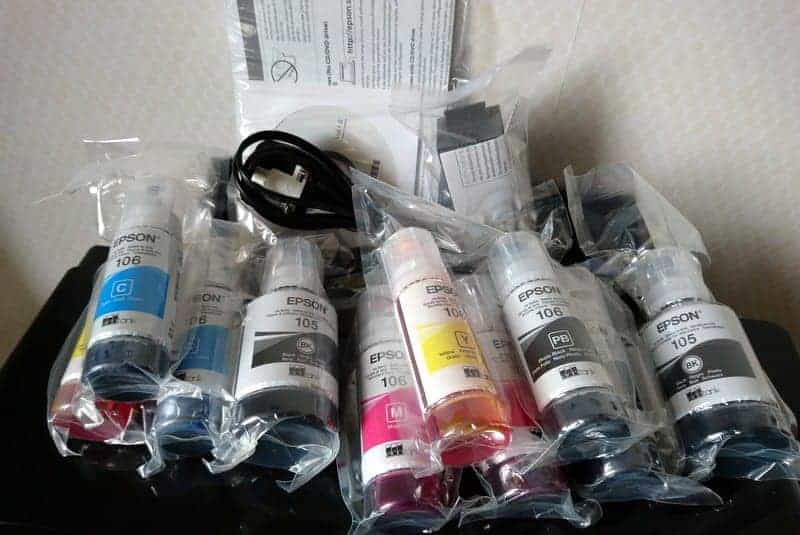 Inside the box, you will find everything you need to get up and running in no time and with enough ink to last you 3 years!!
10 ink bottles
Power cable
Instruction book/installation CD
Replacement maintenance box
Setting up
Filling up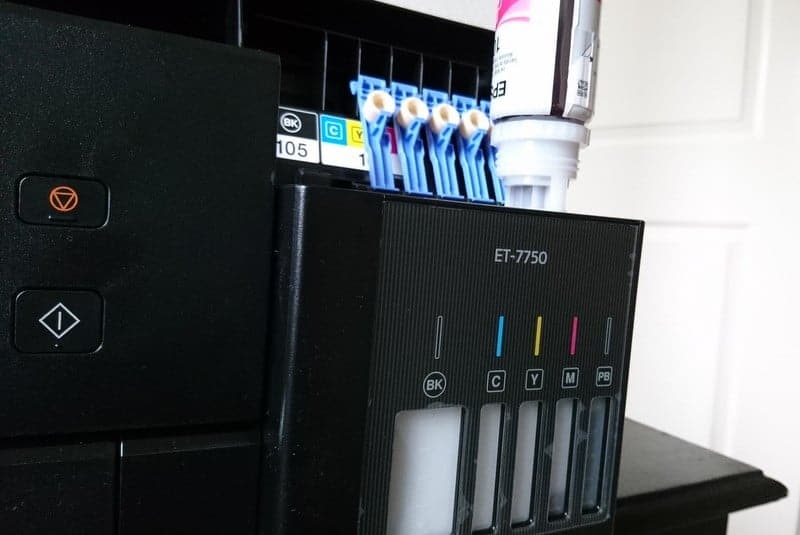 As always the printer was extremely well packaged with protective tape in place to stop parts moving and getting broken during transportation. All pieces of tape are bright blue to help you recognise what needs removing to get you started. Once all tape and packaging had been removed I followed the simple step-by-step instructions. One thing I was very happy to discover when filling up the tanks this time was how easy the process has been made.
Last time you may recall that I accidentally dripped ink onto the top of my desk and was forever left with a cyan ink stain in the wood. The new design means that all you need to do after removing the ink bottle from the wrapper is to remove the lid and invert the bottle into the designated hole. You do not need to squeeze the bottle, it dispenses itself until the desired level of ink has been achieved.
Epson really has thought of everything this time too, I couldn't understand why I was struggling to get the black ink bottle to sit in the hole but then I realised I was trying to put it in the Photo Black pigment tank instead. On the top of each bottle is a 'key' so that it will only sit in the right colour slot – genius!!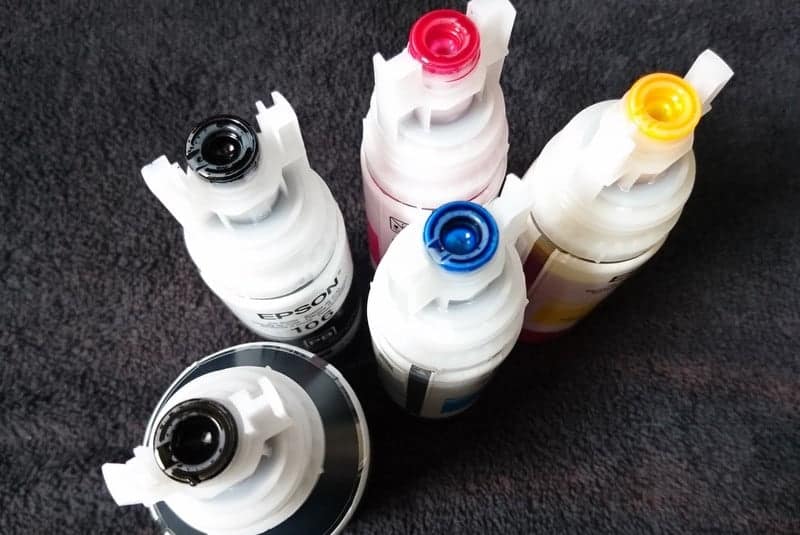 Connecting to computer/wifi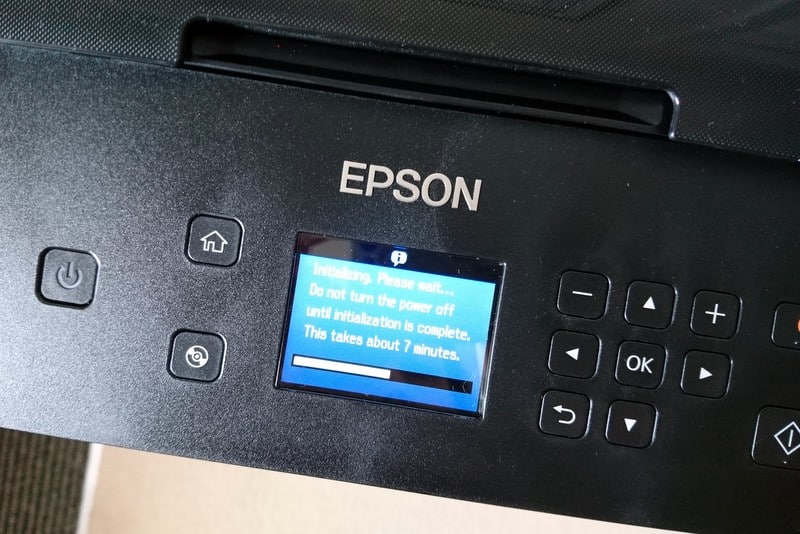 Although the printer comes with an installation CD, the instruction booklet recommends set up via the internet which is extremely quick and easy to do. Just type 'Epson.sn' into the address bar and you will open up the Epson installation page, simply select your product name into the search section and hit enter to download the installation pack straight to your computer. Follow the onscreen prompts and in just a few short clicks you are ready to go.
The printer is wifi and apps enabled so I have already been printing from my mobile phone and the children are even able to print directly from their tablets (though I may have switched off this facility as there are only so many Minecraft images I want to be printed!!).
Our thoughts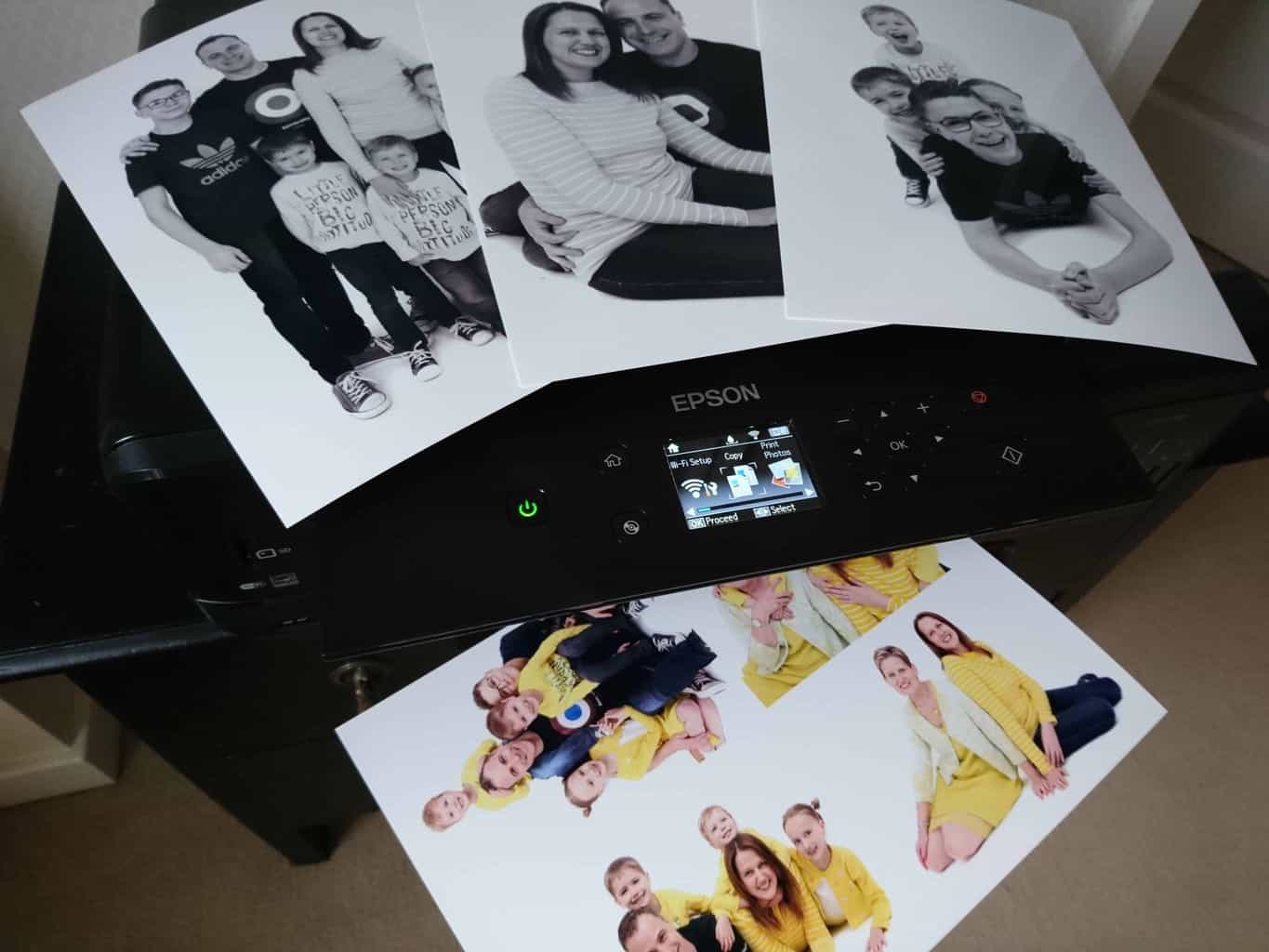 As always Epson has not disappointed us, the printer is so simple to set up and get started, the print quality and ease of use are ideal. It gives us far more options for printing than we had with our Epson ET-2550 (which I still love). The only slight negative is the size of the printer which we always knew would be an issue with an A3 printer but the pros far outweigh the cons so we can learn to live with that – I'll just have to buy a bigger desk (clouds with silver lining and all that). You can also sell its used toners to Sell Toner for extra cash.
I love that it has multiple printer trays; a dual paper cassette underneath, a CD printing tray (which are neatly hidden behind the front control panel) and a rear feed option. It prints double-sided which obviously means we can save paper to reduce costs further.
The options to print from a USB stick and SD card are also really handy features that will definitely get utilised in this house.
What more could you want from a printer?