Enjoying the Taste of Christmas with AEG
In my 41 years, I have NEVER cooked Christmas Dinner, it's not that I can't cook, I can. I just don't often feel inspired so Hubby is the Chief Chef and that works well for us. This year though, I am going to branch out and have offered to make Starters for Christmas Dinner and it's all thanks to AEG in partnership with Currys PC World who have created a Top Tips on cooking the perfect Free-From Christmas Dinner. To tell us more and to get us into the Christmas spirit my Mum and I were invited along to their Taste of Christmas event last weekend at The Cookery in Hoddesdon.
The Cookery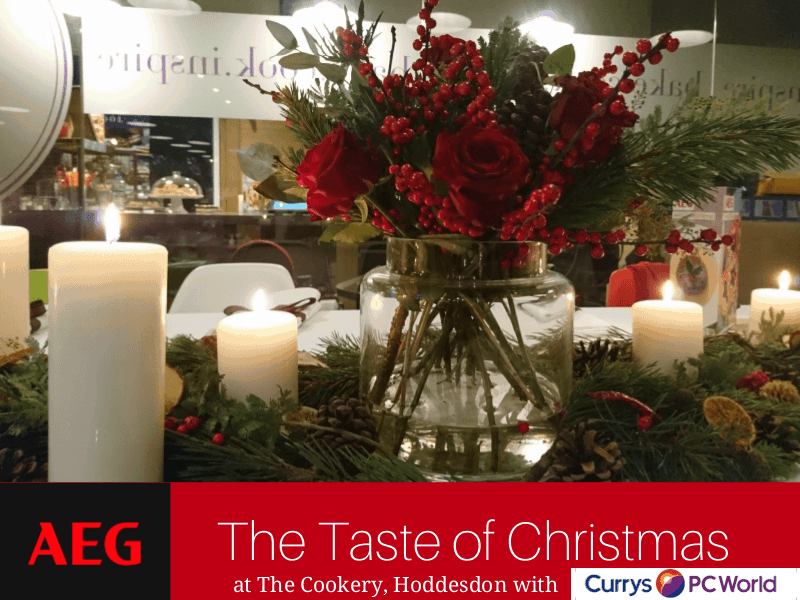 Stepping inside the Cookery it felt like Christmas had already begun, the tables were adorned with red roses, berries, foliage and cathedral candles and the bank of AEG ovens were already cooking up a Christmas feast with a huge dry-aged four rib of beef and equally giant turkey.
Simon Atkins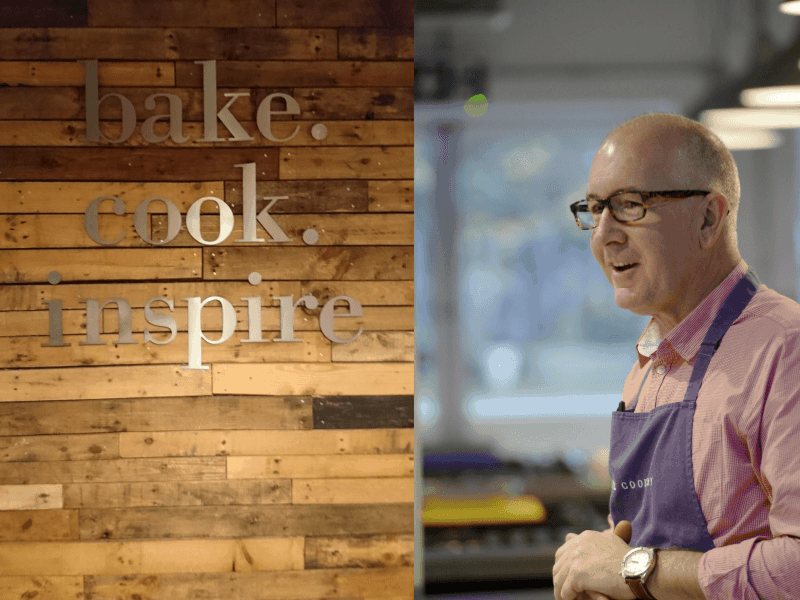 Once seated with a glass of prosecco in hand we were introduced to Simon Atkins, owner and founder of The Cookery. Simon began baking at the age of 14 and his passion for creating amazing food and teaching his knowledge to others has taken him all over the world. The Cookery is the cooking school he always dreamed of starting and I, for one, think it's inspirational.
Angela Verscuso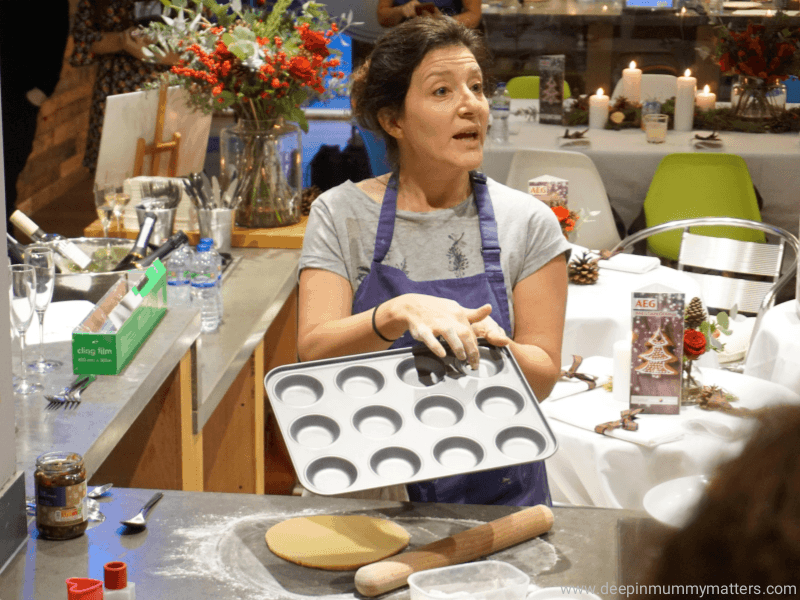 Simon explained that during our 3-hour session he would teach us how to make a winter vegetable wellington and then he would hand us over to Angela Vescuso who would be teaching us how to make scrummy mince pies.
Winter Vegetable Wellington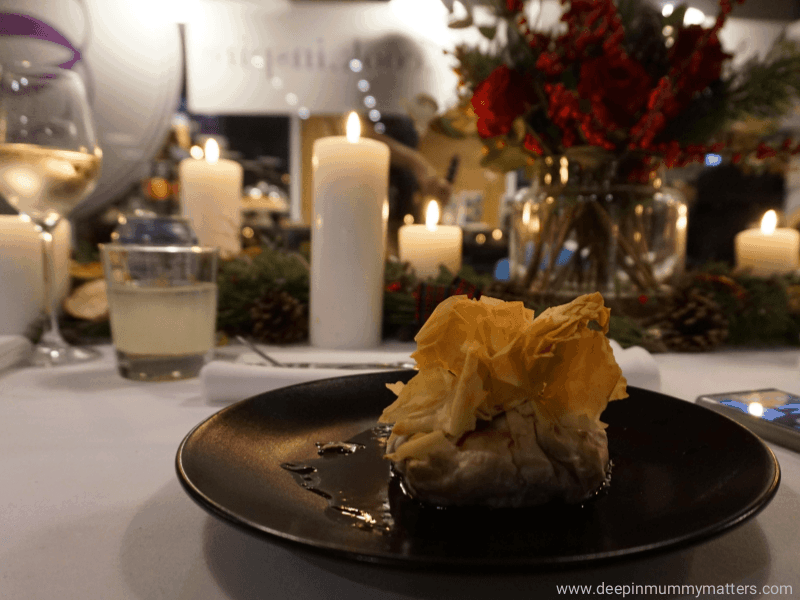 With hands washed and aprons on, we were ready to begin. Simon explained what a simple but tasty dish the winter vegetable wellington is and how it makes the perfect starter.

To save time, Simon and his team had already roasted portobello mushrooms, aubergine, courgette and red/yellow peppers in a little olive oil until they had taken a little colour and softened.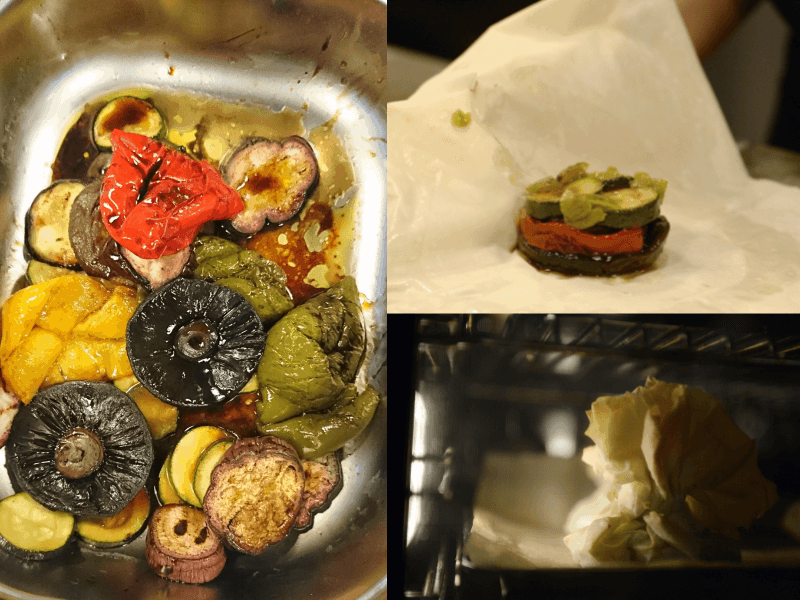 We dusted the worktop lightly with strong white flour and laid out a sheet of filo pastry. The filo was brushed with olive oil and then the second sheet of filo was placed directly over the top.
Using a food ring as a guide placed in the centre of the filo, we layered the mushroom, aubergine, pepper and courgette then removed the food ring. It's also possible to add a layer of cheese if you so wish. Using a brush we painted a large circle of water onto the filo so that as we gathered it up together it would stick to itself. The excess filo was trimmed off for a more aesthetic look. Next, we lightly brushed the finished parcel with olive oil and then cooked it on a baking sheet at 200C for 12-14mins.
The Winter Vegetable Wellington was served with a drizzle of balsamic reduction and I can assure you it tasted delicious. A good food blogger would probably have taken a photo to show you how amazing it looked inside, I am not that blogger, I was too busy eating it but I cannot wait to make it again!
Easy Peasy Mince Pies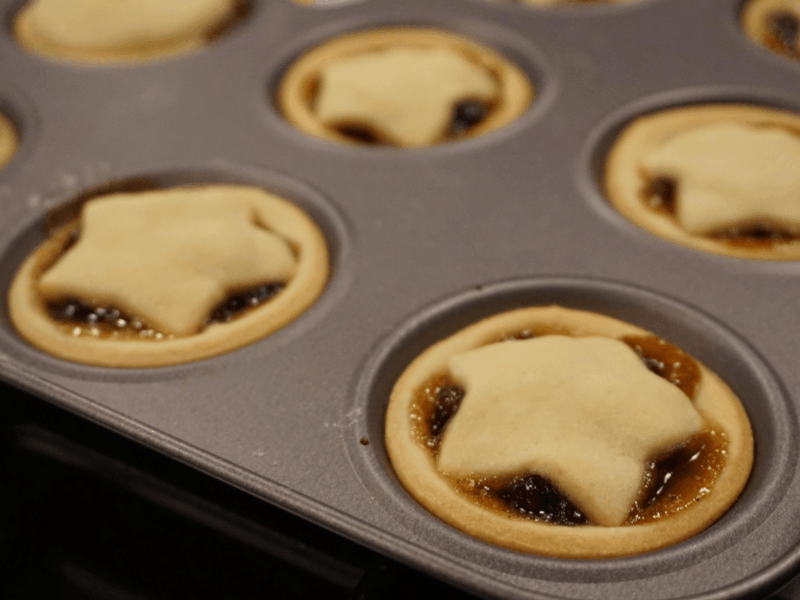 Angela worked with us to make yummy mince pies, something which I do often make with the children at Christmas time. To save time Angela had pre-made our sweet shortcrust pastry so that it had time to chill before we were ready to make our mince pies.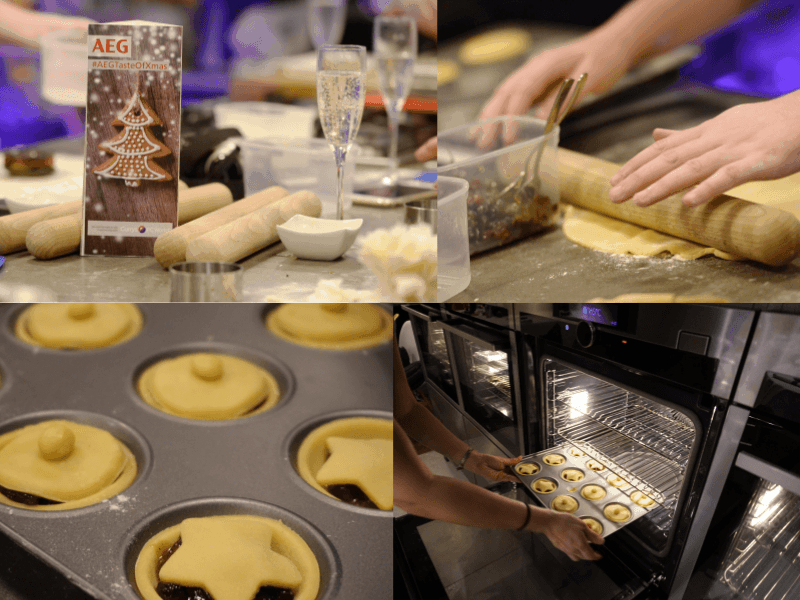 We were shown how to 'ridge' the pastry with the rolling pin prior to rolling out as this would stop the pastry from cracking. Using a rolling pin is something that I often struggle with for this exact reason so I was delighted to learn this little trick, especially when it worked. I was able to roll out my pastry without so much of a hint of a crack in it.
We then used pastry cutters to make the mince pie bottoms and a teaspoon to place the mincemeat in each pastry case. Angela said that you shouldn't overfill your mince pies or they will bubble over during baking. We used a variety of shapes to make our pie tops and then placed them in the oven for 10-15 minutes.
Festive Feast
To finish off our afternoon we were invited to dine on a delicious festive feast that had been prepared for us. I don't tend to eat red meat but Simon's rib of beef looked too good to pass on so I opted for a small piece and was pleasantly surprised by how good it tasted. The turkey was so perfectly cooked it melted in your mouth and with a plate full of vegetables and stuffing I was a happy lady.
A little help from AEG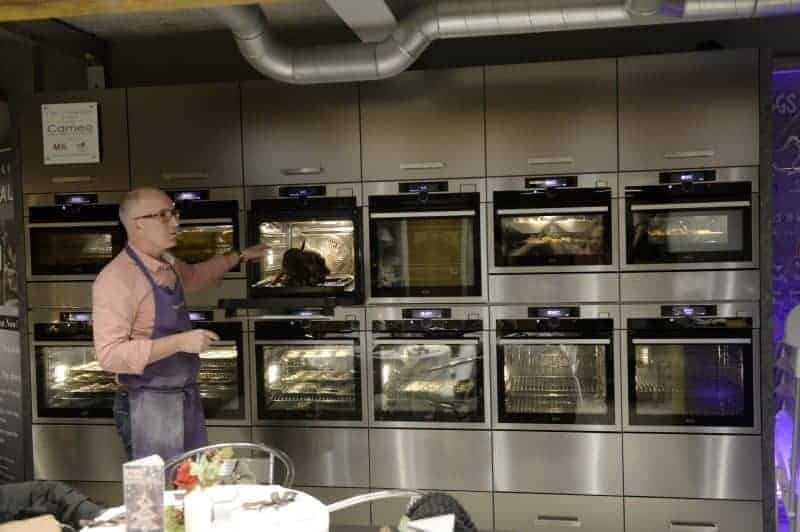 I'd like to say that my culinary expertise on the day was all down to me but alas no, behind every great chef lies a great oven and last weekend there were no less than 12 shiny ovens including;
SteamPro Range
Create tasty and healthy dishes with absolute purity. Steam cooking seals in the aroma, taste and nutrients.
SteamCrisp Range
Combines steam with traditional heat so food is cooked gently from the outside to the centre. Perfect for roasting and baking.
SenseCook Range
Has a built-in food probe to precisely measure the cooking temperature inside the food.
SteamBake Range
The perfect bakers' oven ensures soft baking in the middle with a golden outside and tasty crusts.
Double Oven Range
Multifunction cooking at its finest combines hot air cooking with other functions like conventional cooking. The double oven range features catalytic liners and surround cooking.
Compact Oven Range
If you're looking to update your kitchen but you're limited on space then this is the range for you. The compact ovens are also available with SteamBoost, SenseCook and soft closing door systems.
Combination and Microwave Ovens
Combi ovens give you the option to combine heating function and microwave mode to get the same great tastes in half of the cooking time. The microwave function gives you the option to re-heat, cook and defrost.