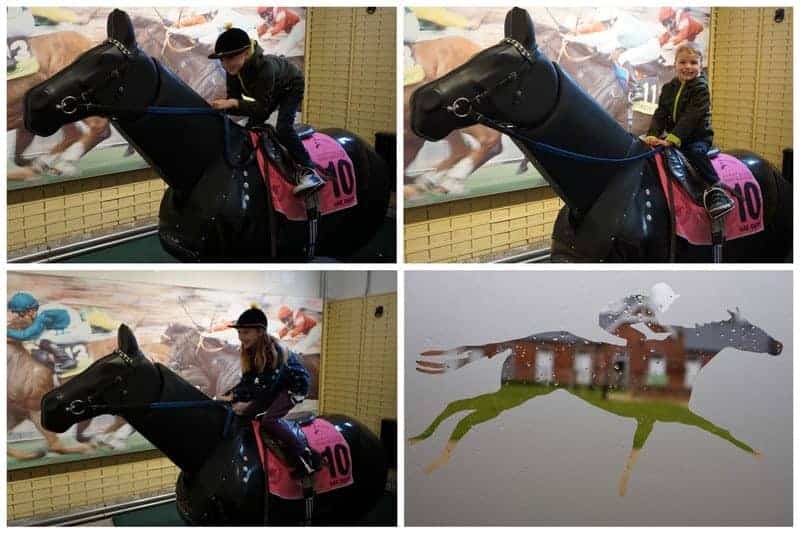 Easter Arts-travaganza at Palace House Newmarket
We last visited Palace House Newmarket briefly during February Half Term when Discover Newmarket invited us to visit The National Stud. Due to time constraints, we only stayed at Palace House for a little over an hour, but it was enough to wet our whistle, so on Good Friday, we returned. You can see our full photo story of the day on Facebook.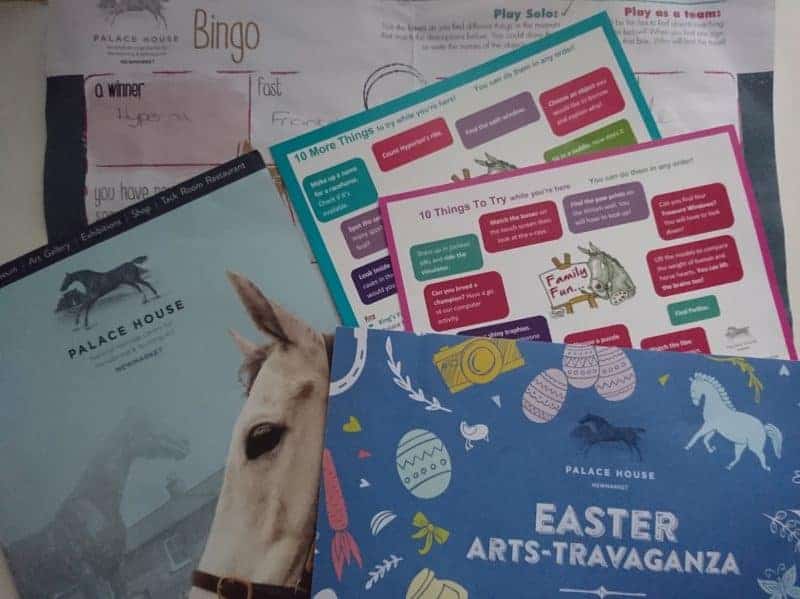 On arrival, the children were given a Bingo sheet and two Activity Cards to keep them entertained as we made our way around. Lillie very quickly spotted 'ride the simulator' on the first activity card, so the decision was made to start the tour in King's Yard – a section we didn't have time to explore on our last visit.
Riding the simulator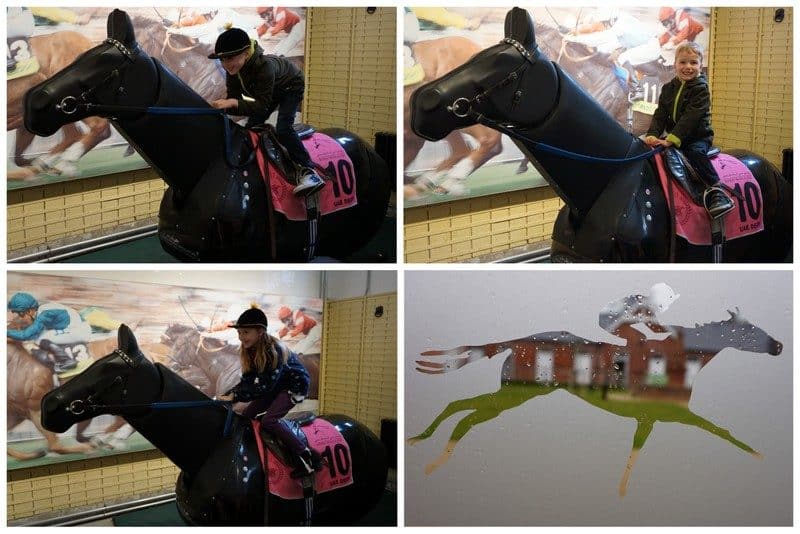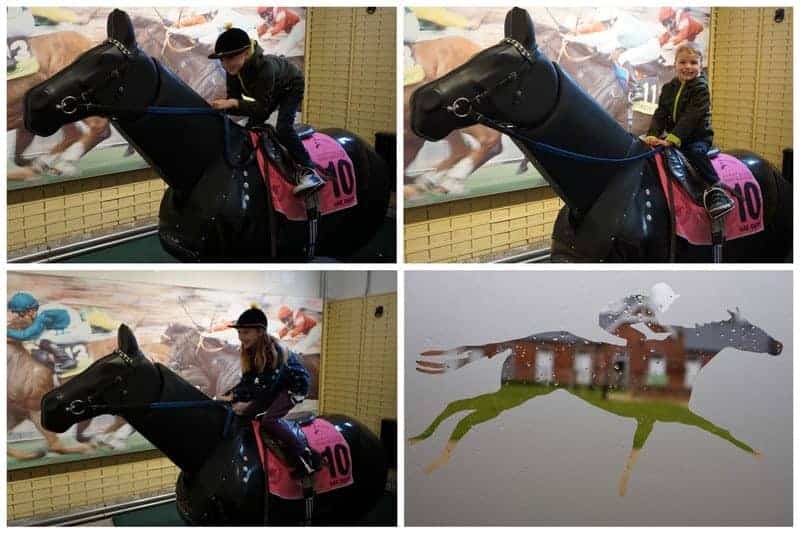 The Horse simulator, nicknamed 'Legless', is located in the corner stable of the King's Yard galleries. Children are invited to dress up in jockey silks and saddle up ready for the real jockey experience. All three declined to wear the silks, but Lillie and Ollie couldn't wait to put Legless through his paces, and they were both surprisingly good at it. It is controlled by a member of staff who makes sure the children are sitting (or standing correctly) in the stirrups and then starts with a slow trot, increasing the children's speed to try it. Lillie was happy at a trot, but Ollie tried a short canter and nailed it.
Naming a Race Horse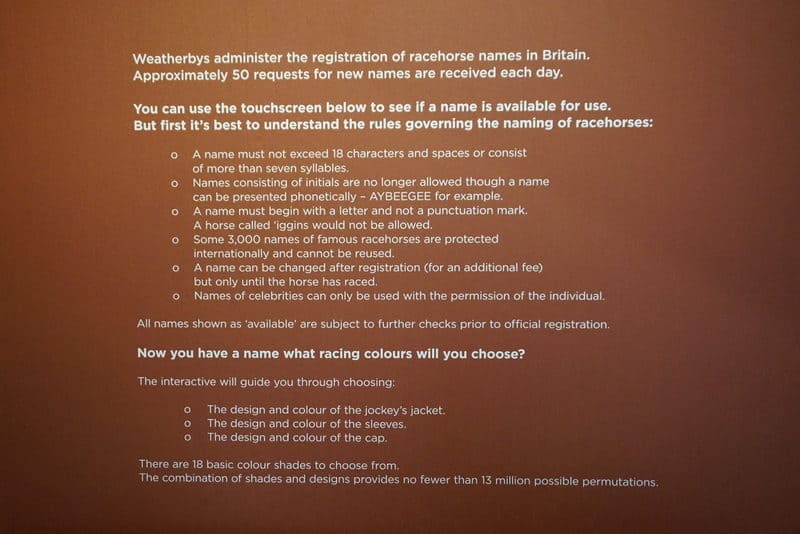 I remembered from our previous visit that naming a racehorse isn't just as simple as picking your favourite name. There are specific rules for choosing a name as you can see below, but I'm pleased to say that Simon's choice of 'Greenie Beanie' and Lillie's name 'Beanie Boo' were both available. So now it's just a small matter of winning the lottery, so we can buy ourselves a couple of Thoroughbreds to go with their names.
Interactive Learning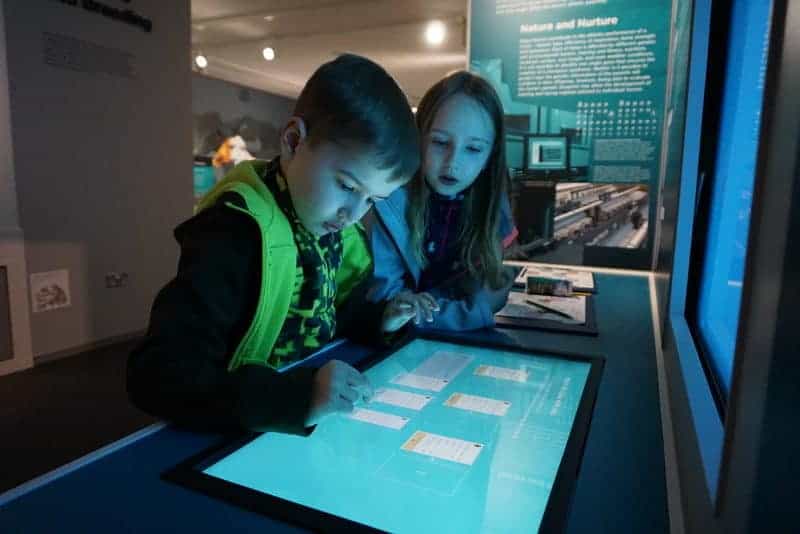 Throughout the museum, there are interactive exhibits for the children to play and learn. I was particularly impressed at how much knowledge Lillie and Ollie picked up as we worked our way around the museum, both getting the right answers along the way.
Match the Bones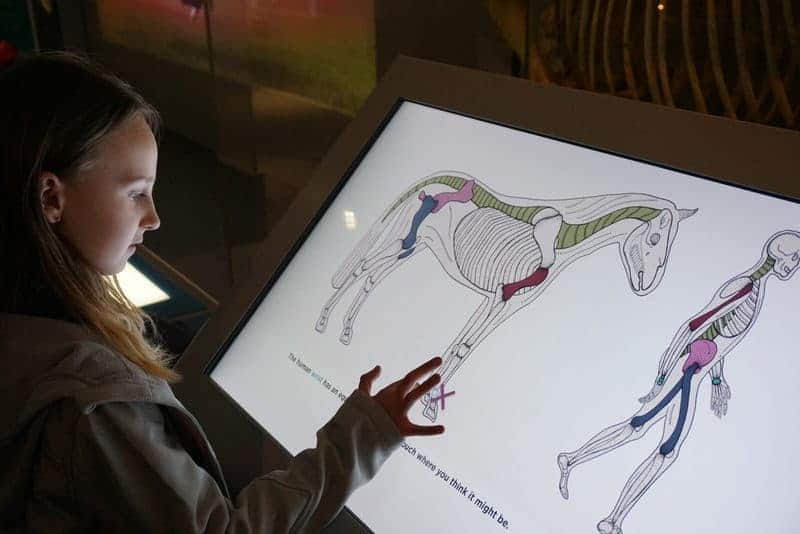 Lillie and I had a go at the Match the Bones computer activity upstairs in Trainer's House, which was more difficult than it looked. You were given a skeleton of a horse and a skeleton of a human, and then as you were shown a bone on the human skeleton, you had to find the corresponding bone on the horse. We were always in the right sort of area, but often the bones were much higher up the limbs than we expected them to be.
Rothchilds Yard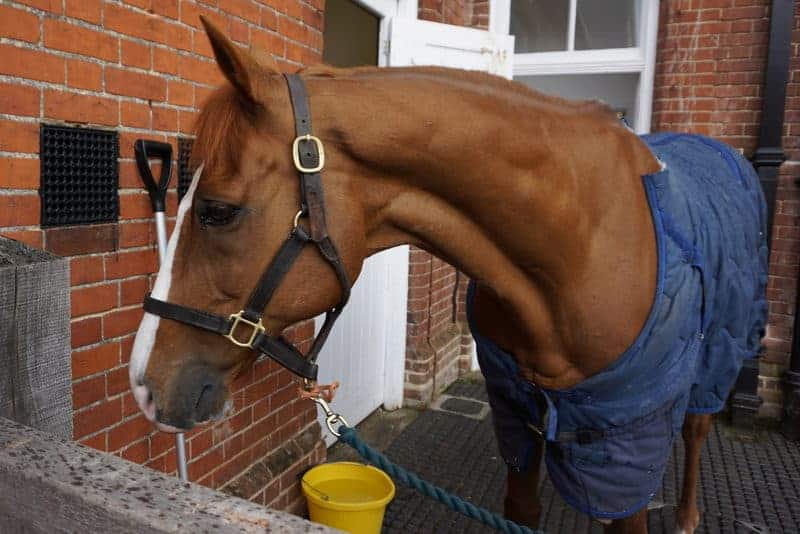 In Rothchilds Yard, we were able to say hello to a couple of the current horses and the RoR (Retraining Old Racehorse) staff, who were extremely friendly and approachable. In the yard, we were introduced to George, a very lovable horse who had won several races in two separate racing careers, one win over £1 million. George was quite happy being petted until it started to rain, then he made it abundantly clear he was a fair-weather horse and wanted to retreat to his stable.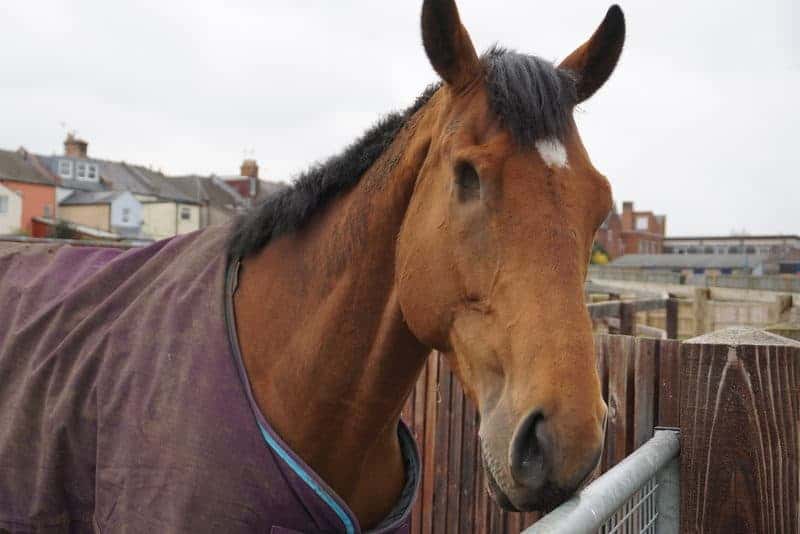 We were also able to meet Dan, the four-year-old one-eyed horse who had lost one eye due to an infection. Dan was very keen to meet us; we suspect because he thought we came bearing food. Apparently, he is quite the cheeky horse and will nibble at the trainer's hair and steel their buckets when they are in the field with him.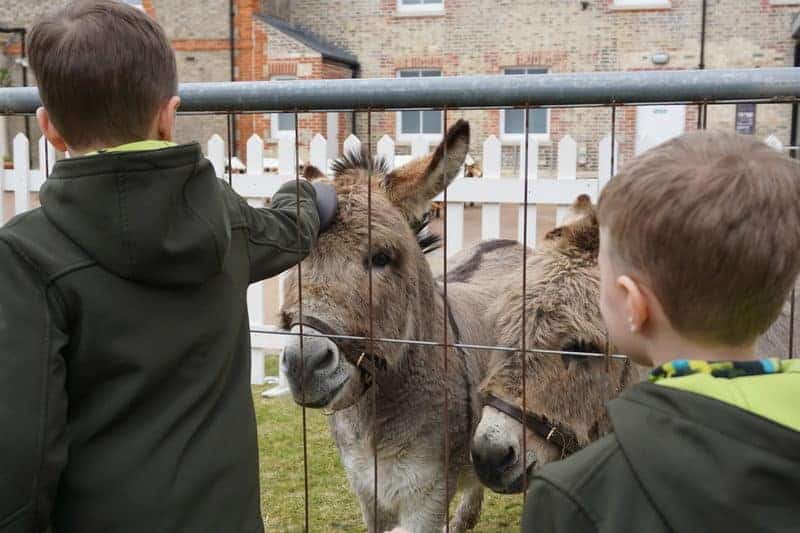 Back near the King's Yard Galleries, the Beans loved meeting miniature donkeys Pip and Plumb, who are visiting for Easter; they even got the chance to feed them and give them more than a few carrots.
Easter Crafts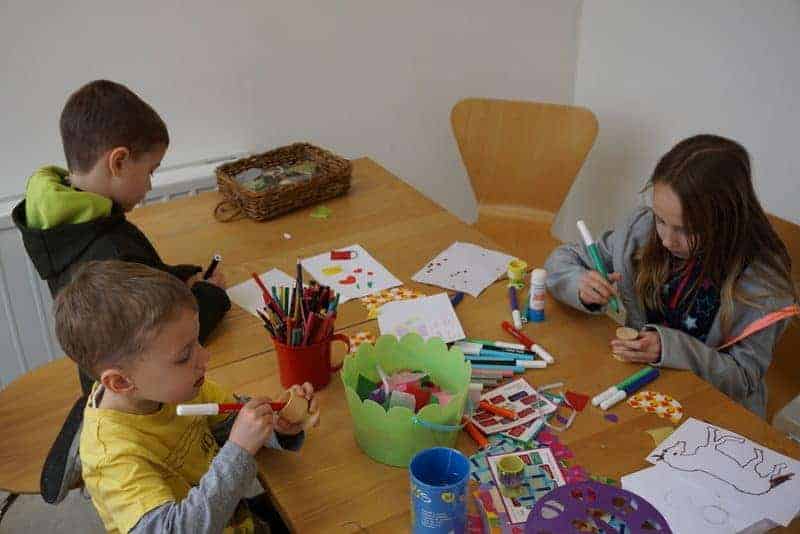 As our day at Palace House was drawing to a close, we stopped off in the Crafts Room for the children to decorate the wooden egg cup they had been given in the Gift Shop. If they returned to the Gift Shop before 4 pm, they would be given a chocolate egg to pop into their cup. There were various crafts available for them to do, from Easter window decorations to drawing and stamping. Our Beans were in their element, which also gave Simon and me a chance to sit back and enjoy a hot coffee from The Pantry Bakery.
General Thoughts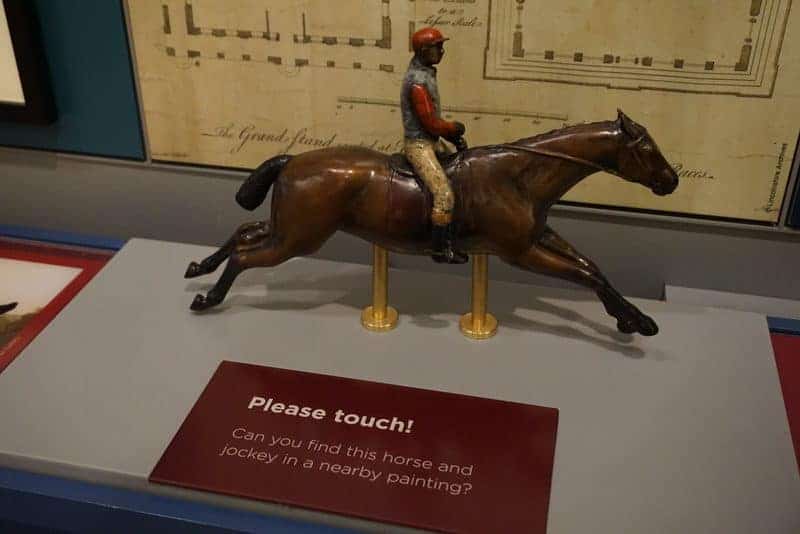 In total, we spent a little over four hours at Palace House and could easily have stayed there for longer if time had permitted. There was so much for the children to get hands-on with, I didn't feel I had to keep saying "don't touch that", in fact, it made a nice change in a museum to see signs saying "please touch!". We toured the museum at the children's pace and noted that they didn't once ask, "can we go home now" in fact, as we left, they asked, "when can we come back?" so that's all the proof we needed that they had enjoyed their day at Palace House.
The Pantry Bakery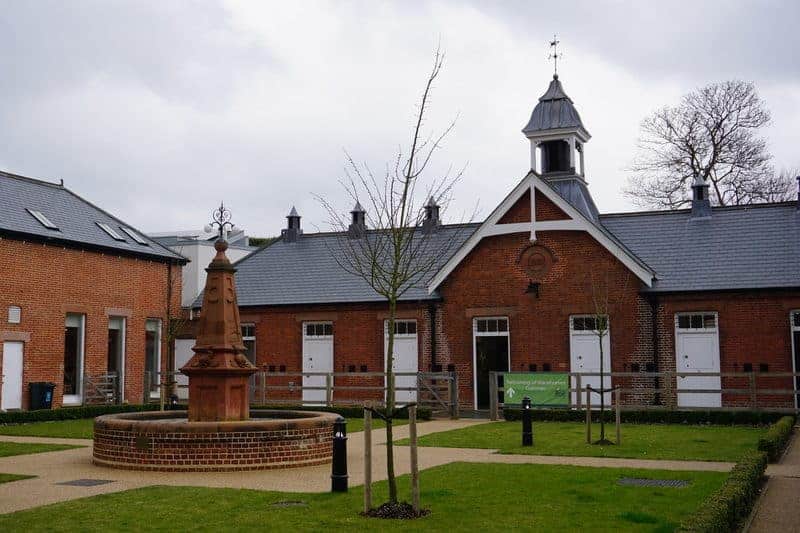 As well as The Tack Room which serves deliciously prepared local produce throughout the day and evening. There is also The Pantry Bakery at the end of the King's Yard Galleries, which is perfect for grabbing a quick cuppa or a slice of cake. The Pantry Bakery can also prepare picnics which are best requested in advance and are extremely filling. We had remembered them from our visit to the July Course last year and so looked forward to our picnic bags again on our return visit. There is a lovely seating area in the main courtyard if the weather permits, but there are also two picnic rooms where you can eat indoors too.
Parking
We parked at All Saints Car Park (Sat Nav: CB8 8ET Long Stay), which is just a two-minute walk to Palace House and had ample parking. Also, Rous Road (Sat Nav: CB8 8LX Short Stay).
Admissions
Adults £12 | Children (5-16) £7 | Children (Under 5) FREE
Family (2 adults and up to 4 children) £35
If you don't get to see everything in one day you can upgrade your ticket to an annual pass on the day by paying the balance:
Adults £20 | Concession: £18 | Children (5-16) £12 | Family (2 adults and up to 4 children) £45
Directions
For people travelling by car follow the museum signs when you reach Newmarket.
Join the conversation