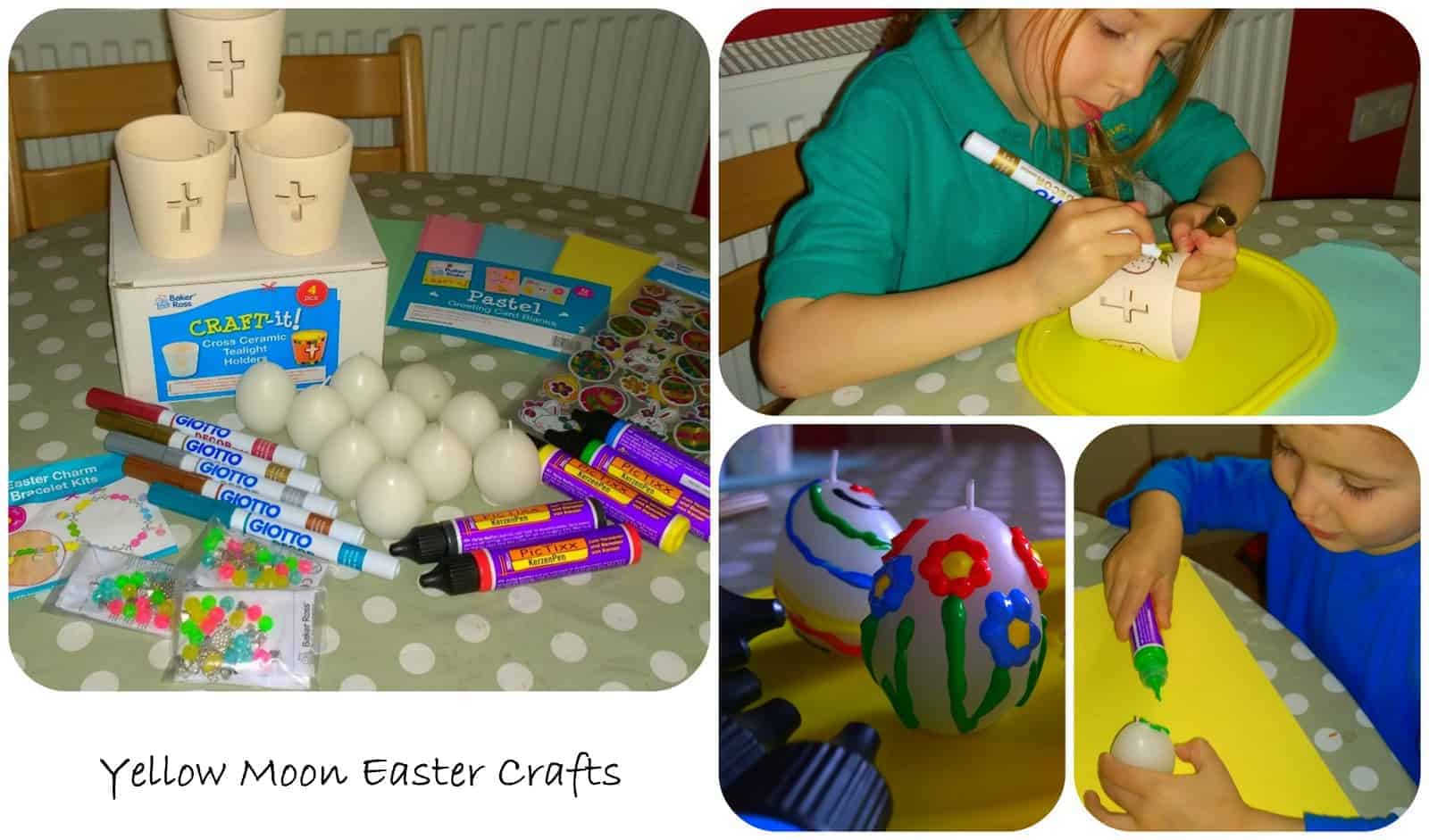 Easter Holidays Day 1 – Yellow Moon Easter Crafts
I always approach the school holidays with mixed feelings, on the one hand I look forward to spending extra time with my Beans and having them at home for an extended period on my own and on the other, I dread having them home for an extended period on my own. Don't get me wrong, I love my Beans more than anything in the world BUT they are spirited little monkeys and are very changeable in their attitudes towards each other, days together can be bliss or a complete nightmare . . . today was a good day. We had been sent a box of Yellow Moon Easter crafting goodies which we made a start on over the weekend but the intention was to keep the rest of this week (to help keep me sane and them entertained).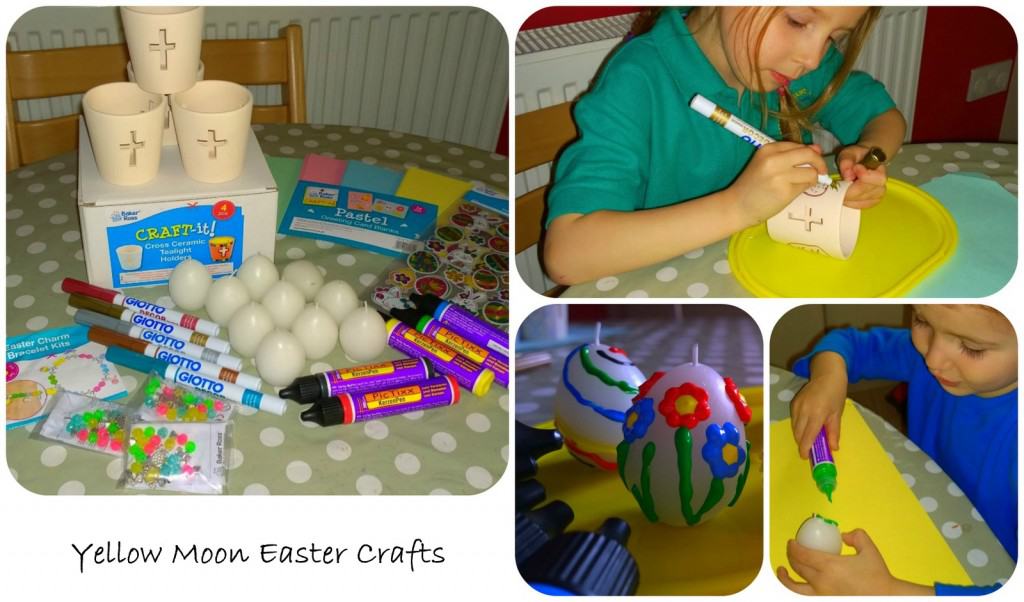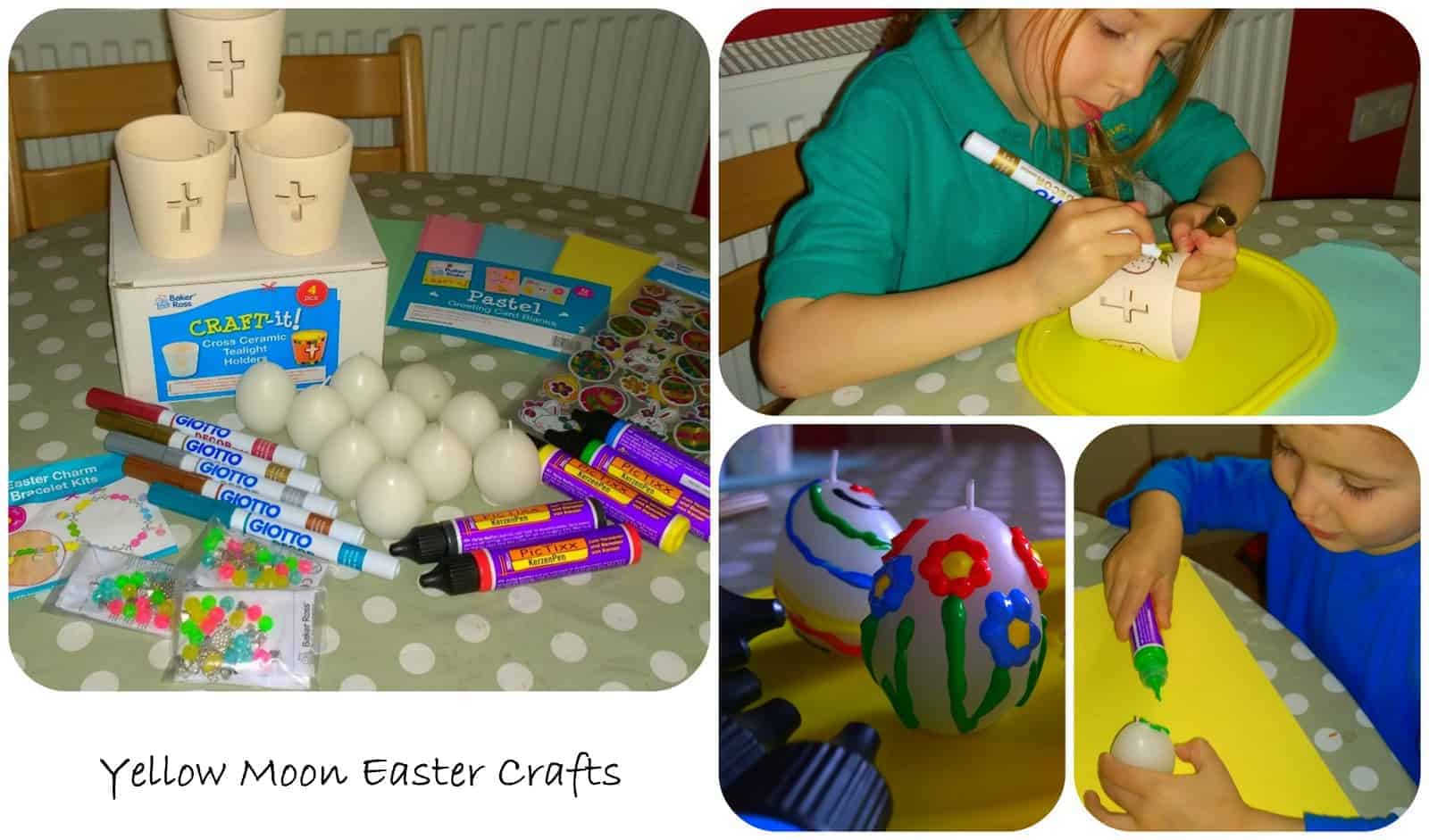 After school on Friday we took part in an Easter Egg Hunt and so when we got home the children were badgering me to do some Easter Crafts as they were in the spirit of Easter. I put out of the crafts materials which we had been sent to review by Yellow Moon and asked them which ones they wanted to do first. Little Bean wanted to decorate the Tea Light Holders and Beanie Boy wanted to try out the Candle decorating. Little Bean got on well with the Giotto Pens for decorating her Tea Light Holders, it was just like using a felt tip pen but they can be used on a variety of surfaces such as metal, glass and porcelain. The pens used to decorate the candles can be used in various ways but we just used ours to draw straight onto the candles. The pens are quite hard to squeeze and take about 8 hours to dry. Beanie Boy found them quite difficult to use as he is only three and doesn't have the strength in his hands yet but once I got the hang of them, I had lots of fun. Beanie Boy then took on the role of 'supervisor' and instructed me on how to decorate 'his' candles.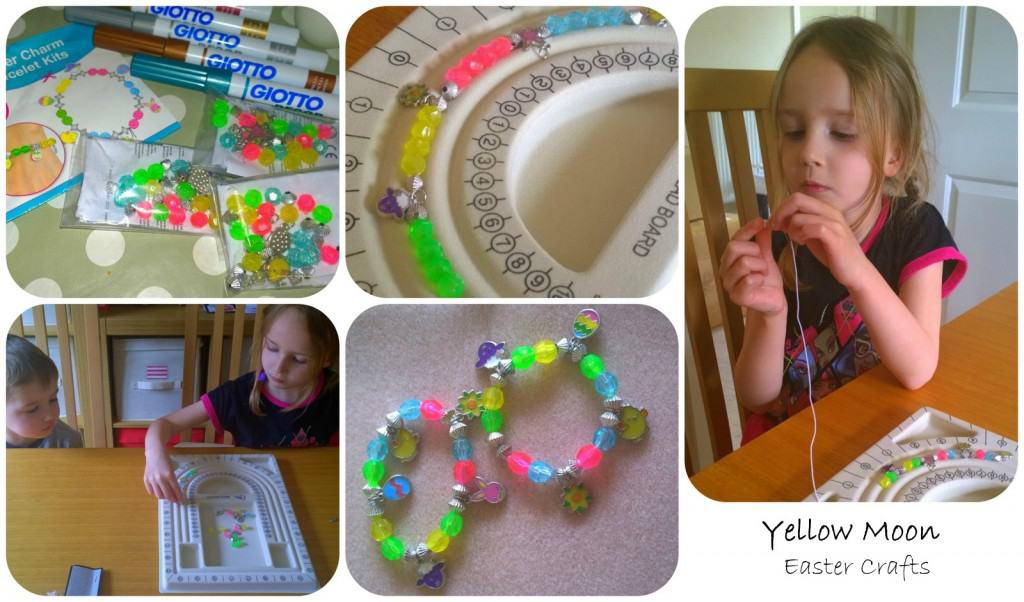 On Saturday morning the first words spoken to me by Little Bean were not "morning Mummy" but "can we do more crafts pleeeeeeeeeese Mummy" so who was I to say no. This time she chose to make an Easter bracelet. The bead board is mine, she used this to plan out her bracelet before threading it. I just love the look of concentration on her face as she is threading her beads. She enjoyed making hers so much that she then said that she would 'teach' take over when Beanie Boy wanted to make his. Once they had threaded their beads onto the elastic which was supplied in the kits I tied a double knot in the elastic and secured it with a blob of superglue.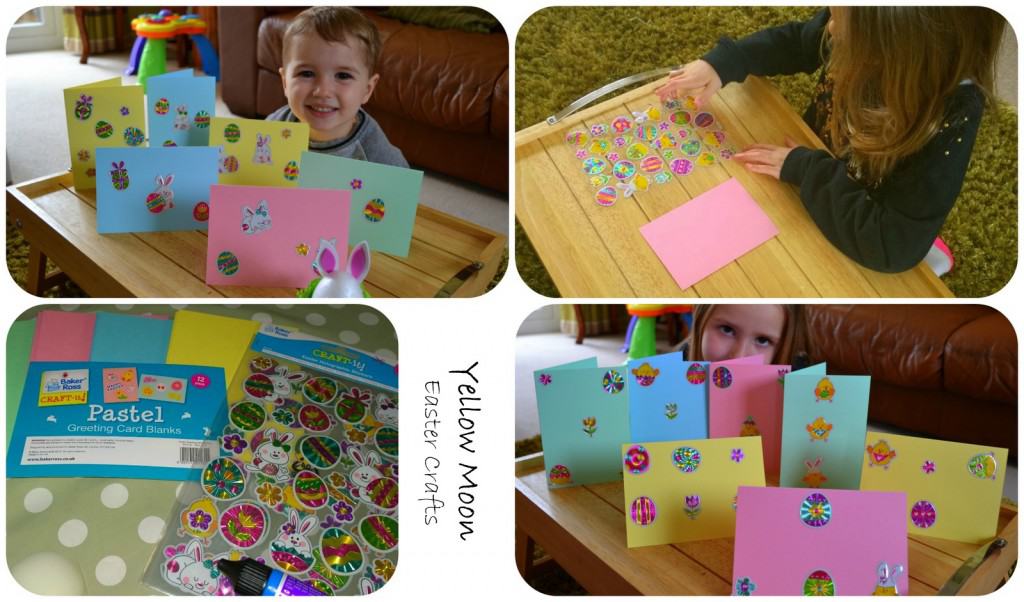 Jelly Bean gets tired very quickly in the morning and is ready to go back to sleep around 9.30am, so whilst he was sleeping Little Bean, Beanie Boy and I set to work on some Easter crafting we had been sent by Yellow Moon together with a few bits of Yellow Moon crafts I had purchased myself previously. We were kept busy for around 3-4 hours with this little lot (and yes, Jelly Bean slept for the whole time!). The Pastel Cards and Easter foil stickers were a really easy craft for the Beans to do and I love it because it saves me having to go out and buy Easter cards. These kind of cards mean so much more because they were handmade and I love them.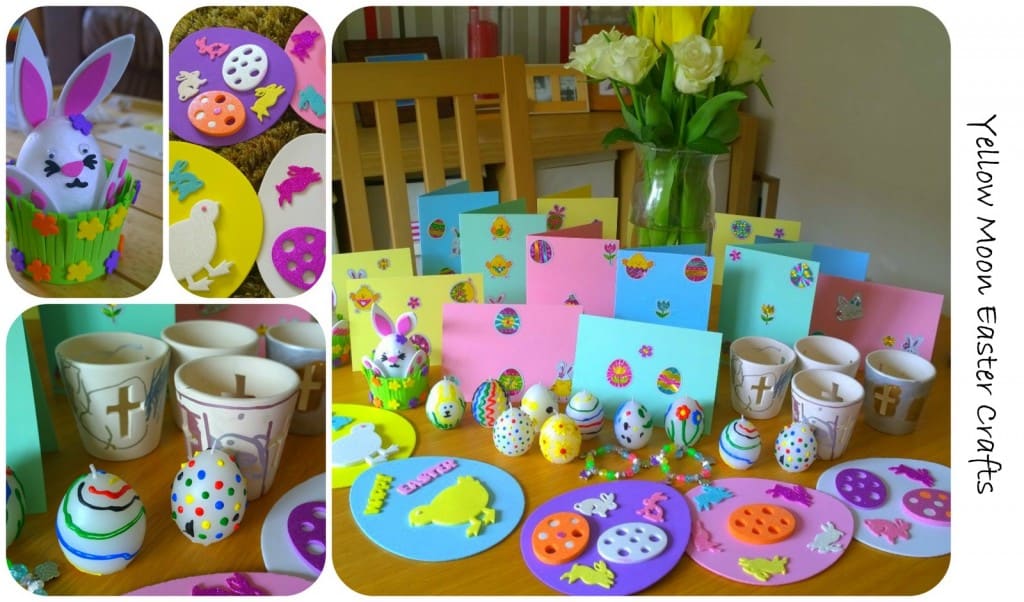 As you can see my Beans LOVE crafting, it's something we do together often and will definitely be doing more of over the Easter holidays. I keep a stock of craft materials for when the Beans need some entertainment or focus in their day so we raided my boxes to see what other Easter crafts we could find. They made their Bunnies in the grass and some large Easter egg decorations which we are going to attempt to hang around the house in time for Easter.
The thing about Yellow Moon that we love so much is that they are so affordable you don't mind buying a few extra bits and pieces and the added bonus is that a percentage of what you pay is given back to the School or Organisation of your choice. Everytime we buy from Yellow Moon I switch between choosing Little Bean's school or Beanie Boy's preschool so I feel like I am giving a little back and showing my support.
DISCLAIMER: We were sent the crafts kits featured in the first photograph collage free of charge for the purpose of this post. All words, imags and opinions are my own and may not be copied without my permission. I have not been instructed what to write.