Zoe & Beans – Hello Ladybird and We're Not Scared
We have been lucky enough to review Zoe & Beans books before and were instantly taken with the beautiful illustrations and the catchy stories by Father and Daughter team Mick and Chloe Inkpen. The latest installments Hello Ladybird and We're Not Scared did not disappoint either.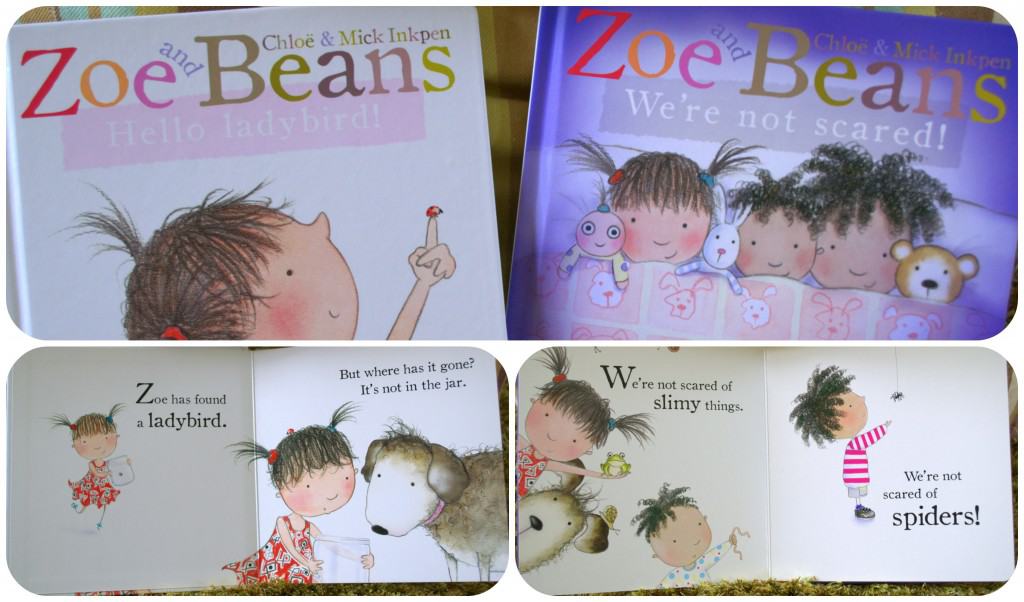 Hello Ladybird
Just a couple of weeks ago, the Beans were playing out on the front grass with some of our neighbours children and were collecting Ladybirds in a Bug Jar. They collected LOADS and Beanie Boy proudly told me that Miss S had told him he could be a Ladybird Collecting Expert because he had collected so many.
Hello Ladybird is the fun tale of what happens when Zoe & Beans find a Ladybird who is there one minute and gone the next. Zoe & Beans go in search of their Ladybird and find lots of other cool and interesting things along the way. Reading the story with the Beans, they generally get very animated because there is actually a Ladybird on every page which they can clearly see so as I read the story they shout to Zoe and Beans, "it's over there". It's ideal for their observational skills and really helps to keep them interested in the story.
We're Not Scared
Zoe, Beans and Oscar are feeling quite brave on this adventure – they dare to go fast, and play with a spider or jump in at the deep end, they even dare to touch a snail. But what about the dark? Do you think they will be so brave then? I particularly wanted to read this book with my Beans because I have been noticing a trend with them recently where 'fear' seems to be playing a big role with each of them and if one sees the other being afraid, they suddenly become afraid too so it's great to read a book about bravery. Beanie Boy even told me last week that "spiders aren't so bad really Mummy" unfortunately, reading Zoe & Beans We're Not Scared hasn't made me brave when it comes to spiders – I think that would take a miracle!
Later this year the Zoe & Beans series will see another adventure added to the collection and it's one that I know Beanie Boy will LOVE, Pirate Treasure!! Who doesn't love a good Pirate story?
If you have a Zoe & Beans fan in your midst then do pop over and check out their sparkly new Facebook page which is run by Chloe Inkpen personally where she is posting extra content as well as running fun competitions.
My Little Box of Springtime Stories
Easter is the perfect time for finding cute Springtime stories to share with your children and 'My Little Box of Springtime Stories' is one not to be missed. For starters it comes in a lovely box with a carry handle so it's ideal for taking to the Grandparents for a special visit or sleepover. They make a great alternative to a chocolate egg for Easter.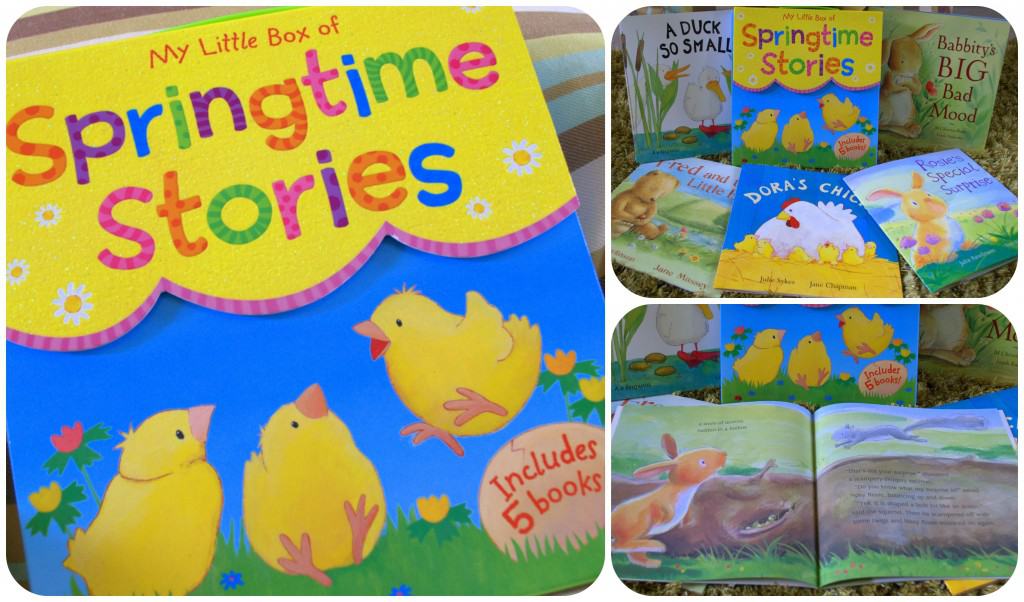 The box has 5 story books inside; Dora's Chicks, Fred and the Little Egg, A Duck So Small, Babbity's Big Bad Mood and Rosie's Special Surprise. Each book is beautifully illustrated and follows the tale of a cute Springtime character.
My First Sticker Activity Books by Little Tiger Kids
My children will do just about anything for a sticker! It's as though I have given them a diamond or the biggest bar of chocolate, they just can't get enough of them and that's fine by me. With the Easter Holidays stretching out before us I like to have activity books around to keep them busy and away from the television.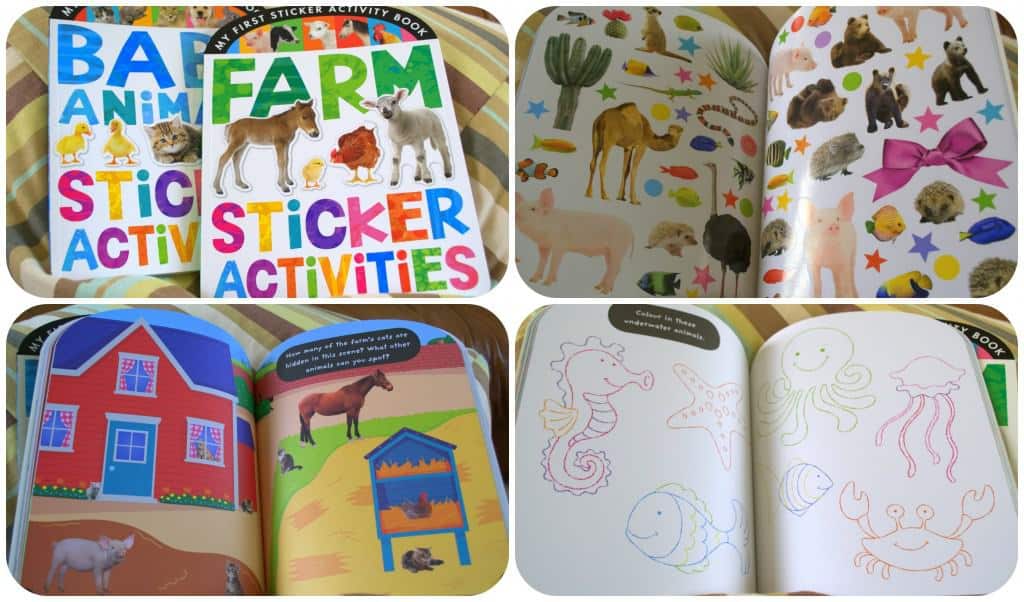 Baby Animals Sticker Activities
This book is packed with 77 pages of activities and 8 pages of bright photographic and illustrated stickers which help children to learn more about Baby Animals, their lives and their habitat. The activities promote problem-solving skills as well as language development and enables discovery about the world.
Farm Sticker Activities
Again, the Farm Sticker Activities book has 77 pages of activities such as colouring, dot-to-dot, counting, language and observational skills. Each activity encourages learning through engaging illustrations and fun sticker placement.
Both books are available from April priced at just £6.99 and are aimed at children aged 3-5 years (although Little Bean still loves them and she is nearly 6).
Jiggly Giraffe – Book and Soft Rattle
This is a beautiful gift set which would make a lovely gift for Easter, birthdays or even as a Christening Gift because the book and soft rattle come in a display gift box showing the cute board book on one side and Jiggly Giraffe Rattle on the other side.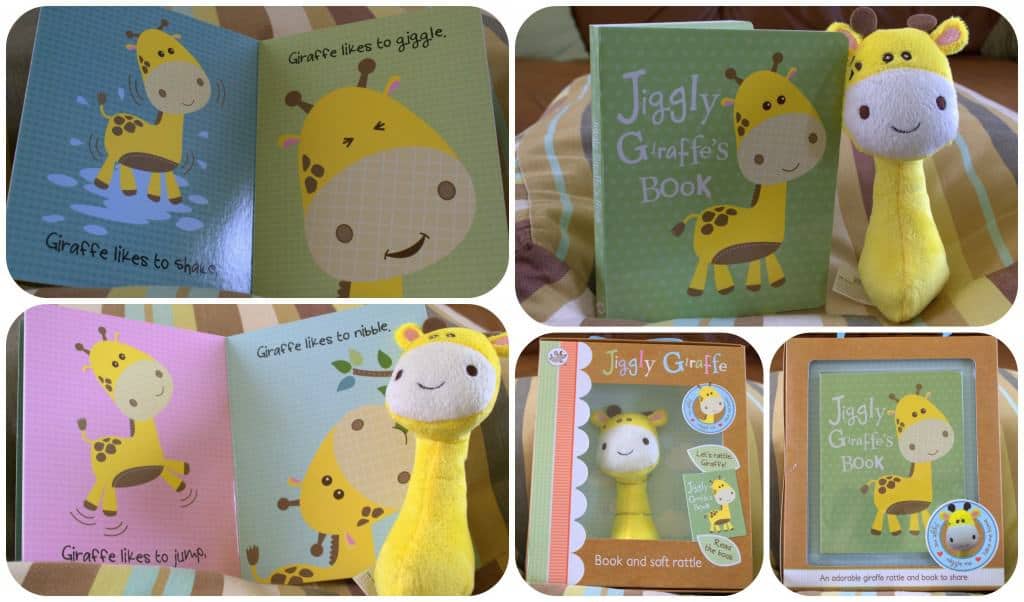 This is a really simple rhyming book which will teach children 'doing' words and actions. You can use Jiggly Giraffe to demonstrate the actions to younger children and encourage older children to try out the actions for themselves. This is the perfect book for reading with Beanie Boy and Jelly Bean together at bedtime or just for a bit of quite time during the day.
Jiggly Giraffe is part of the Little Learners range which is an imprint of Parragon Books Ltd designed to encourage their listening skills, sense of touch and hand-eye coordination. They also do a Little Learners App for the iPad, iPod Touch and iPhone on App Store.
How to Catch a Star by Oliver Jeffers
As a child did you ever feel that you could just reach up and pluck a star out of the sky? Beanie Boy says it all the time, although he aims for bigger things like The Moon! Oliver Jeffers did just that when sitting on the pier of a fish market eating shrimp and counting the starfish around the poles. He caught the reflection of a early evening star in the water below and there and then sketched a drawing of someone try to catch a star in his sketchbook. From there his story grew into this captivating picture book on 'How to Catch a Star'.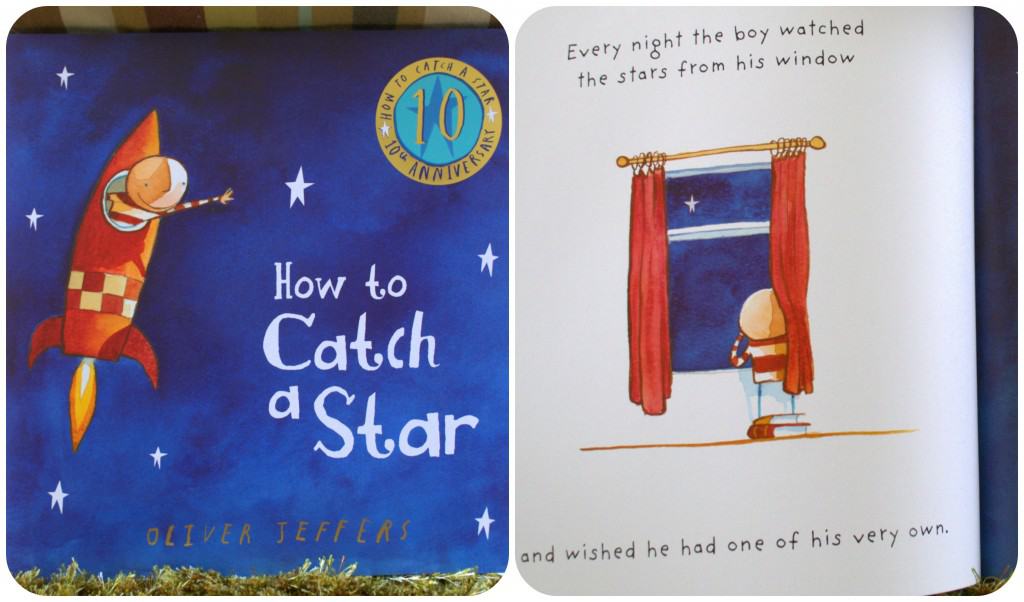 Now that 'How to Catch a Star' is celebrating it's 10th Anniversary I have been given the chance to offer one copy of the book to a lucky Mummy Matters reader. Just complete the Rafflecopter entry form below for your chance to win;
DISCLAIMER: We were sent all of the above books free of charge for the purpose of this post. All words, opinions and images are my own and may not be copied without my permission.