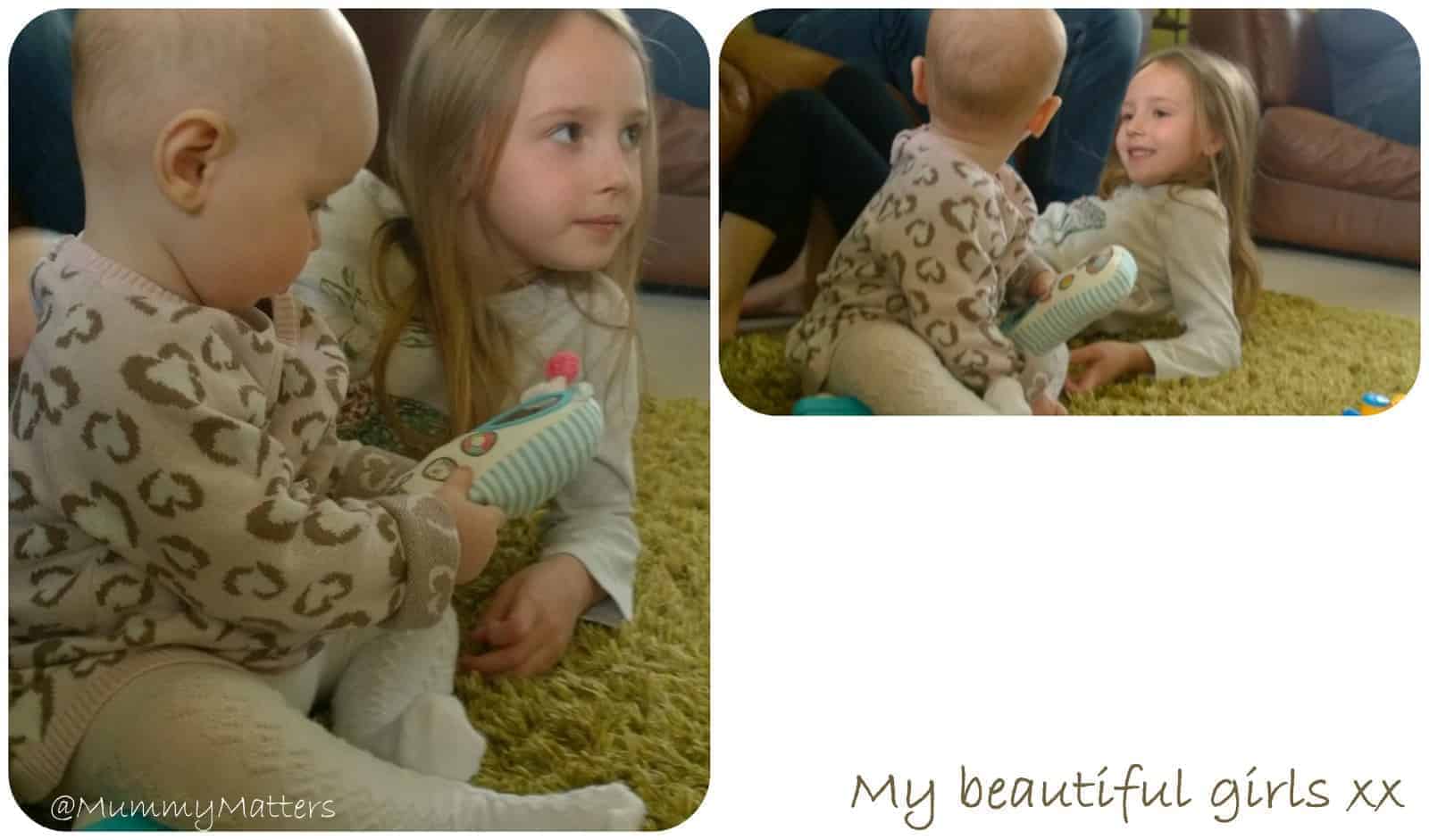 Easter Holidays 2015 – one week in . . .
Here we are always one week into the Easter Holidays, they just fly by don't they?! As I told you here, I was really looking forward to having the Beans at home for a couple of weeks but I guess I hadn't factored in just how tired they might be and how it might take them a few days to adjust to being at home together for a period of time longer than just the weekend.
Saturday was a pleasant day, Beanie Boy had a birthday party to attend so I took him to that whilst Daddy and the remaining Beans chilled out at home. Beanie Boy surprised me at the party by taking the plunge and allowing his arms to be painted since he doesn't do Facepaints, this is a BIG thing for him as he never usually agrees to it. He isn't overkeen on tattoos either.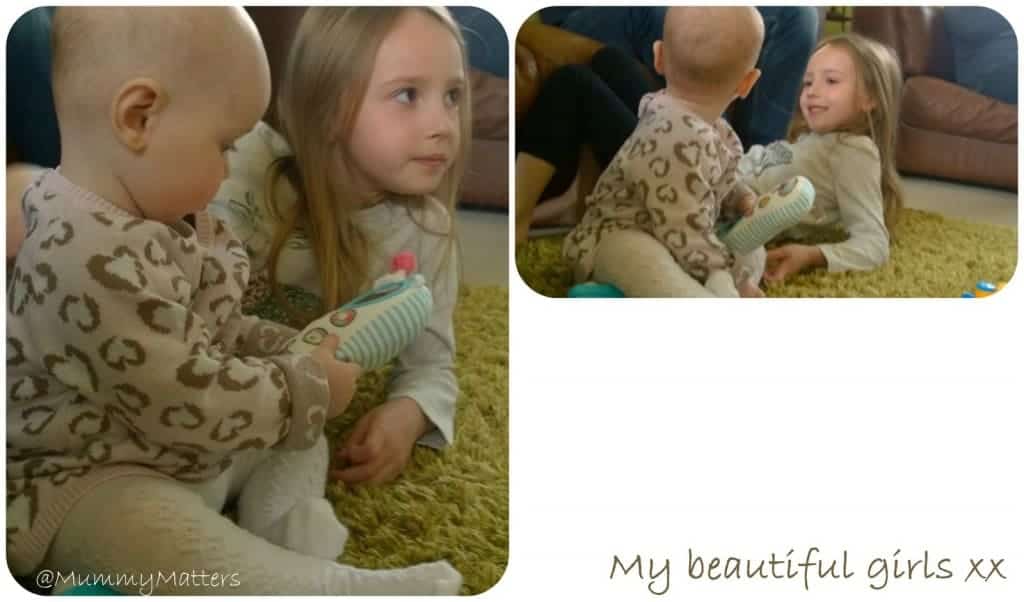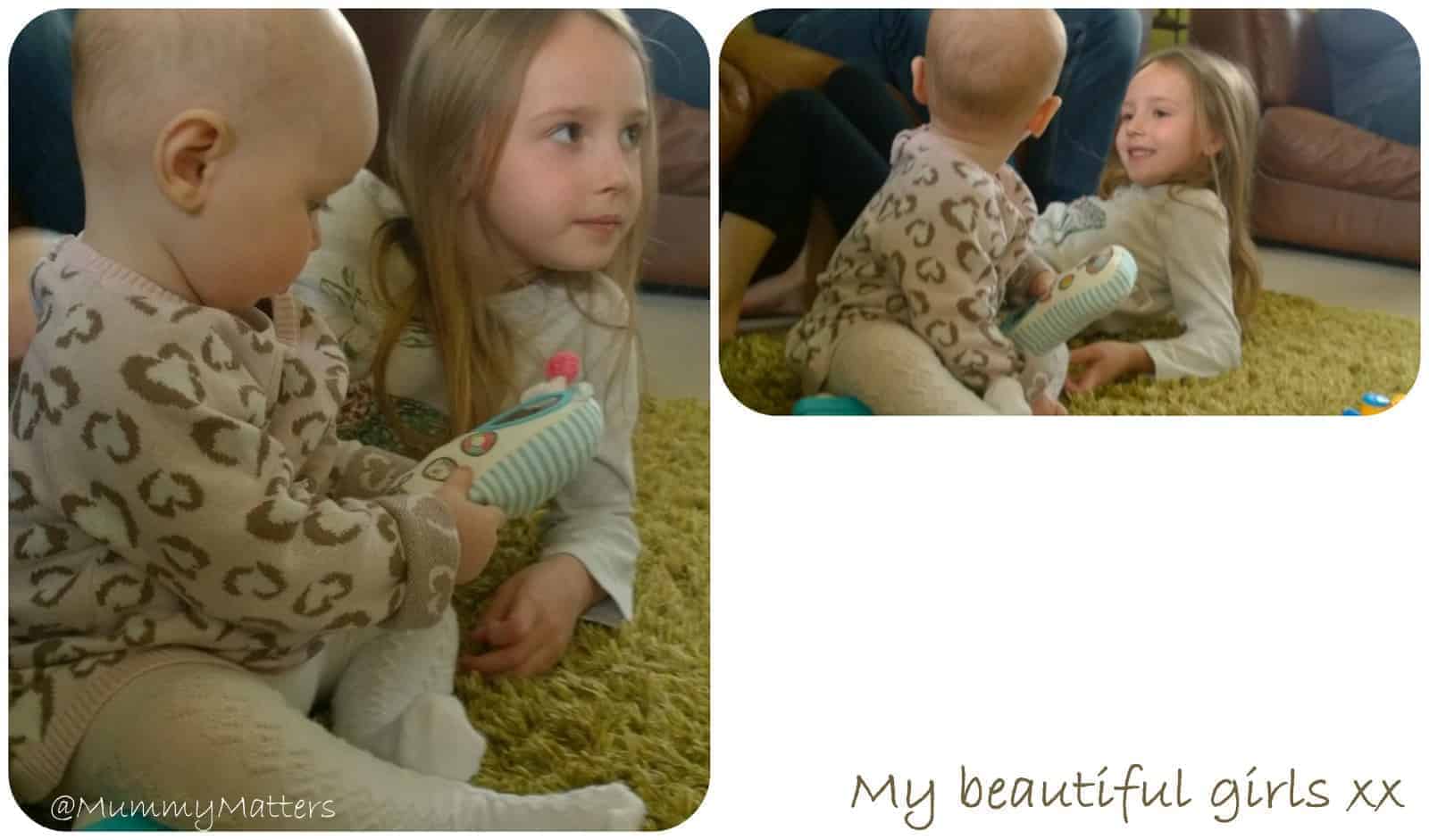 I had been looking forward to Sunday for aaaaages as my lovely friend Mum2C was coming over to see us with her beautiful family. It felt like forever since we had last seen them (before Christmas I think?). The Beans were super excited to be seeing MasterC and LittleMissC and thankfully they managed to play together without too many dramas. Little Bean was totally smitten by LittleMissC and so were we, especially when we were asked to be her Godparents – whoop whoop, we were over the moon!!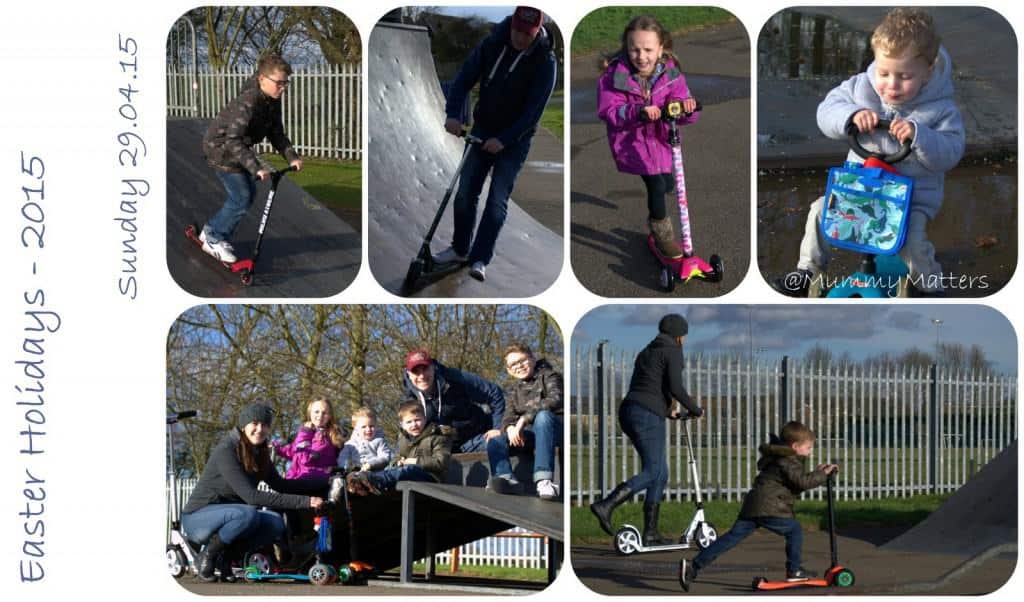 Unfortunately, they had to head home a little earlier than normal as they had a family function to attend in the evening so took advantage of the dry weather and hit the Skate Park with our Microscooters and had a blast. This will definitely be a family activity from now on, it was so much fun and the Beans thought it was hilarious that Mummy and Daddy were scooting too.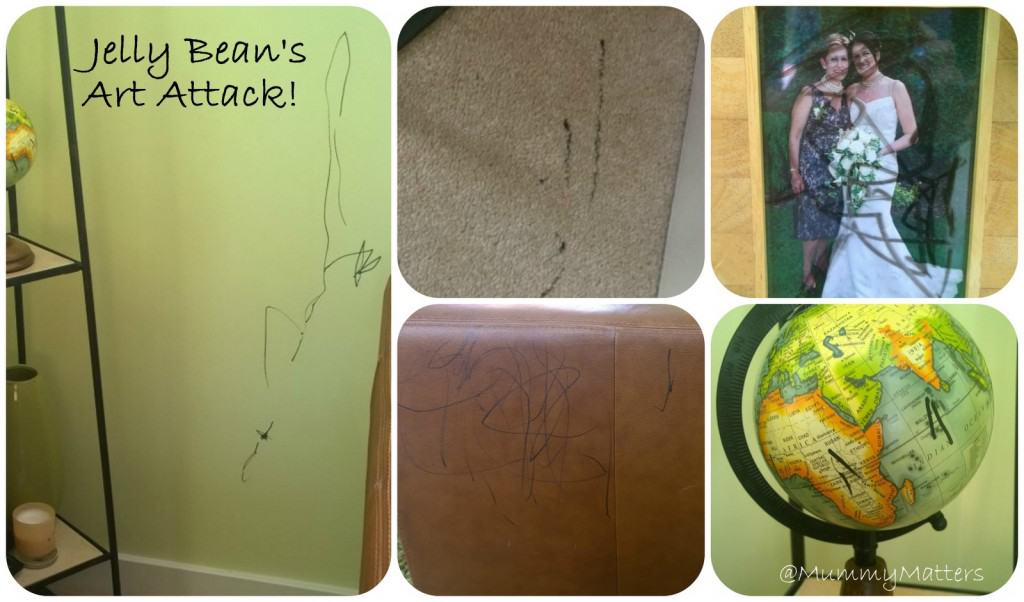 Monday didn't start off great when I came downstairs to find Jelly Bean had been practising his artistic skills on our lounge!!! Thankfully, we have managed to get rid of the worst of it but you can still see it on the sofa and walls.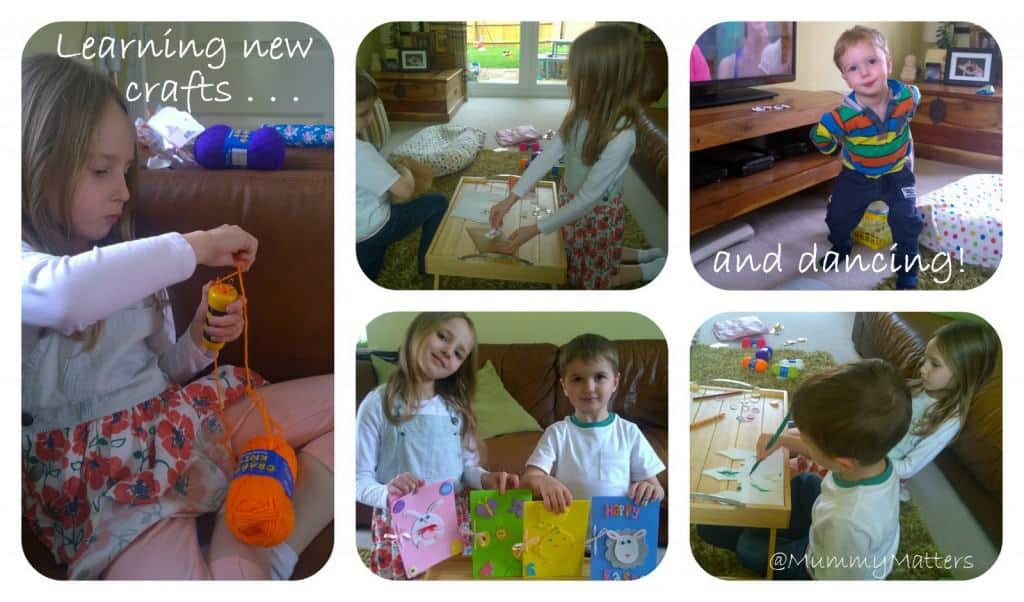 Continuing with their 'arty' side, Little Bean and Beanie Boy set about doing Easter Crafts whilst Jelly Bean had a nap. It was a mixed day emotionally as we did have fun but there were LOADS of stressful moments too and I felt totally drained by the time they went to bed.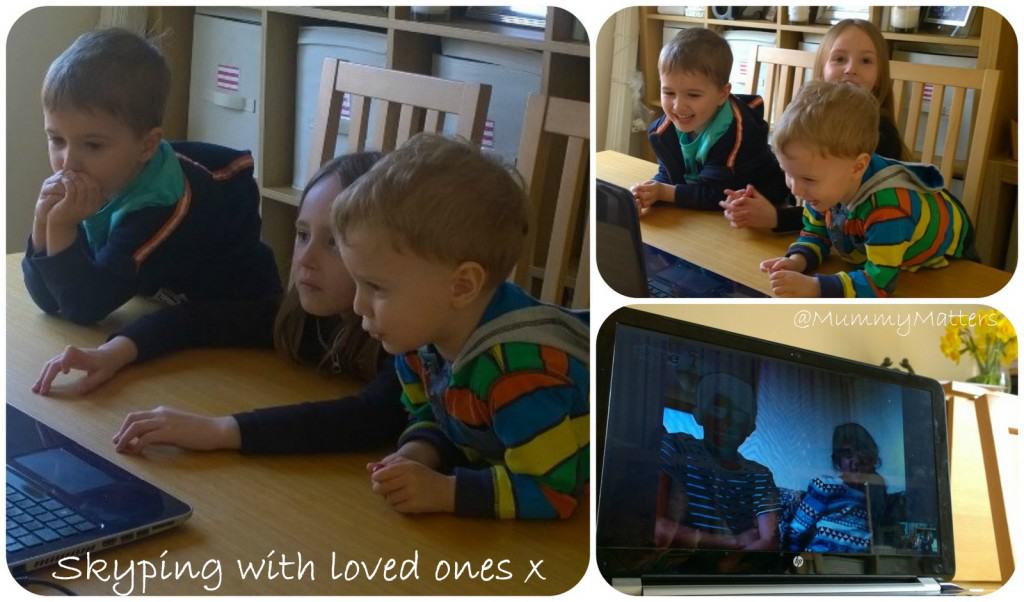 Tuesday morning started off pretty much as rubbish as Monday and I didn't make myself proud when I shouted and shouted and shouted at the Beans. I felt totally stressed out and under-appreciated. I sent a text to my Sister in a plea for help and so we all Skyped for a bit of a break from the norm. This was the first time we had attempted Skype with the Beans and they thought it was brilliant although they definitely need to learn the art of 'turn-taking' as it felt rather like I was working on the floor of the Stock Exchange at times!!!
At lunchtime, my Fairy Godmother arrived in the form of my friend Karin who offered to look after the Beans whilst I popped into Peterborough for an appointment. As I left Karin gave me instructions to not rush home before 3.30pm but to take some time for myself and just relax. It felt really odd to do that I didn't have anywhere that I particularly needed to go but I took the opportunity to peruse the shops and pick up a few little bits for Hubby's 40th Birthday next weekend. I returned home feeling totally refreshed and ready to face the rabble.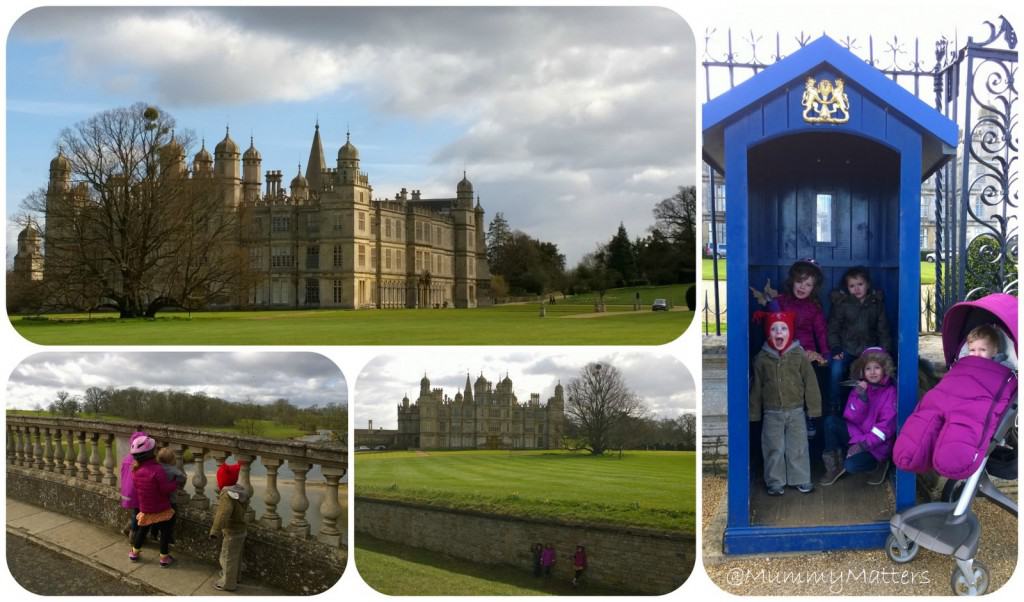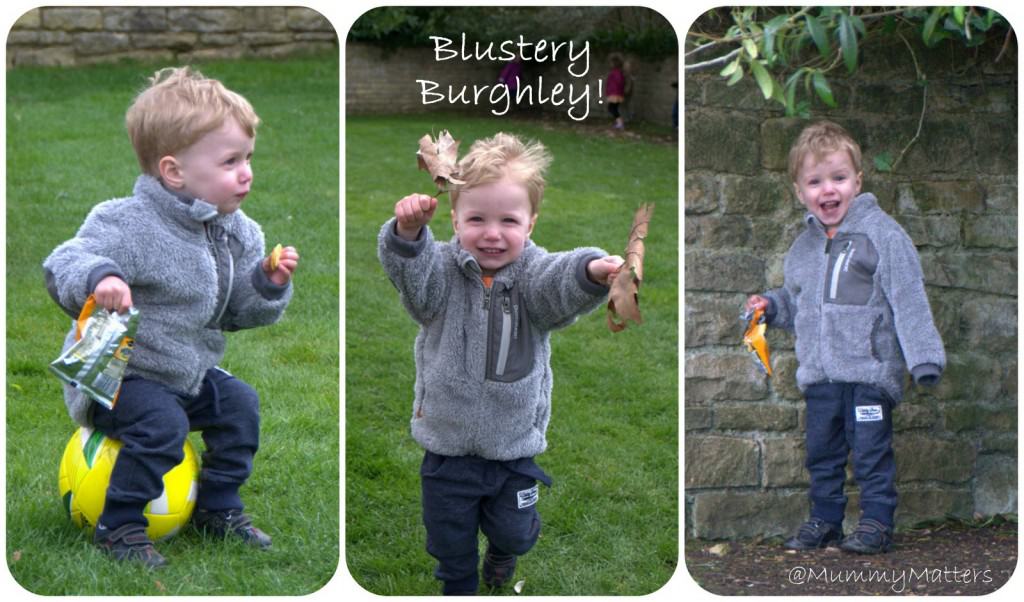 Wednesday we decided to get out in the fresh air with Karin, Ella and Sam. Fresh was most definitely the best way of describing the weather. As we made our arrangements in the morning a walk/scoot at Burghley House seemed like the perfect plan . . . until we arrived and it was blowing a gale. The Beans moaned like only they can but we walked/scooted on regardless and came away with smiles on our faces feeling brighter and more energised.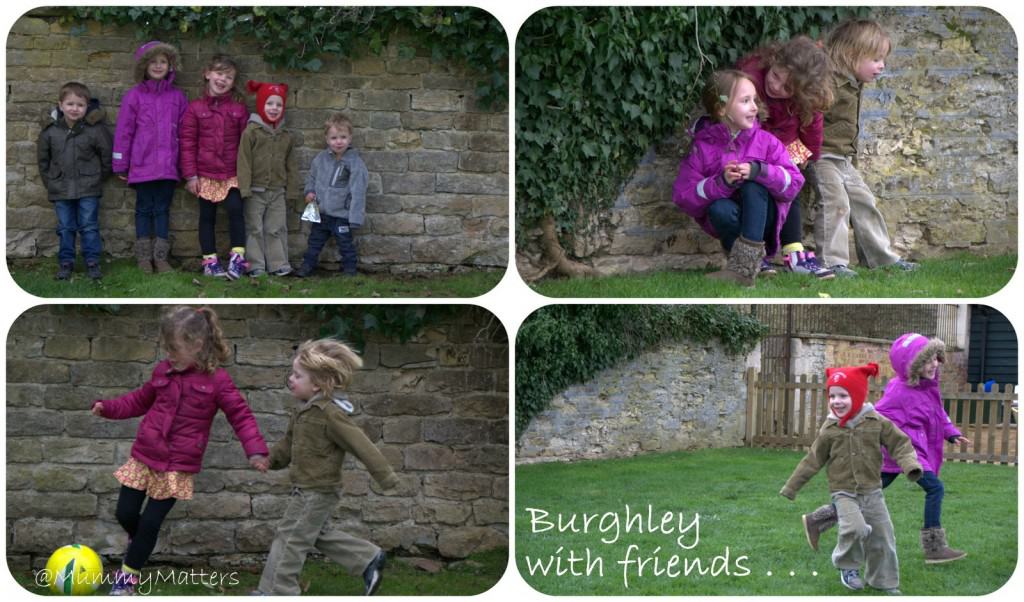 Thursday was our last day 'alone' as Hubby would be off work for the Bank Holiday weekend. We began the day by doing a few chores around the house and thankfully, the Beans really loved helping me so we got lots done in a short space of time. Oh, the difference it makes to have some help. The Sun was shining bright and the wind had dropped dramatically so I asked the Beans if they fancied a picnic, they jumped around the kitchen in excitement. Little Bean helped me to make the picnic and pack it all up, then we loaded ourselves, the picnic, scooters and a football into the car and set off in the direction of Rutland Water.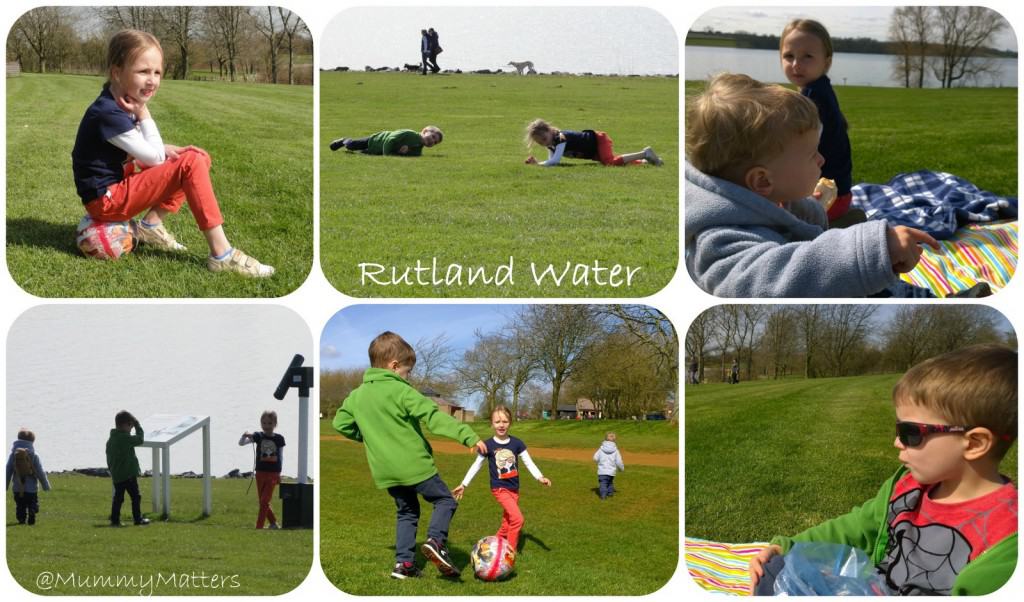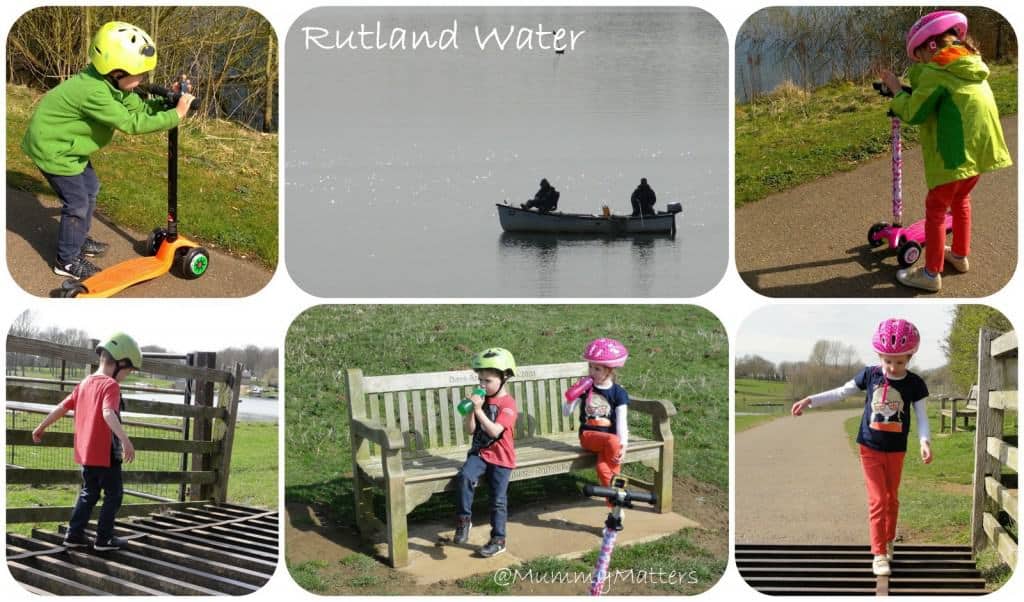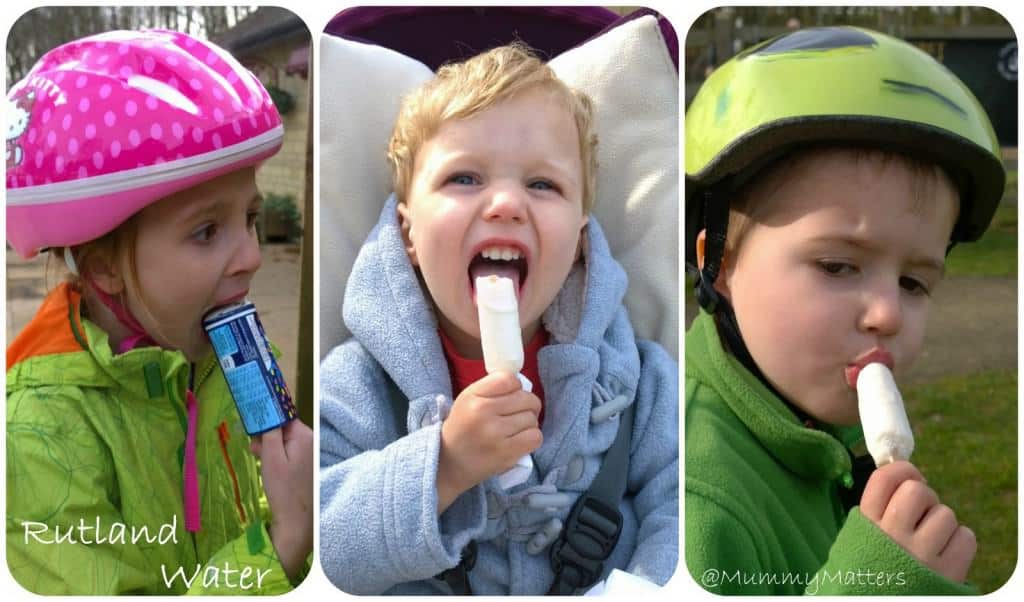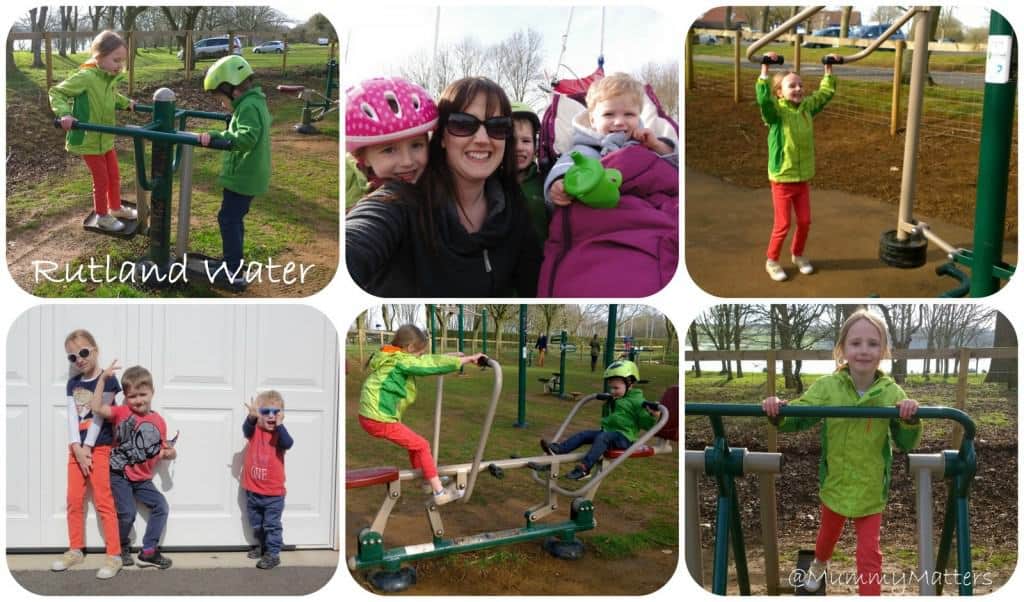 We had a really lovely day together – the picnic went down well, the Beans played football whilst I packed the car back up and then we went on our way for a walk to a different area of Rutland where the new Beach and large Sandpit are. Clever Mummy had thought ahead and packed up their buckets and spades. The Beans played in the sand whilst I looked on and read snippets of my new Mollie Makes Social Media magazine and a great time was had by all. As the temperature dropped we did the natural thing, we had ice cream and then scooted back to the car and home to see Daddy.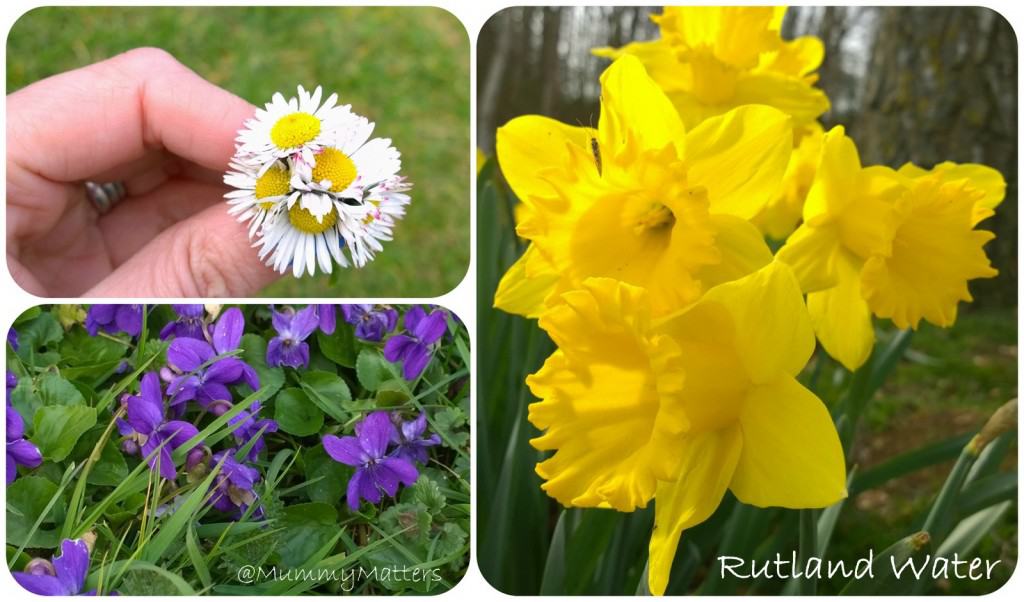 Bank Holiday Friday we just chilled out at home, I think it did Hubby some good to just relax instead of rushing off on the next adventure. The Beans love cuddling up with him on the sofa when he is at home, it's good to see them settle for a while too. The Beans and I baked some yummy Butternut Squash muffins for a forthcoming blog post and we did a few more Easter crafts.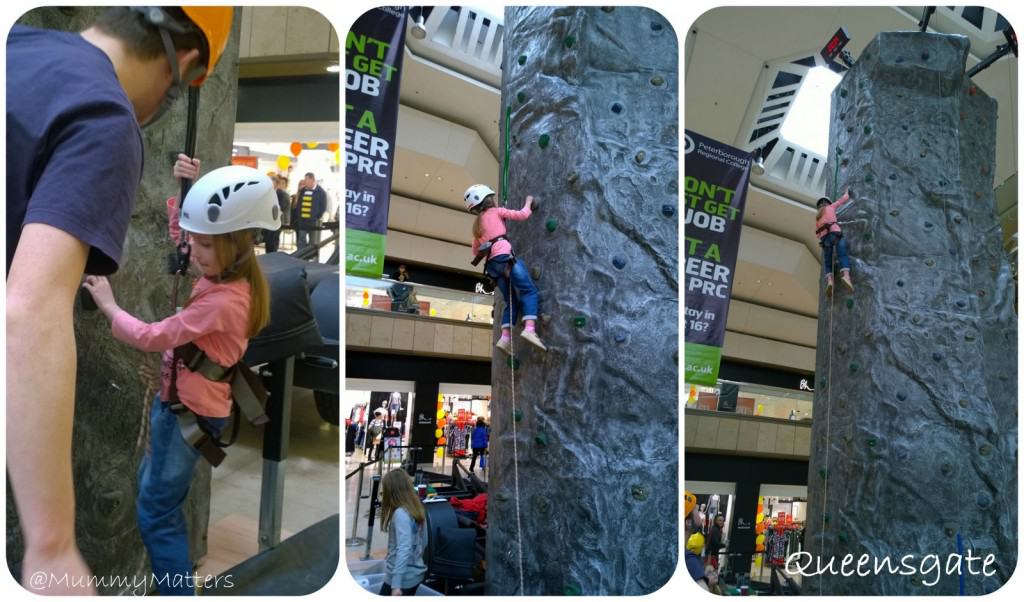 Saturday we had a few jobs to do in Peterborough and it was haircut day so Little Bean came with me to the Salon and the boys went with Daddy to the Barbers, then we met up to spend a few hours in Peterborough. Little Bean spotted this climbing wall in Queensgate and surprised us both by asking if she could have a go. In her first couple of attempts she seemed very nervous and would let go quite easily but on her last attempt she made it nearly all the way to the top and came down with a big smile on her face.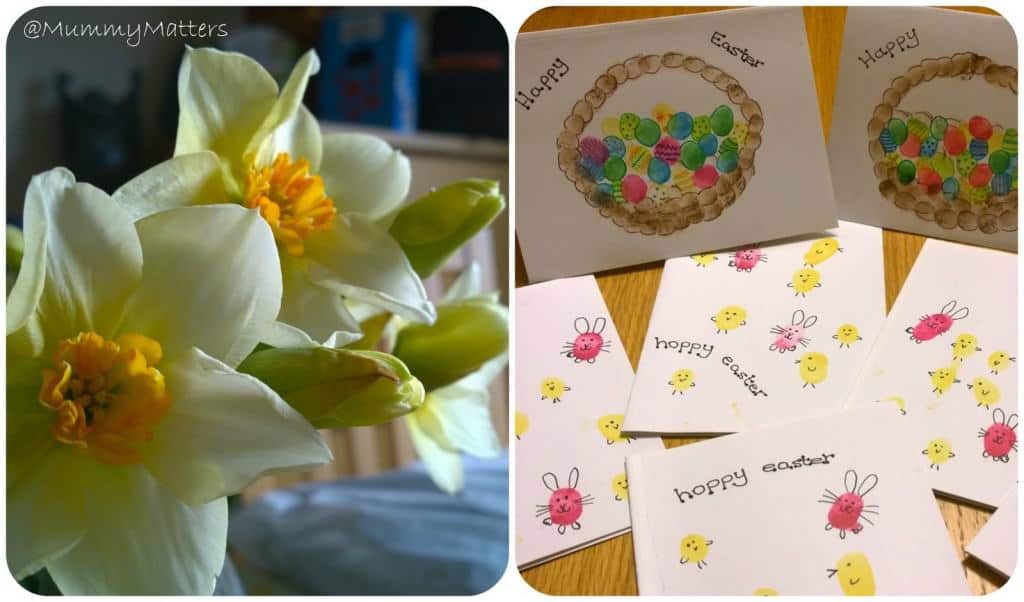 In the early evening, Little Bean had a swimming party to attend so she and Daddy went to that whilst the boys and I made a start on Fingerprint Easter cards – we like the personal touch.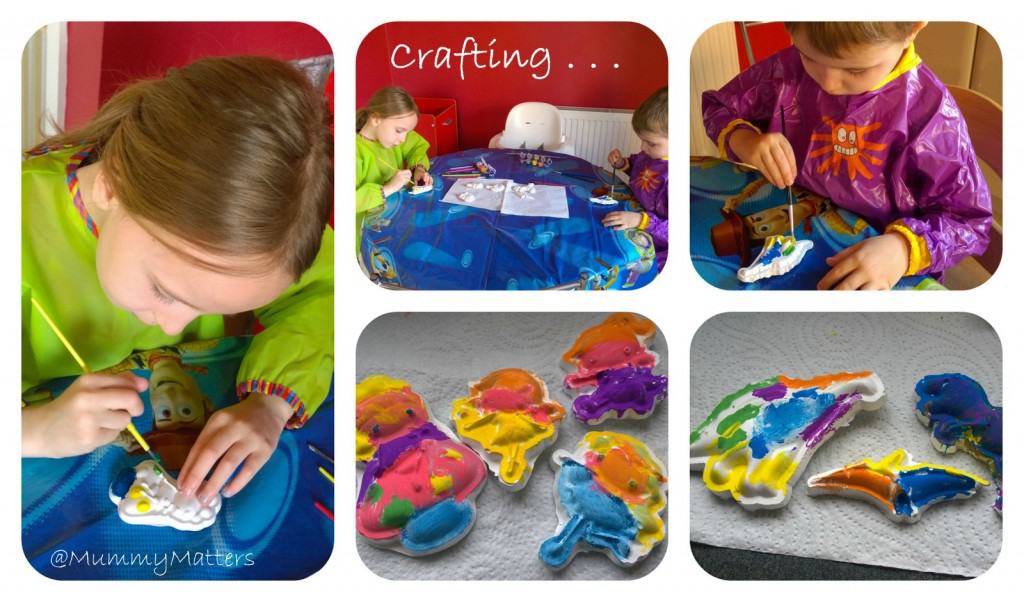 Today has been a pretty relaxed one too, we started off the day with an Easter Egg Hunt around the house. Jelly Bean just wanted to sit and eat each one as he found it and thought it was hilarious that I was wearing bunny ears. He kept calling me the Easter Bunny and then would shout "Easter Bunny where are you?" whenever I left the room. This afternoon they have popped over to see Nanny and Grandad, whilst I stayed at home to catch up on some work.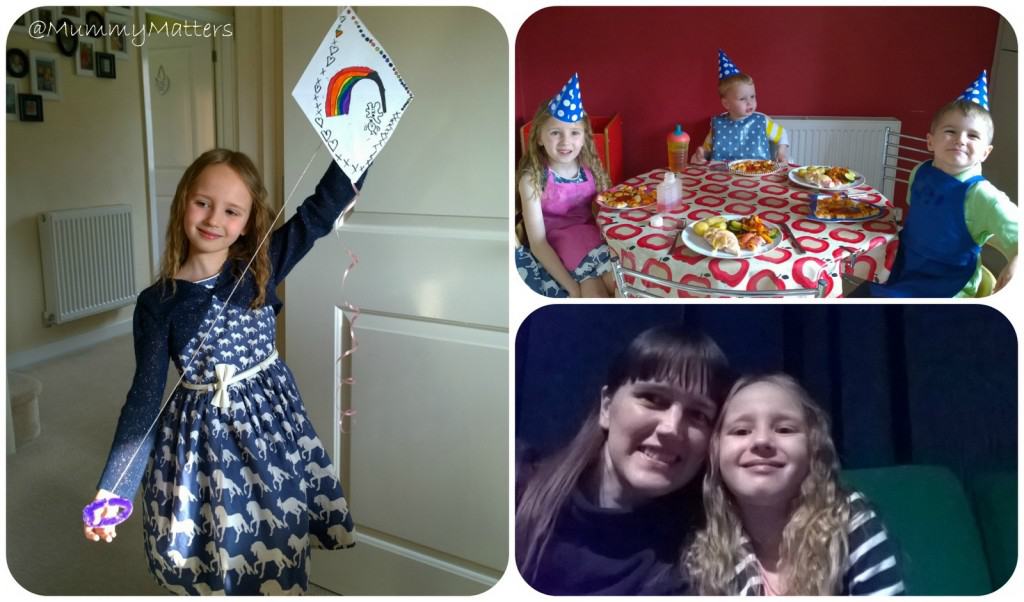 When they returned home Little Bean was feeling crafty again and made herself a kite, then as we sat down for our dinner together she insisted that we should all wear hats and have a 'party', yes me and Daddy too!! To round off our week, Little Bean and I had a 'date night' and went to Showcase Cinema to see Cinderella. If you haven't been to see it yet, go, it's a really lovely version of the old family favourite Fairy Tale. Little Bean and I left with big smiles on our faces.
How was your Easter? Did you do anything exciting?