Day 1
Blimey that was hard work, one minute I'm all snuggled up in a warm, dark place – if not a little bit squashed but all of a sudden it got really tight in there and I had to get out. It was quite scary and hard work. In fact I got so frightened at one point I put my put my hand up on my head and held on so tight my finger nail got stuck in my head!!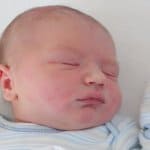 After a little while it went really bright and cold, I was so afraid I cried and cried but then I heard a voice I recognized, she said she was my mummy and she held me close, she felt really warm and I felt happy. She held me there for a really long time, I soon felt really hungry and my mummy gave me some milk from her breast, it was so nice I fell asleep straight away, I think I'm going to like it here.
When I woke up there was another voice I'd heard before holding me, he said he was my Daddy. He felt different to Mummy, he sounded different but he made me feel really safe so I went to sleep again, man I'm so tired.
I was sleeping really nicely when all of a sudden another woman picked me up and start rubbing me with something soft and fluffy, then twisting me this way and that before sticking something on my bum, then pulling me about and putting something over my head before pulling it down to cover my back and arms and legs. I wasn't too sure to begin with but it made me feel much warmer so i quite liked it. I then went back to Daddy and he held me for a really long time.
The next time I woke up my tummy was really hurting so I gave it a little squeeze and the next thing I know my bum felt really warm and sticky – eurghhh!!
It's mad out here in the light, one minute I'm sleeping nicely, the next I'm being held by one person, then passed to another, and another, then someone keeps taking my clothes off my legs and bum and wiping my bum with something really wet and cold.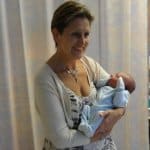 Tonight I got to meet some more people, they said their names were Curly and Little Bean, they are my big brother and sister. Then there was Nanna, Nanny and Grandad. I felt exhausted after they left so I went back to sleep for a while. When I woke up again, Mummy was cuddling me and really looking at me, I like her she seems really nice on the outside!