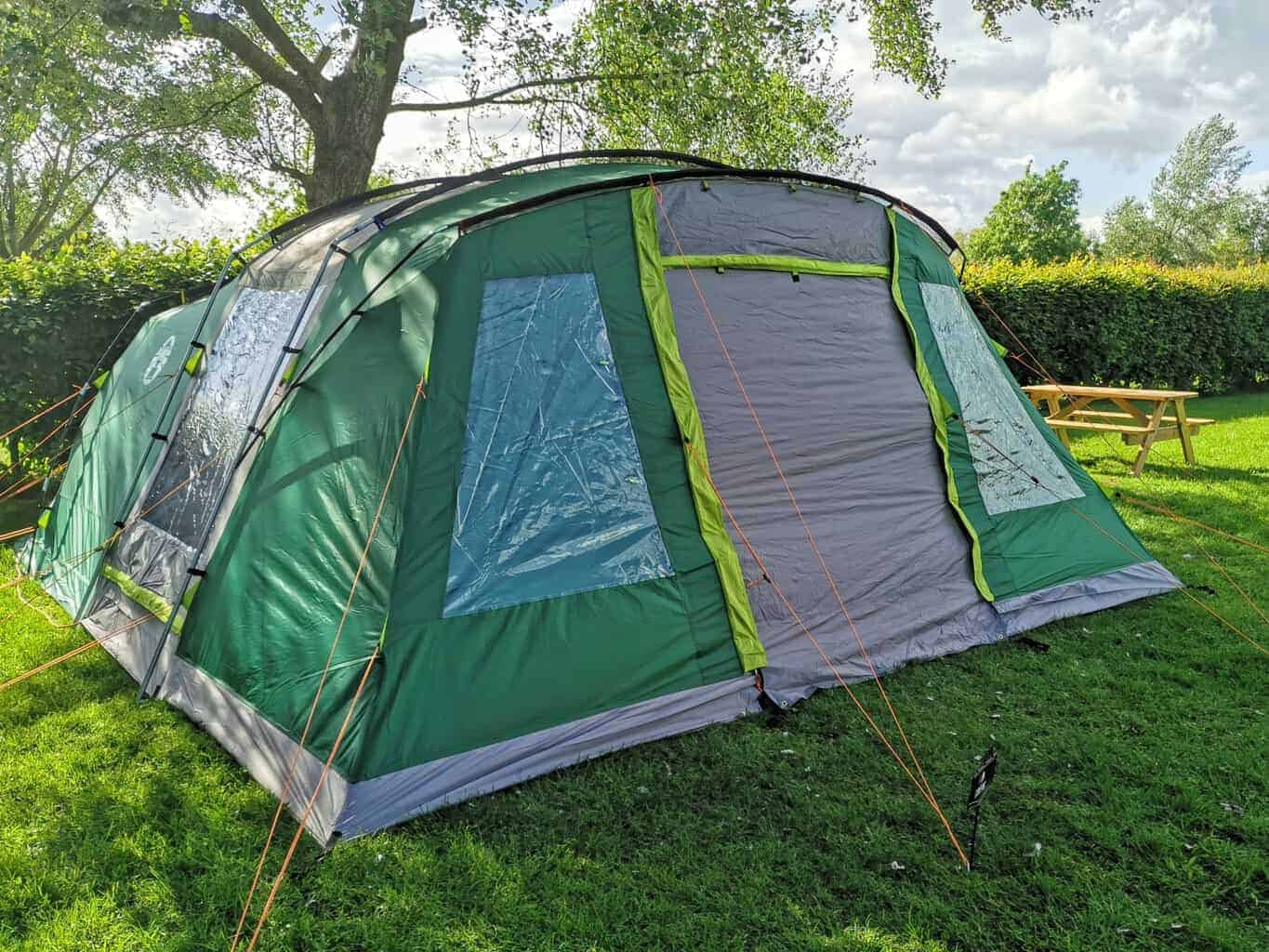 Coleman Oak Canyon 6 Family Tent Review [Ad-Gifted]
Camping season has begun for us already, we have just come back from our second camping trip of the year and it was a great one. I shall be bringing you up to date on the sites we have stayed at very soon and the four, yes FOUR tents we have used but for now, I want to tell you about the Coleman Oak Canyon 6 Family Tent.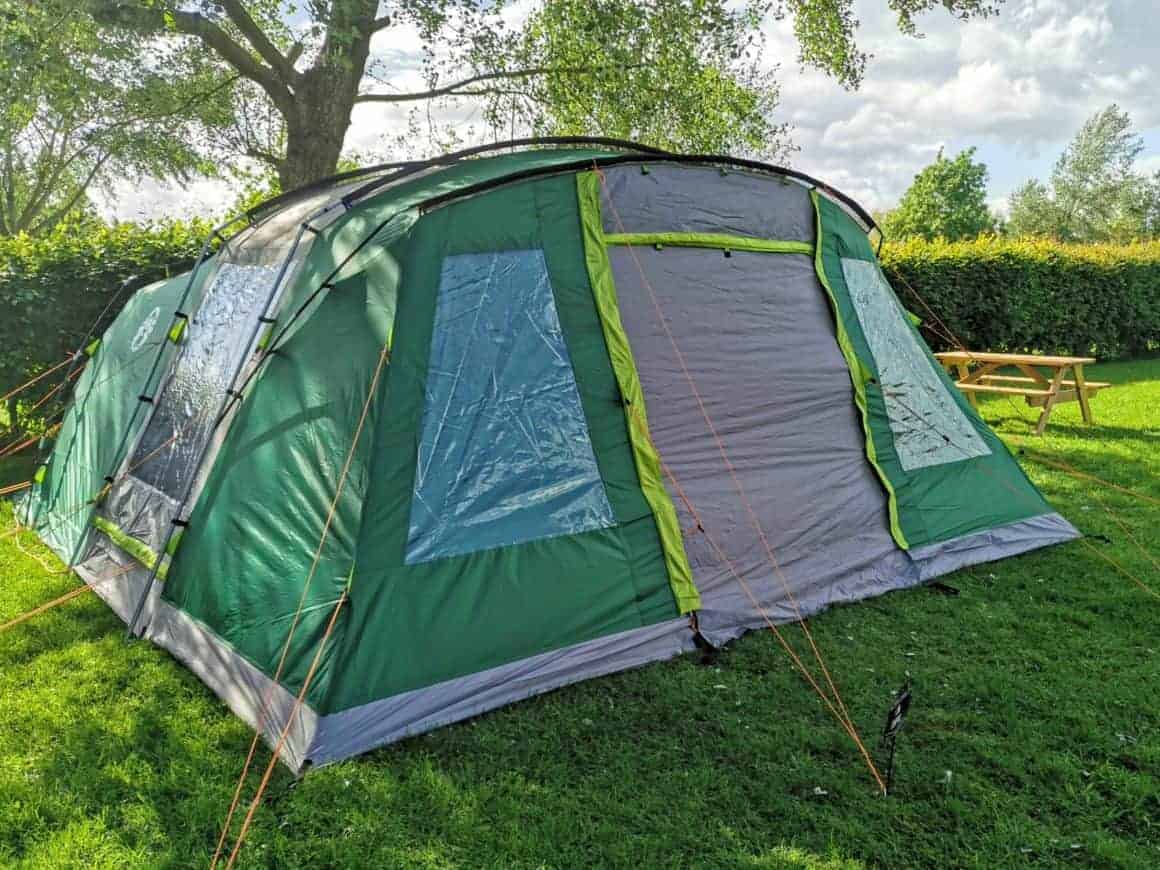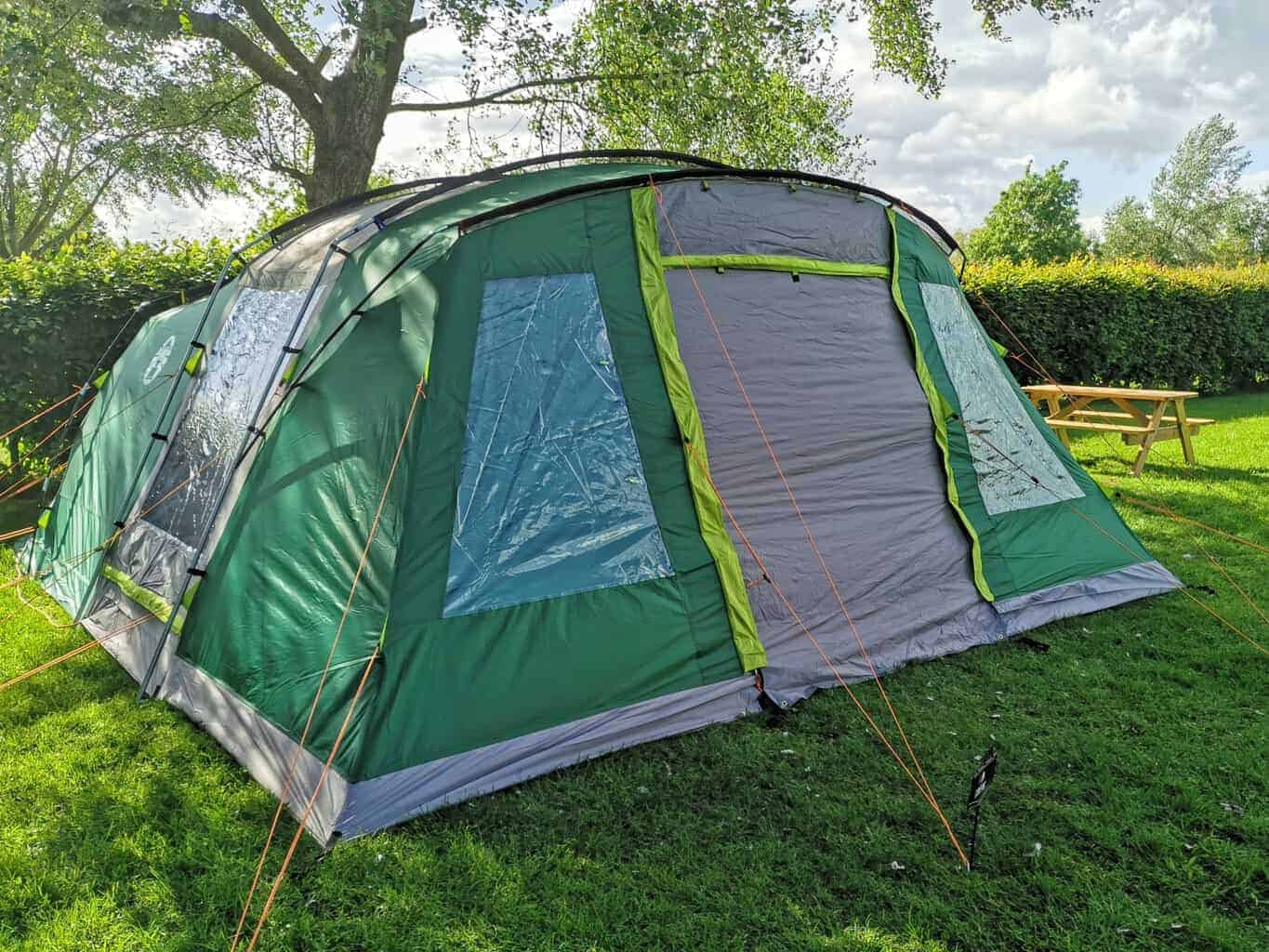 After a fun-filled year of camping with Coleman tents last year, we were delighted to be asked to review their poled tents this year. The question is, would we love them as much as we love the Valdes 6XL Fast-pitch?
Coleman Oak Canyon 6 Family Tent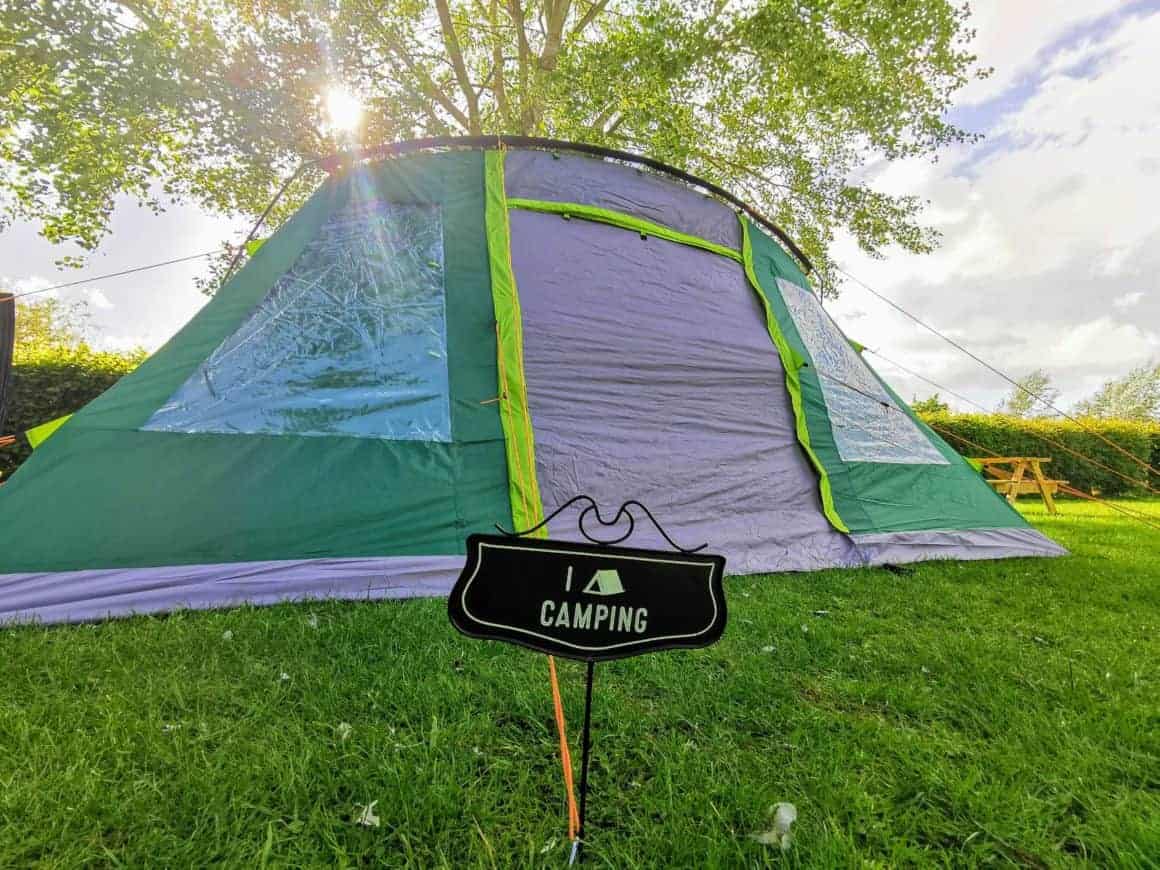 The Oak Canyon 6 is a hybrid poled tent designed with families in mind. It has a similar, albeit slightly smaller, floor plan to the Valdes 6XL but for those who still aren't convinced by inflatables, this is a great alternative.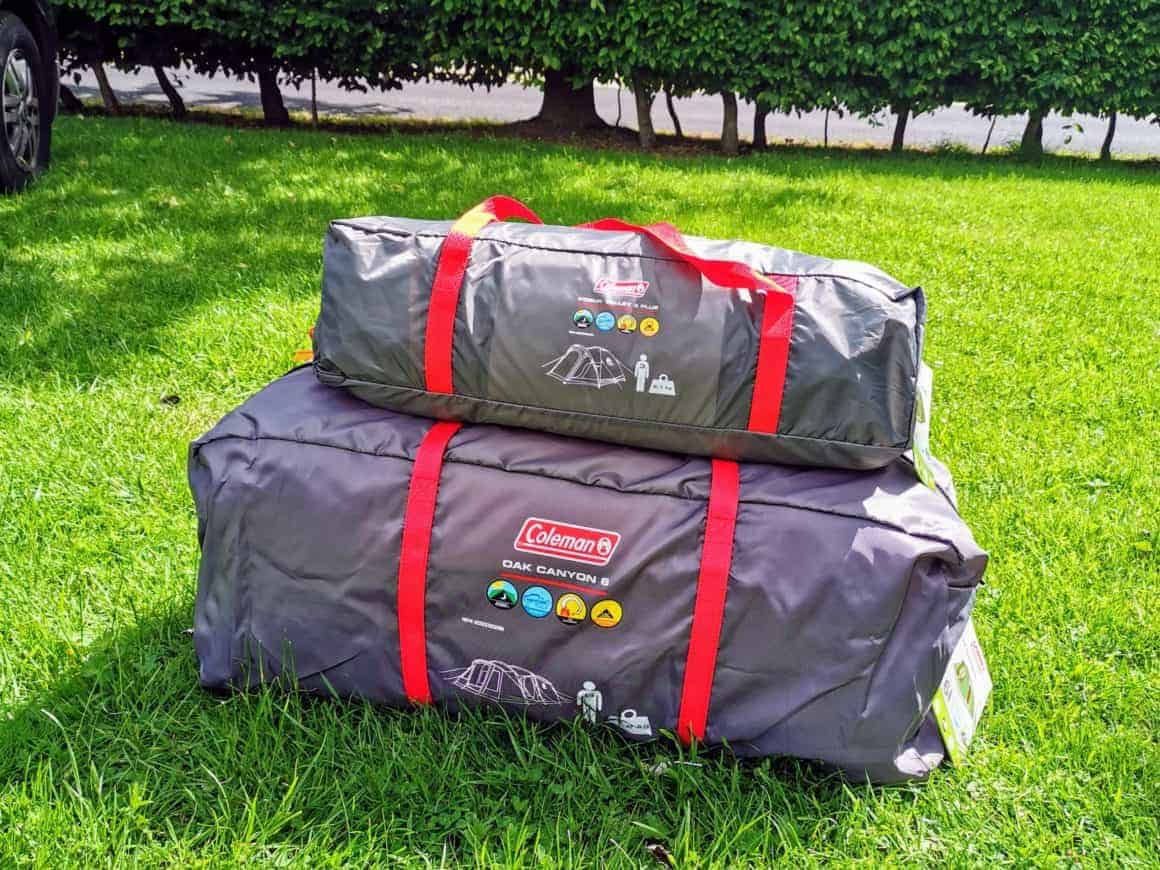 Steel poles across the central section of the tent make the Oak Canyon very sturdy indeed, we had one very windy night and the tent didn't move. The hybrid pole design keeps the pack size smaller which was a welcome sight meaning we didn't need to take our trailer with us.
First Pitch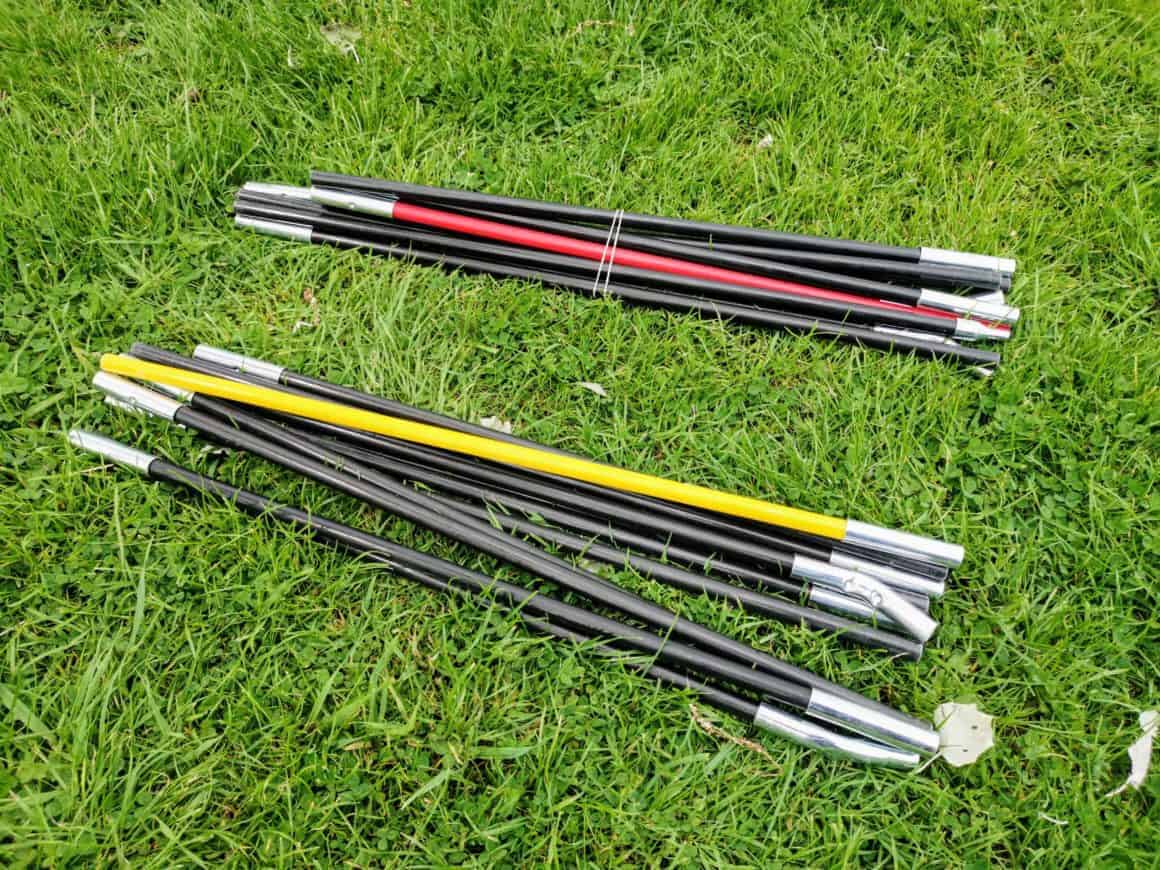 Before we left for our camping trip I watched a short video online to see how to pitch the Oak Canyon and felt confident from the outset. We unrolled the tent and positioned it on our pitch pegging down the back two corners. The fibreglass poles have a coloured section which makes it easy to see which pole sleeve it needs to go into as the sleeves are colour coded to match.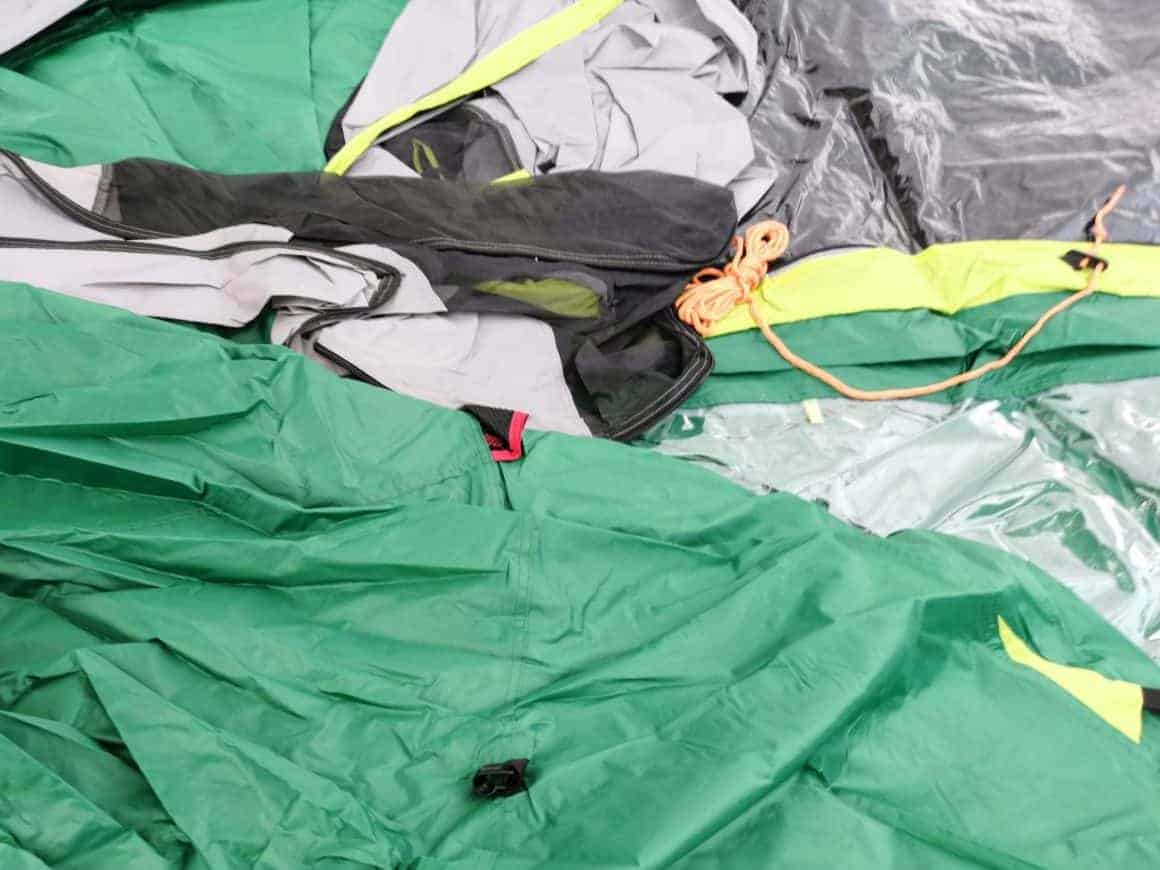 Starting at the back and working our way forwards took less than 15 minutes to insert all poles, it then took a further 5-10 minutes to peg out the guy ropes. It did take us a little longer for the first pitch as the bedrooms were not already attached but when we took the tent down we left them in for ease of pitching next time.
Accessibility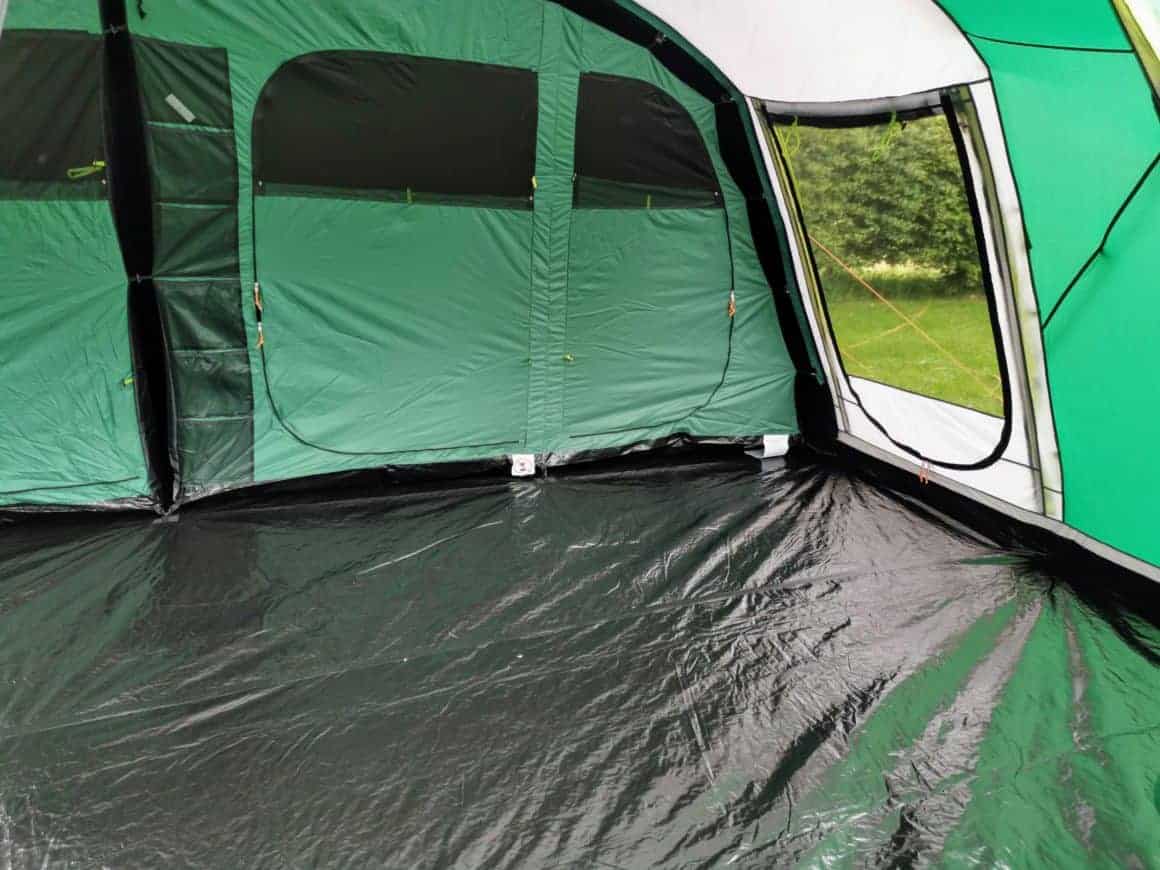 There are two doors, a large front door which is perfect on a hot summer's day to bring the outside in and a side door. Both doors have a mesh door as well as the outer door so you can see the outside whilst keeping the bugs at bay. There are two front PVC windows and one large side window, all of which have covers for privacy.
Living Area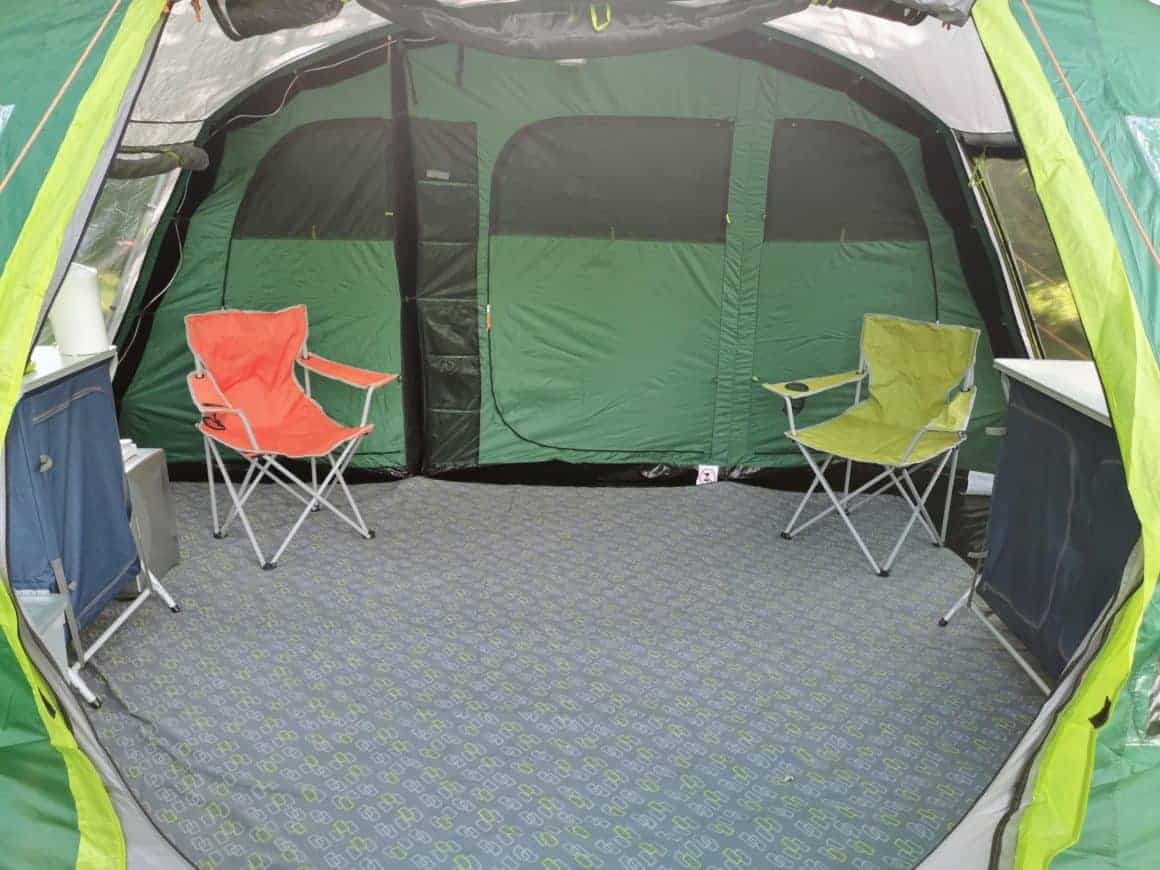 There is a large living area which provides ample space for a family of 6 as well as camping equipment. We rarely travel light so we like lots of storage space. We used our double width Royal camping cupboard on one side to store our clothes and toiletries and our smaller storage cupboard on the other side to store our food and crockery with space on the top for our water container, kettle and toaster. This left space for our kitchen box and refrigerator. The central space easily accommodated our 6 chairs or our table and benches for mealtimes.
Blackout Bedrooms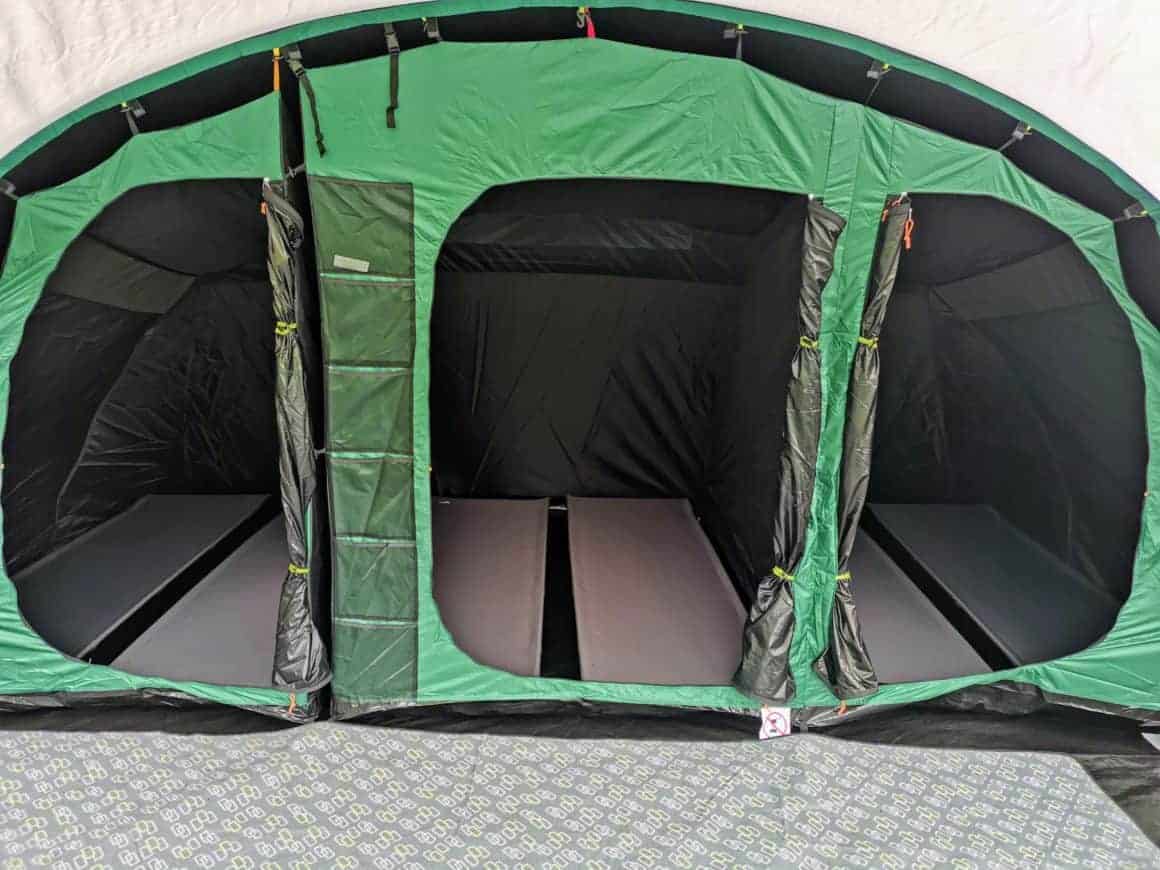 If you haven't slept in Coleman's blackout bedroom, you haven't have slept in a blackout bedroom! Coleman's revolutionary Blackout Bedroom technology blocks out 99% of the light which means you can go to bed early or sleep in late and not have to worry about light. Unfortunately, they can't guarantee it will be quiet on your campsite but you can't have everything! It also helps to regulate the temperature so you are as much as 5°C cooler in the heat and 1°C warmer at night.
The XXL design bedrooms offer lots of space too so you don't need to disturb your sleeping partner when climbing in and out of bed. We use camp beds and can easily fit two beds into each bedroom with space in between to move freely.
The smaller of the two-bedroom compartments can be removed to provide further space for storage.
All Round Weather Protection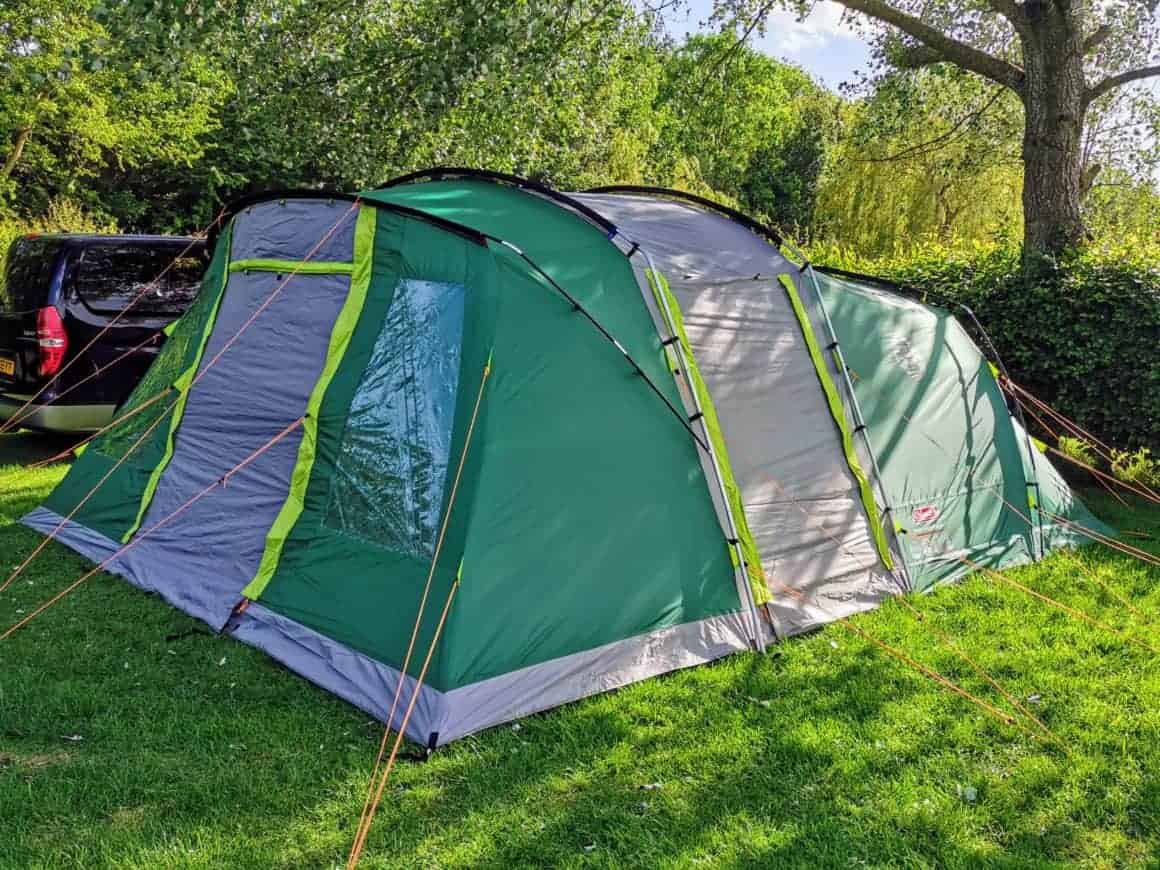 The high-performance flysheet provides excellent wet weather protection and is treated with Coleman's UVGuard™ with SPF50 protection from the sun's damaging rays.
Safety First
The fabrics used in the Coleman Oak Canyon 6 are fire retardant.
In the event of an emergency, the zipper stoppers on the doors are positioned within easy reach for adults and children.
Optional Extras
Front Extension – dependant upon the type of camping you like to do, there are a few optional extras you can purchase for the Oak Canyon 6. The Oak Canyon Front Extension will give you more living space, storage and extend your shelter. This could be ideal for longer camping holidays when you need to take more with you.
Carpet – adding a carpet to our camping has been a game-changer for us. It is so much warmer and more comfortable. We make sure that we remove our shoes so as not to dirty the carpet which means the tent stays cleaner as a whole.
Footprint – this is the second game-changer for us. Putting a footprint under the tent improves not only the insulation under the tent but it makes it much cleaner when packing away and (we feel) adds to the lifetime of the tent by protecting the groundsheet.