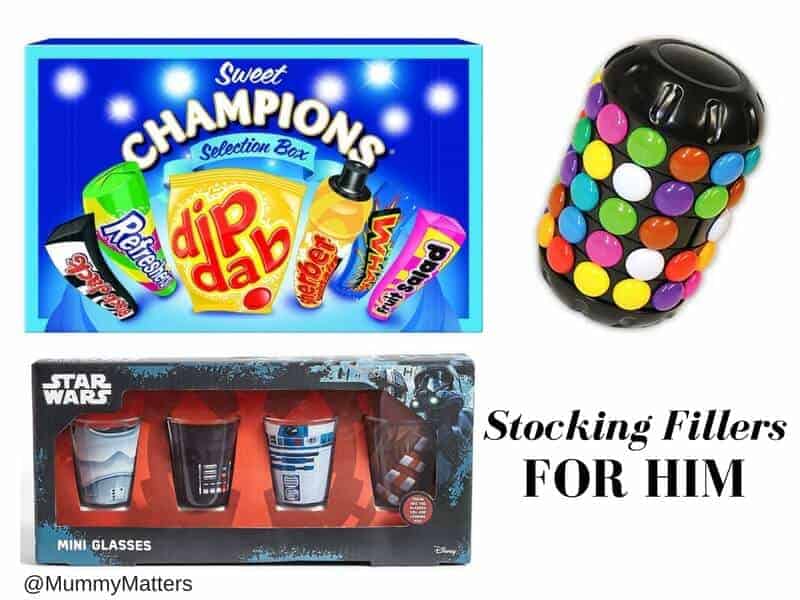 I absolutely love giving gifts at Christmas and I especially love buying stocking fillers for everyone. We each have a traditional stocking which hangs down the banisters of the stairs (we don't have a fireplace) and we always make sure that everyone's stocking has been topped up with little gifts, never anything of particular value, just little oddities that the recipient will love. I've had a little scout around for you to give a few ideas if you're stuck for what to buy;
Stocking Fillers for Him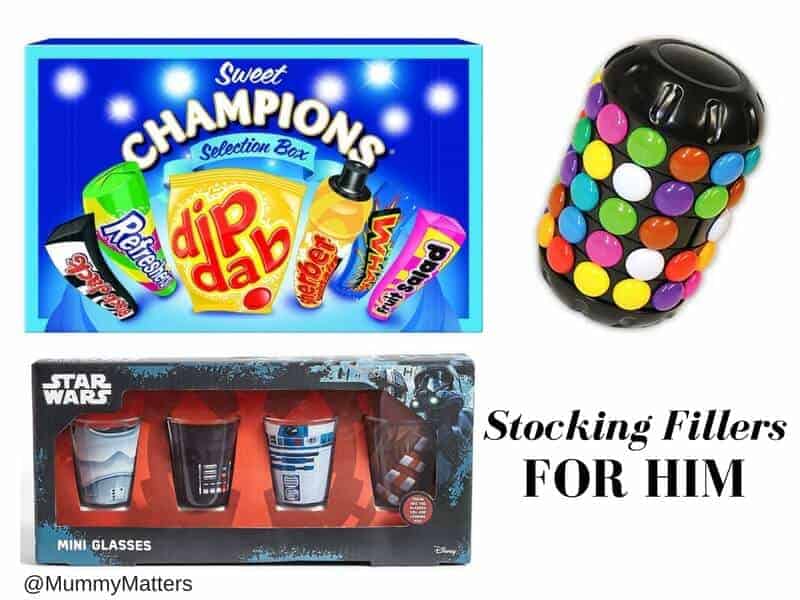 Sweet Champions Selection Box – Presents that evoke nostalgia are always a winner with me so what better than a Sweet Champions selection box filled with favourites like dip dab, refreshers, sherbet fountain, fruit salad and wham etc. A delicious bar containing crunchy pieces in an orange flavoured centre. It has no artificial colours flavours or preservatives and no hydrogenated vegetable oils.
Currently available from Sainsburys at £2.00
Baffle Handheld Puzzle Game – Baffle looks like someone has tried to make a Rubik's Cube out of Smarties and a camera lens, but this is one addictive game! The idea is to align the buttons vertically in their colour groups all the way around. Sounds easy right? Well these coloured dots can move from line to line as well as rotate on each layer. Find Me a Gift love handheld puzzles and this one is a doozy!
Currently available from Find Me A Gift at £5.99
Star Wars Mini Glasses – There aren't many men that I know who don't relive their youth through the powers of Star Wars. This set of 4 character glasses from Star Wars is ideal for a 35ml tipple.
Currently available from M&S at £10.00
Stocking Fillers for Her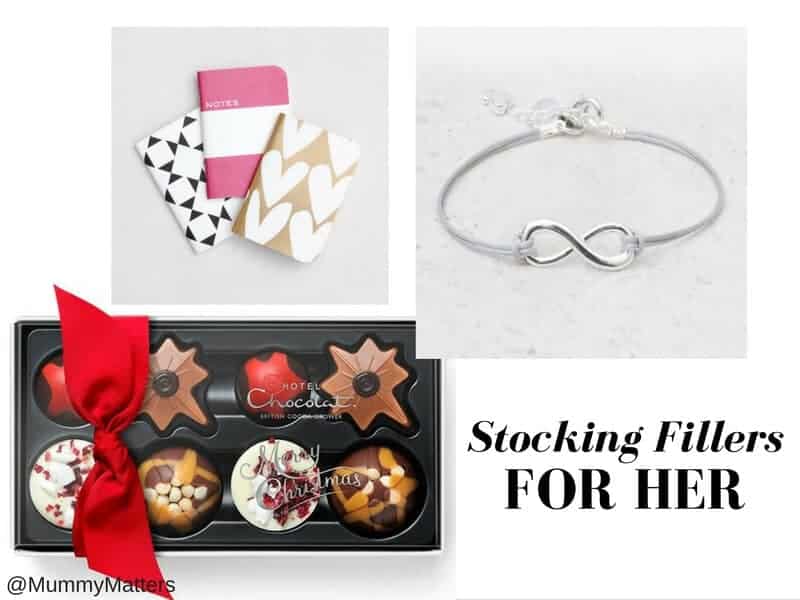 Hearts Essential Pocket Notebook set of 3 – A set of 3 mini pocket notebooks with plain pages, in a delightfully mismatched selection of Geo, gold foil Hearts and stripe patterns. These useful mini notebooks are perfect for little lists and thoughts on the go.
Currently available from Caroline Gardner at £4.75
Christmas Pocket Selection – There's always one who's difficult to buy for at Christmas, whether it's a secret Santa, work colleague or someone you see once a year. Present them with this pretty box of chocolates and show you care – these recipes are so beloved you can't go wrong! Alternatively, if someone's stocking is missing that yum-factor, top it up with this ribbon-tied box for an elegant finish.
Currently available from Hotel Chocolat at £8.00
Luana Personalised Eternity Bracelet – A stunning silver plated eternity charm bracelet made from a double cord strand with lobster clasp and featuring a personalised sterling silver charm if requested. Luana is available in a beautiful choice of colours grey, buff pink, midnight blue and ivory delicate cord and a silver or rose gold eternity charm.
Currently available from Not On The High Street at £9.00
Stocking Fillers for Boys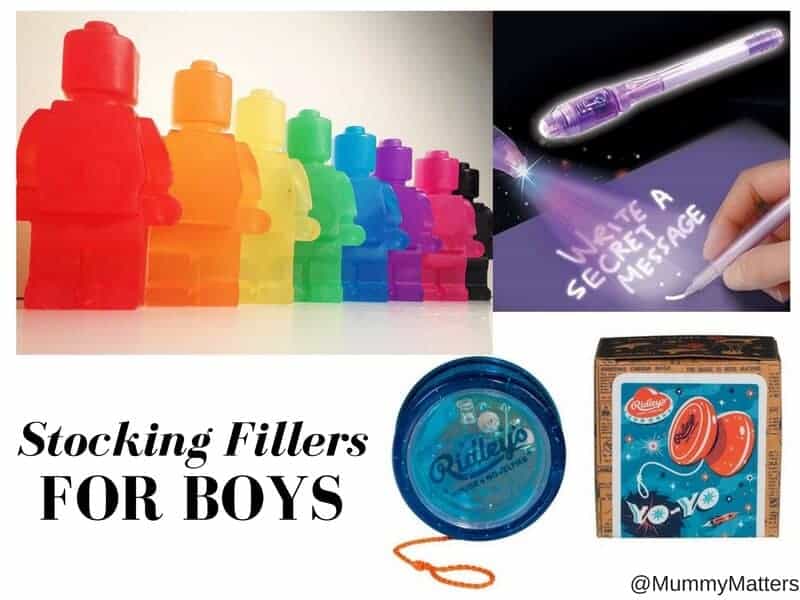 Invisible Ink Spy Pen – I bought these for each of my Beans last year as stocking fillers and they all loved them. They have used them so much in their games play, writing secret messages to each other that only they can read with the special light in the pen.
Currently available from Amazon at £2.70
Lego Man Soap – SLS Free – There aren't many little boys that I know that don't love Lego. They might not all love washing but hopefully with a Lego Man soap there's more chance of getting them to use it. Got to be worth a try at least don't you think?
Currently available from TopGifts.co.uk from £2.99
Wild & Wolf Yoyo – sometimes its the most simple of gifts that are the best. My children still get excited they get a new Yoyo, it's just one of those toys that you can carry around in your pocket or your school bag. This one lights up so great fun for the dark winter's nights too.
Currently available from Debenhams at £5.00
Stocking Fillers for Girls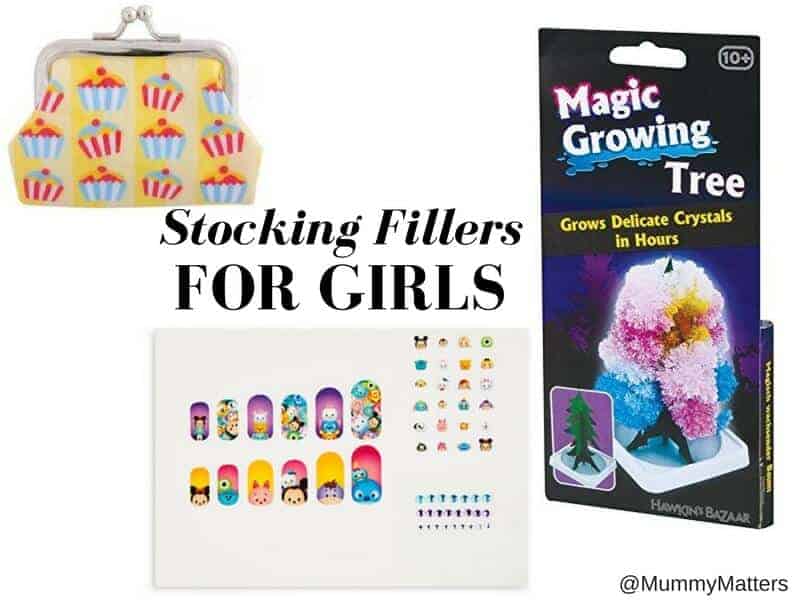 Tsum Tsum Nail Art – Add fun, colour and character to your fingers with this stylish nail art set! The nail wraps and stickers feature Mickey, Minnie, Stitch and more as Tsum Tsums, with diamantes for an extra sparkle.
Currently available from Disney Store at £5.95
Tobar Magic Growing Tree – A simple two-piece cardboard fir tree is placed in the container of liquid supplied. Within a few hours colourful flowers begin to appear, and grow on to produce an astonishing and attractive thing which will last almost indefinitely if protected and sensibly positioned. It comes in a box which fully explains and illustrates what to do and expect.
Currently available from Amazon at £2.29
Kids Retro Clip Purse –
Retro clip purse is for children with discerning taste, dis earning money is easy. This cute little purse is classically styled to suit every outfit for any child who likes to receive money, so that's pretty much all of them then. Pop your precious coins safely in the little purse & clip it up tight. So cute, I think they could be the next teenage trend.
Currently available from When I Was A Kid at £2.50