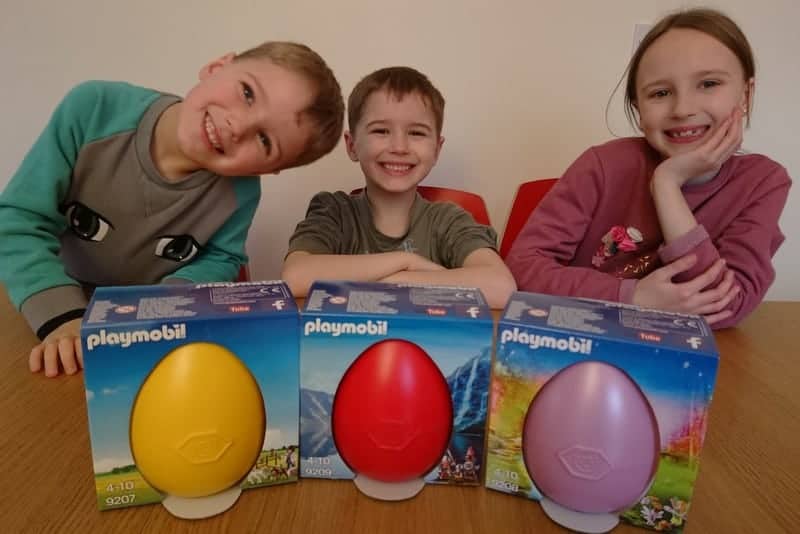 Chocolate free Easter Egg from Playmobil
Call me a mean Mum but I don't like the children to be bombarded with chocolate eggs at Easter, mainly because they don't eat them.  When I was little I would get around 8 large chocolate eggs and I would eat them, but the Beans eggs can still be waiting to be eaten months later (if Simon and I don't get to them first).
Playmobil Easter Eggs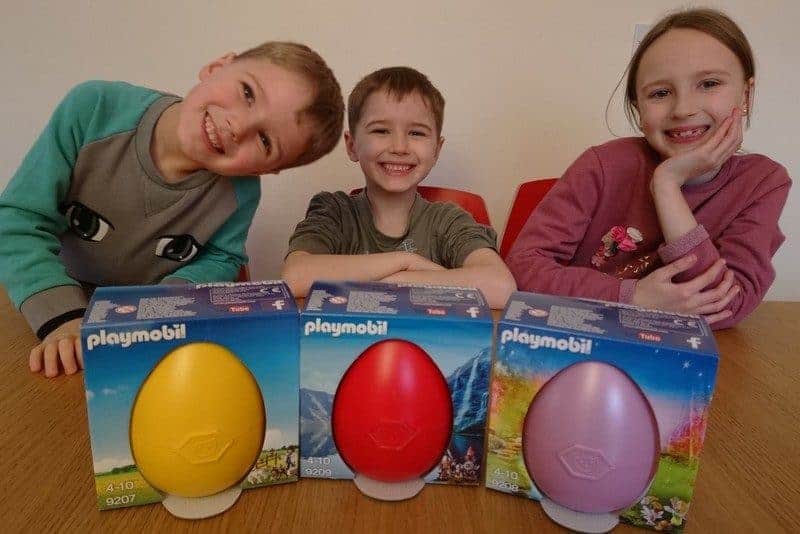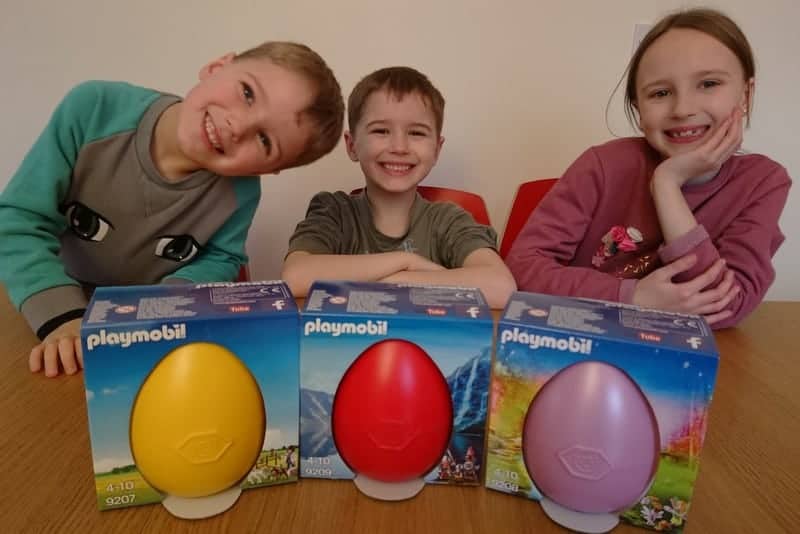 We tend to give the Beans one large Easter Egg each, an Easter Egg hunt with small eggs and a small toy.  Playmobil have hit the nail on the head with their Easter Eggs.  These Egg-shaped toys come in a choice of four colours; Red, Pink, Yellow and Blue each with a different theme.  The eggs also double up as a money box afterwards.
Red – Vikings with a shield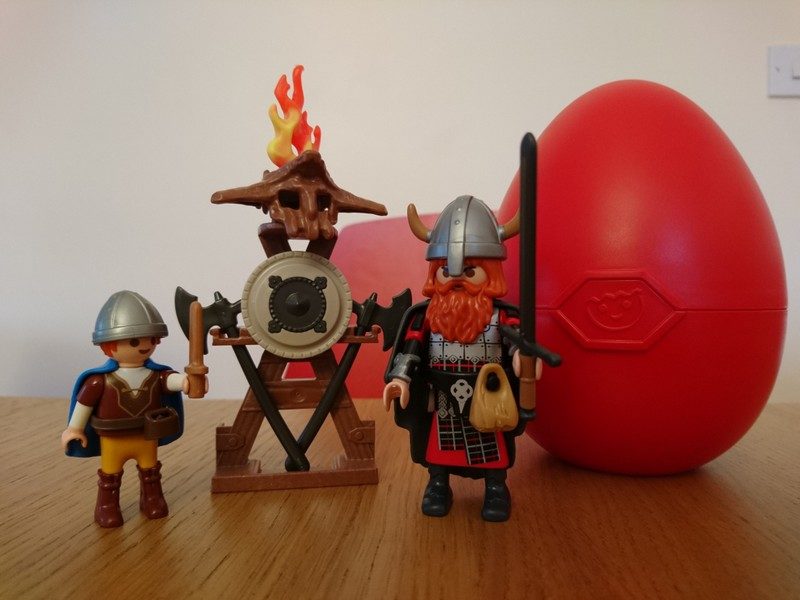 Ollie received the Red Playmobil Egg which contains two Vikings and a Shield stand with weapons and a shield.  This is the perfect addition if you have any of the Vikings or Knights playsets, though Ollie has integrated it into his How to train your Dragon playset.
Pink – Fairies with magic cauldron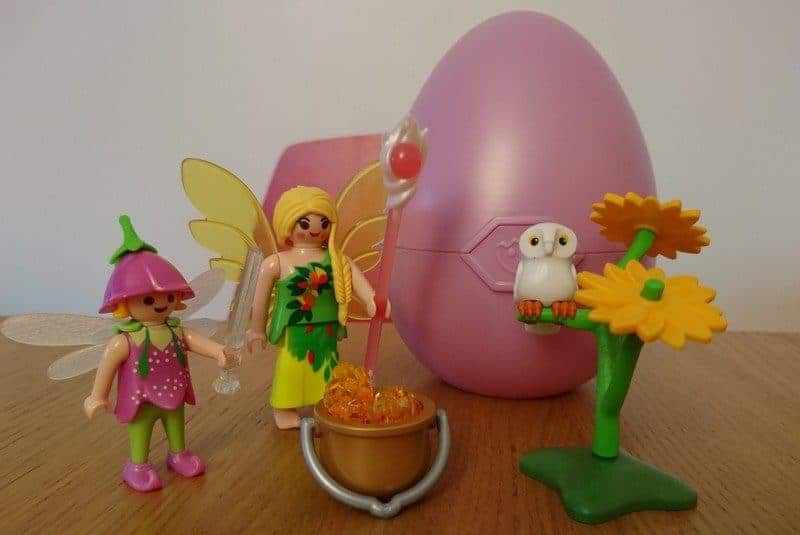 Lillie loves the Playmobil Fairy sets and this pink egg playset has been very well received.  It contains two Fairies, a magic cauldron filled with twinkling gems and a magic owl on a flower stalk.
Yellow – Vet with foals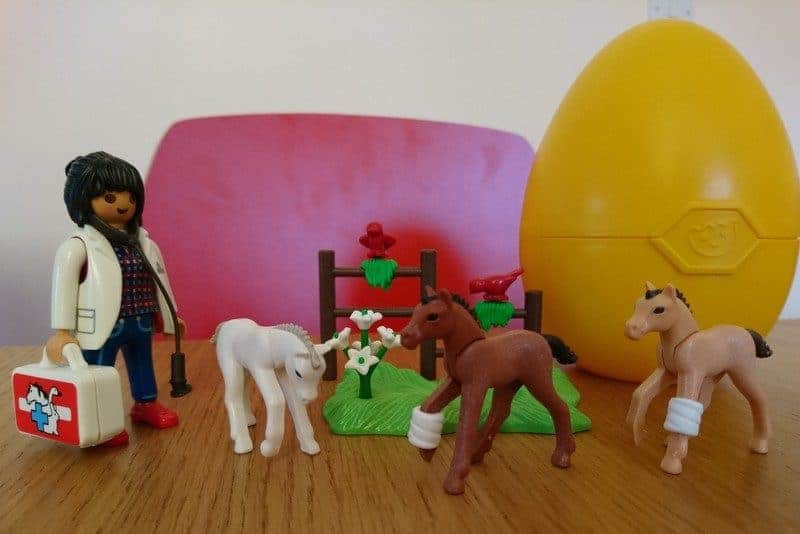 Albie received the yellow egg which we all thought was the best as it had so much in it.  It contains the Vet complete with her case full of medical kit, three small foals (with bandages for poorly legs), field fences and two small birds.  The only thing which was a slight disappointment was the stethoscope snapped almost immediately when Albie was playing with it.  For a toy aimed at preschoolers, I would have expected it to be a little more robust.  This doesn't spoil the enjoyment of the playset.  We have the Pony Farm set so this works well as an addition to the playset.
Blue – One on One Basketball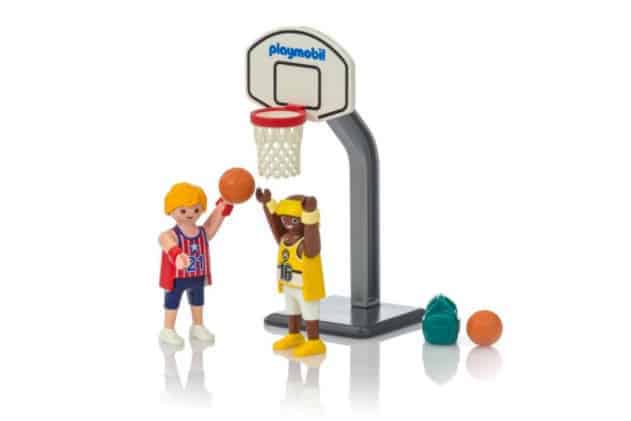 We didn't receive the blue egg but I think I am going to order it in to go with the School playset we have.  The One on One basketball set contains two basketball players, two basketballs, a sports bag and the basketball hoop and stand.
At just £6.99 per set, these are a great alternative to an Easter Egg and will provide hours of fun as well as stimulating their imagination – you can't say the same for chocolate!
Imagination Games
Before Christmas, the Beans and I were asked to take part in some research which Playmobil was doing about how technology dampens a child's use of imagination (see the findings here).  The children's use of technology is something which I have had an internal battle with for a long time.  On the one hand, I feel they need to use technology to stay 'in the game' to keep up with their peers.  Would you believe when Lillie started school they said that she wasn't as great as the 'tech stuff' as her classmates?  We were actively encouraged to let her use it more.
Limited technology, stimulating play
But you see as great as technology is, I don't like the effect that it has on the children.  They become less responsive, more agitated and aggressive, they lose the ability to use their imagination.  As parents, we have taken the decision to limit their time spent on tablets and video games.  Since this video was created, we have now banned the use of technology before school and the result has been very worthwhile.  We now arrive at school early, they have done all their jobs and they use their imagination to play together.  This morning they put on a talent show in the lounge, just the three of them and the sound of them laughing together is just priceless.
How do you feel about your child's use of technology?  Do you limit their time?
DISCLAIMER: We received the three Playmobil Easter Eggs as part of our role as Playmobil Playologists.  All words, images, video and opinions are my own and may not be copied without my permission.  I have not been instructed what to write.