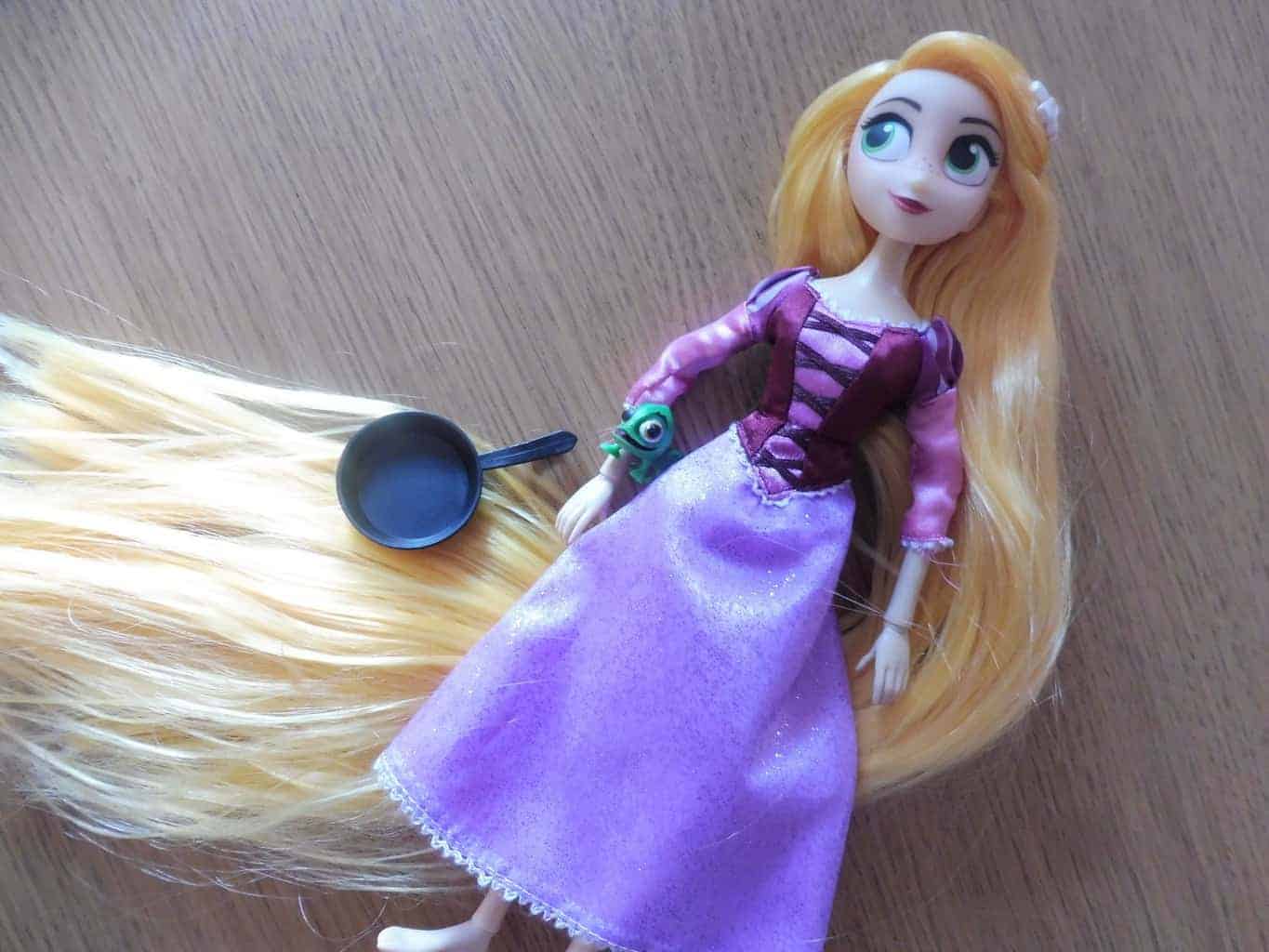 Catch new Disney short Tangled: Before Ever After on Disney Channel
Disney's Tangled fans will be delighted to hear that Disney have created a 45 minute special called Tangled: Before Ever After which airs on Disney Channel on Tuesday 25th July at 5:35pm. Catch the launch of Tangled: The Series this Autumn.
Synopsis
As Rapunzel prepares for her coronation as Princess of Corona, one unforgettable night will change her hair again! Rapunzel grapples with the responsibilities of being a princess and the overprotective ways of her father. While she wholeheartedly loves Eugene, Rapunzel does not share his immediate desire to get married and settle down within the castle walls. Determined to live life on her own terms, she and her tough-as-nails Lady-in-Waiting Cassandra embark on a secret adventure where they encounter mystical rocks that magically cause Rapunzel's long blonde hair to grow back. Impossible to break and difficult to hide, Rapunzel must learn to embrace her hair and all that it represents.
As a family we were hooked with Tangled from the moment we saw it, but one member of the family in particular loved it more than the rest; Lillie! Lillie fell in love with Rapunzel's hair straight away, what little girl wouldn't want to have beautiful long hair as well as a kick-ass attitude?!
Rapunzel Classic Doll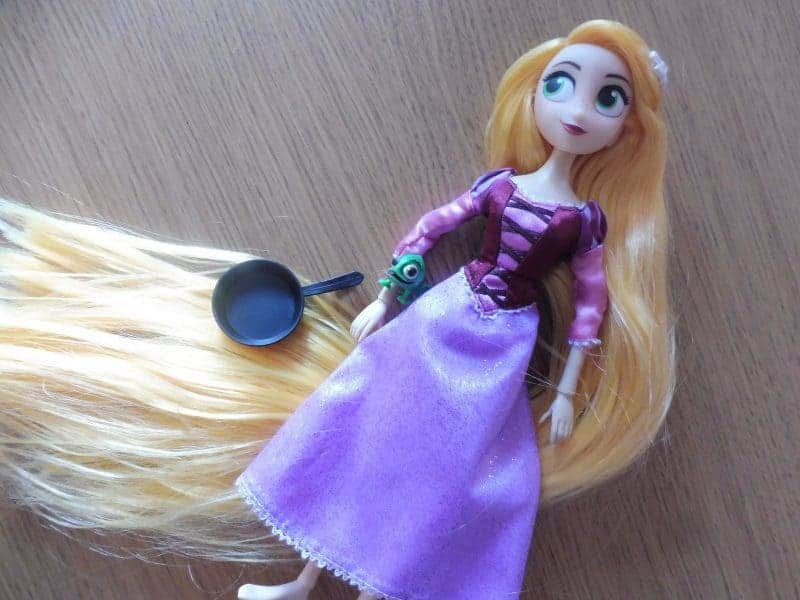 To accompany the film Disney has released a fantastic range of toys and Lillie was lucky enough to receive two items from the range. Lillie really loves her dolls right now and particularly loves to style their hair. You can imagine how excited she was when she opened her surprise parcel and laid eyes on the Rapunzel Classic Doll. It did confuse her slightly as she remembered that Rapunzel had short dark hair at the end of the film but then again, she hasn't seen Tangled: Before Ever After when all will be revealed.
The Classic Doll has 16 poseable features, Lillie is most impressed that she has 'knees' but has already had hours of fun playing with her. She particularly likes the little flower hair clip and has told me already that she will not be taking the clip out of her hair. She also comes complete with her frying pan and friend Pascal.
Tangled Journal Playset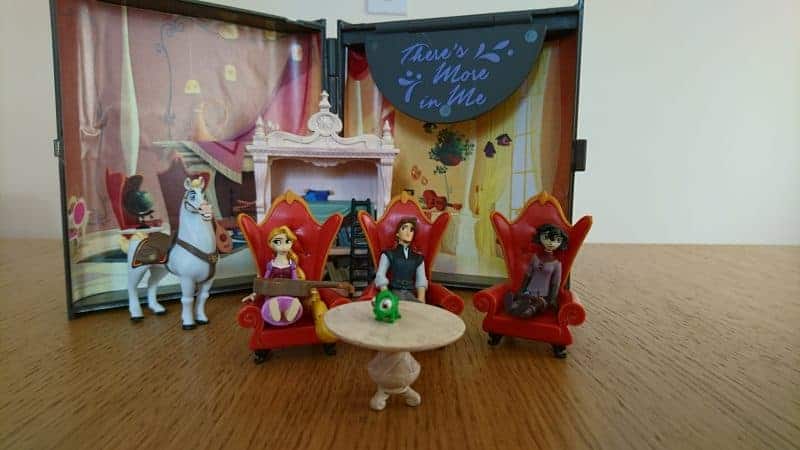 The Tangled Journal Playset is THE perfect holiday travel essential for young Tangled fans and has come away camping with us this week to the coast. The Journal Playset is a small toybox in the shape of a journal complete with a book charm. When the Journal is opened it transforms into a backdrop for the furniture enclosed within. Inside there is a bookcase, table, three armchairs, Maximus the horse, Eugene (formerly Flynn Rider), confidant Cassandra, Pascal, guitar and of course Rapunzel herself.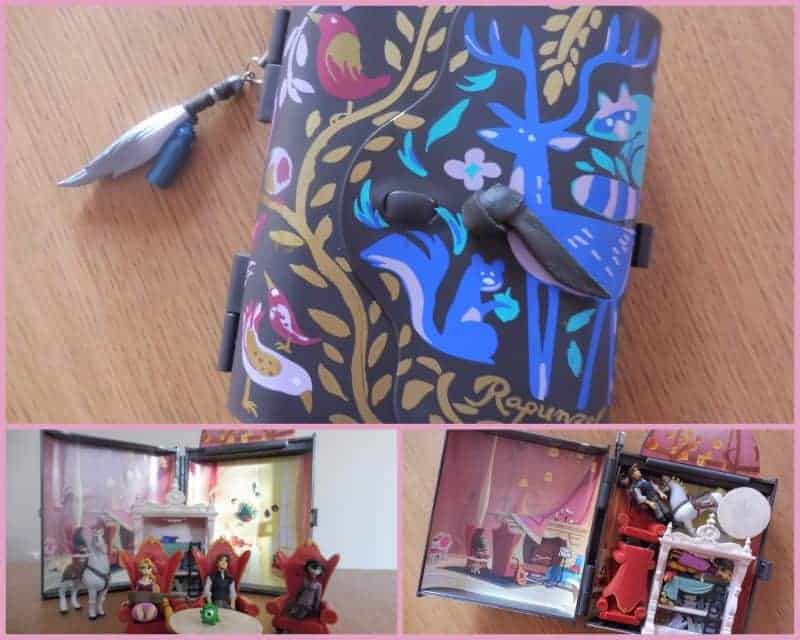 Lillie adores the playset and has particularly commented on how realistic the wood looks on the bookshelf and the texture of the table. Using this travel-size playset she can set up her own little Tangled world wherever the mood takes her; at home, in the car, in the tent. It would be perfect to keep little ones entertained when flying too.
(I am away camping at the moment so I'm not sure that my internet connection will be strong enough to share the video of her opening her surprise parcel but I shall be sure to share it with you when I get home).