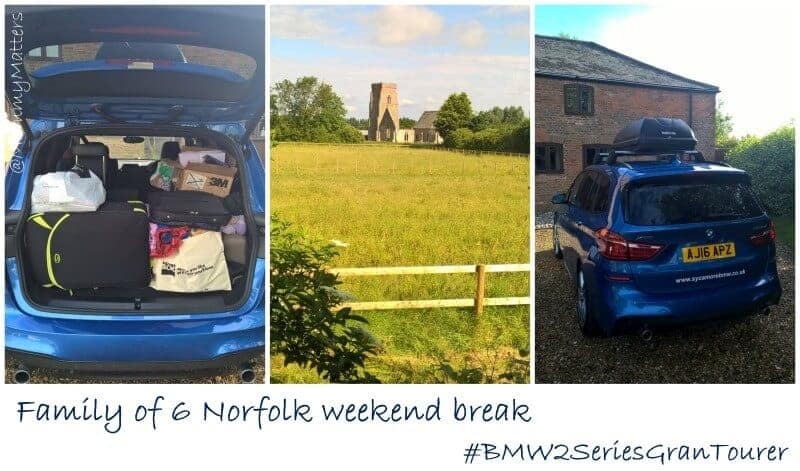 When it comes to big families like ours, a 7-seater car is a necessity unless you want to travel everywhere with two cars. The trouble with some 7-seaters though is they are only good for getting from A to B and aren't necessarily much help for a family getaway. Well, with the BMW 2 Series Gran Tourer we have now managed two family getaways. One as a family of six and one as a family of five.
Family of six weekend at Islington Hall Farm – Norfolk
Back in June we collected the Beans from school and loaded the Gran Tourer up with our belongings for a family break in Norfolk. We would be meeting up with all of Hubby's family to celebrate my Father-in-Law's 70th Birthday so not only did we have to pack clothes and all the general family 'stuff', we also had to take food, drink, towels, swimming kits and airbeds.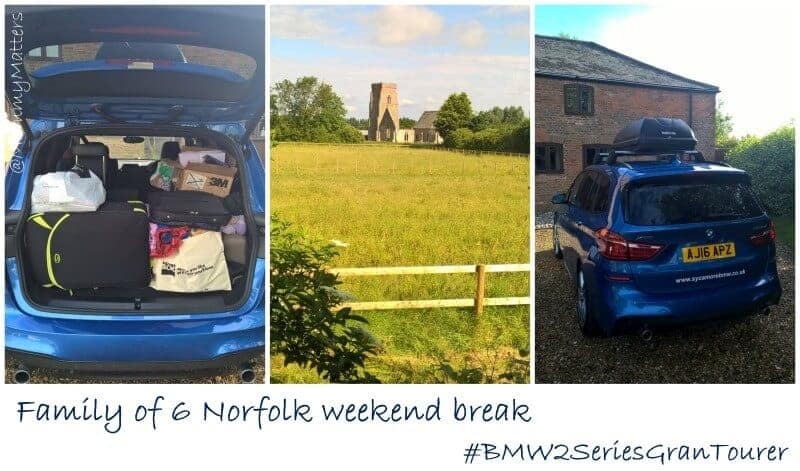 Packing the car up we sat the three boys on the middle row and then Little Bean sat in the third row for some peace and quiet. There are lots of handy little nooks in the Gran Tourer to store smaller items. I always worry about packing my camera equipment in the car but underneath the back panel of the boot where the parcel shelf is stored is a brilliant compartment which is deep and goes the width of the car. We used this to store my camera equipment, First Aid Kit and some of the kids tech toys. We then dropped the 7th seat and used our roof box to carry the rest of our belongings.
As a family with four children, comfort of our passengers is a really important aspect of travel because kids know how to complain LOUDLY! In the Gran Tourer the Beans have all that they need within easy reach yet they still have plenty of leg room to move about (even in the third row).
Finding our way
Being a Friday night the roads were very busy with people heading to the coast so we used the Sat Nav to choose an alternative route which took us down quieter roads to avoid the traffic. Programming the Sat Nav was really easy with options to find the location via Post Code, Street Name or Point of Interest as well as all of the other usual options.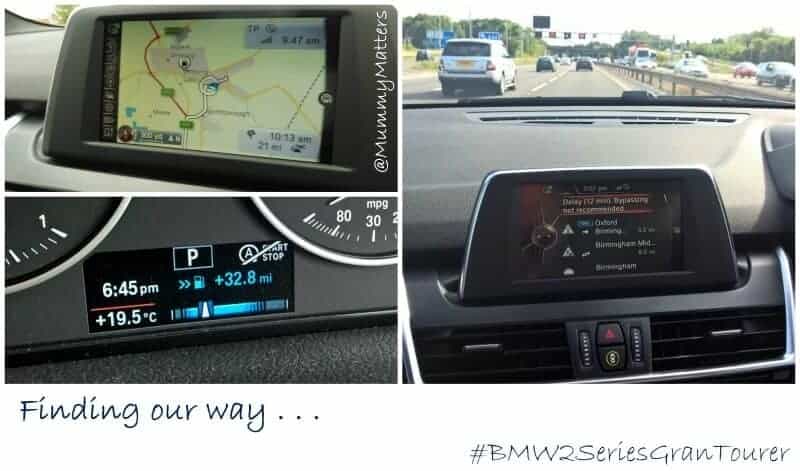 Obviously the car felt heavier when fully loaded, particularly on the more bumpy back roads but it coped well and sailed along nicely without any loss of power. The 'start/stop' technology came in particularly handy when we hit the slow moving traffic once more going through Wisbech town centre.
On-board entertainment
When the Gran Tourer was delivered to me, my mobile phone was connected to the onboard computer via Bluetooth so not only can I make/receive calls and texts completely hands-free through Voice recognition but I can access my Spotify account through the BMW ConnectedDrive and plug in the iPod at the Aux port (there is a USB port too) in the centre armrest between the driver/passenger seats. There is also a fantastic on-board CD player and DAB Radio. Once the Beans got fed up of listening to Mummy and Daddy's music (kids have no taste!) they all plugged themselves into their headphones and tablets and zoned out leaving Daddy and I to enjoy a peaceful journey.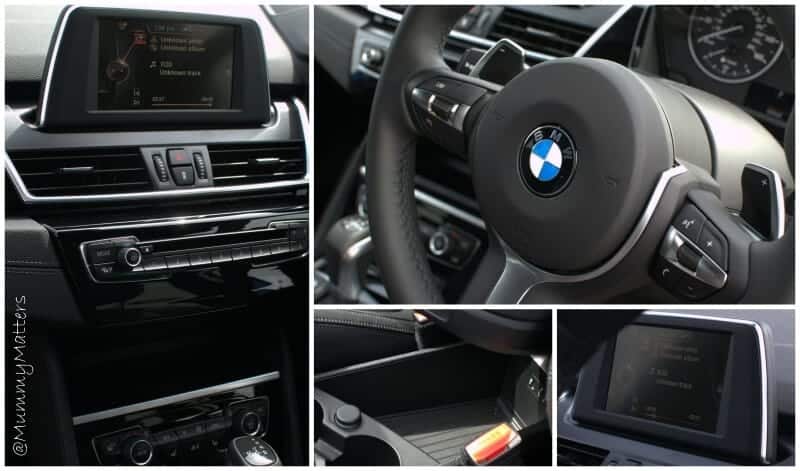 Once we had arrived at Islington Hall Farm we didn't leave until it was time to go home but the Gran Tourer received lots of attention from our family members who were staying there with us. On the day that we left they were amazed at how much we had managed to fit into the car as well as a family of six.
Family of five weekend to Bluestone – Wales
The journey from our house to Bluestone in Wales is roughly seven hours so you need to be comfortable for that amount of time. The front seats both have a button on the side which enables you to move the side of the seat in or out according to your comfort requirement, it feels like the car is giving you a hug.
This time we had the two boys in the middle row in their Isofix seats and Little Bean once more chose to sit in the third row so that she could have space to herself. She loves the side pockets where she can store her iPod, snacks and drink. We didn't need to take the roof box as we had enough space in the boot with the 7th seat down and the middle seat on the middle row for bags.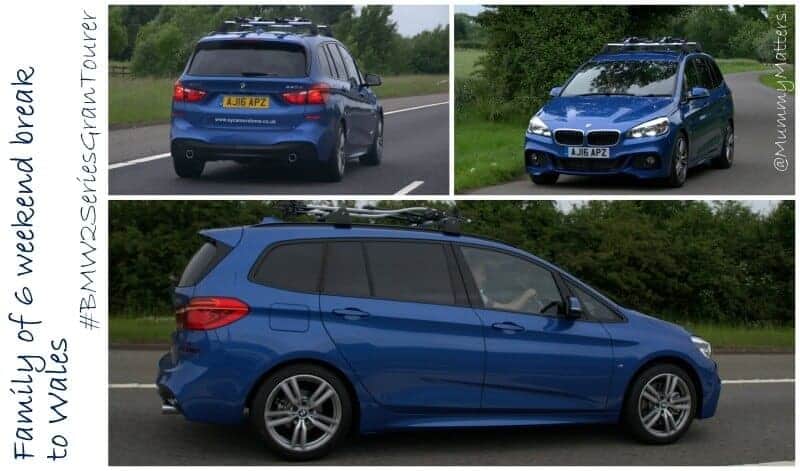 Driving nearly 300 miles uses a lot of fuel but in the Gran Tourer we were able to switch into Eco Pro mode which enables the car to perform more efficiently and saved us over 30 miles in fuel on each journey, a total of 60 miles for the whole trip. Hubby was in the driving seat and decided to put the Cruise Control to the test. I'm personally not a big fan of Cruise Control but Hubby always prefers to use it on long journeys.
One of the things that we both really love about driving the BMW 2 Series Gran Tourer is how safe we feel when transporting our most precious cargo, our Beans. The Gran Tourer is packed with the following safety features as standard earning it a 5-Star Euro Ncap rating;
Front passenger and two rear seat ISOFIX points
BMW Emergency Call – about a millisecond before Little Bean pressed the 'SOS' button, I realised what she was about to do. A millisecond later and we would have had a direct link call to the BMW Emergency Services. This system works on an in-car SIM and doesn't rely on Bluetooth or the driver/passenger's phone
BMW Active Guard – this is an early warning system which alerts you to a forward vehicle collision and proactively engages brakes for a rapid reaction
Condition Based Servicing (CBS) – intelligent system that permanently monitors the degree of wear and tear on individual components including brakes, keeping the drivers up to date
Tyre pressure monitors – electronically monitors tyre pressure on all four wheel to reduce tyre damage and increase safety
Rear Park Distance Control
Rain sensor with automatic headlights
Front fog lights
DISCLAIMER: I have been provided with the BMW 2 Series Gran Tourer family car for a period of time to by Sycamore Peterborough allow me to fully road test and enjoy with my family. All words, images, videos and opinions are my own and may not be copied without my permission. I have not been instructed what to write.