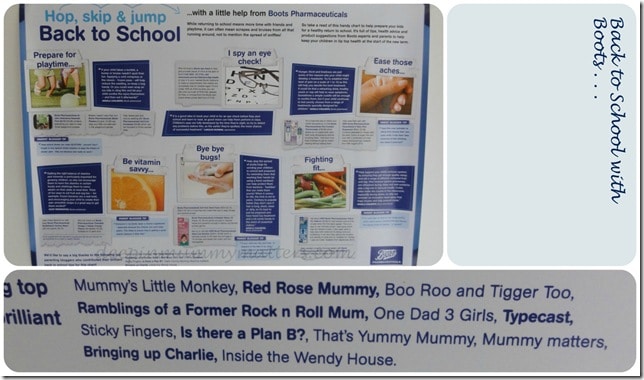 Back to School with Boots
So we're just over a week back into the school routine and I don't know about you but it feels like the summer holidays were a million years ago, the sun has gone and the early mornings are back!! Waaay back in the summer holidays when we were merely talking about the idea of the children going back to school I was asked by Boots if I could offer any 'Back to School' tips, along with some other great parent bloggers. Boots wanted to create a Back to School Wall Chart which would give parents hints, tips and advice from Boots own Health Experts and parents from the blogging community. The result is this fab chart which is packed with helpful advice on keeping our children happy, healthy and ready for the school year ahead of them.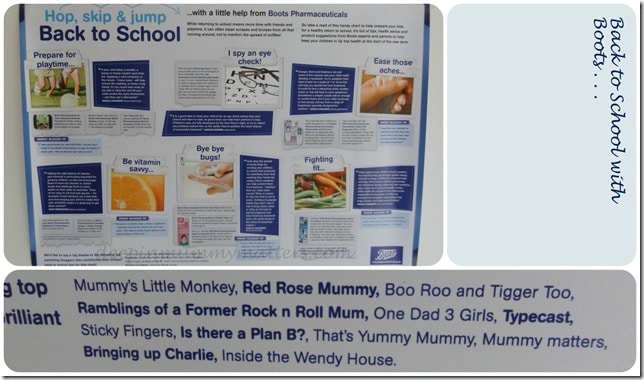 These were the tips that I submitted:
– Use Sterimar for snuffly noses and to help combat colds/hayfever – perfect because it's 100% natural so it's good for the whole family

– Vitamins – everyone in the family takes a vitamin supplement – especially because the children are such fussy eaters and so they don't get the goodness they need from their food.

– Mini first aid kit – I never leave the house without a mini first aid kit in my changing bag. It contains mini-sun lotion in case I forget to put it on before we leave the house, Calpol sachets, arnicare stick for bumps and bruises, plasters, antibacterial hand-gel, sudacrem tube and a small tin of vaseline for dry lips and skin.
Now I have been sent a copy of the final Back to School Wall Chart and was flattered to see that they selected my 'Vitamins' tip to go on the wall chart. To see the wall chart for yourself head over to the Boots UK blog and see if there are any tips which can make life easier for you and your family as your 'Back to School' routine continues.
DISCLAIMER: As a thank you for taking part in this activity I received a goody bag containing a few Boots Health products and my own copy of the wall chart. I have not been instructed what to write. All words and images are my own and may not be copied without my permission.