Australian Bush Flower Essences
Disclaimer: I received Australian Bush Flower Essences for this post. All words, images and opinions are my own.
I will be the first to admit that self-care has been at the bottom of my to-do list for the past year. Between running my own business, homeschooling three children, tending to two dogs and keeping the house in some semblance of order has not left a lot of time for anything else.
Increased Stress Levels
Most families found the situation difficult, I know that we were not alone in our struggles, but it didn't make it any less easy. It was during the most stressful times that I turned to my love of alternative therapies for help. I have long held a love for essential oils, and we use them throughout the house to help all of us, but Australian Bush Flower Essences were new to me.
Australian Bush Flower Essences
I was invited to attend a virtual blog event hosted by Ian White, the Founder and fifth-generation Australian Herbalist. Ian graduated from the University of NSW and is a Bachelor of Science. He has completed degrees in Naturopathy, Herbal Medicine, and Homeopathy.
From a young age, Ian would walk through the Australian bush with his Grandmother to impart her knowledge of the spiritual and metaphysical connections to the world and all of its people. Australia has the highest number of flowering plants in the world, so what better place to learn?
For the past 30 years, Ian has been honing his skills and developing the Australian Bush Flower Essences range of products to help people across the globe harness nature's healing powers.
Carers Essence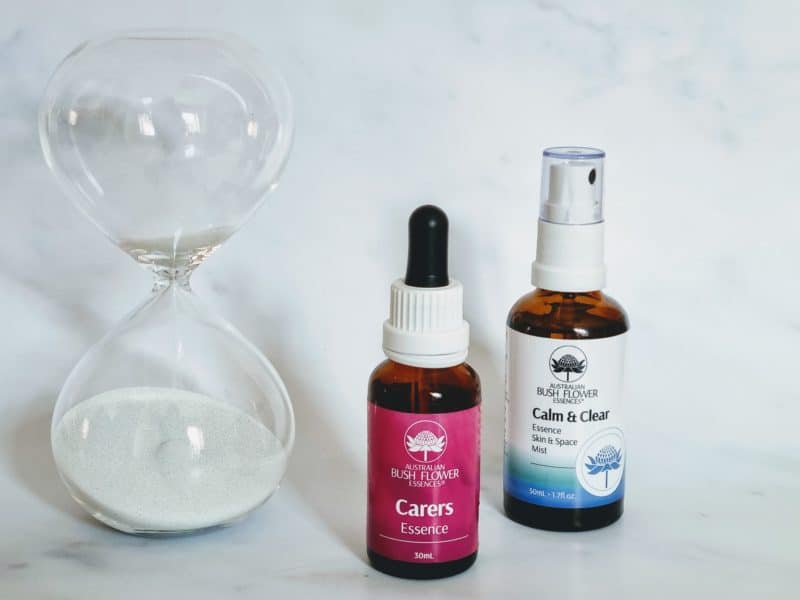 I have been using the Australian Bush Flowers Essences Carers Essence from the last lockdown period to now. The Carers Essence is formulated to help those who are going through a period of emotional overwhelm. It helps you cope with overwhelming feelings and demanding responsibility, providing feelings of calm, revitalisation, renewal, and inner strength.
How to use Australian Bush Flower Essences
Morning and night I put 7 drops of the Bush Flower Essence under my tongue and that's it.
The flowers are left in water in the sunshine for two hours for the flowers to discard their healing energy. The water is then mixed with Brandy, but the alcohol evaporates, so only the flavour remains. I'm not a Brandy drinker, so I wasn't sure what to expect, but it's only a small amount under the tongue, and the flavour is gone in a few seconds.
Calm & Clear Essence Skin & Space Mist
There are times in most peoples lives where we get so stressed out by a situation that we find it hard to relax and unwind. The Calm & Clear Essence Skin & Space mist is perfect for such times. We have used this to help Albie become stressed very easily, especially when things aren't going his way. When such times arise, we suggest that he takes some time out to be calm and consider his actions, we spray the mist around him, and he takes 10 minutes to himself. It works perfectly every time; he can stop and carefully think.
Calm & Clear Essence contains Black-eyed Susan, Boronia, Bottlebrush, Bush Fuchsia, Crowea, Jacaranda, Little Flannel Flower and Paw Paw.
My Thoughts
Since using the Carers Essence, I have definitely felt a lot calmer; I have handled stressful situations with the children more often and haven't turned into a horrible shouty Mum as I have in the past. Thankfully everyone has noticed the positive shift.
As a result we are now looking into purchasing Adol-Essence for Lillie to help her as she approaches her teens since she has already noticed her emotions go up and down throughout the month. We are also considering the Essences as a way to help Bramble who is a very emotionally charged dog that finds it hard to relax.
Have you tried Australian Bush Flower Essences? I'd love to hear which are your favourites in the comments below.
Further reading on stress and the impact it can have on you