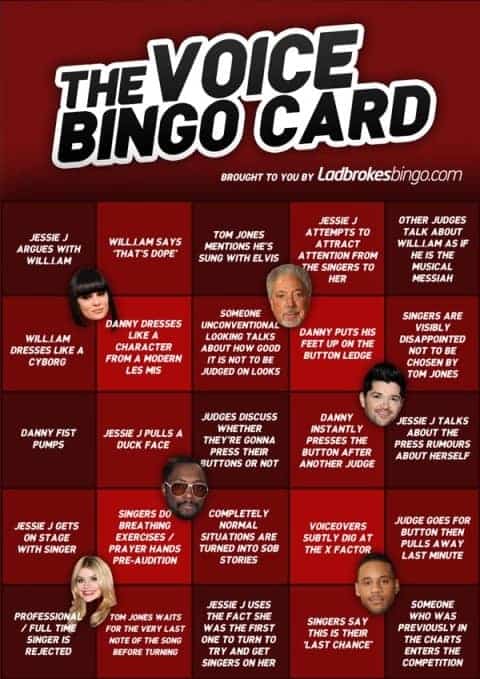 Are you a fan of The Voice?
Most people I know watch The X Factor every year, I generally like the audition stages and then lose interest until the last few weeks but The Voice seems to have a marmite quality to it, people either love it or loathe it. Last year I loved the battle rounds because I thought they were clever but as the series progressed I lost interest. I love watching Will.I.Am because he makes me laugh but I feel that Danny is a bit of a wimp, he rarely pushes the button until someone else has pushed theirs, it's almost as though he needs to see their approval before he dares to acknowledge an act. I love how Tom generally leaves it until the very last minute to push the button, he will not be swayed by anyone else's opinion and I love all of his name dropping, he's a funny guy. Then there's Jesse, last year I loved her but this year she has come across quite moody when she doesn't get the acts that she wants.
What I don't like about it is that some really good acts lose out because although the judges think they are worthy, they don't push the button because they already have someone 'similar' in their group so that act misses the chance of a stab at stardom purely because their audition came further down the queue that the previous act and I feel so bad for those acts and their families. They must feel so deflated when no chairs have turned at the end of their song but on the positive side it's good that the contestants are only being judged on their voice.
Thanks to the time that the show is aired it is definitely one that can be enjoyed as a family, Curly watches it with us and sometimes Little Bean too if she has been good and is allowed to stay up late. It brings us all together as we discuss who we like, who we don't and laugh at the banter between the judges. You can now make it even more of a family event thanks to Ladbrokes Bingo who have created a fun Bingo Card which you can print off and play along. Who will be the first person to hear Will.I.Am declare "that's dope" or to spot Jesse J getting on stage with one of the acts. Even if you don't want to play along, it's an amusing tongue-in-cheek infographic of the show!
Do you have any favourites so far? Mine are LB Robinson and Karl Michael . . .