A Heartfelt Valentine Surprise: Serving Breakfast in Bed
Valentines Day is a day of love and appreciation, and what better way to show your loved one that you care than with a delicious breakfast in bed? Breakfast in bed can be the perfect way to start a romantic day. It doesn't matter if you are single or in a relationship; everyone deserves to be pampered on Valentines Day! Making breakfast in bed for your significant other is a great way to express your love and show them how much they mean to you.
Serving Breakfast in Bed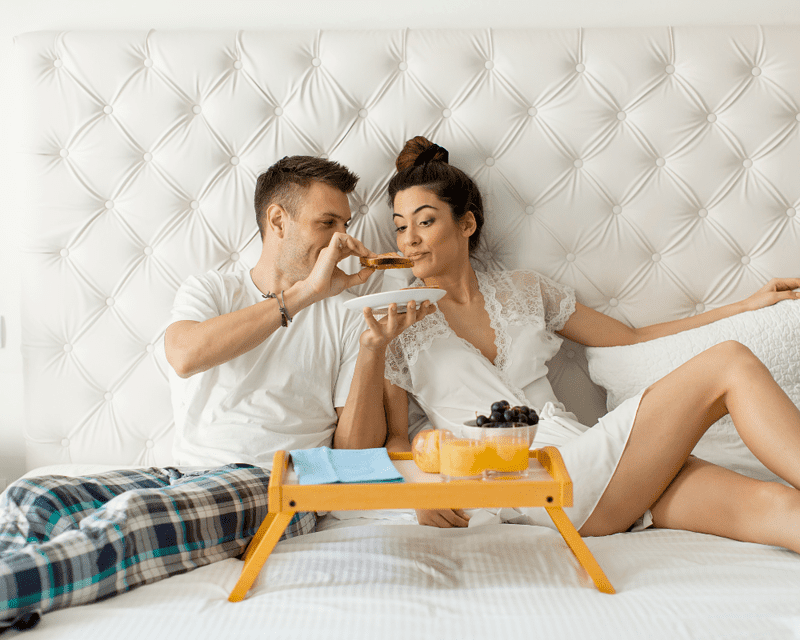 Breakfast in bed is a classic romantic gesture for Valentine's Day. Show your loved one how much you care by preparing them a special meal to enjoy in your home. With just a few simple ingredients, you can create a delicious breakfast that will make this Valentine's Day even more special.
Menu Options
Breakfast in bed is a luxurious treat for any occasion. Whether it's a leisurely weekend morning, a special anniversary, or just an ordinary weekday, breakfast in bed can make any day feel extra special. But what menu items are best suited for such an occasion? Here we explore some delicious breakfast menu options that will please the palate and set the mood for a perfect start to your day.
Start with some light and fluffy pancakes made from scratch or store-bought batter. For extra sweetness and colour, top them with fresh fruit, such as strawberries, blueberries, or kiwi slices. If your partner has a savoury tooth, consider making omelettes filled with vegetables like spinach, mushrooms and bell peppers – they'll love it! To complete the experience, serve some freshly brewed coffee or tea and add sweet pastries like croissants or cinnamon rolls for maximum romance points!
Preparation Tips
Whether preparing breakfast for a special someone or just pampering yourself, it pays to plan and consider these simple preparation tips.
First, choose a menu that can be made easily and quickly. If you're serving breakfast in bed, opt for dishes that don't require too much fussing over while they cook. As an alternative, overnight oats are easy recipes that can be prepared the night before and enjoyed at leisure the following morning. Additionally, pre-cut fruits like melon cubes, strawberries and blueberries are excellent accompaniments without extra work.
Second, think about presentation when picking out plates and utensils for breakfast in bed.
Decoration Ideas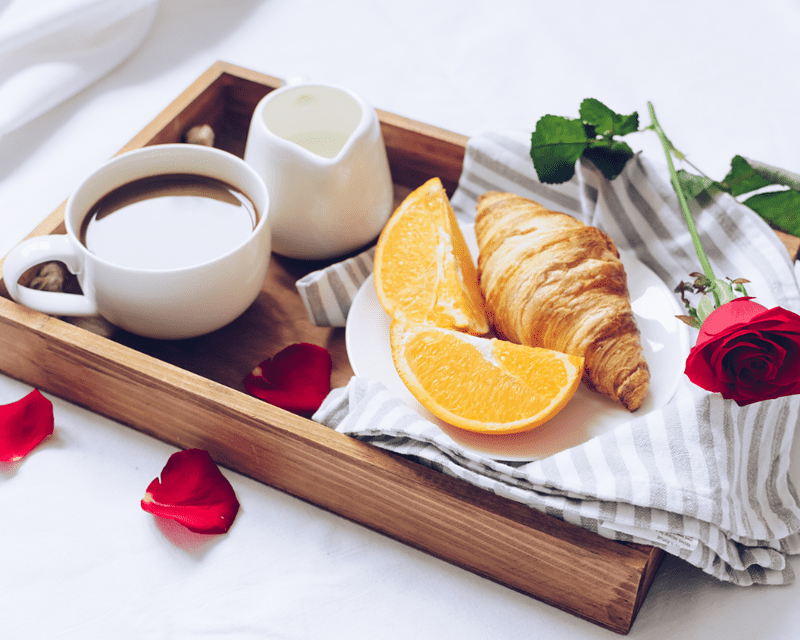 Taking the time to create an inviting atmosphere adds a bit of thoughtfulness to make the experience special. With just a few simple touches, you can turn your breakfast in bed into a luxurious feast fit for royalty!
Start with some fresh flowers; pick out vibrant blossoms or greenery and place them in vases on either side of the tray. Take it one step further by adding some candles around the tray and a scented oil diffuser to fill the room with aromas of lavender or jasmine. For added warmth, add cosy blankets and pillows to relax while sipping coffee and enjoying your meal.
You could really go to town and prepare the bedroom ahead of time with some simple romantic bedroom decor; fairy lights are always a winner and add to the warmth and magic of a room.
Serving Etiquette
There are some important rules and regulations for serving etiquette. Knowing how to serve breakfast in bed properly is important, so you don't make a mess or put your guest in an awkward predicament. First, it's important to check with your guest beforehand to ensure they would like breakfast brought into the bedroom. If they agree, prepare the tray with everything needed and ensure it is easy enough for them to manoeuvre while lying down. A tray table is a good idea, allowing them to move their legs a little without knocking on the tray. Be sure not to place the tray too close so they can easily reach it without spilling food or drink items on themselves. Once served, allow your guests a few moments before leaving them alone so they may enjoy uninterrupted meals.
Conclusion
In conclusion, serving breakfast in bed for Valentine's Day is a great way to show someone you care. It's romantic, thoughtful, and delicious! Whether it's pancakes, eggs, or something else, you'll make your loved one feel special with this gesture. Plus, it doesn't take much effort – all you need is some planning and cooking skills. So this year, don't just give chocolates and roses – give the gift of breakfast in bed.