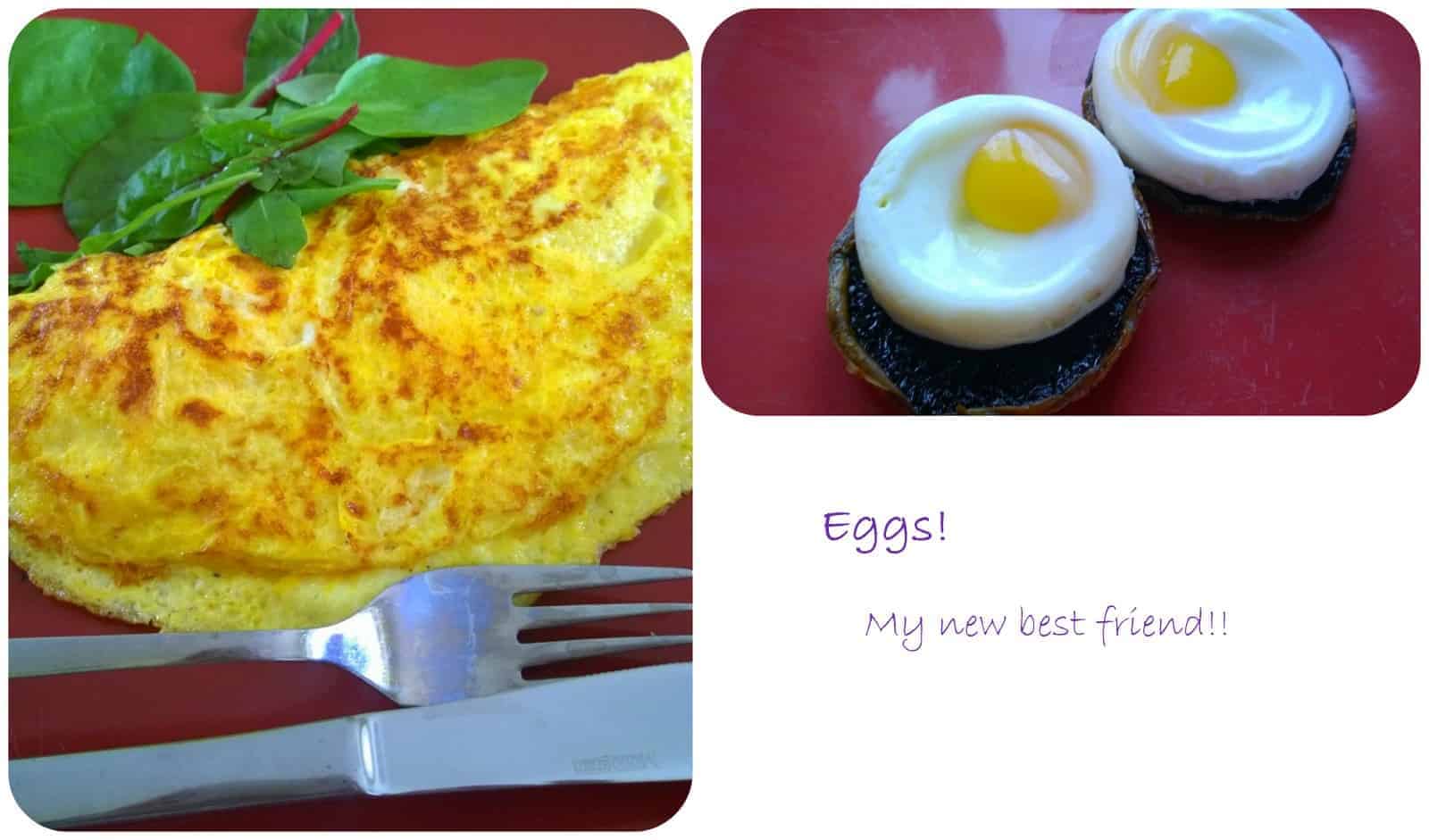 A healthier and fitter new me with low calorie meals!
I used to be one of those people that you used to see stuffing their face with big cream cakes and stating "I'm so lucky I never put on any weight" and then BAM! I had children and it turned out that my metabolism had disappeared meaning that I could no longer eat what I wanted. I must admit it came as quite a shock to me. Even when I was pregnant with Little Bean I just assumed that the weight would drop off me, I was breastfeeding exclusively like the books recommended but nope my weight had moved in and seemed quite comfortable sitting on my midriff and lower body (well, I guess if I honest it was everywhere but we don't have to point it ALL out now do we?!). In the back of my mind I hoped that we would be having another baby so I didn't really see the sense in dieting and trying to lose it all when I would only put it all back on again so I stayed in my comfortable-ish new body. After Beanie Boy was borned I did lose the weight a little more easily but it was only when I went on the Jenny Craig diet that I really noticed a difference and even then when I stopped I put some back on because I wasn't really watching what I was eating, I didn't really focus on changing my diet.
Since Jelly Bean turned 1 in January my mindset has changed. I KNOW that I have finished cooking baby buns in my oven so now I want my body back as best as it can possibly be. I want to feel good about myself and not cringe when I catch a glimpse of myself in shop windows or in photographs so over the past 6-8 weeks both Hubby and I have stepped up the exercise and we have begun to eat more healthily with low calorie meals after speaking to our friends and relatives who frequent the gym regularly.
Healthy Eating – Typical Day
Breakfast – Apple and bottle of water. Since I don't generally have time for breakfast before I take the children to school I start the day with an apple as I have been told that you need to eat as close to waking up as possible to kick-start your metabolism. If I have time I drink hot water with lemon to cleanse the system but if not then I carry a bottle of water with me on the school runs and drink that instead. If I do have time before the school run I might make myself a fruit smoothie from any of the frozen fruits I keep stocked up on in my freezer – my favourite is strawberry/blueberry and banana with a splash of milk.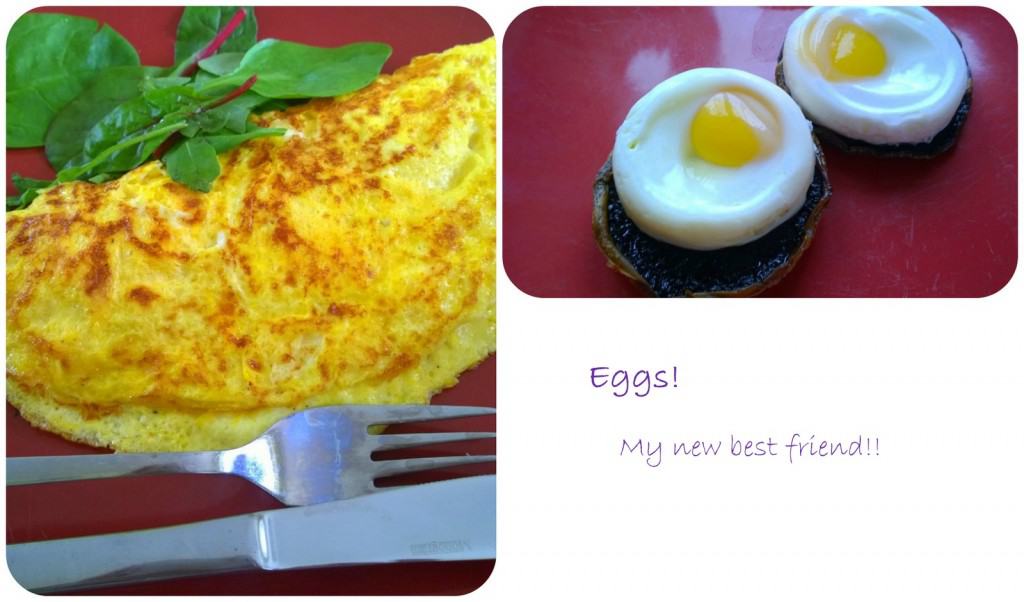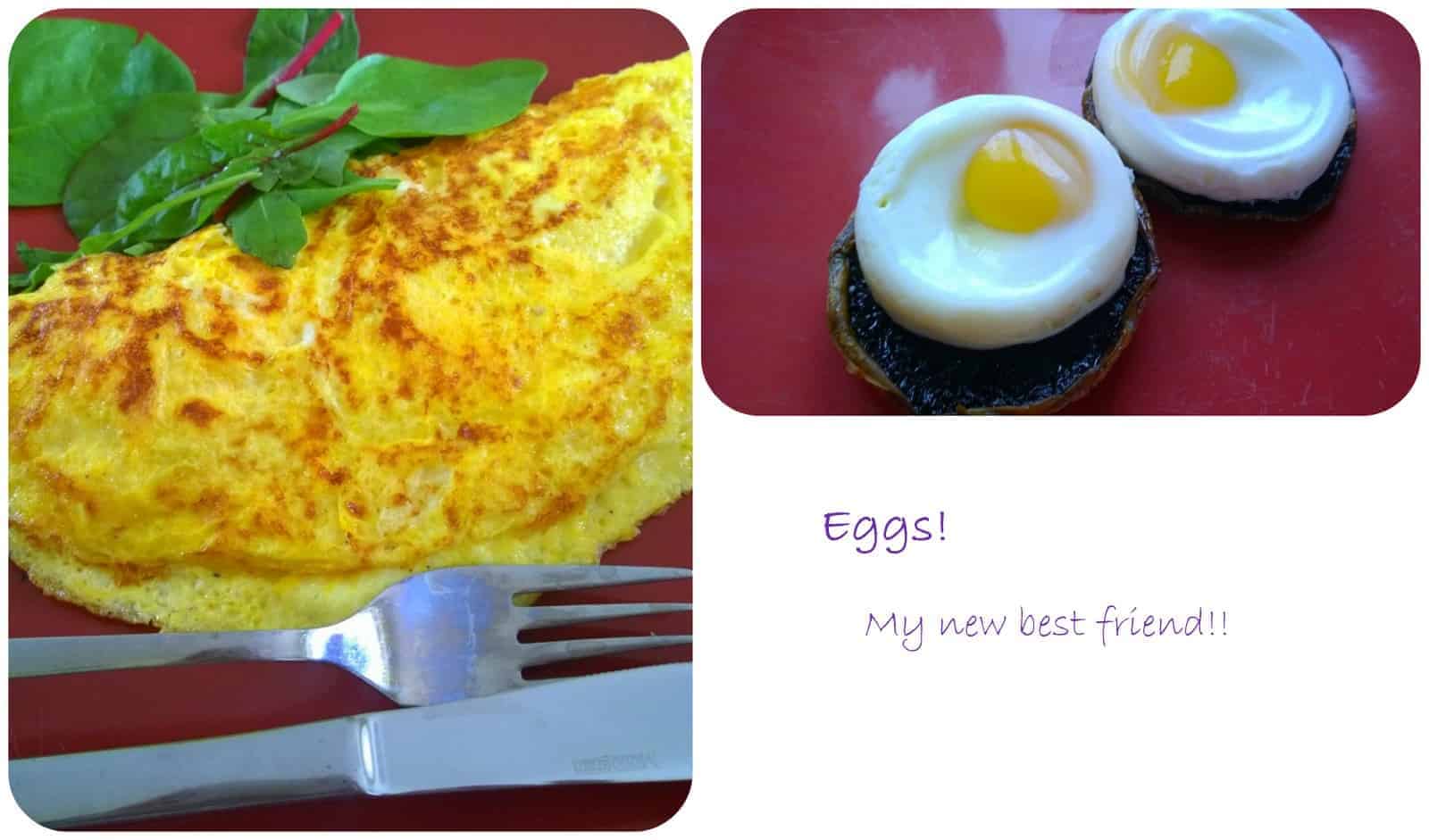 Mid-morning – Omelette with varying fillings – By the time I get home from the school runs and get JB into bed it's getting on for 10.30am so I will have three British Lion Eggs mixed with a splash of semi-skimmed milk and a twist of salt and pepper made into an omelette. Some days I add spinach and tomato, or mushrooms and cheese or whatever vegetables I find in my refridgerator. Eggs are a great source of protein and good for burning fat so they have become a major part of mine and Hubby's diet. My other favourite is poached eggs on large, flat grilled mushroom.
Lunch – My lunch usually consists of salad with lots of fresh green leaves, turkey or chicken pieces, avocado, peppers, red onion, baby plum tomatoes and beetroot followed by a bottle of water and occasionally a dollop of Total 0% greek yoghurt. Followed by a cup of coffee as I have been told that caffeine helps to burn fat.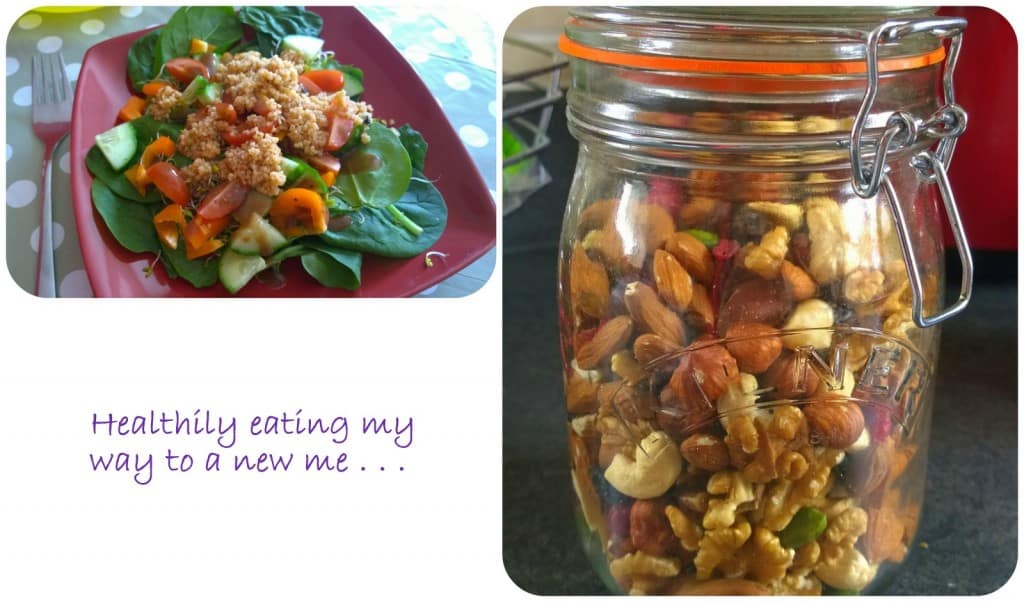 Mid-afternoon – Apparently the trick to keeping your metabolism going is to eat little and often so in the afternoons I will either have a handful of fruit and nuts – raisins, dried cranberries, almonds, pine nuts, brazil nuts and walnuts OR my favourite, Peanut Butter on plain Rice Cakes.
Dinner – One of my favourite meals which Hubby has been cooking recently is roasted mediterranean vegetables with Cottage Pie made from Quorn Mince topped with sliced Sweet Potato. It is yuuuuummy and we are being much better with our portion sizes too. When Hubby cooks he likes to aim to feed the nation but finally I think he is realising that we don't really need to eat that much. He cooks enough for three smaller portions, we eat a portion each and he puts a portion in the fridge for him to take to work for lunch the next day.
Exercise
Luckily for me, my Sister has just qualified as a Personal Trainer and whilst she doesn't live close by she has set me a list of exercises to do 3-4 times per week which I am managing to do most weeks. I also get out regularly for bike rides (I was running until the pain in my ankles became too bad). I am also hoping to start swimming a little more as I feel more comfortable to be seen in public in a swimsuit! My FitBug Orb is still my constant companion, I wear it every day and use it to guage how active I have been that day. If I feel my number of steps is too low then I head out for a walk once the children are in bed whilst Hubby cooks the tea, it's perfect for providing me with motivation.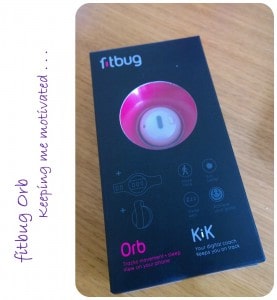 Hubby is doing his own version of exercises at home and goes running 3-4 nights per week.
Weight Loss
So far, I have dropped from 11st 8oz to 10st 10oz and Hubby has dropped from 16st 4oz to 14st 5oz which I think is flipping amazing! We are both still a little way from our goals but I think if we keep going as we are we will get there healthily and hopefully we will stick to it. I am finally starting to fit back into clothes which I haven't worn for years and that in itself is a big confidence boost and definitely a reason to keep up the hard work.
DISCLAIMER: I have written this post in collaboration with British Lion Eggs for which I shall received an electronic egg boiler (so I can always have perfect eggs!). I was about to write this post anyway as I'm very proud of our efforts. I have not been instructed what to write. All words, opinions and images are my own and may not be copied without my permission.