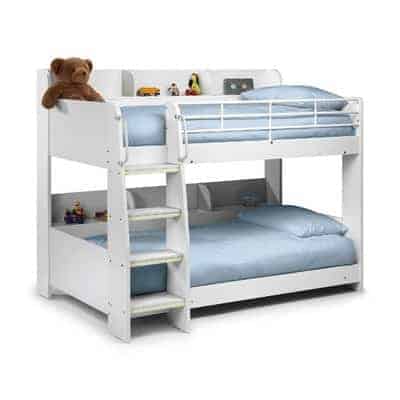 Just before Jelly Bean was born we had to have a bedroom switch around so that Beanie Boy could share the largest of the children's rooms with Jelly Bean. Bearing in mind Beanie Boy had only just turned 2 years old himself we decorated the room like a large nursery in pale blues and greens.
Time for a bedroom makeover
Now that the boys are nearly 5 and nearly 3 we have decided it's time to think about a bedroom makeover to make it a little bit more for 'big boys' and not the babies that they once were.
1. A Bunk Bed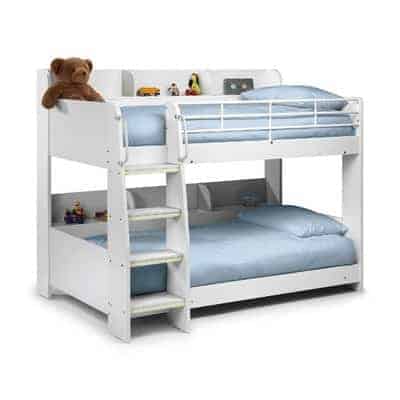 Kelly Bunk Bed by Wayfair – Beanie Boy is still in his junior bed at the moment and Jelly Bean is still in his cot bed so it's high time they both moved into single beds. Although they have a large room which would easily accomodate two single beds we think they would enjoy having bunk beds and the extra space created by having bunk beds would create more play space in their room. We spotted this Bunk Bed from Wayfair and haven't seen anything which competes with it. We especially like the shelves as this gives each boy his own 'space' to store special things, books, a night light and a drink at bedtime since they both insist on taking a bottle of water to bed with them.
2. Big Boy Bedding Sets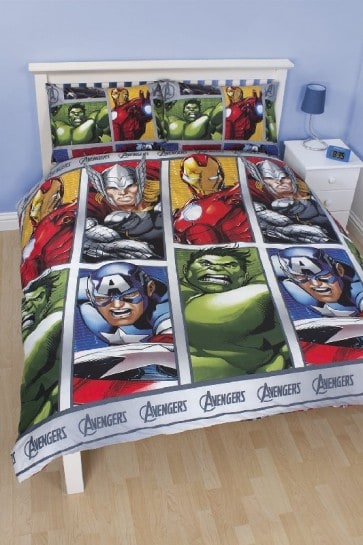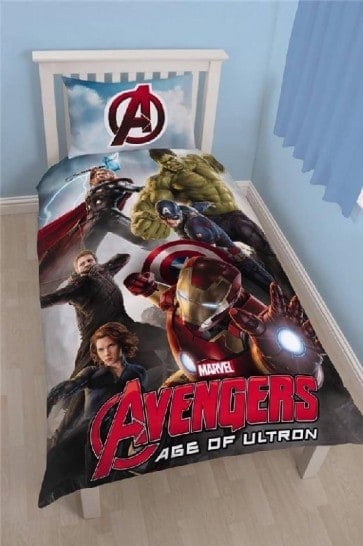 Marvel Avengers Duvet Cover Sets by Yorkshire Linen – At the moment we love these cools Avengers Duvet Cover Sets by Yorkshire Linen. Beanie Boy is a 'Superhero' fan through and through, he just loves action figures and quickly latched onto Marvel so I guess it was only a matter of time before Jelly Bean followed suit since Beanie Boy is his idol. At 2 years old Jelly Bean will often pretend to 'Hulk Smash' anyone in the vicinity so I think this would be a perfect theme for their room. I was originally going for a Pirate theme but they seem to have grown out of pirates quite quickly, I have a feeling the Avengers are going to stick around for a while and nothing screams bedroom makeover like new bedding!
Plus, all of their bedroom furniture is plain white so if we add colour accents on the walls and with the curtains we can simply choose duvet themes to match their current phase. At the moment we love these cool Avengers Duvet Cover sets by Yorkshire Linen.
3. Neutral Walls – possibly two tone
Valspar Bespoke Wall Paint – I don't know about you but when I'm shopping for paint I always know in my head what I want or I see a particular colour on a piece of fabric or in a picture but I can't find the colour to match when I hit the DIY store. That's why I love Valspar paints at B&Q because you can have them colour matched to the shade you want, so if you have curtains or wallpaper you are trying to match you just take it with you and they will make up paint to match your colour exactly. We have used Valspar paints in various rooms and have been very impressed with the quality of the paint. I'm thinking perhaps a really pale grey and maybe one slightly darker wall.
4. Neutral Curtains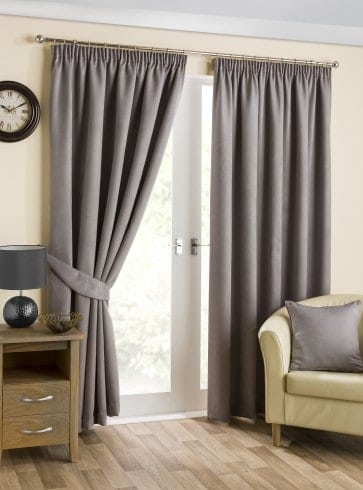 Pewter Belvedere Blackout Curtains by Yorkshire Linen – The boys bedroom has two windows and gets the sun from lunchtime right around to after bedtime during the Summer months and it makes their room very light and also very hot. During the Summer months we struggle with them waking early despite having a blackout blind so when we redecorate we are also going to invest in some blackout curtains to really help to cut down on the light flooding into their rooms and hopefully to help keep it cooler in the Summer months and warmer in the Winter. I love this grey colour because I can imagine painting their room a very pale grey which would work perfectly with the Avengers bedding and provide a good base for any future themes that might take their fancy. Grey is a pretty good colour to compliment other colours.
5. Bright Wall Stickers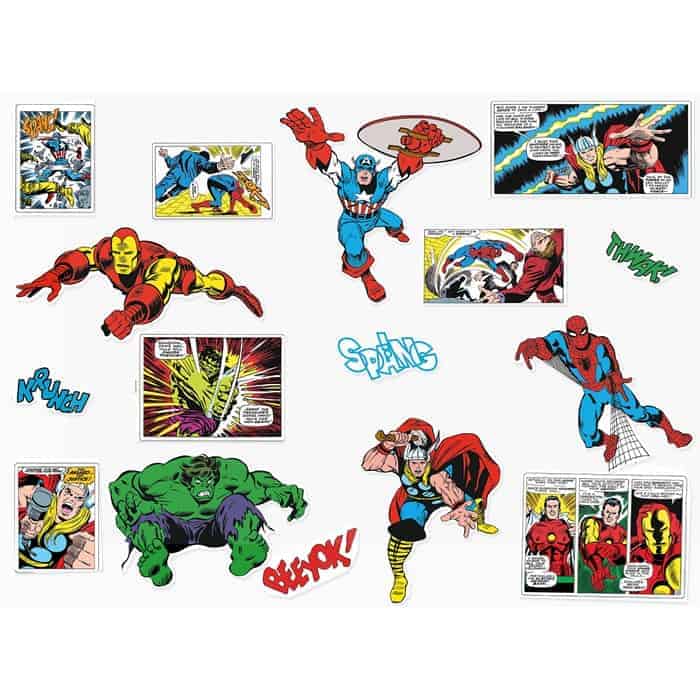 Marvel Comics Wall Stickers by Graham & Brown – If you have never tried Wall Stickers you are missing a trick, they can really complete a bedroom makeover without too much cost AND without ruining your walls. When we first moved into our house I bought wall stickers for Little Bean which we peeled and re-stuck when we moved her room around and then which we removed and placed on the wall in her new bedroom when she switched rooms with the boys. Gone are the days of wall stickers leaving a sticky residue on the walls, today's stickers are the perfect finishing touch for any bedroom and I particularly love these Marvel ones for the boys room.
Now I've just got to book Hubby a weekend out of the diary to get the bedroom makeover done!