5 Living Room Remodelling Ideas
Remodelling your living room can be a daunting task; you have to think of the paint colour for the walls, the types of floors you want, appliances to be put in each room, and much more. It's a lot of thought, a lot of hassle, and can cost you quite a bit of money.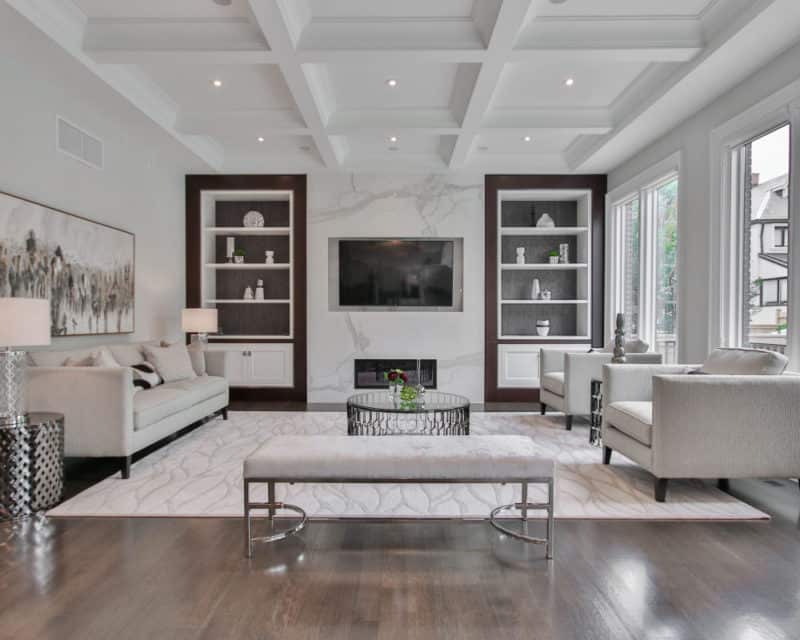 However, with having hundreds of options to pick from for remodelling, you can get lost quite easily in your thoughts or motives. Remodelling is anything from changing the floors to adding appliances like an electric fireplace to changing the paint. Here are some great ideas to help you remodel your living room to impress guests or future buyers.
Improve Lighting with Windows
Not often thought about, but windows can offer a great way to improve the natural lighting in your house. Think of having nice windows to look out from your living room into the back yard or front porch. It would be a great way to give you a sight of the outside while adding natural lighting to your home.
Now, of course, some people may not like the idea of having too many windows as they wouldn't want random passersby to look into their home. This is why you can not only add windows but selecting complementary curtains and blinds from Imperial Rooms can help you adjust the sight both in and out while allowing some spectacle of light in.
The position of windows also matters. Think about having a nice flat screen tv, and you have a window that places a glare on the screen. That wouldn't be great for anyone! Now you'd struggle to try to watch your tv while beautiful sunlight is beaming into your house. Of course, you can cover this with a curtain or blind as stated beforehand, but placement can prevent it from happening!
Picking a Perfect Palette
Most home redecorations or remodelling leaves the house with a basic and bland colour of white or greys. This is boring! But leaves you with the great opportunity to improve upon this and change the colours of your house to your desire.
Now you could always go crazy and paint the home's interior any colour you want. Polkadot, pink, yellow, sea blue, mix match colours or do stripes, whatever you may wish. But a greater idea that can be a lot more relaxing or appealing to the eyes would be to pick a palette.
This palette often consists of complementary colours or colours that work and look good together. This allows for smooth transitions of nice, calm colours and allows you to edit the trims to give a flavourful accent to your house with a nice paint structure.
Adding a Toasty Electric Fireplace
All homes need different appliances to get certain things done. Kitchen's need ovens, stoves, and microwaves for cooking while needing a fridge for food storage. A Study needs books, a clock, a computer, or writing tables for work. And a living room needs a tv, console, and perhaps an electric fireplace for entertainment and warmth.
Electric fireplaces are a great mix of furniture and appliance, as they come in many different shapes and styles, some consisting of mantle pieces and some being tv stands to hold your tv and other accessories. Not only are electric fireplaces great for bringing some style into your interior, but they also offer the ability to be an appliance through their purpose and use.
Electric fireplaces work like any common fireplace, except without the hassle of having to buy wood, burn it, and empty the ashes. Electric fireplace heaters use electricity to provide an additional source of heat and warmth, making those cold evenings a lot warmer and nicer.
Rearrange the Furniture
Another simple and cost-free solution to remodelling would be to rearrange the furniture in your living room. Changing the positions of your furniture can play a big role in the way the living room is designed and laid out. This causes it to appear different, bringing out different looks and changing how appealing it can be.
It may not seem like much or like it would make such a big difference, but the truth is a little alteration can go a long way. So say you move the table to the centre of the room and have two love seats on both the left and right side, followed by a couch on the backside. It's a semi-square that can all be facing your tv or electric fireplace! This would give you space and put a focus point onto the tv with a nice conversing point.
The ideas could be endless for how you can change your furniture arrangements and how that could remodel your living room. Most don't think of remodelling to be as simple as simply moving things around. They would usually think that remodelling involves removing, adding, or upgrading a section of your home, but it can also be the changing and moving of different pieces of furniture!
Flooring Focus
Another great focal point to focus on when remodelling your living room would be the flooring! The floors of each room also seem to set a theme or mood depending on what they are. This could be wood, tile, carpet, rugs, etc. There are many different options you can use to change up your living room and increase its value.
Let's say, for instance; you were going for a more rustic, traditional style living room. You'd most likely want to go with some nice wood flooring that is laminated so it can be easily cleaned with a mop and not have to worry about water damage. But what if you'd want a more modern look? Well, you could add rugs or go with some nice tile to give a good foundation.
The possibilities of mixing and matching different materials or floorings together could be endless, and you don't have to stop at just one material for your whole house! You could easily have a different material for each room, be it wood in one, tile in another, or even just two different wood materials for different rooms! Flooring plays a big part in interior design and can definitely make your living room pop!
Your New Living Room
Now and then, your living room could grow boring to look at if it's the same thing every time. Or maybe you want to spice the place up because you are renting it out or having guests over! Whatever the case may be, remodelling your living room can be done in many ways and is something many people think about.
Remodelling doesn't have to break the bank, though. Some remodelling can be done very easily by changing some paints or moving some furniture to give a little change. However, if you have the money to invest, you can always go for more advanced options such as getting new appliances, adding an electric fireplace, adding some windows, or changing the flooring. 
The possibilities for remodelling are endless!