3 Hen Party Ideas that are Classier than They Sound
For a lot of people the classic hen party has changed; where it was once a single evening or partying with a big L plate stuck to a wedding vale it has now become so much more. The trend of turning a hen do into a holiday has been a big one and is still growing. There has also been a big move towards creating a classier affair. Why have things changed? Well it is in no small part to the average age people tend to get married now. There was a time when women got married far younger, and in many cases directly from living at home. These days, thankfully, many women are choosing marriage after a great deal more life experience, careers and often kids too. What this has done is bring perhaps a little more taste and choice into hen parties and so the range of things to do have increased massively. Women want and deserve a whole lot more than a night in a bar! There are, however, still some slightly more "traditional" hen activities out there that have seen a big re vamp over the years and are becoming more and more popular again. Here are just 3 party ideas that are waaay more classy than you might think.
Naked Butler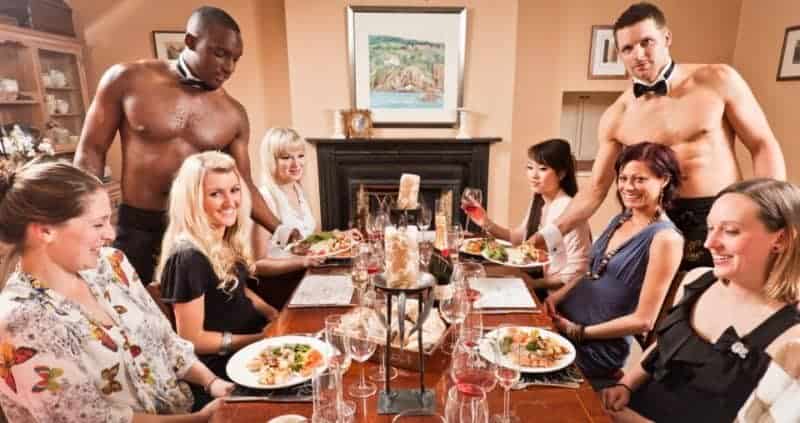 OK so this may not sound like something you would consider classy but things have moved on from the old style male stripper baby oil fest! These days companies like https://www.butlerswithbums.com are offering something very different. Firstly the guys have to be presentable, polite, funny, friendly and generally not some terrifying character from the TV show Gladiators. They can make cocktails, serve drinks, play party games and more and all without creating that awkward forced situation. You can even hire guys for life drawing classes these days which can be hilarious. The point is, having a semi naked guy around doesn't have to be sleazy and can actually be fun but still in keeping with a modern hen do. Let's face it, we all like seeing the guys and even chatting with them, but we don't really want things thrust upon us like they were in the bad old days.
Camping
This single word may create more cringes than the word stripper but, just like semi naked men, camping has moved on. The big change is the invention of glamping. You can now spend time in beautiful yurts and semi-permanent tents that have things like wood burners in them and real beds. But the key is you can still spend a couple of stunning days enjoying the open air, fireside chats, and more. Most glamping sites and even higher end camp sites now have proper toilets and this is often the big issue. Imagine having a select group of friends enjoying warm summer evenings with some drinks, a fire and lots of blankets and laughs. During the day walks, reading, yoga and more. Camping was once something to be endured it is now something to be celebrated and can make for a truly memorable and very classy hen do choice. It also suits people who want to get away, fans of wellness and a retreat style hen do will love it too.
Karaoke
Yet another word to strike fear into the heart of any aspiring hens looking for something classy but once again…things have changed. Where once Karaoke would mean turning up to a bar, putting your name down with someone sporting a mullet and waiting to sing in front of everyone things are now far more personal. The rise of places like https://www.luckyvoice.com have totally changed how we do Karaoke in the UK. What has changed? Well firstly you get a private room for your group. This instantly changes the entire vibe of the evening; it has gone from about a classy as a box of chicken nuggets to something where you can set the tone. Once the drinks are ordered and the door shuts the event will be whatever vibe you decide. As a single activity on a longer hen do weekend or evening Karaoke can be so much fun. The privacy actually helps some people who are a bit shy to join in which in turn helps the whole evening go even better. Gone are the days of waiting your turn for hours, drunken strangers shouting songs and local "legends" appearing to sing the same song they do every week. Now it's a private party and it's a lot of fun! Champers, maybe some nice cocktails or craft gin and a heady mix of great songs and great friends.
Who Needs Class?
Well not everyone and despite the title of this article hen dos can be whatever you want them to be. There is a growing movement of people who actually deliberately avoid anything classy because they are bored of going to posh places. Likewise many people simply feel more comfortable doing something more traditional. The only really important key with any hen do is to get the balance of mild humiliation and fun right for the hen. No one wants to be in fear the whole time and it is important not to overdo it!