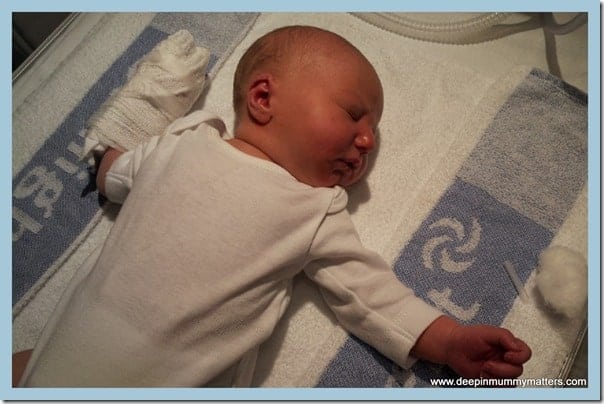 034/365-2013 – Transitional Care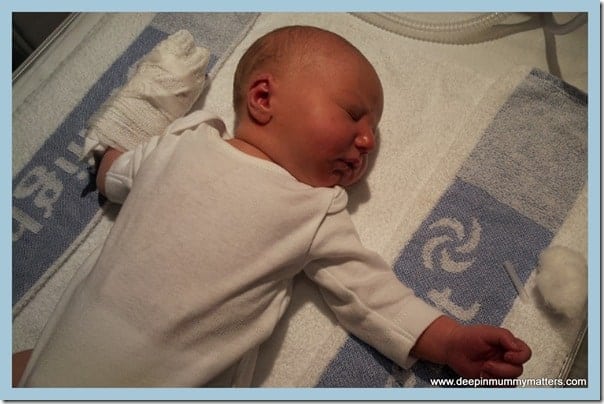 After coming home from hospital on the Friday things hadn't been going so well with Jelly Bean. Labour had been really quick (more about that in a post to come) and as a result he was full of mucus. Despite having skin to skin contact immediately and trying to get him to nurse he wasn't really interested and spent the majority of his first 24 hours fast asleep. I tried time and time again to wake him up to feed but he wasn't having any of it. In the end the midwives encouraged me to hand express my milk so that I could feed him with a syringe.
When we came home from hospital feeding still wasn't going well, Jelly Bean still just wanted to sleep, he was lethargic, not latching on well and was gradually developing quite a tan to his skin. On the Sunday when I couldn't take the pain of breastfeeding any longer I expressed some my milk and began bottle feeding him but this brought with it new challenges as he then began projectile vomiting. As a Mum I have always said that I will follow my instincts and mine were telling me that I needed to get him back to hospital so I tried numerous times to get through on the phone but didn't get an answer so Hubby and I decided to take him to the hospital and ask to be seen.
Upon arrival the midwife took one look at Jelly Bean and took us straight to transitional care where we were told that he would be re-admitted. He was seen by a Paediatrician who said that he was showing signs of jaundice and dehydration and she was worried about his lack of feeding. She planned to put a tube up his nose, down into his tummy to feed him and a canula in his arm to take blood and administer medicine if necessary. Thankfully they decided that a tube up his nose might not be necessary but they still had to go ahead with the canula which was very upsetting to watch. Jelly Bean isn't keen on taking his clothes off so he got very upset when the Paediatrician stripped him off to examine him and cried so much he wore himself out. In hindsight this was actually a blessing because he was asleep when she set up the canula and only gave a little squeak when the needle went in. It was going to be a long night as we awaited the results of his blood tests . . .