WIN Miraculous: Tales of Ladybug & Cat Noir Prize Bundle
Catch Miraculous on POP weekdays at 7am and 5pm, and weekends at 4.30pm. POP is available on Freeview 125, YouView 125, Sky 616, Freesat 603 and Virgin 736. More info at www.popfun.co.uk
I have a new giveaway for you lovely readers today from one of my childrens' favourite TV shows, Miraculous on POP!

What is Miraculous: Tales of Ladybug & Cat Noir
Miraculous is a French CGI action/adventure series set in modern day Paris featururing two teenagers, Marinette Dupain-Cheng and Adrien Agreste, who transform into the superheroes Ladybug and Cat Noir, to protect the city from supervillains.
When evil comes calling, Marinette transforms into her secret superhero persona Ladybug, while Adrien transforms into his superhero persona Cat Noir, using powerful objects known as the Miraculous. the two teens are not aware of each other's true identities yet they work together to protect Paris from evil villain Hawk Moth. Moth uses his akuma in attempts to steal their powers. Akuma are butterflies infused with black energy, to transform everyday citizens into supervillains.
A Miraculous Prize Bundle
Look at this fabulous bundle of truly Miraculous prizes that I have for one lucky reader.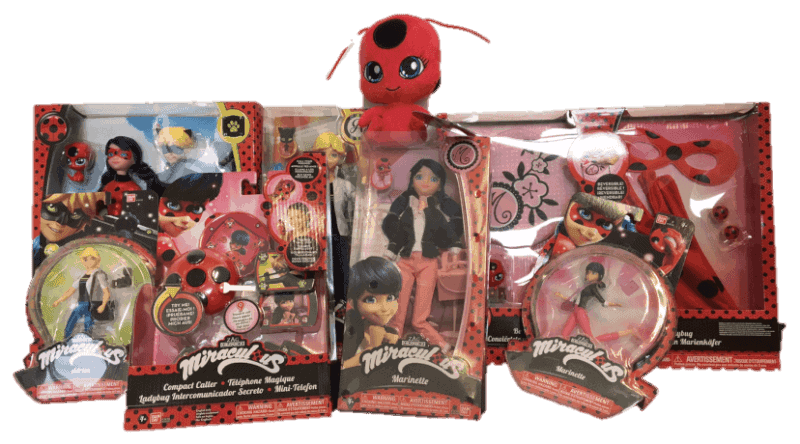 Ladybug and Cat Noir figs (large)
Marinette figure (large)
Adrien figure (large)
Tikki plush
Ladybug fig (small)
Marinette figure (small)
Adrien figure small
Compact caller
Be Marinette & LadyBug set
How to enter?
To enter the competition simply complete the Gleam entry form below and don't forget to tell your friends . . .
Miraculous: Ladybug & Cat Noir Prize Bundle