There are so many products out there for babies and toddlers it can be really confusing and overwhelming as a soon-to-be/new parent.  When we were expecting Little Bean we made the fatal error of buying things on impulse and not really researching what we wanted/needed, so just 2-3 weeks after we bought a travel system, I saw one that I preferred much more and had to grovel to Hubby to let me take the other one back for a refund to enable me to get the one I really wanted.
When Beanie Boy came along I then had the opportunity to review lots of lovely baby items, many of which I had the familiar thought of "I wish I'd had this with Little Bean" and coincidentally one of those thoughts was with my lovely Stokke Xplory.  It was and still is, the best pushchair I have ever used, I love it, Hubby loves it and Beanie Boy loves it (to the point that he isn't impressed that Jelly Bean now uses it!).
My latest "I wish I had this before" is the Stokke Tripp Trapp with Newborn Set.  I have always liked the Tripp Trapp highchair, I love how it grows with your child and can stay with them until they are adults!!!  When I was asked if we would like to review a Tripp Trapp with a Newborn Set there was only one possible response I could give – YES PLEASE!!
I felt a little bit of pressure when the Tripp Trapp arrived as I had seen it used at previous Baby Shows where parents were challenged to erect the Tripp Trapp in the fastest possible time.  I have always fancied myself as flat-pack genius and rarely follow the instructions.  There is a reason you should read the instructions (see later!).
Out of the box the Tripp Trapp looked straightforward so I set to work on building it, there were 6 little blocks which the screws secured into to hold the chair together firmly and an alan key was supplied so I didn't need any specialist tools of my own.  The Tripp Trapp took me about 18 minutes to build but that included me stopping to take photographs.  As I mentioned above, it's good to read the instructions, if I had read them I would have seen that I didn't need to tighten up all the screws before sliding the seat and foot plate into place, that way I wouldn't have needed to loosen the screws to make it easier to put the seat and foot plate into place.  I would also have seen that I had put the seat and footplate on the wrong way round.  I blame Baby Brain, I was only 1 week into sleepless nights when it arrived (that's my excuse and I'm sticking to it!).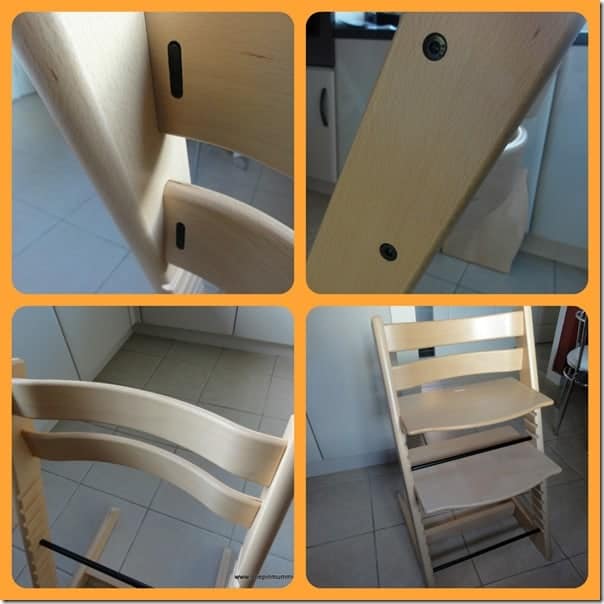 Once completed the Tripp Trapp is an extremely solid and quality piece of furniture which is excellent just as it is but when you add the Newborn Set it reaches new heights of excellence.  As a family we think it's important to eat together at a table, it's a good way of bonding, talking and finding out about each other's days.  When Little Bean and Beanie Boy were babies we only had a standard bouncer seat and I always felt horrible sitting them in it whilst we were at the table, it always felt like they were in the 'naughty seat' because they were down on the floor.  With the Tripp Trapp and Newborn Set Jelly Bean can sit at the table with us and start as we mean to go, eating as a family unit.
When I was pregnant with Jelly Bean and thinking ahead to how life would be once he arrived I had my reservations about where I would put him when I needed to do my household chores in the kitchen; cooking, cleaning, washing and ironing.  I wouldn't feel comfortable leaving him in his bouncer or moses basket in the lounge at the peril of his extremely 'helpful' big sister and big brother.  I also wasn't happy about the thought of him being in his bouncer in the kitchen, again being so low to the floor I felt this was a hazardous position for a baby to be in.  The Tripp Trapp has been a life saver as I am able to take him with me when doing my jobs and I can keep an eye on him, he also gets to be entertained by Mummy dancing around the kitchen to the latest tunes.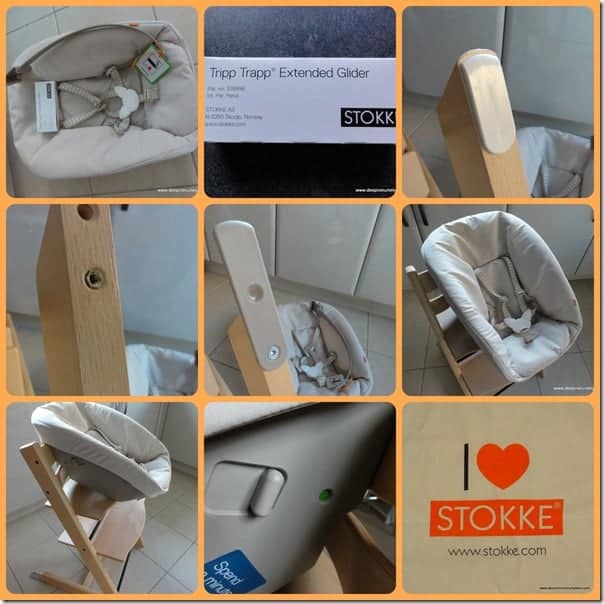 The really great thing about the Tripp Trapp though is how magical it's effects are on Jelly Bean.  He LOVES his chair, it has a really calming effect on him.  I think the angle of the seat helps with any trapped wind and the cocoon effect of the seat makes him feel warm and safe.  It has a 5-point safety harness and a detachable arm which rises above the chair to suspend toys to entertain baby.  I have spoken to other Mums who had used a Newborn Set before and they said how beneficial the seat was for their collicky babies and I can see how this would be the case.
The seat cover is removable which is great for keeping it clean, especially if you have older siblings like Jelly Bean who get their grubby mitts all over it as they scrabble to kiss their baby brother for the 100th time that day.
There is NOTHING about this chair that I don't like, I'm just sorry that we didn't have one sooner!!