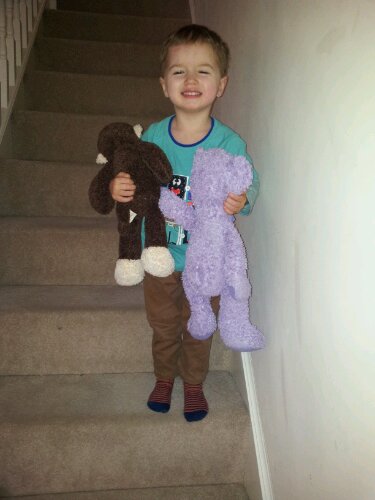 When it comes to cuddly toys and teddy bears Little Bean has never remained faithful to one bear, she likes to share her love around but Beanie Boy is completely the opposite. He has a purple teddy which Hubby and I bought for him when we were in St Tropez last year.  He takes his 'Teddy' (we aren't very inventive when it comes to naming toys here) everywhere with him.  When he wakes up in the morning and comes down for his breakfast, Teddy comes to and has his own chair at the table.  Teddy sits in whichever room Beanie Boy is playing in so that he is on hand for cuddles and he goes back up to bed with him for naps and bedtime at night.  Occasionally Teddy Will make it into the car for a journey but most of the time Mummy is mean and doesn't let Teddy out of the house because i don't want him to get lost.
Along with Teddy, Beanie Boy has two other favourites; a big cuddly Buzz Lightyear and a super soft Monkey.  I never tire of the sight of my little cute stuff sleepily walking down the stairs with his teddies in his arms or saying goodnight to him as i go to bed and seeing him snuggled up to his squishy friends!!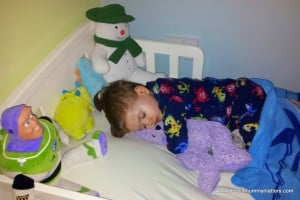 Do your children have one favourite toy or are they like Little Bean and free with their love?