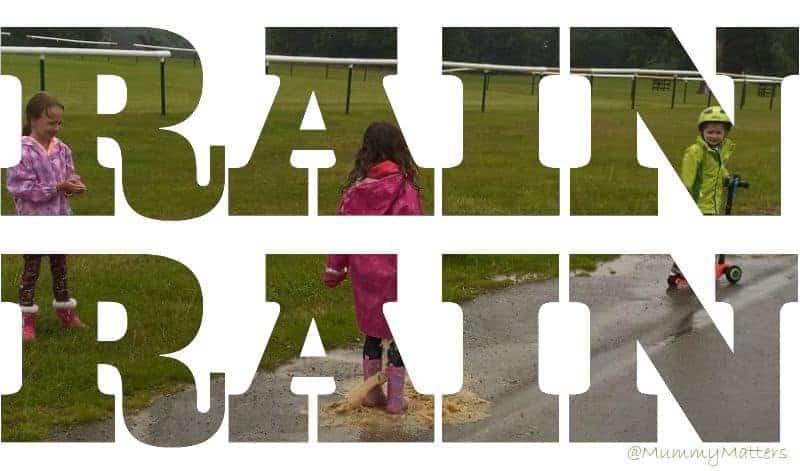 When life gives you a rainy day, play in the puddles!
Before the Summer holidays began, my friend Karin and I sat down and booked dates in to get together. We have learnt from past holidays that if we don't do this we can go all Summer with our free dates not coinciding and then the children end up disappointed that they haven't seen each other.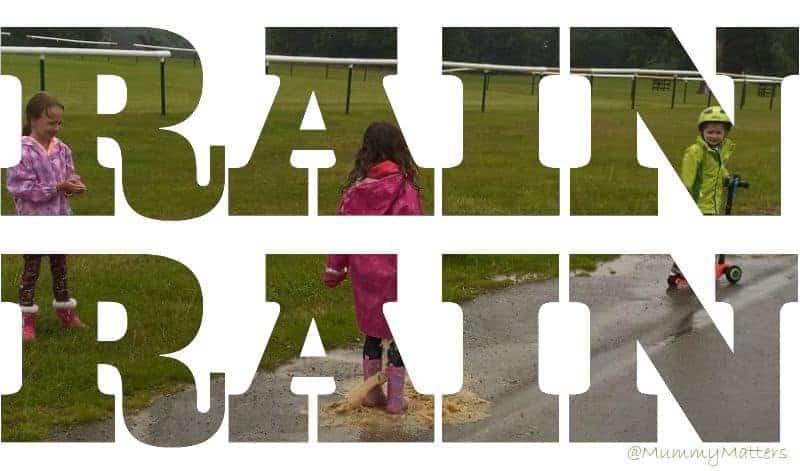 Friday was one of our planned days and we knew exactly what activity we wanted to do. The boys have been chosen to be SwimFin Ambassadors and are very excited at the prospect, so Karin had invited us to go over and spend the afternoon in their Nanny and Grandad's outdoor swimming pool. We have spent many a happy afternoon in the Swimming pool over previous Summers but alas, Friday was not to be. As Friday drew nearer, so too did the rain clouds and we decided new plans were needed.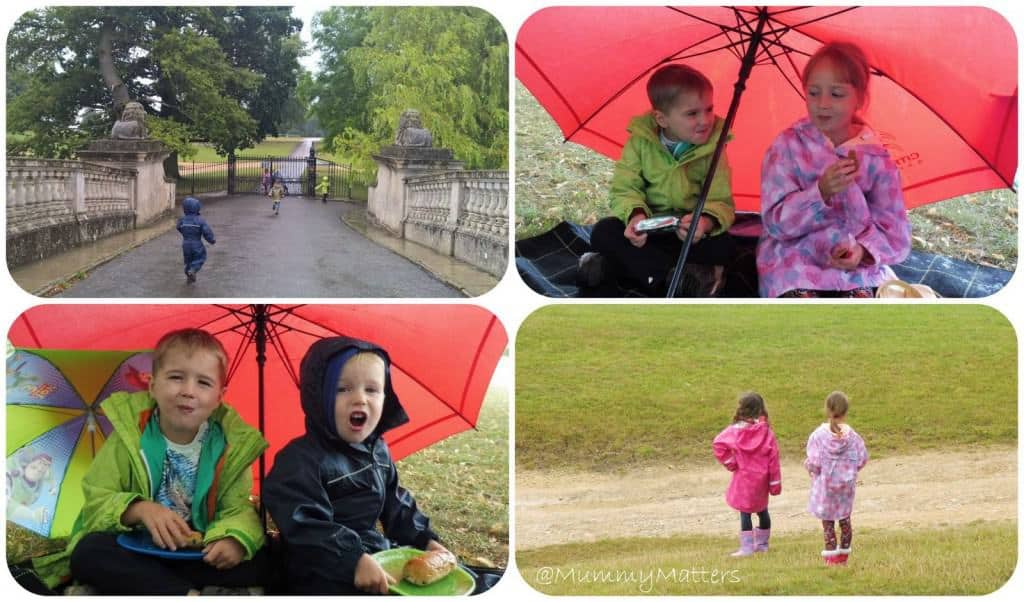 After much discusion we decided that we were not going to let the rain spoil our day completely so we planned an afternoon of Puddle Jumping! It's been aaaaaaaaages since we took the Beans puddle jumping so the plan was set. We arranged to meet just before lunch and have a picnic at Burghley House. Burghley Estate is home to some very big trees so we knew there would be plenty of cover for us to sit under and we took our umbrella's to create shelters for all the children too. We did get a few funny looks from passers-by but we didn't let that bother us.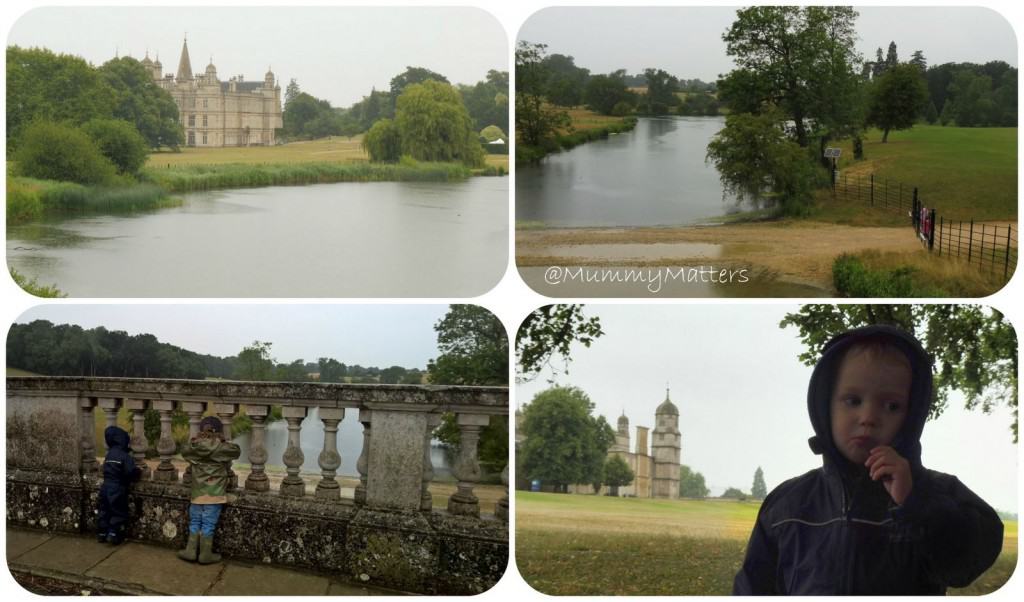 Once we had eaten everything from our picnic hampers it was time to face the rain, unfortunately the Beans had grown out of their wellies so they had to wear their walking boots instead. This was fine for jumping in the shallow puddles but it did mean they had to stand and watch as Ella and Sam jumped and danced in the deeper ones.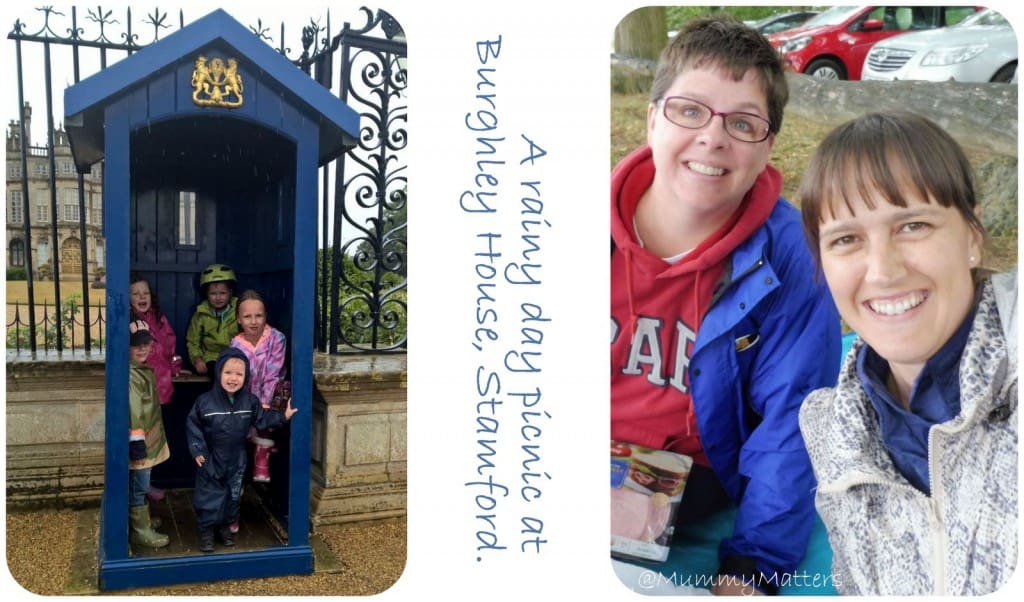 I took a stroller for Jelly Bean for the majority of the walk but on the way back I let him loose on the wet footpaths too and he had a blast. I still haven't been able to find wellies or walking boots small enough for his little feet so he had his usual Clarkes shoes on. As you can see from the video below, Mummy wasn't paying proper attention when he was walking in the puddles and he stepped straight into a deep one then realised just how wet a puddle feels when it has filled up your shoe!
The thing about living in the UK is that you can never count on the weather but that doesn't mean you have to stay indoors or visit expensive play centres, you just have to make sure you have the appropriate clothing and a sense of adventure. We had a really fun afternoon out with our besties and afterwards we returned home to the cosiness of our warm, and more importantly, DRY pyjamas, a hot drink, biscuits and a snuggle on the sofa!!
What do you do when it rains on your plans?