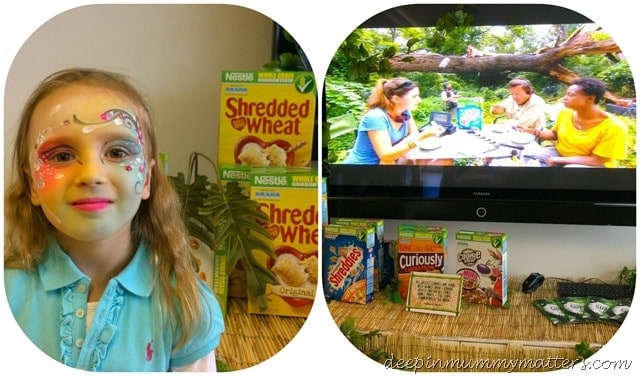 What's your #BreakfastSurvival Guide?
Breakfast – it's my favourite meal of the day! FACT! I NEVER miss a breakfast, I might not always get it at the time that I would like to but I never miss it. For me, breakfast has always been about cereals, the crunchier the better (I hate it when they get soggy) and my milk has to be ice cold (none of that warm stuff you get when you go away on holiday bleurghh!). Breakfast is also the ONLY meal in our house which doesn't cause stress because the children actually like breakfast too and can often be found have 2 or 3 bowls of cereal in a morning. Occasionally they might have a change and ask for toast or scotch pancakes (or sometimes both after their cereals).
Since Little Bean started school though, the morning schedule has become a lot less relaxed but thankfully I have Daddy to help me out. Daddy is the master of the morning routine, he gets the children up and fed whilst I have my shower and get dressed. Then he comes upstairs for his shower and gets ready for work whilst I make the beds, monitor the brushing of teeth and try to make their bed hair look a little more presentable before loading them all into the car ready for school.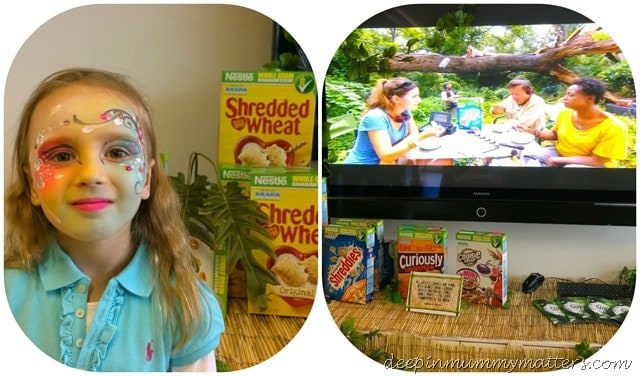 Last week we were invited down to London by Nestle Cereals who have been conducting research into the nation's breakfast routines and they discovered some interesting facts;
70% of families have less than an hour to get ready for school
Parents say Nutrition is more important than convenience when choosing a breakfast
56% of children prefer cereal for breakfast over any other breakfast cereal
Over 2/3rds of parents say cost is important when choosing breakfast for the family
When it comes to buying cereal for our house, I'm pretty strict on what I will or won't buy. I don't like the children to have too much sugary stuff and with 6 mouths to feed I also have to keep an eye on cost. When our favourites are on special offer I make sure I stock up on a few extra boxes (but I have to hide them away or the children think it's 'happy hour' and would eat bowl after bowl after bowl. Despite having breakfast before we left the house last week, Beanie Boy went on to have a further three bowls of cereals at the event and Little Bean a further two!! Little piggies!!!
Whilst at the event I had the opportunity to speak with Nutritionist Juliette Kellow. We had kept a breakfast diary for a week which Juliette had assessed. I may have received a little slap on the wrists as I have recently been doing Slimfast Shakes to try to kick start some weight loss and this was the most convenient way for me to do it. Whilst Juliette understood why I had chosen Slimfast for convenience, she said that it wasn't being a great role model to the children although I was alternating it between Slimfast one day and cereals the next. She suggested instead that I try a fruit salad with a yoghurt poured over the top and then sprinkled with some cereals – now why hadn't I thought of that? In my defence, the children have their breakfast with Daddy so they rarely see what I have for my breakfast in a morning because I don't always have it until after I have dropped them at school.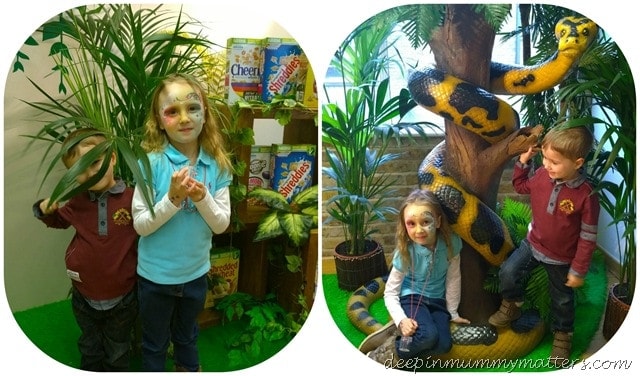 Juliette felt that on the whole the children are eating pretty well for breakfast although it could be worth trying to introduce fruit to their morning diet perhaps with a fruit smoothie to drink. At this point I brought Juliette up to speed on Little Bean's eating issues and she came to the same conclusion as me, Little Bean is just a stubborn little monkey who will only eat what she wants, when she wants and that hopefully some day she will grow out of it. Wish me luck!!
Also at the event I had a chance to chat to Marina Fogle, wife of world traveller and survival expert Ben Fogle. Marina and Ben have two small children so they know the trials and tribulations of the morning routines. Marina was keen to share her top tips on #BreakfastSurvival;
Timing is key – just like making a roast, work backwards. When do you want to leave the house? Allocate time for each task to make sure everyone is up on time to get everything done.
Enjoy it – family life can be a jungle but if you approach everything with a sense of fun then it doesn't have to be too difficult. Make the morning madness a game! Set the kids a challenge to complete tasks in a certain time and see how they speed off to the finish. It won't work every day, but rewarding them for doing tasks on time can help to get the job done sometimes.
Look for the green banner – choosing a great breakfast isn't always easy and sometimes you aren't sure whether the option you've chosen is giving them a nutritious start they need. If you're looking for something quick and nutritious, look out for the green banner on Nestle Cereals so you can have peace of mind.
Expect the unexpected – It may seem obvious, but making sure you have everything ready the night before really helps, especially packed lunches. It will help you to have extra time in the morning to deal with those last minute homework requests!
Embrace disruption – What will be will be! Don't panic if things don't go as you want them to, you'll get there in the end. Have a list of the most important things you have to do, like having a good breakfast, and anything else you do is a bonus.
Little white lies never hurt! You might not want to and it might sound a bit sneaky but telling the kids you need to leave at 20 past when it's really 25 past, will buy you five minutes grace should anything go wrong. They might not want breakfast, but telling them Shreddies were knitted by Nanas might just get them to eat!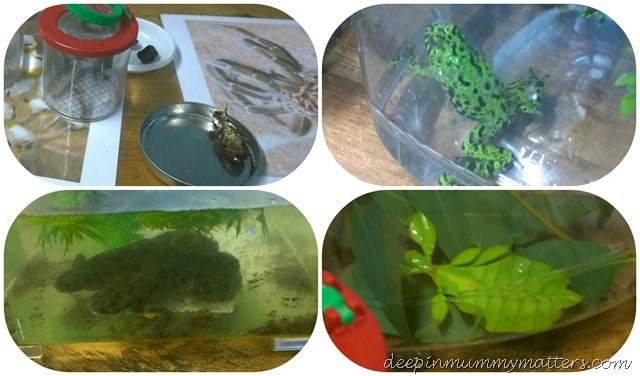 But if you don't fancy cereals, how about taking a leaf out of Ben Fogle's book and trying bugs instead? If you ate over 100 jewel beetles you could find a great source of calcium or just choose Cheerios with one serving providing 15% of the RDA of calcium and vitamin D. Or maybe you would prefer a Mopane Caterlillar for a good source of iron? Perhaps not then, so how about Shreddies instead? Shreddies are a great source of iron and contain lots of other vitamins and minerals too. If you need fibre in your diet (to keep you regular) then how about a Bulrush? Bulrushes not your thing? Don't worry you can always stick to Shredded Wheat which is high in fibre and like all Nestle Cereals is made with Whole Grain so it will keep you fuller for longer.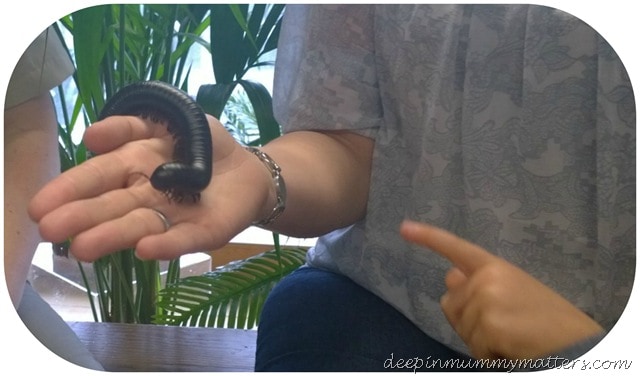 Finally, check me out! I actually held a Millipede on my hand. I don't do creepy crawly things and let me tell you if there had been a big spider I wouldn't have contemplated it but actually the Millipede wasn't so bad, he just tickled lots and the tiddlers thought I was amazing! Brownie points for Mummy, yay!!!
Note to my agent: I will STILL not be accepting invitations for I'm a Celebrity though!
DISCLAIMER: My travel expenses were covered and I received Nestle Cereals for the purpose of this post. All words, images and opinions are my own and may not be copied without my permission. I have not been instructed what to write.