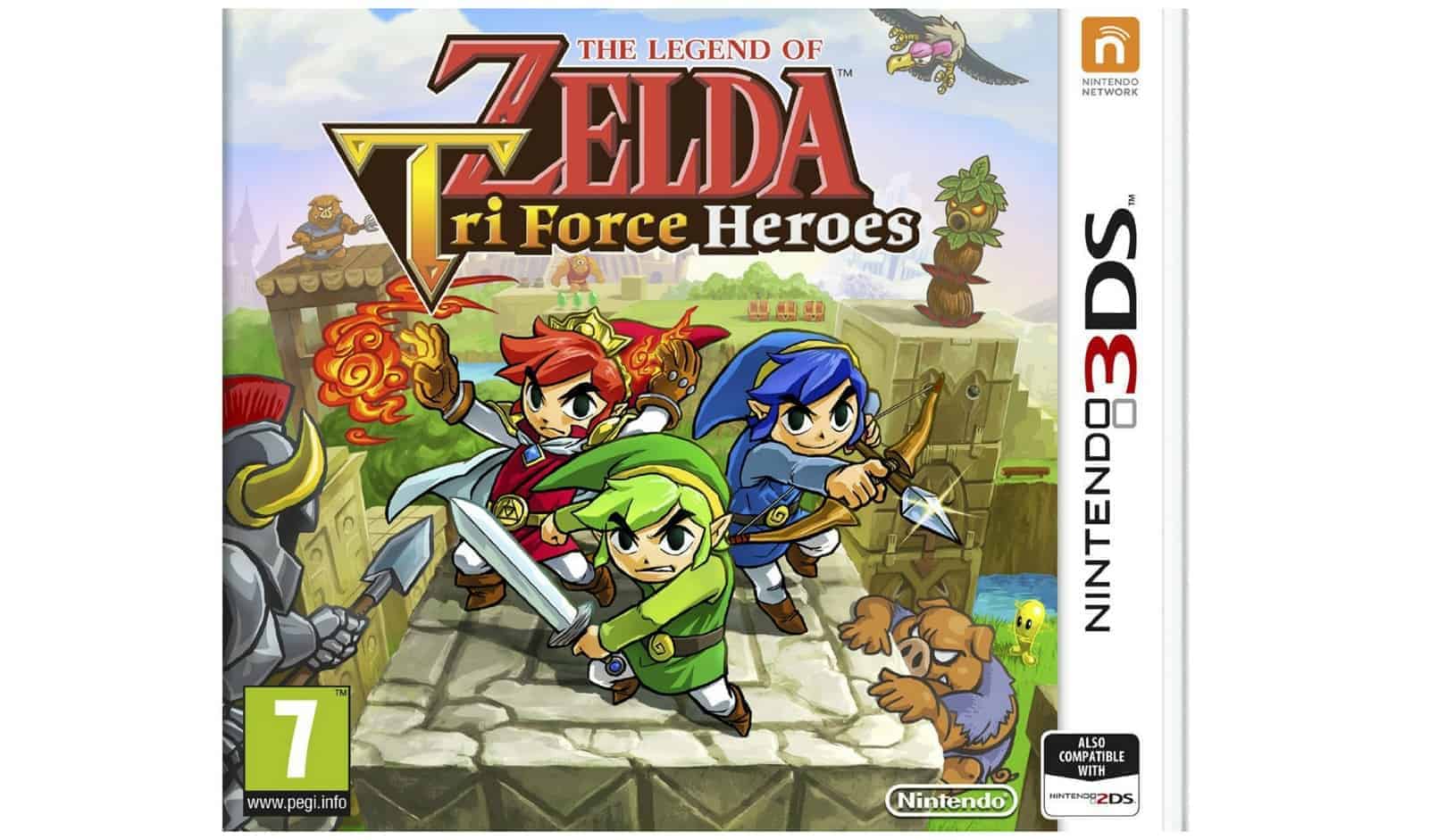 What we're playing on Nintendo #3 – The Legend of Zelda: Tri Force Heroes
The first time the Beans discovered The Legend of Zelda was at a Nintendo Bloggers event we attended last year. I thought Beanie Boy would play for 5 minutes and then stop but a good 40 minutes or so later, he was still playing and I had to entice him away so that others could have a play too.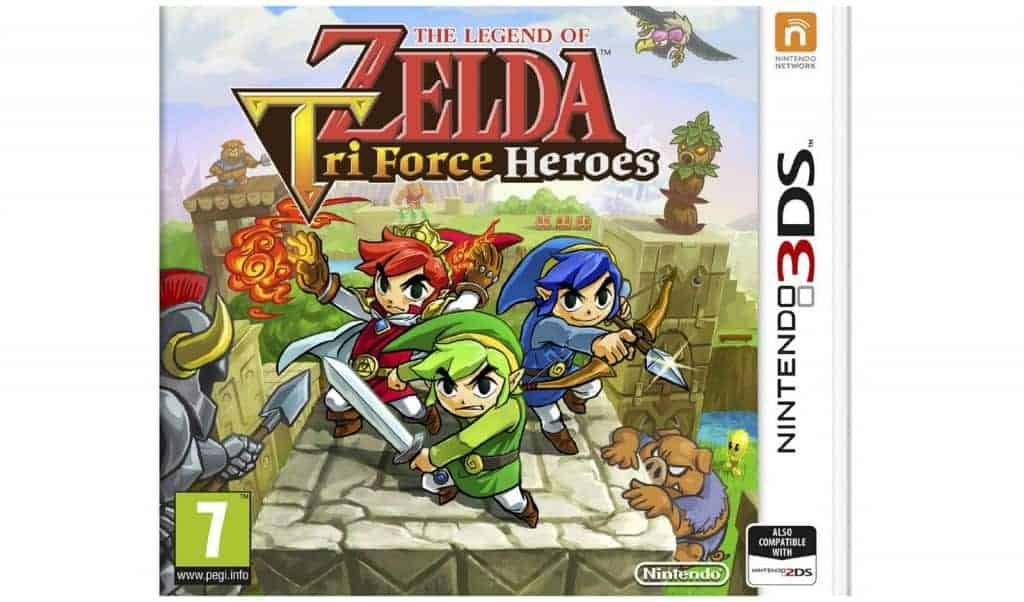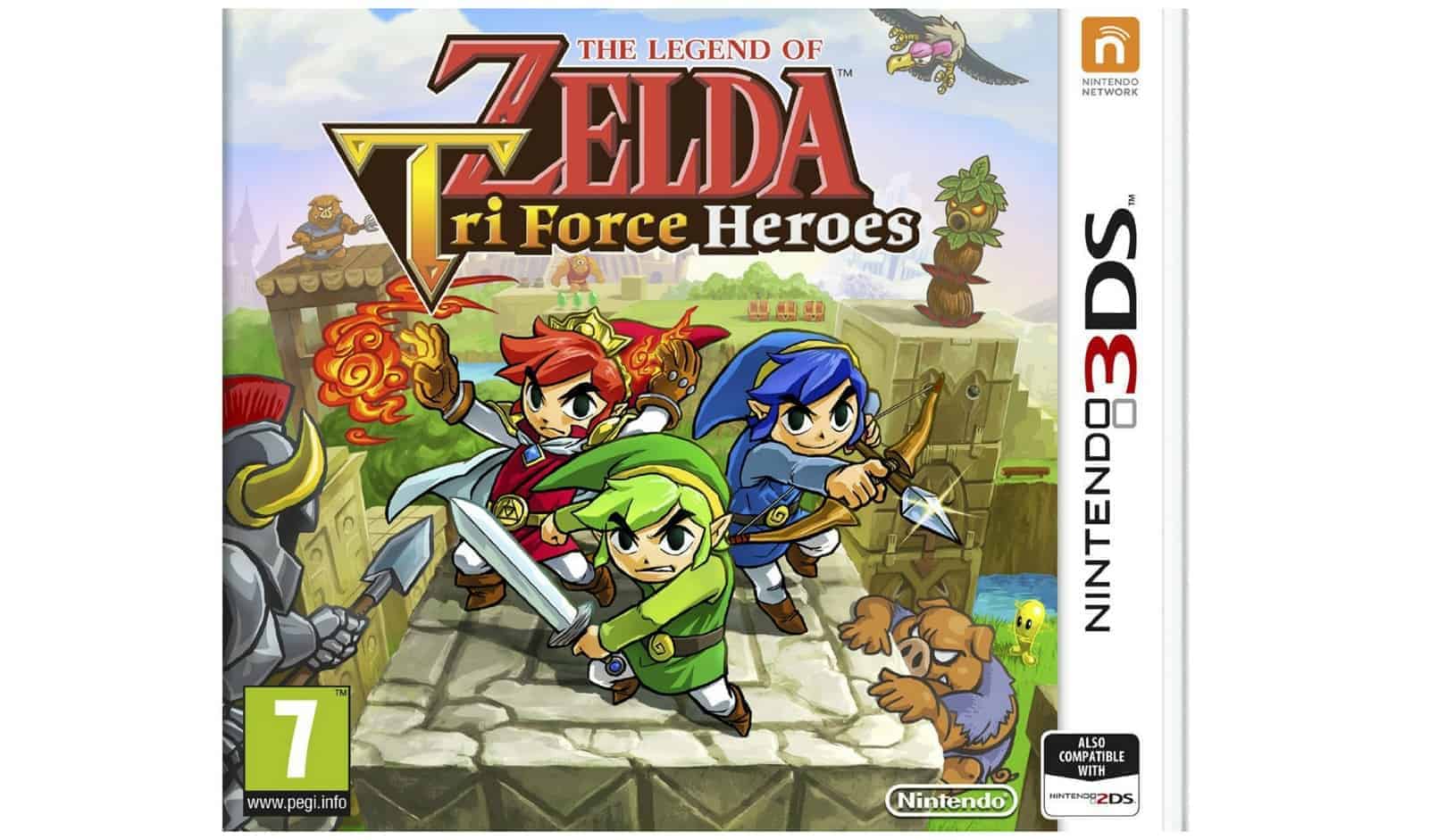 Over the Summer we managed to get our hands on an old copy of The Legend of Zelda in a store sale. Whenever it went missing we would find it in Little Bean's 2DS!! When we arrived back from our Cornwall break we had the download code waiting for us so the Beans could put The Legend of Zelda Tri-Force Heroes through it's paces.
About The Legend of Zelda Tri Force Heroes
In the visual style of the critically-acclaimed The Legend of Zelda: A Link Between Worlds comes a new adventure to save a princess from an evil witch's curse. 3 friends team up – each as Link in different colour – to cooperatively make their way through inventive dungeons and battle bosses. Use the loot you get to create wearable outfits, each with a different boost or ability.
Playing the Game
The game has two play modes:
Single Player
This is quite a challenging way to play the game as you play as yourself and you also control two Doppels, playing alone can be quite time consuming to you might need some patience for this one.
Multi-Player
The game is designed to be played as a trio, you can link up with friends on local play ( via a wireless connection, you can join others online or you can use download play. Note: when playing via local play with friends, only ONE of you needs to have the actual games cartridge, the other can simply download the game to play along with you. As a parent I LOVE this aspect because so often with games, one will have the game and the others want to play but have to take it in turns. With Legends of Zelda Tri-Force Heroes, Curly, Little Bean and Beanie Boy can all play together and even better, they HAVE to work as a team!!!!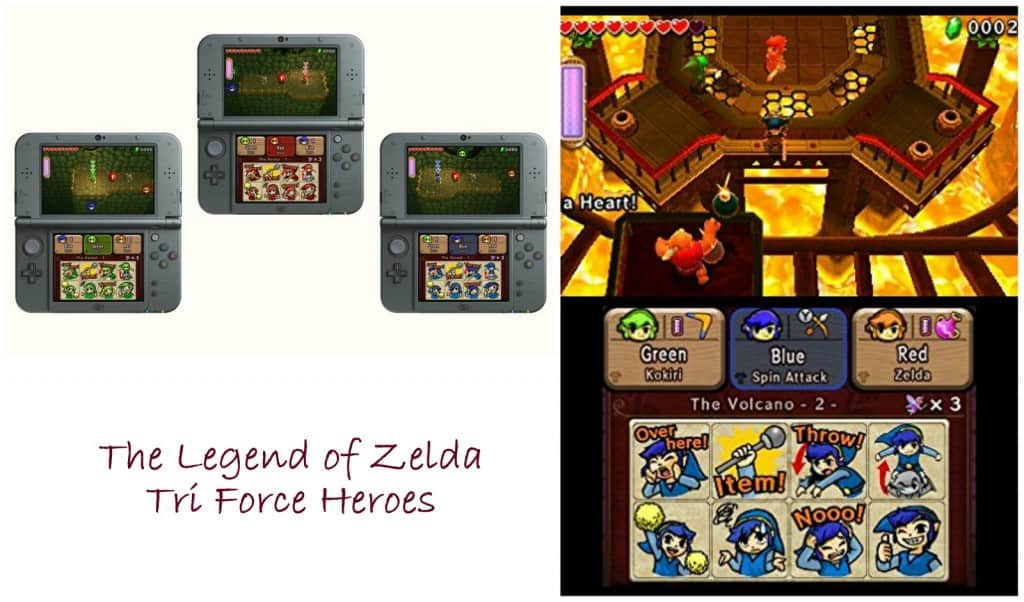 When connected in Multiplayer mode they communicate via emoticons and directional images on the lower screen, they find this highly amusing (well ok, perhaps not Curly – he's the serious game player who does get a little frustrated with his younger siblings).
On each level you work your way around the town gathering information and being directed to the next place to face new challenges, traps and puzzles. You need to work together with your friends (or Doppels) to defeat the enemies and solve puzzles but keep an eye on your hearts because you share them with your friends.
Totems
Initially we were confused, we couldn't work out how you were supposed to 'jump' and the answer is 'you don't'. When you need to reach higher areas, you and your friends (Doppels) form a Totem and then 'throw' each other.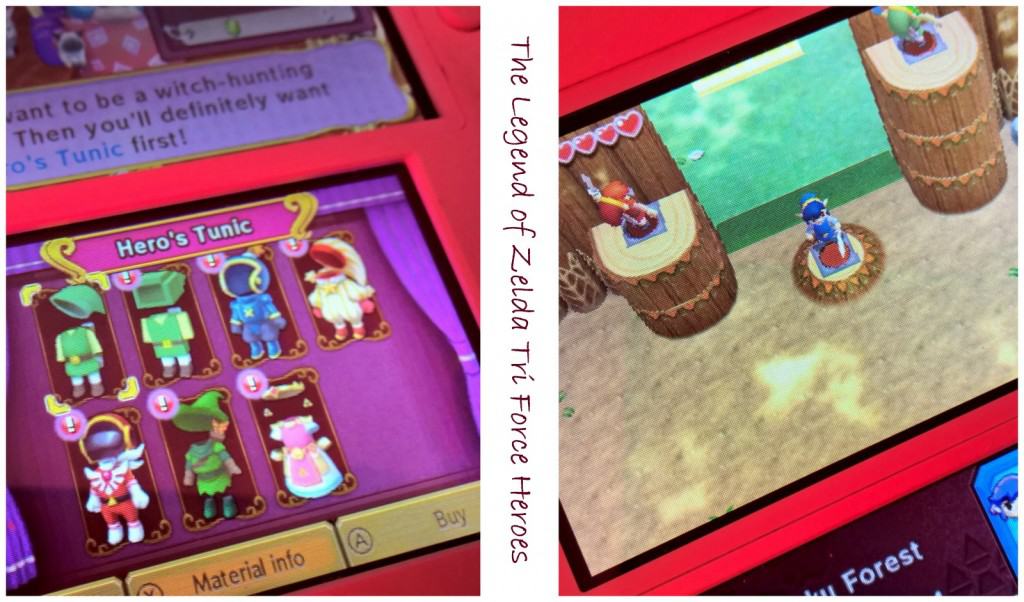 Style
Throughout the game you will need to change into different costumes, you'll get your first at Madame Coutures – quite the character! Each costume is special though because it gives you the unique abilities needed to see your way through each level.
Loot
On your travels, pick up loot you see lying around. This is the part I find most frustrating when Beanie Boy is playing because he just wants to fly through the level, he doesn't want to look around each level to see what he can find, then he gets frustrated when he can't do the things he needs to do. I have explained to him a thousand times over that he needs to collect the loot in order to create wearable outfits which give him the boosts and special abilities needed to complete a level.
Only just getting started . . . 
Obviously the Beans have only been playing this game for a couple of weeks but so far it's a hit. Since they prefer to play the game as a trio they generally save it for a Wednesday night or a weekend when Curly comes to stay and I love that it's something they can enjoy together, they look forward to their 'game time' and will no doubt enjoy many adventures in weeks to come.
DISCLAIMER: We were sent the download code for this game in exchange for our honest thoughts. All words and opinions are my own and may not be copied without my permission.