What the Beans are watching #1 – Barbie in Princess Power
When I had a friend over to visit today they commented that our house is a little like a DVD rental store and they're right, we have a LOT of DVDs but that's because we all love movies. We like watching them together as a family activity (#familyfilmnight) and we all like to have times on our own where we just sit back and lose ourselves for a while. As parents we don't set strict times when the Beans can or can't watch TV, we let them choose for themselves and generally if they are watching something they have seen before they won't sit and watch the whole thing or if they do, they will be playing with toys at the same time and just have the TV playing as background noise or play inspiration. Very rarely do we have to say "switch off now" so I feel pretty happy with that.
Little Bean's latest film love (although Beanie Boy loves it too) is Barbie in Princess Power. When this arrived I tried to sit down and watch it with them but it was one of those film sessions where I was constantly being asked "can I have a drink please?", "can I have a snack please?" or one of the other 100 requests they have to stop me from sitting down for any length of time! They on the other hand sat through the whole film whilst their slave (me) ran around at their beck and call.
Barbie in Princess Power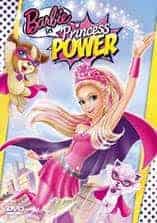 Barbie stars as Kara, the modern-day Princess living everyday life. Kara is kissed by a magical butterfly which gives her amazing superpowers transforming her into alter-ego Super Sparkle for some awesome girl power!!
Kara's jealous cousin captures the butterfly and transforms herself into Dark Sparkle, her nemesis. Super Sparkle and Dark Sparkle take to the skies as rivals but soon discover the real threat to their kingdom. Will they be able to put their differences to one side and join forces to protect their land?
As with all such films, there is always a lesson to be learnt and in Barbie, in Princess Power, the lesson is one of the powers of friendship.
When the film ends, the fun can really start with the release of Kara the Super Sparkle Doll (RRP £22.99) who transforms from Princess to Super Hero. Roleplay is a great way for children to express themselves, learn from each other and use their imagination.
What Little Bean thought . . .
We do love a Super Hero in the Mummy Matters' household so Barbie in Princess Power has gone down a treat with Little Bean. Little Bean said "I love the costumes that they wear and it's better to be friends with someone because it makes you feel happier and you can do more together. It's better than fighting."
Little Bean always loves the musical aspect of the Barbie films too and quickly learns their songs, she can often be found dancing along to the music videos in the bonus features of the disc.
Download Activities
With the Easter holidays coming up why not head over to www.Barbie.com/princesspowerUK and print activities to colour and create.
Bonus Features
Music Video – "Soaring"
Music Video – "Hero Beat"
Outtakes
Barbie Anthem – sung by 5th Harmony (winners of US X Factor)
Barbie Life in The Dream House – webisode
DISCLAIMER: We were sent Barbie in Princess Power for the purpose of this post. All words and opinions are my own and may not be copied without my permission.