What Should I Have in My Baby's Nursery?
The process of planning a baby nursery can be overwhelming nowadays. With so many different baby products available, it can be hard to know which ones are truly worthwhile and choosing where to begin can be daunting, especially as a new parent who has never been through this life-changing experience before.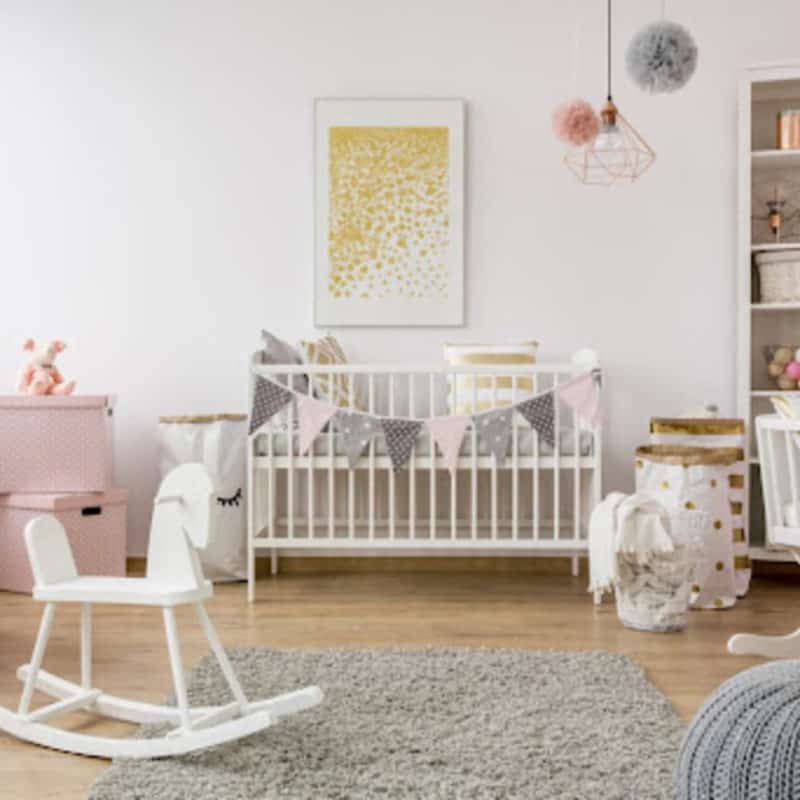 Understanding some nursery decor basics will benefit every new parent, and your choices will be largely determined by your preferences. It's important when you are designing your baby's nursery that you create a space that is functional, relaxing and practical. While the aesthetics of your space are undoubtedly important, having the right equipment is much more essential to your child's well-being and development moving forward.
Let's take a closer look at just some of the essentials that will help you to cope as new parents and help you to be the best parent you can be when your little one comes along.
Your Baby's Bed
Your baby's bed is one of the most important parts of the nursery. Where your baby sleeps in the nursery will be the focal point of everything that happens in the nursery, regardless of whether it is elaborate or simple. Several different options and price ranges are available so it's up to you to decide between bassinet vs cot. Whatever style of a crib, cot or bassinet you choose, and whatever the price, you need to make sure it is made from quality materials and sturdy enough to stand up to heavy use.
As well as being a necessity for your baby's comfort, baby bedding can also be a decorative element in your nursery. A wide selection of bedding options is available nowadays, such as crib sheets and bumper pads. The baby quilt can still be displayed in the nursery as part of the decor even if you choose a sleeping bag to keep your baby warm during the night.
Changing Table
Your baby will go through thousands of dirty nappies during his or her first year. Despite becoming skilled at changing babies' diapers on the spot, a stationary changing table is always a good idea in a baby's nursery. There are many different styles of changing tables are available, including those with shelves to organise diapers and other essentials such as wipes and ointments. The majority of changing tables also come with a comfortable pad for laying the baby on. Take some time to look at your options so you find the ideal solution for your needs.
Dresser and Decor
An organised dresser is a much-needed nursery furniture piece since babies change clothes several times every day. A child's dresser should have at least three drawers and include compartments to store socks, bibs, and other small items. Baskets are perfect for storing extra blankets, burp cloths, and even toys next to the crib and they also add a lovely touch to the room. If you plan to use them regularly, be sure to have blankets by the crib, burp cloths by the rocker, and toys within easy reach of your baby.
Baby mobiles have been a staple of baby nurseries for years, helping babies to fall asleep and keeping them entertained when they wake up. The market offers many crib bedding sets that come with matching mobiles, but there are also many mobiles that can be purchased separately. Music and moving figurines are common features of mobiles and many of them have calming nature sounds, lights, and mirrors included in the design. It is very helpful to have a rocking chair or glider that parents can sit in while rocking their baby to sleep or feeding him. Rocking chairs and gliders soothe babies, and these chairs offer a comfortable place for breastfeeding too.
Baby Monitor and Lights
The separation from a new baby can make it difficult for new parents to sleep well at night. The reason that baby monitors are so essential for so many parents is that they allow parents to be in constant audio or visual contact with their baby.
While many parents can get by with traditional audio-only baby monitors, others prefer video monitors so that they can see and hear their baby constantly. Nightlights are a helpful nursery necessity since you will definitely be visiting your child's nursery late at night, particularly in the first year. To assist you in feeding and changing your baby, you can use a nightlight instead of turning on a bright overhead light which can make it difficult for both you and your baby to go back to sleep.
Set Your Baby's Nursery Up With Everything You Need From The Outset
Ensuring that you have everything that you need to look after your baby before they even enter the world, will ensure that you are ready for the exciting road ahead. Following the tips outlined above, you can ensure that you have all the accessories you need to create the perfect nursery in your home where you can care for your little bundle of joy with ease.