My week of 40th Birthday celebrations . . .
Sooooo last Tuesday I celebrated my 40th Birthday!!! I know, I don't look a day over 21 hahaha!! I can dream, can't I? Well, I like to make sure that I squeeze every last little bit out of a birthday and so my 40th wasn't going to be any different.
Joint Birthday Celebrations
On the Saturday night before my birthday, my Mum and I had a night on the town in Stamford to celebrate both of our birthdays as Mum was celebrating hers on Sunday too. It's been quite a while since Mum and I had a night out on the town just the two of us but we made up for it and had a really good night. We talked, we danced and we laughed . . . a lot!!
Bluebell Woods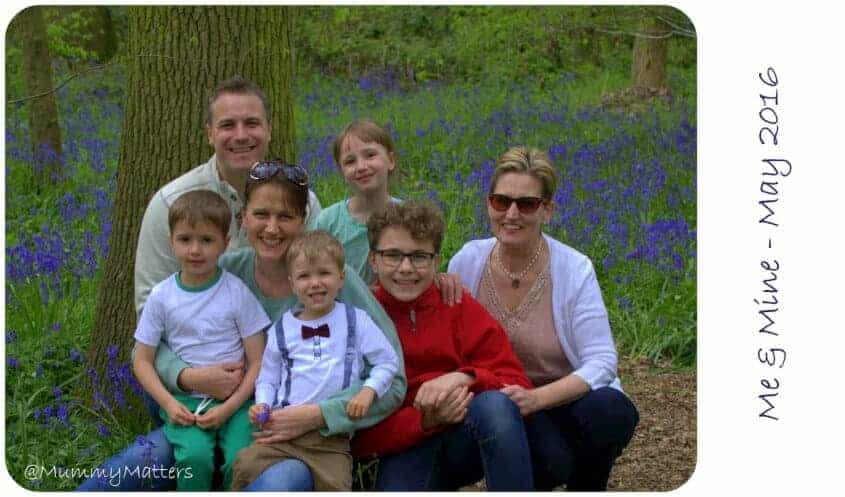 On Sunday we celebrated Mum's birthday with a family walk in the bluebells followed by a yummy meal cooked by Hubby.
Family celebrations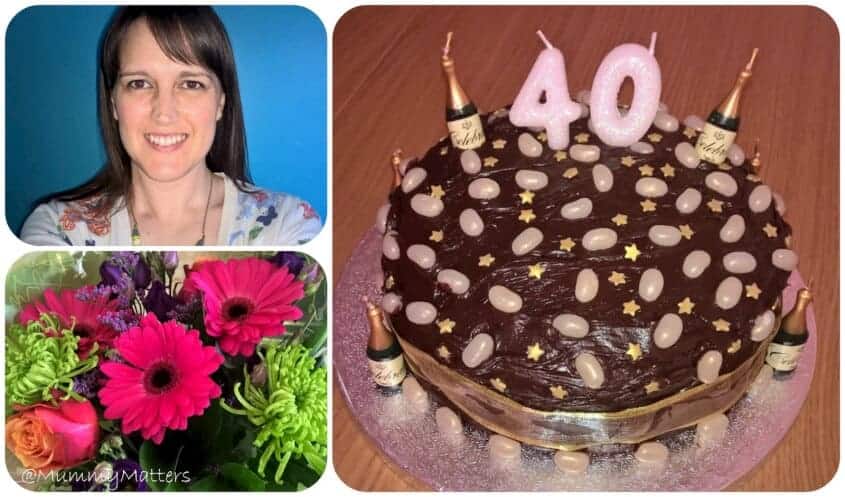 Monday was a Bank Holiday and was to be my first birthday 'party' with all of Hubby's lovely family coming over for food, cake and lots of lovely presents. It was a lovely chilled afternoon which flowed into the evening, the Beans loved having everyone around and even let me open my own presents. How about that then?!
Friends and Family Videos
Tuesday was the actual day of my 40th Birthday and I was woken up with a hot cup of tea in bed and my babies climbing all over me to wish me happy birthday and thrust presents into my face. The biggest surprise of all was a lovely montage of video messages which Hubby had pulled together from treasured family and friends.
It made my heart melt, it made me laugh and made me cry to feel so loved, it was a great start to the day and one which I didn't expect. Unfortunately, I can't share it with you on here because not everyone wants to be made 'famous' on the blog but I might just make a mini-video for you of those that don't mind.
Lunch with Mum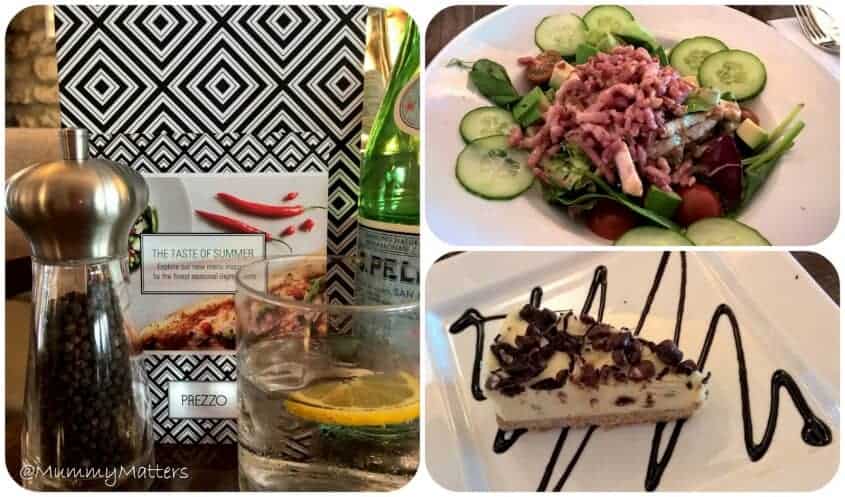 With all the Beans back at school my Mum took the day off work and we treated ourselves to a day out shopping on our own and went to Prezzo for a scrumptious lunch. Obviously, I love my Beans like nothing else on this earth but it was so nice to have a day out with Mum, a day to ourselves to be able to relax properly, enjoy a meal without having to stop every few minutes to help someone else with their lunch or to persuade them to eat 'just another mouthful'.
Family Tea
Afterwards, we picked all the Beans up from school and returned home for a birthday tea with Mum, Hubby and all of my beautiful children. I had been more than just a little spoilt with some amazing gifts, vouchers and lots of money to treat myself. I have already taken delivery of my new Hybrid bike as I am doing a 17-mile bike ride for the NSPCC in June so I need to get some practice in and next on my shopping list is a new DSLR camera (I can't wait!!).
A Wicked Day in London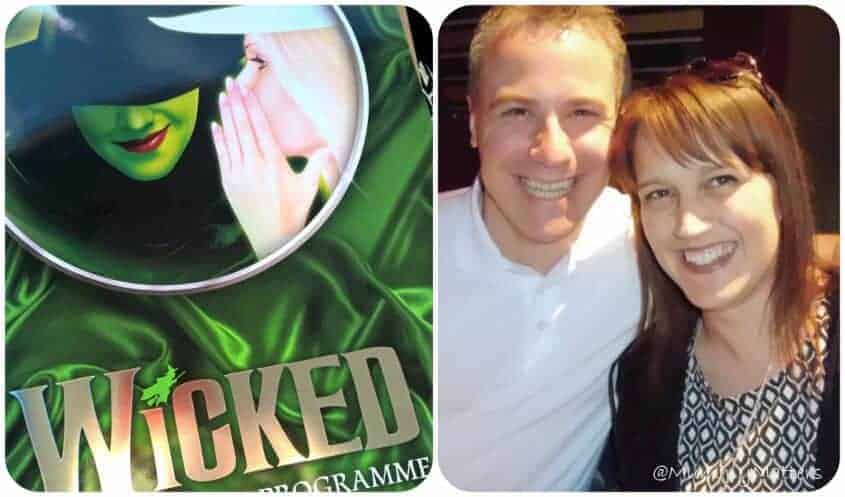 On Wednesday, Hubby and I dropped the Beans at school in the morning and then hopped in the car for a day in London together. One of my 40th Birthday wishes was to see the hit musical Wicked and Hubby made that dream come true. In hindsight, it would have been better to travel by train to enable us to make more of our day together as precious time was lost on the journey and trying to find somewhere to park.
It meant that we weren't able to go out for lunch as we had planned before the show but the show more than made up for it. I must admit that my reason for wanting to see Wicked was because I love the song Defy Gravity so much but other than knowing the story was about the Witches from the Wizard of Oz I didn't know anything else so I didn't know what to expect. The show blew us both away but I shall tell you about that one another day. It was AMAZING and I can't wait to go back and see it again!!!
Time to reflect and be grateful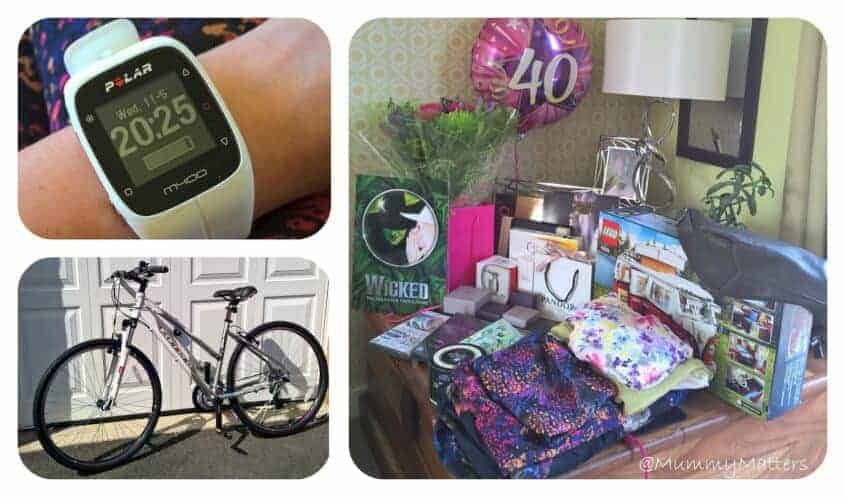 Thursday was the first day of the week that things returned to 'normal'. I was able to sit down and look through all of the wonderful cards and gifts I had received (of which there were many). I was amazed that I didn't receive one duplicate card or gift, almost unheard of. I caught up on a little of the housework and cleared a little of the backlog on my Inbox and blog, both of which had been neglected.
Mum and Son Day
Friday morning the sun was shining brightly and it was really starting to heat up. Jelly Bean and I went out to collect my new bicycle and had a little wander around Stamford whilst we were there. He is such good company, he doesn't stop talking and never fails to make me laugh with the things he comes out with.
Girl's Time!!
Later when we returned home it was time for me to start getting the house prepared for our guests arriving in the evening and packing my bags ready for a night away with the girls on a spa break. My very special friend Mum2C arrived first around 6 pm and then my beautiful Sister and family arrived later once the (very excited) Beans were all in bed.
We had promised ourselves we wouldn't have a late-night since we had to be up and off early to get to Nottingham in time for our treatments but it was still almost midnight as our heads hit the pillow! We would be able to relax once we got there, right?
Relaxation at The Belfry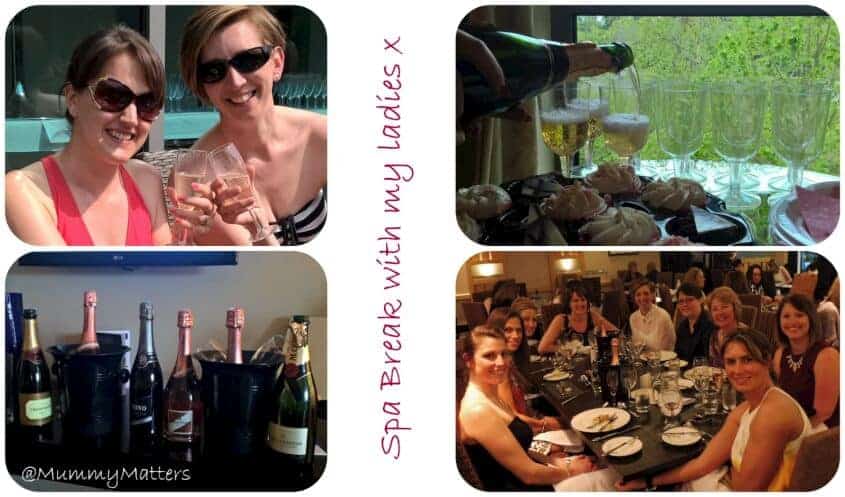 On Saturday morning we said goodbye to the two Daddies with the 6 children and a glint in our eyes then hit the road. In what seemed like no time at all we had arrived at The Nottingham Belfry ready for the relaxation to begin. I didn't need to wait long either, my treatment was at 10 am and I didn't re-surface until 12noon after a blissful neck, back and leg massage followed by a facial and foot massage.
We enjoyed a tasty lunch followed by drinks, laughter and relaxation in the sunshine for the entire afternoon. It was so nice to just kick back and talk with family and friends without being interrupted. Most of us that went are Mums/Nanna's and as much as we loved our little people, they do have a habit of interrupting a conversation so it felt great to have a full train of thought. I won't lie to you, much of the afternoon was spent accompanied by Prosecco which definitely helped with the relaxation process.
When the rain appeared we retreated to one of our hotel rooms for more Prosecco and birthday cakes before getting ourselves ready for an evening meal in the restaurant. I really couldn't have asked for a better break away for my 40th Birthday, we had lots of laughter, lovely food and perfect relaxation.
Thank you x
Throughout all of my celebrations, I have been made to feel so special and loved so thank you to everyone.
Love you xx