Warner Bros Easter DVDs
In the Mummy Matters household we don't tend to watch lots of TV programmes, there are of course the odd favourites but as a general rule my children are just like me, they prefer to watch a good DVD. They each have their own tastes and preferences so when an Easter bundle arrived from Warner Bros there was a little something for each of them.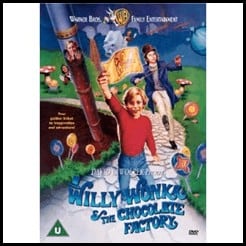 Willy Wonka and the Chocolate Factory
If ever there was a film to take me back to my youth it would be this one. I couldn't even begin to guess how many times I have seen this film and I never tire of it. I love the little orange Umpa Loompas, I despised vile Verucca and greedy Augustus Gloop but I loved Charlie and his doddery old Grandparents. When I was little I really believed that one day I would be able to visit Willy Wonkas chocolate factory too and so it has been great to share a piece of my past with the children. There were the odd bits of the film which Little Bean wasn't very keen on but I was able to distract her with a Mini Egg or two!!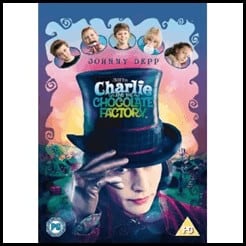 Charlie and the Chocolate Factory
This was not a film for Little Bean at all, one look at the front cover and she wasn't even entertaining the idea of watching it but for Curly this was right up his street. This is a re-make and far more dark and sinister than the original although I'm led to believe that this is more in keeping with the original story. Johnny Depp as always is a fantastic actor but perhaps best kept for older children. In some ways I also found this quite a sad storyline which really makes you feel for Willy Wonka.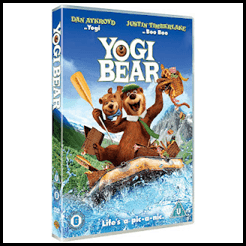 Yogi Bear
Another great childhood memory but a newer version and really well done. It doesn't have the greatest plot but I don't think that bothers the children much. With the voices of Dan Ackroyd and Justin Timberlake as Yogi and Boo Boo this is a good film for snuggling up with the kids on a rainy day. Both Curly and Little Bean loved this one, Curly found it especially funny.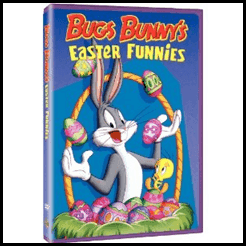 Bugs Bunny's Easter Funnies
When the Easter Bunny comes down with a bug, someone needs to step in to deliver all the Easter goodies. Granny thinks Bugs Bunny is the obvious choice but he's busy filming. Featuring favourite characters Bugs Bunny, Tweety Pie and Daffy Duck, this had the giggles rolling out from everyone, even Beanie Boy could enjoy this feature length cartoon.
DISCLAIMER: We were sent all four DVDs for the purpose of this post. All words and opinions are my own and may not be copied without my permission.