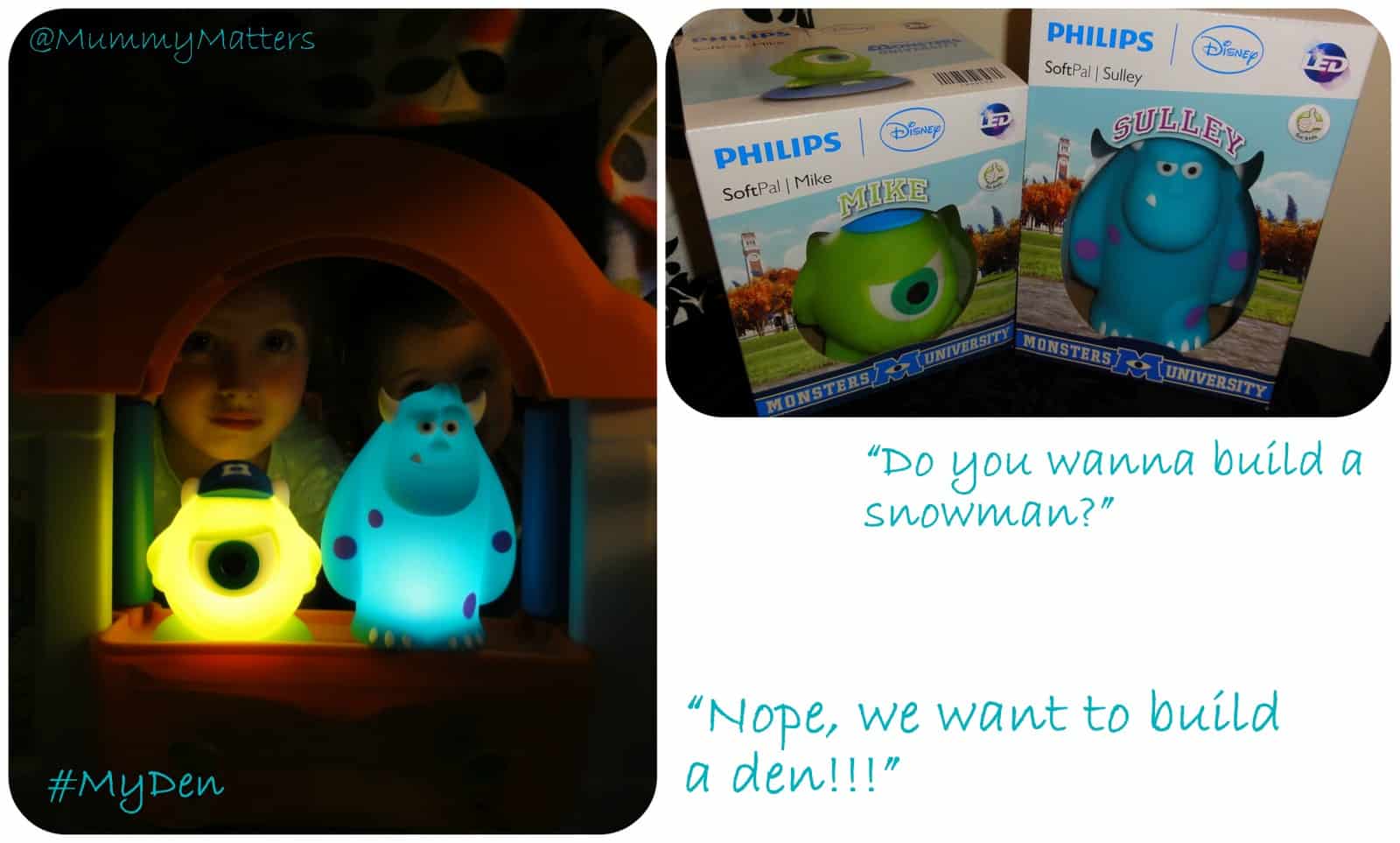 Well, to be fair it IS Autumn and there isn't much snow around, plus we haven't got magical powers. BUT we have got an imagination and that's all it takes (ok plus a few random materials from around the house) to make a den!!
I have to admit that building dens with my children was one of those things that I most looked forward to about being a parent myself. Ask my old school friend Catherine, I may have been a little obsessive about building dens when we were at primary school. The Beans LOVE it when we build dens because for one thing, I'm not telling them off for making a mess, I'm helping them to make the mess. Every single time we make a den it's different, I don't think we have ever made the same den twice because that's just boring!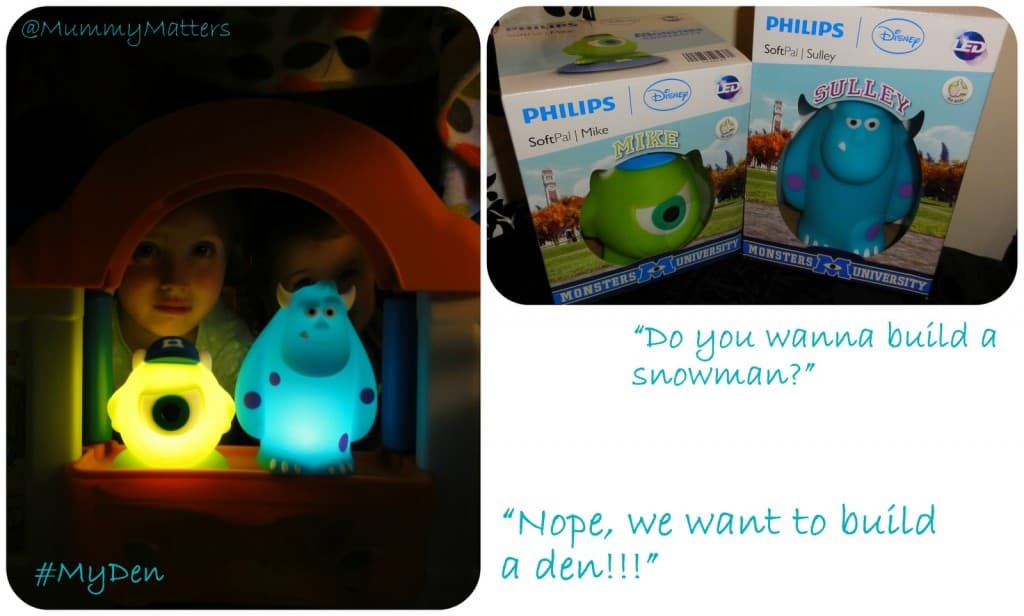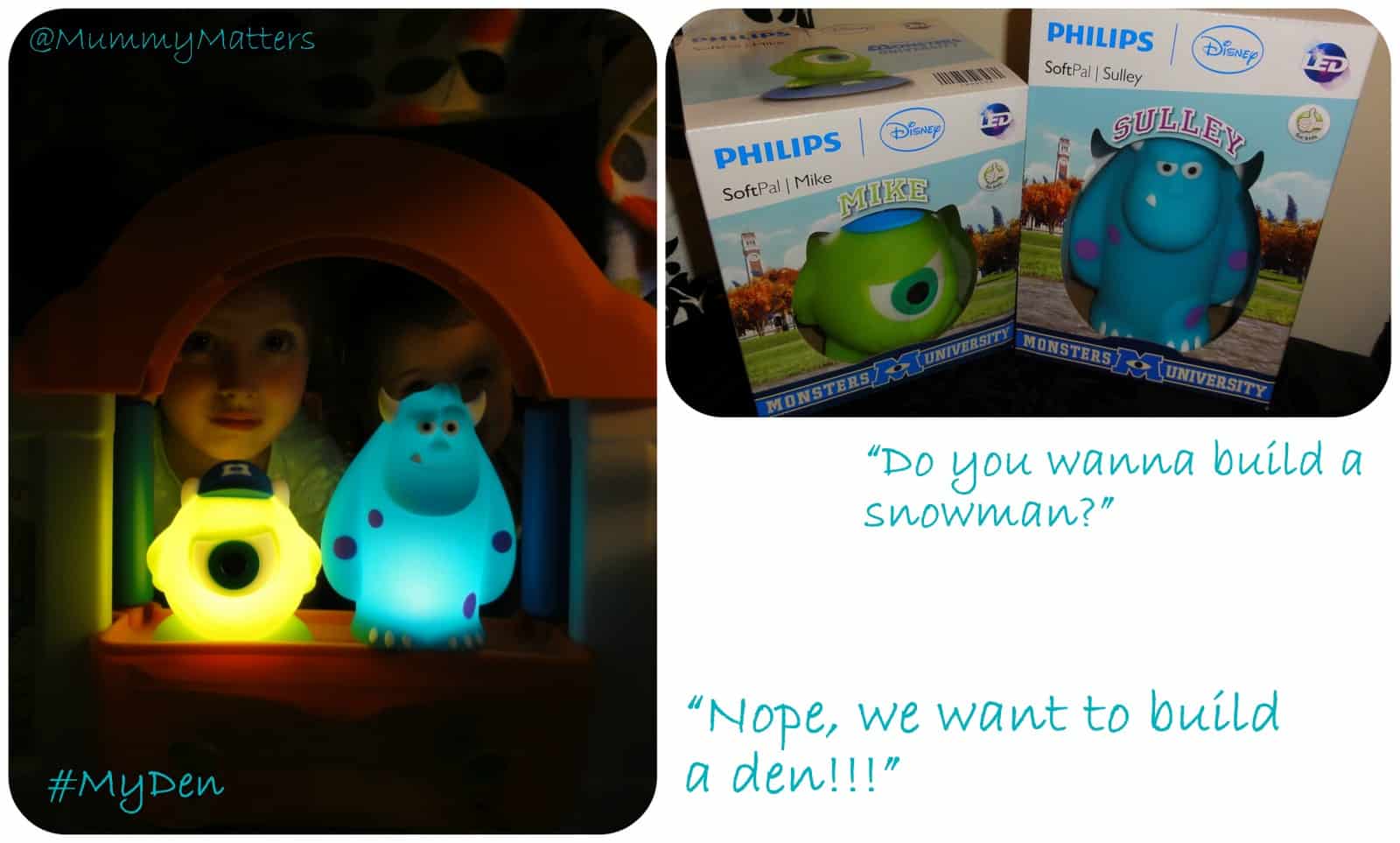 Last night we made this wicked den which was big enough for all three mini Beans. Jelly Bean even had his own 'private wing' aka his Little Tikes Activity Garden, complete with phone, private entrance, slide, xylophone, shape sorter and telescope – how cool!! Little Bean and Beanie Boy shared the main den area but each carved out their own sleeping area and suggested that Buzz Lightyear be placed on Sentry Duty to watch over them whilst they slept. They were adamant that they were all going to sleep in their den last night along with their fab new Philips SoftPal lights, Mike and Sulley from Disney's Monsters University. I did point out one major flaw in their plan, they had created their den in the lounge where Mummy and Daddy would be spending the evening until we went to bed too. Perhaps next time they will think about building their den in their bedrooms.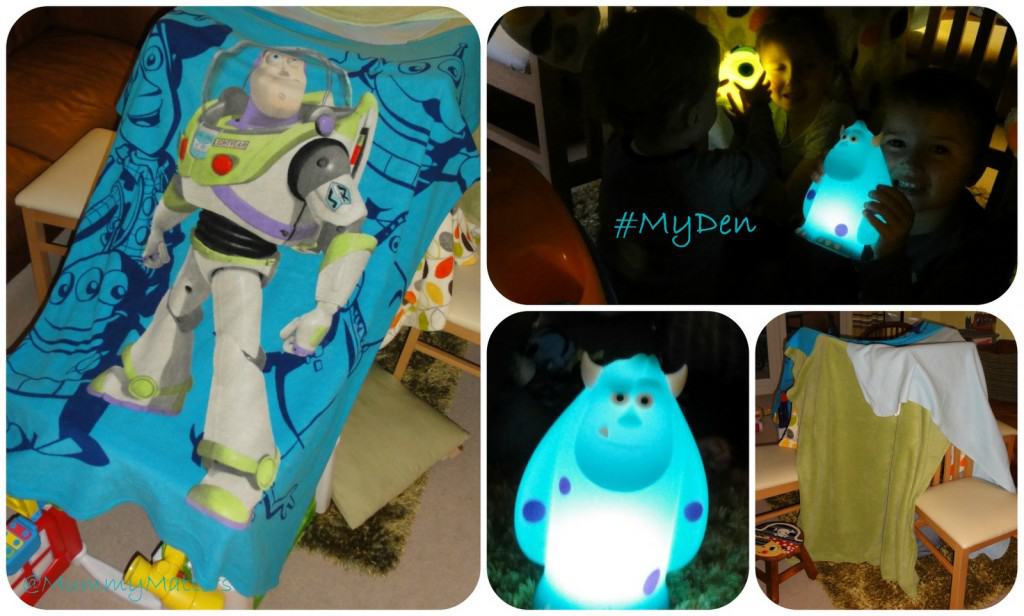 We built this latest den as our entry into a competition being run by Philips at the moment which is encouraging children to creative and build their own dens to be in with a chance of winning some fab prizes. If we win it would be amazing but if we don't we still got to have lots of fun doing some thing we would do anyway.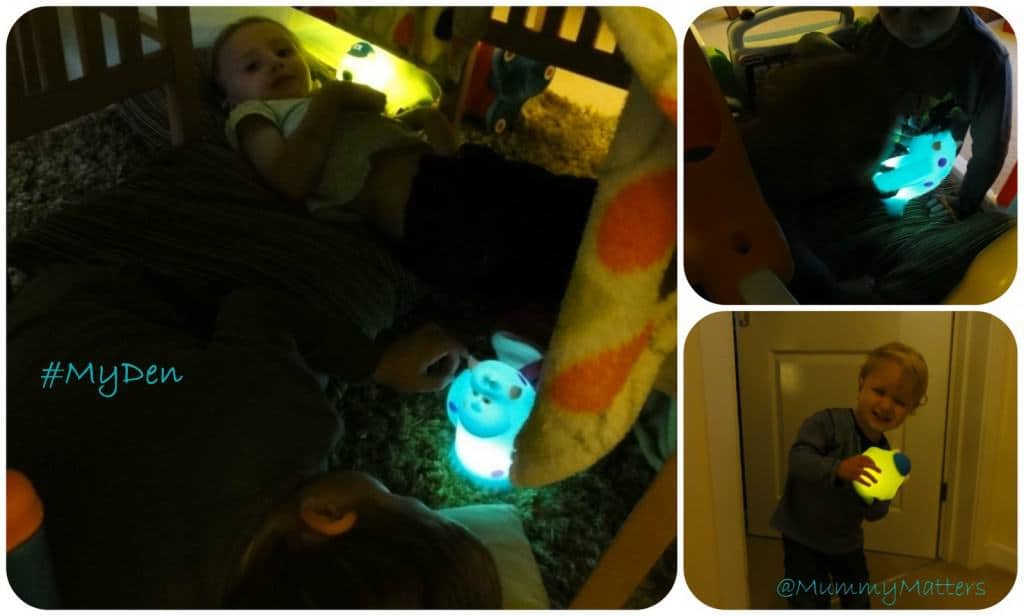 There were tears at bedtime unfortunately as sneaky Jelly Bean ran off with Mike leaving Little Bean lightless so we will definitely have to rectify that situation.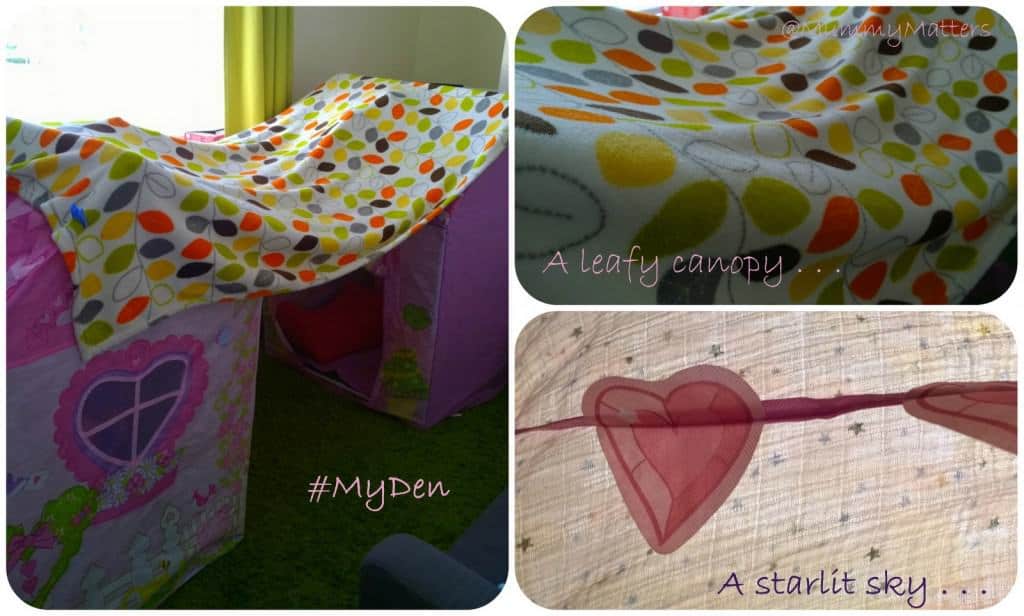 Last week the Beans really impressed me with this den they made. I had built their playhouses in the playroom to keep them occupied after school one evening. They they put their heads together and came up with the rest. They took Jelly Bean's over-sized Muslin to create a 'night sky effect' when looking up from inside the den and on the outside they placed my large leafy fleece blanket as a canopy of leaves to disguise their den from passing 'baddies' and of course the green rug became the grass.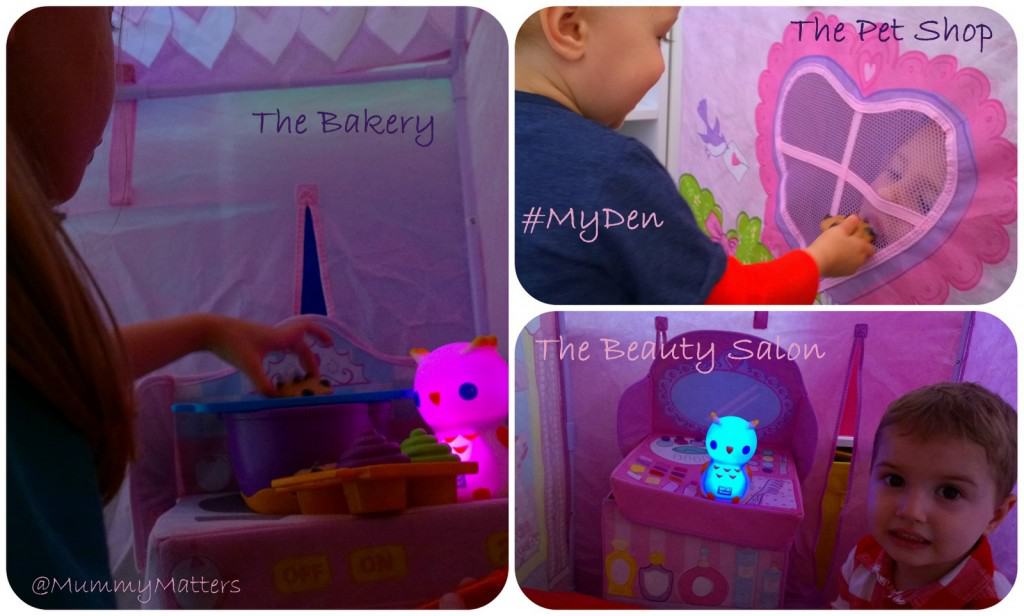 Little Bean was in charge of the bakery in one house using her bakery set whilst Beanie Boy was busy styling his teddies and toys in the Beauty Salon next door. As for Jelly Bean, he was eager to feed the animals at the 'Pet Shop' otherwise known as Little Bean in the Bakery!!
Have you tried den building with your tots? Here are some top tips for building a fun den;
Let the children do it themselves – this one I often find hard since I love dens so much myself but if you take over they won't be able to use their own imagination. Plus you won't get to feel that warm glow of pride when they create something amazing!
Use cardboard boxes, umbrellas, blankets, sheets, mosquito nets – anything you can get your hands on really.
Add coloured lighting to give the den some ambience and change the feel of the den.
Use LED lighting in dens because they don't get warm meaning their are safer for play. The Philips SoftPal range are the perfect den accessory.
Let children take books, toys, bedding or whatever else they want in their den.
This morning I went into the lounge to find Jelly Bean had pulled his Activity Garden back into the middle of the lounge and was wrestling with a blanket on the floor. I asked him what he was doing and he pointed to the Activity Garden and said "on". I popped the blanket over the Activity Garden and he climbed in as happy as a pig in mud!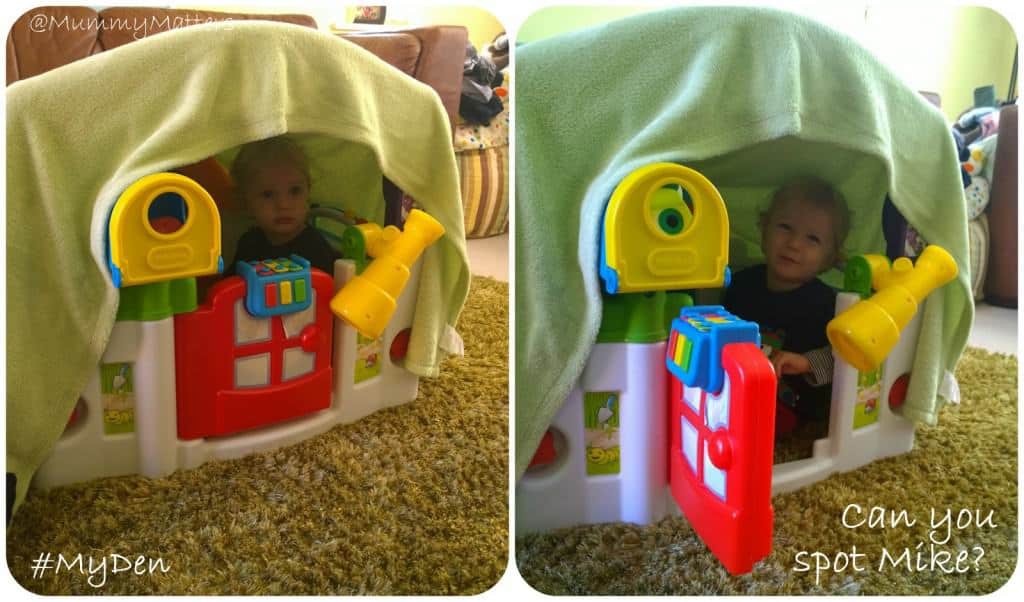 In the next couple of weeks I am hoping to create a permanent den under Little Bean's mid-sleeper bed. Watch this space as I will be sharing the pics with you.
DISCLAIMER: We were sent two Philips Disney SoftPal lights for the Beans to use when making their dens. All words, images and opinions are my own and may not be copied without my permission.