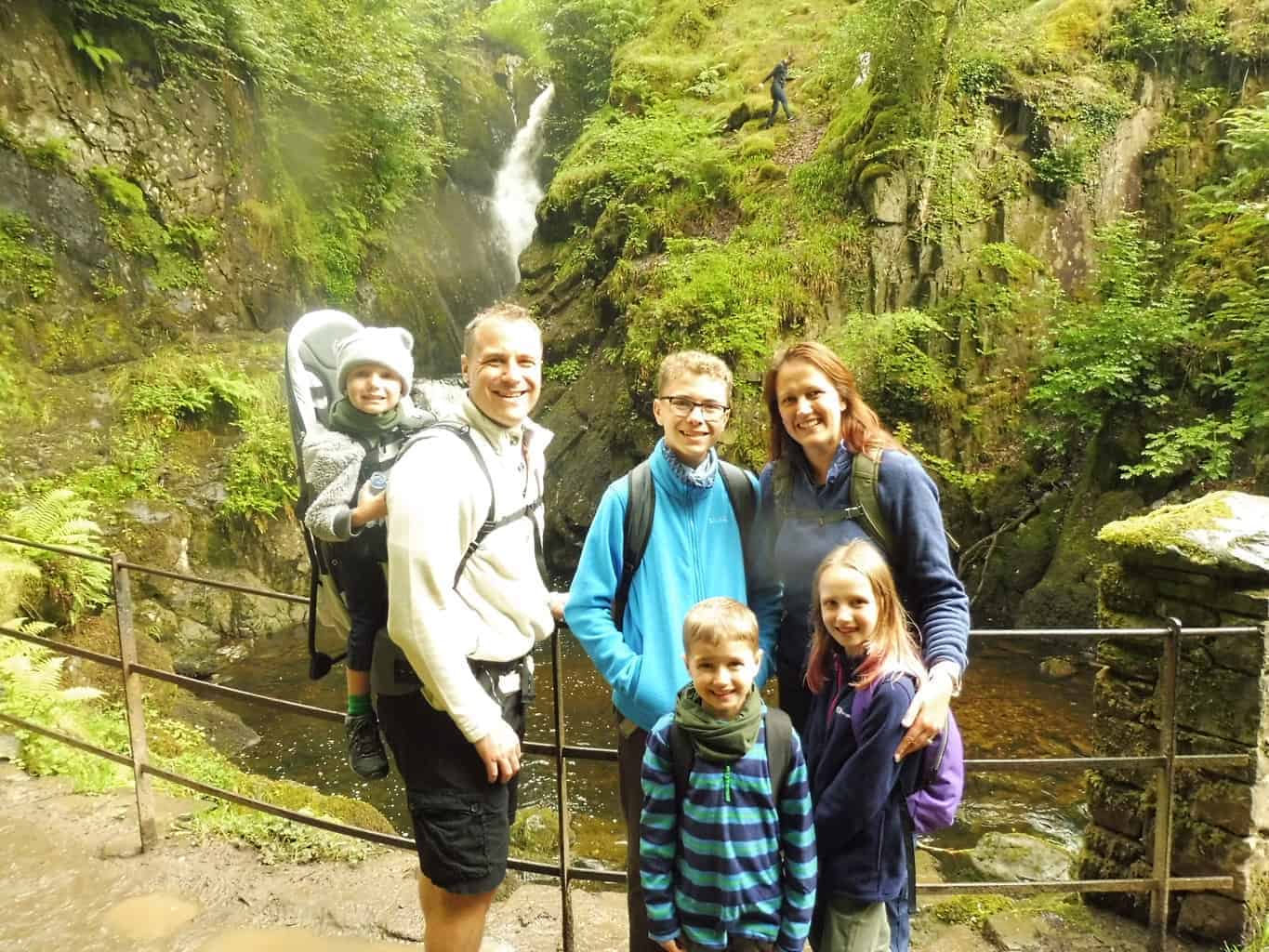 Visiting Aira Force Waterfalls, Ullswater
Aira Force is a National Trust site situated on the banks of Ullswater which has been receiving visitors for more than 300 hundred years. Aira Force shows the beauty of nature as the rain from the fells runs into Aira Beck and drops over 65 feet over the falls.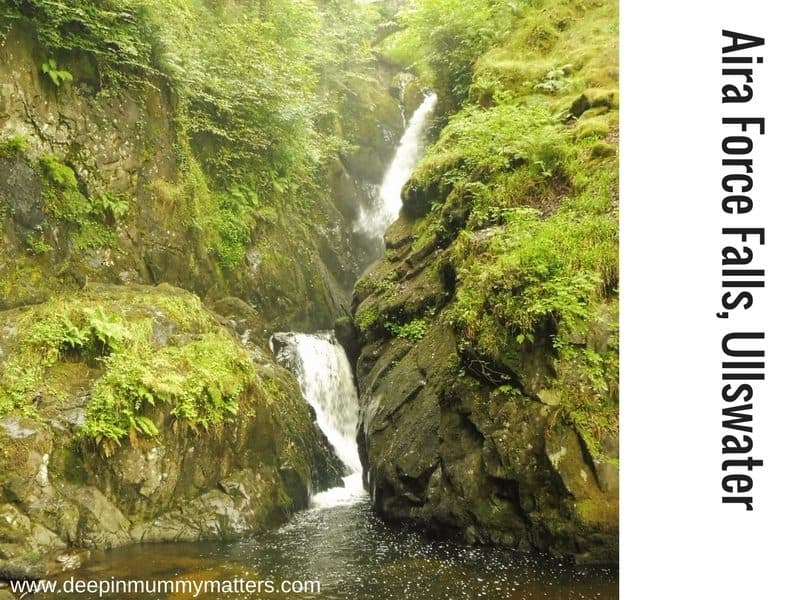 The adventure begins . . .
We visited during our stay in the Lake District after I had spotted it on a friend's Facebook feed, having never heard of it before. We donned our walking boots and rain jackets, grabbed a few snacks and followed the signs for Aira Force.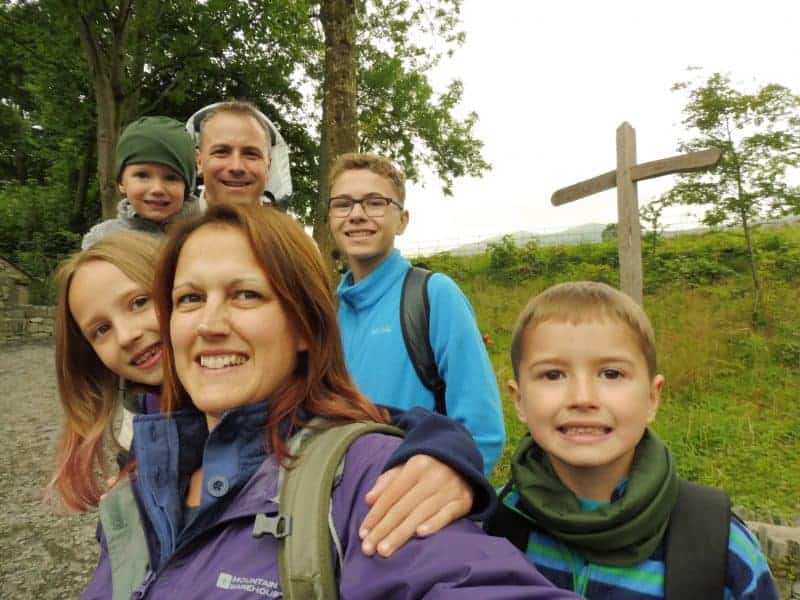 The walk started out at a fairly gentle uphill pace, the Beans were excited to explore and see what they could find. Wearing their walking boots made them feel like they were able to really get stuck in, they didn't need to worry about getting their feet wet so they happily crossed the stepping stones in the streams and climbed up the rocky paths.
Ok to get your feet wet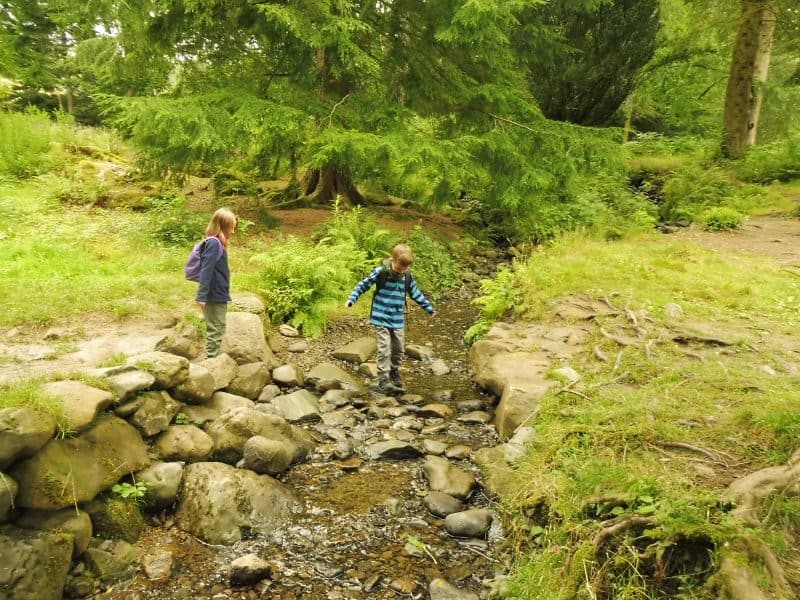 Living where we do, waterfalls aren't something that we come across very often so even tiny ones like this had the Beans gasping in amazement, little did they know what was to come.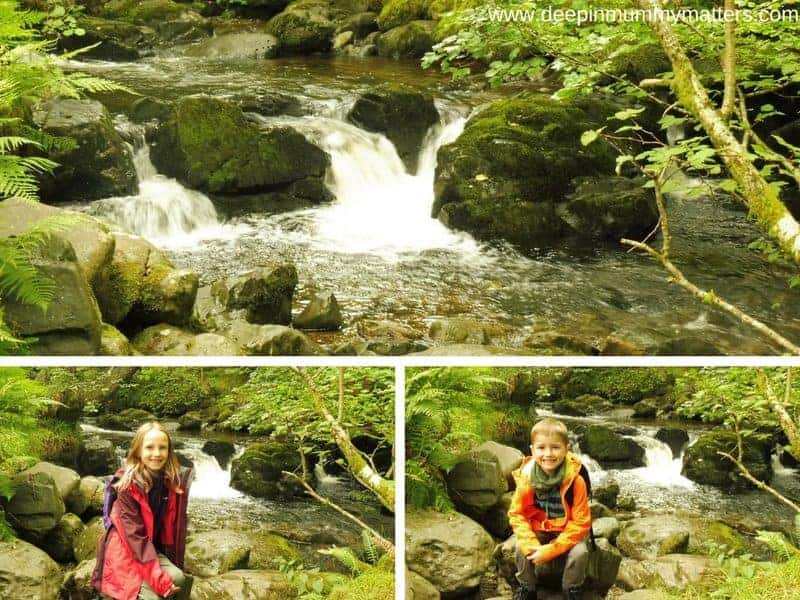 All along the lower levels were little nooks where you could climb down and sit on the banks with areas where the children could have happily paddled in the water. As you can see from our clothing, it was a little too chilly on the day we visited so we shall have to save paddling for another visit.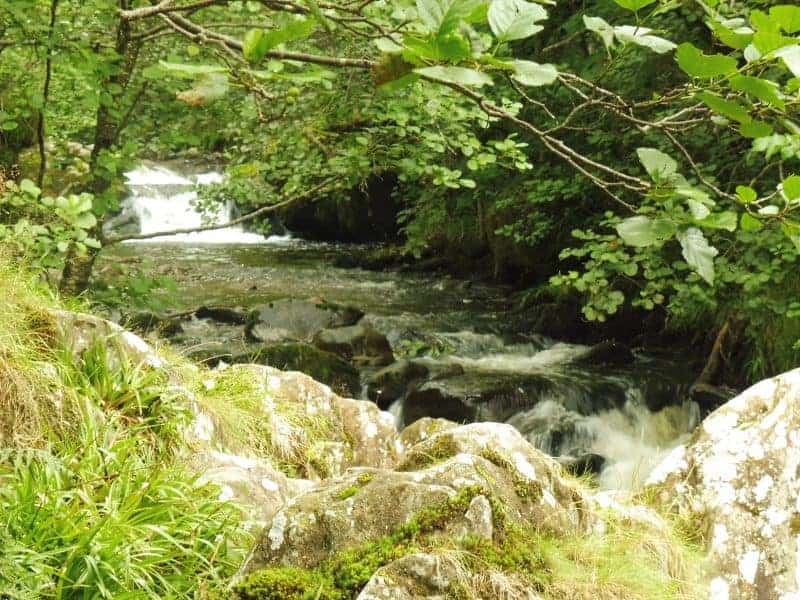 One family had even set up a picnic rug with their lunch on one large rock and had their feet dangling in the water, my guess is they wouldn't have left their feet in for long . . . brrrr!
A fright for Mummy and Ollie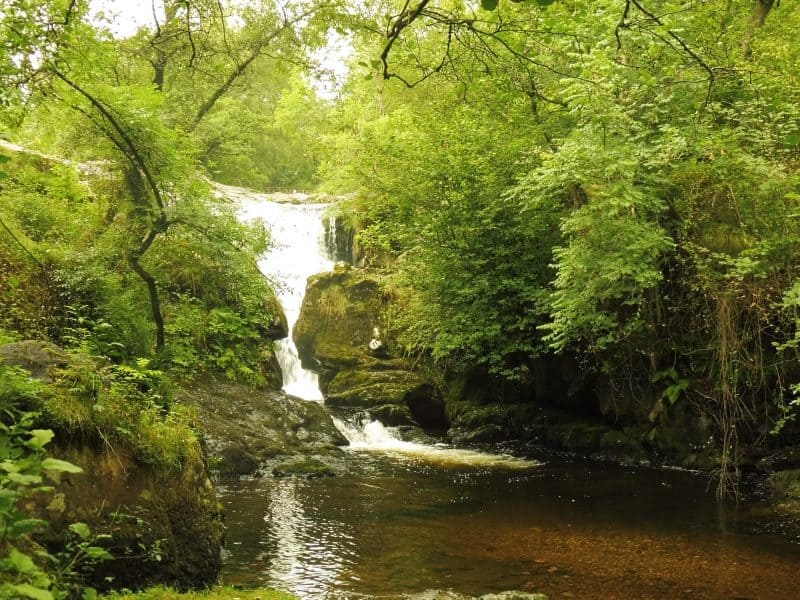 The paths along the water's edge were fairly easy to walk, though some people were using trekking poles, a few places were unsteady with tree roots and wet slipper rocks but Lillie and Ollie were confident walking up. We did have one scare when Ollie didn't listen to me when I told him to only step where I had, he walked behind me onto a lower rock to see the water dropping over the edge and slipped. Naturally, he and I were both very scared but I managed to grab him and after that he listened to what he was being told. It's easy to see how accidents can happen though.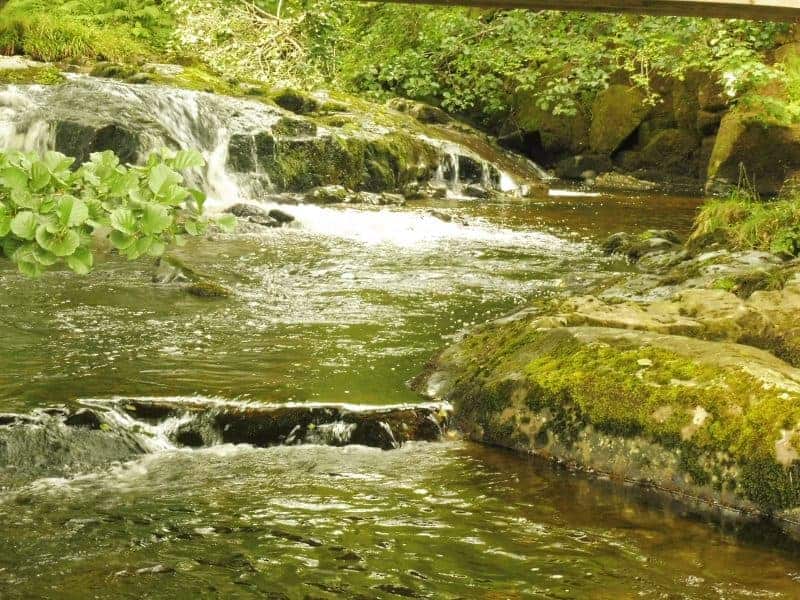 Despite these photographs making it appear that we were alone on our visit, Aira Force was actually a very busy place with lots of walkers along the route. Some passing places were more narrow than others but it was just a case of being sensible and polite.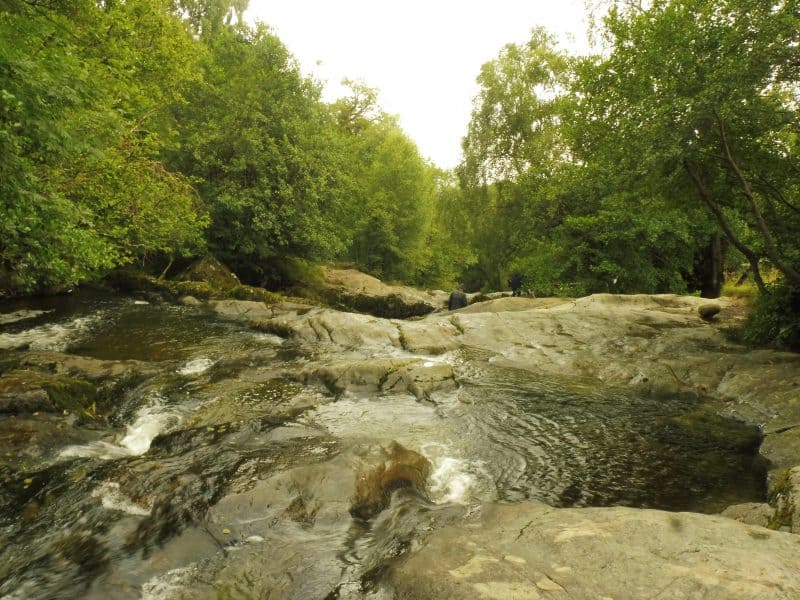 I couldn't help but look at this flat area of rock with it's pools and think about Robin Hood: Prince of Thieves when Will Scarlet tripped up Robin Hood with a rope "there was an old man for Nottingham, tried to cross the River, what a dope, he tripped on a rope, now look at him shiver". Sorry I couldn't resist!
Aira Force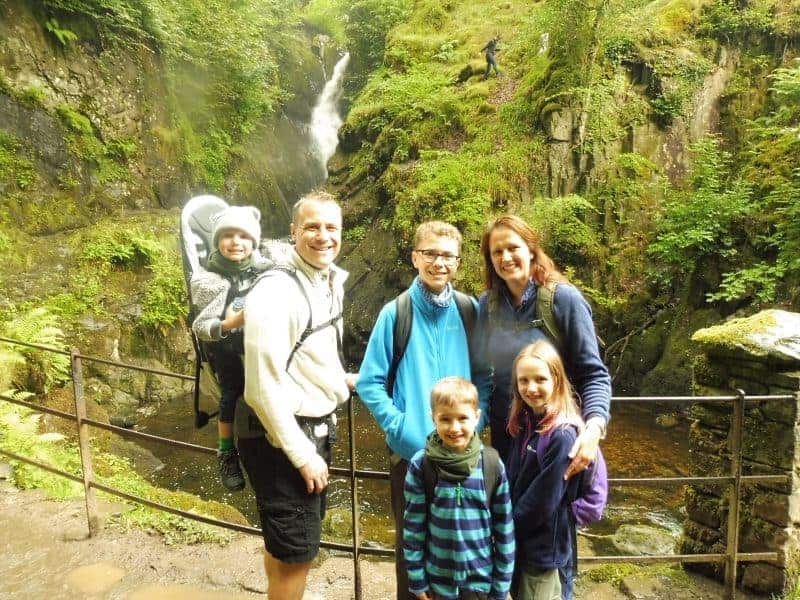 This picture really does not do Aira Force justice, it was very wet and quite noisy where we were standing watching the water cascading down. But to see Aira Force in full force you need to visit when it has been raining heavily. The Lakes had been dry for a couple of days when we visited so the waterfall was pretty tame. Check out the video at the bottom of this post to see it's full power. Also, take note of the young girl just above my head. We, and a number of people standing by the rails and across the bridge couldn't believe how many people were risking their lives walking to the outcrop at the edge of the falls to take selfies!!
Money Trees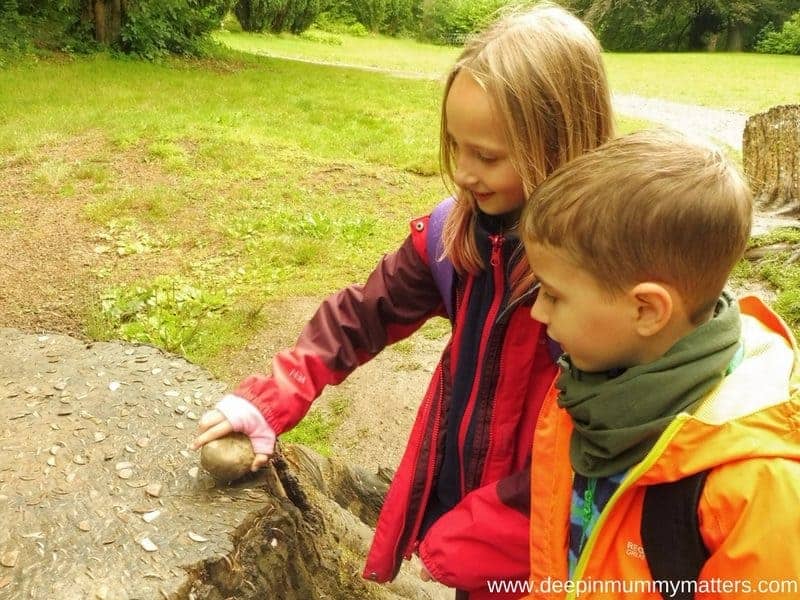 On the way back to the car park we spotted a man hitting a tree stump with a big rock and assumed he was being a vandal. Then as we looked closer we saw that he was using the rock to press a coin into the stump of the tree. It wasn't something we have ever seen before but we would come across further 'money trees' on our adventures in the Lake District.
Our little explorers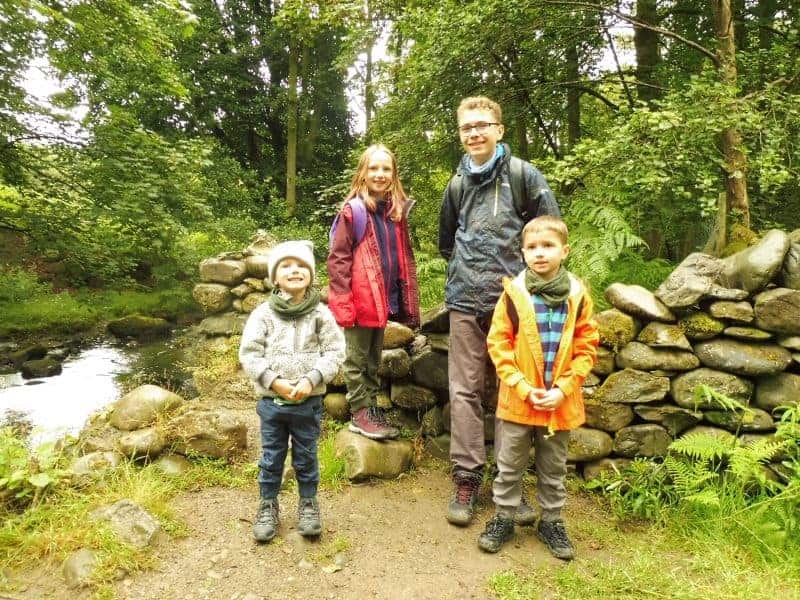 We took this photograph near their end of our first family 'hike' and were very proud of how well the Beans all did. They looked quite the part in their boots and jackets, they had a real taste for the adventures of the Lake District and couldn't wait to see what else we could find on our travels.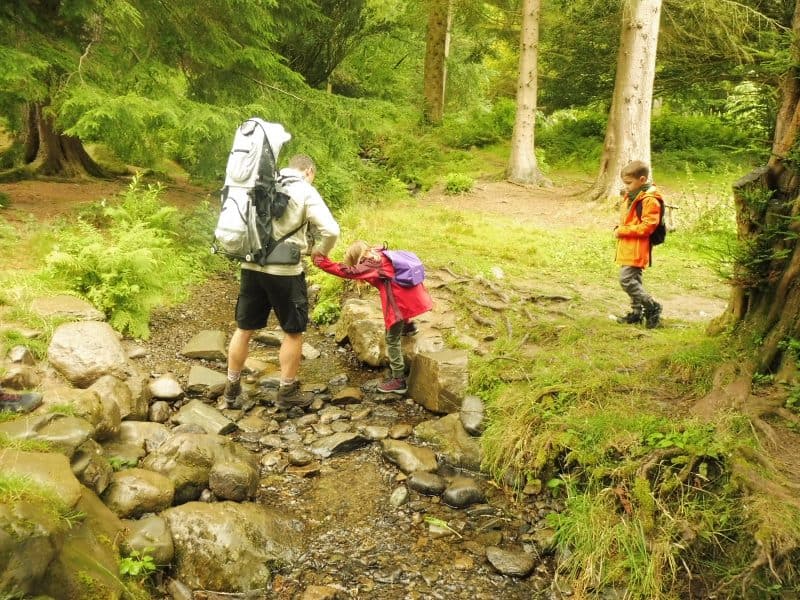 Useful Information:
Entry fee: FREE
Parking: Main Aira Force Car Park, £5 for 2 hours, £7 for 4 hours, £9 all day, NT Members park for free. Glencoyne Bay, Park brow & High Cascades Car Parks: £4 for 2 hours, £5.50 for 4 hours, £6.50 all day, NT members park for free.
Sat Nav: use CA11 0JS
On foot: Park in Glenridding or Glencoyne Bay and follow the off-road footpath to Aira Force. The Coast to Coast long distance footpath crosses the property and cuts across the country running from St Bees in the north west to Robin Hood's Bay in the north east. The Cumbria Way passes within 4 miles, with footpaths which link to Ullswater.
By cycle: NCN71, 2 miles
Check out the full power of Aira Force