UNIQLO Family Fashion Challenge
The first time I heard about UNIQLO was walking down Oxford Street in London. As usual I in a hurry to get somewhere so I didn't actually venture in but I made a mental note to go back when I had the time. So far I haven't had the time! Luckily for me, I was contacted by UNIQLO and asked if I would like to take part in their Family Fashion Challenge. UNIQLO have just launched their Kids and Babies range online so I was asked to clothe my family ready for the Autumn/Winter season for £100 – surely that can't be done?
This is what I managed to get for £100;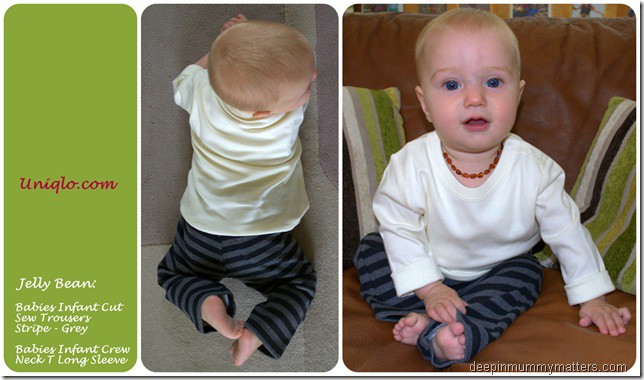 I love these trousers they are so soft and warm for the winter period. I ordered age 9-12 months so they are a little too large at the moment but that means they will be perfect when winter really sets in. I wanted to get a black or dark grey top to go with the trousers but unfortunately it was out of stock at the time of ordering. You can't see it very well in the photograph but the top has a button down shoulder which makes it easier for dressing a wriggly little person without having to fight with their ears or their nose.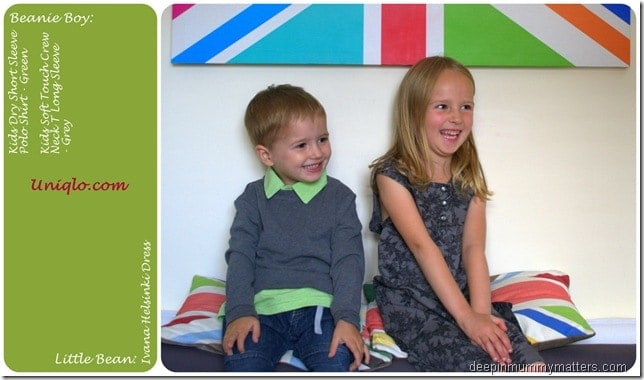 When buying clothes for the children I like them to cover more than one season so that I don't have to buy something new so often. With Beanie Boy I liked the short sleeve t-shirt because it can be teamed up with a long sleeve top such as this one on a cooler day or worn alone on a warmer day and this green will be perfect for the spring. The long sleeve top is a really soft t-shirt which again can be worn alone or teamed up with a collared t-shirt underneath.
I often struggle with knowing what size to order from new places for my tiddlers because sizes can vary so much. Little Bean had a growth spurt over the summer holidays so I took a gamble and ordered her the Helsinki dress in age 5-6 but it's actually waaaay too big for her and so for the sake of the photograph I have pinned it at the back. Other than that I LOVE the dress, once again it's great item of clothing which will work across the seasons. Through the winter I plan on teaming it up with long sleeve contrasting t-shirts and tights or leggings and then in the spring/summer it can be worn alone or with a lightweight cardigan.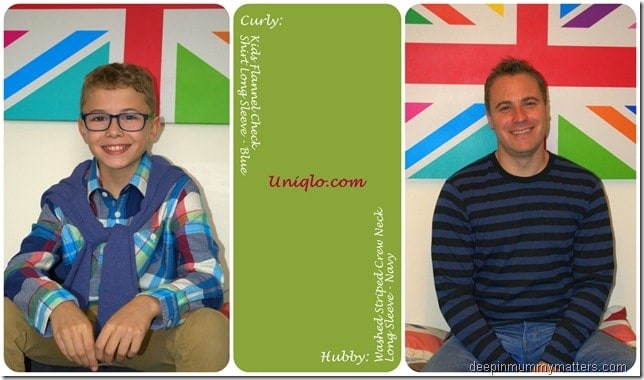 Now that Curly is at Grammar School I figured he was old enough to choose his own clothes and I'm really impressed with his choice, he looks really good in his shirt although he wasn't overly keen on the way I draped his long sleeve t-shirt around his shoulders for photograph effect! His long sleeve t-shirt is the same as Beanie Boy's with the same idea in mind, he can wear it alone or over his shirt on a cold day.
Every now and then I let Hubby choose his own clothes too. As the saying goes in our house, "Hubby wears the trousers, but I choose them!" ha ha!! I have always like Hubby in blue, so was quietly pleased when he selected this stripey t-shirt, he looks pretty cool to me.
And then there was me . . .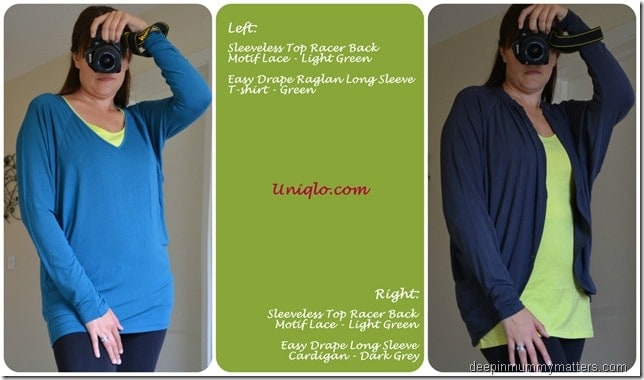 Unfortunately some 7 months on I am still sporting much more of a 'Mummy Tummy' than I would like to so I am trying to find clothes which camouflage it and skim it to make it less noticeable. Ever since Little Bean was born my internal thermostat has been all over the place so I try to wear layers of light fabrics so I can easily warm up or cool down. I love the light green vest as it will be perfect for the spring/summer seasons next year, whilst brightening up the two autumn/winter pieces for this year.
If I'm honest I could have spent the whole £100 on myself as there were so many great items in the women's clothing collections and some fab designs by Celia Birtwell including some lovely silks and cashmere. The one thing which really surprised me about UNIQLO was the prices, being a store on Oxford Street I had assumed that the prices would be astronomical but not at all, to give you an idea my vest top was just £7.90 and long sleeve t-shirt just £12.90, now that's prices not to be sniffed at!
I will DEFINITELY be making time to visit UNIQLO next time I am in London but in the meantime I can always keep checking them out online.
DISCLAIMER: I was given all of the above mentioned items of clothing for the purpose of this post. I have received no further payment and I have not been instructed what to write. All words, opinions and images are my own and may not be copied without my permission.