The truth about bath bombs
Author: Kayla Mackie | Product Safety Investigator | ConsumerSafety.org
It seems like bath time has recently risen in popularity. If you're an Instagram fanatic like so many of us, I'm sure you've seen the photos of the beautiful rainbow filled tubs with heaping effervescent bubbles. But have you ever wondered what those glittery balls of goodness were made out of? Just because they're beautiful on the outside doesn't mean they are beautiful on the inside.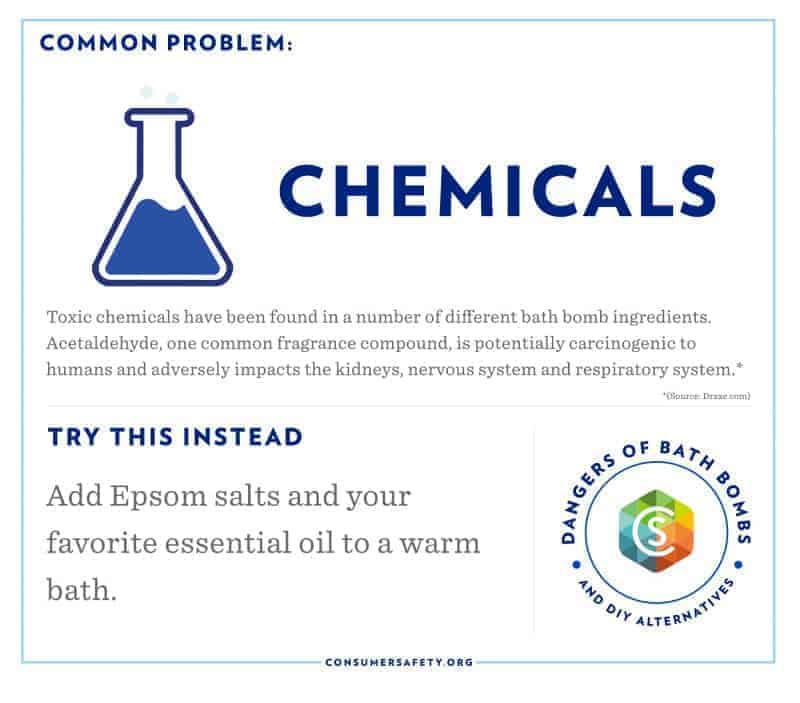 As the Product Safety Investigator at ConsumerSafety.org, I decided to do some research on this growing trend. At first glance, it didn't look too bad. But after actually digging deep into the ingredients (and stumbling along with some unpronounceable words), I came to the conclusion that it was necessary to share this important information with the rest of the world.
Terribly Toxic Ingredients
As with all good things, there's a safety risk involved with the bath bomb habit. Take a look at the top bath bomb hazards:
Talc: Although talc isn't very prevalent in bath bombs, it's in some similar bath products of well-known brands, so I thought it was important to include.
Dangers: Talc isn't something you want to be soaking in. Why? Talc is directly correlated to ovarian cancer. Ladies: the last thing we need is for a relaxing bath to turn into a horrendous health problem.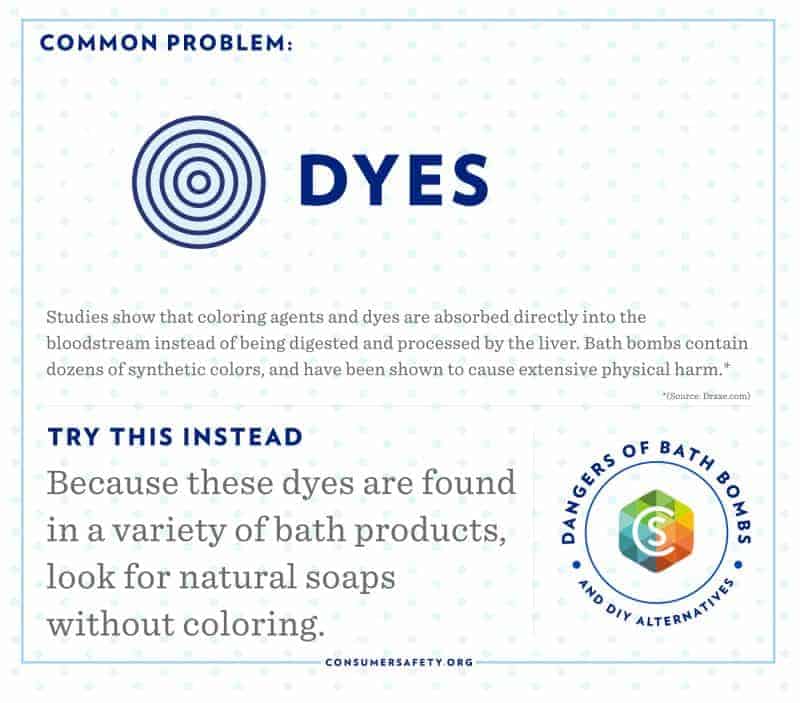 Artificial Dyes: Synthetic/artificial beautiful swirls of colour are known for causing an array of adverse health effects.
Dangers: Allergy-like reactions, ADHD in children, and some have even been linked to neuron damage and brain cancer
D&C Red 33: A dye derived from coal tar or petroleum. Coal tar dyes are known human carcinogens.
Fragrances: If you see "fragrance," "fragrance oils," "fragrance oil blend" or similar ones listed, toss the product. Many bath bomb ingredients will list out harmless essential oils, followed by "fragrance". This was confusing to me at first, but then I learned that the FDA gives companies a labelling loophole for fragrances to protect a company's proprietary perfume blend. This is very sneaky! Below are a few of the many possible chemicals that may make up a portion of "fragrance" in bath bombs. Keep in mind there's 3,000+ ingredients "fragrance" can be comprised of.
Dangers: Decreased hormone levels, low sperm quality, obesity, ovarian ageing, can lead to cancer
Dangers: Human carcinogen, hormone disruption, reproductive malformation, lower immune response
Dangers: Respiratory allergies, liver disease, embryotoxicity, diabetes/hypertension, sclerosing peritonitis, cerebral ischemia/neurodegenerative diseases, and other ageing-associated diseases
Glitter: Most bath bombs contain glitter or a vegetable oil-based lustre.
Dangers: It's essential to remember glitter is formed from small pieces of plastic, so once it runs down the drain, it'll never biodegrade. If it doesn't belong in mother nature, why would we want it in our pH balanced vagina? It can cause inflammation and infections such as UTI's and yeast infections. Skip the glitter.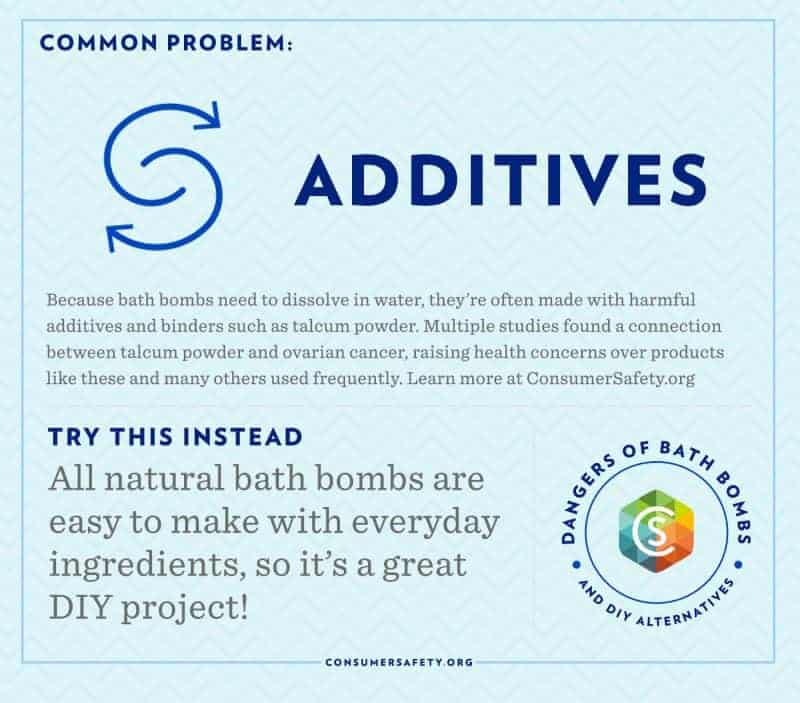 Safe Solutions
There are thousands of possible ingredients that can be lurking in bath bombs. But, that doesn't mean you have to give up on a luxe bath experience! Here are some great solutions that will leave you feeling pampered.
Beautiful Colors: There are much safer options to consider than tie-dying your body (and your bathtub). Look for submersible LED lights that can illuminate your bath from below. Alternatively, you can throw a handful of herbs directly into the hot bathwater. Here are a few ideas:

Mint: stimulates and heals your skin.
Rose petals: relaxes your body and refreshes your skin.
Orange blossoms: aids in relaxation and lowers blood pressure.
Organic green tea increases antioxidant activity in your blood and detoxes your skin from pollutants.
Fragrance: Use scented candles, incense, or an essential oil diffuser. If you like to DIY, check out this blog post on how to make aromatherapy candles! What's nice is you'll still get that calming aroma without soaking yourself in unknown toxic chemicals—and the soft lighting will set the mood for a relaxing experience.
Bubbles: Let's be honest- most of us can't afford a high-end jacuzzi to get bubbles, and you definitely don't want your bubble mountains to be made from toxins. Luckily, there's no shortage of natural, safe recipes for making your own bubble bath. Here's a delicious DIY bubble bath from Hello Glow.
If you absolutely don't want to give up bath bombs, try making a homemade bath bomb! Check online or ask your friends if they have a safe recipe they recommend. There are a bunch of natural bath bomb recipes floating around using essential oils and Epsom salt, so choose one that best suits your needs!
(THIS IS NOT A SPONSORED POST)