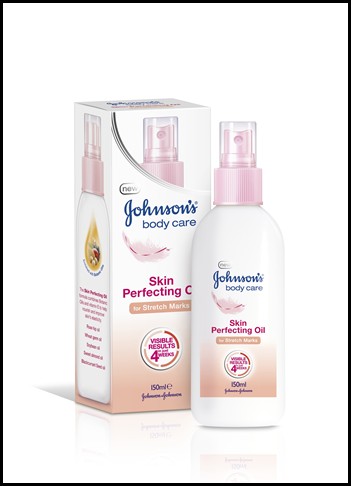 Johnson's Skin Perfecting Oil – It does what it says!
There is one part of becoming a Mum that I would say most of us are a little peeved about, the dreaded stretchmarks!! Some of us are blessed and escaped unmarked, I thought I was going to be one such Mum when I made it all the way through to Week 36 before the stretchmarks invaded my tummy, bottom and thighs.
And then they came
I had been doing everything that I could to prevent them, I used cocoa buttercream every single day of my pregnancy morning and night to try to keep them at bay but it didn't make any difference, they still got me.
More stretch marks
With Beanie Boy luckily I only gained a couple of extra stretch marks so I was quite relieved but now that the summer is approaching and I am starting to think about wearing less clothing and perhaps even daring to wear a bikini again I began to notice my stretchmarks even more. Some Mums are proud of their stretch marks as it is a permanent reminder of the time that they carried their baby but most (like me) hate them.
Johnson's Skin Perfecting Oil
Well, Mums, Johnsons who have been looking after our babies skin for as long as I can remember have now come to our rescue too with their new Skin Perfecting Oil.
They would like to point out, this IS NOT a miracle oil, it WILL NOT make your stretch marks disappear but IT DOES reduce the appearance of them.
I have always been very sceptical of the claims that you see on packaging so I was pleased to be asked by Johnsons to try this out for myself.
So to readers of Mummy Matters, you know me, you know that I have carried and given birth to two children and believe me I have the scars to prove it.
Putting it to the test
I have now been using Johnsons Skin Perfecting Oil for four and a half weeks once in the morning and once in the evening. I was given the spray bottle which makes it super easy to apply to the skin before massaging into the skin using a circular motion.
The first thing that you notice when you start to use Skin Perfecting Oil is just how smooth it makes your skin feel and now a little over four weeks on my stretch marks are much less noticeable and even Hubby has commented so. The darker stretch marks are now much lighter in colour and my skin feels less 'bumpy'.
I am still using the SPO now and would estimate that I still have about a quarter of the bottle left. The claim is that after 8 weeks of use I will notice an improvement to skin elasticity and also to the length and width of stretch marks. After the success so far I will certainly be continuing to 8 weeks!
Essential Oils
The Skin Perfecting Oil contains a blend of essential oils which work together to nourish the skin and improve elasticity and smoothness. It smells gorgeous too, the overriding scent for me is the Blackcurrant Seed Oil which reminds me of one of my favourite sweets from childhood, Blackcurrant and Liquorice – yummy!
Come back in a few weeks time I and will tell you if my skin has improved further and told you a little more about stretch marks . . .
Johnson's Skin Perfecting Oil is available in 100ml (£9.99 RRP) and 150ml (£14.99 RRP).
DISCLAIMER: In order to help me write this blog, I attended a product launch event with the JOHNSON'S Brand Team and received a free sample of new JOHNSON'S Skin Perfecting Oil to try. All words and opinions are my own and may not be copied without my permission.