The Very Messy Monkey, The Very Silly Sheep, The Very Busy Bear – these are all books from Little Tiger Press in Little Bean's book collection that I get asked to read regularly and are books which I actually enjoy reading too, they are filled with bright colourful pictures of animals with friendly faces. The stories are usually funny and they really appeal to Little Bean.
I was recently asked if we would like to review some of the new releases in the Little Tiger Press library and so of course we just had to say yes.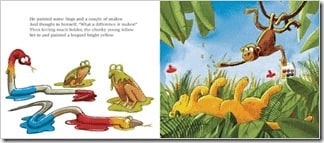 The Monkey with a Bright Blue Bottom is without doubt my favourite of the books we received. Written by award-winning author Steve Smallman, The Monkey with a Bright Blue Bottom is the story of a cheeky monkey who stumbles upon a paintbox and decides to have some fun. As is often the case though, his foray with fun backfires and the tables are turned on him. The book is full of beautiful bright pictures and comes with an audio CD of the story narrated by Sophie Thompson and our favourite funny man, Justin Fletcher. We have chosen to keep the audio CD's in the car to make journeys a little bit more interesting so now we can get double the fun from a favourite bedtime story.
Other great books newly released with an audio CD recorded by Justin Fletcher include The Very Greedy Bee; the story of the Bee who spent his days feasting on pollen and not sharing with his friends until one day when he had a little too much and Smelly Peter, the Great Pea Eater; a book which most children would fail to enjoy. A green boy who eats too many peas and gets a little windy, a topic which children always find funny and appealing.
We have had the books for a little over a week and so far I have had to read them EVERY night at bedtime and still Little Bean shows no sign of tiring of them.
To find out more about the great titles Little Tiger Press has to offer you can follow them on Facebook or watch them on their YouTube channel. They also have a fab section on their Website called Kids Corner where there are activities, downloadable colouring sheets, games and more to keep your youngsters entertained – perfect for the school holidays!
If you would like to win a set of these three books for that favourite child in your life then Mummy Matters is very happy to be able to offer a giveaway, just follow the instructions on Rafflecopter below.