A girl can never have too many bags right? Well, I'm starting that tradition young with Little Bean, she is as big a fan of bags as her Mummy is and has bags for different occasions. The latest bag to add to her collection is this beautiful Child Bag from Minene which is Cream with Big Flowers.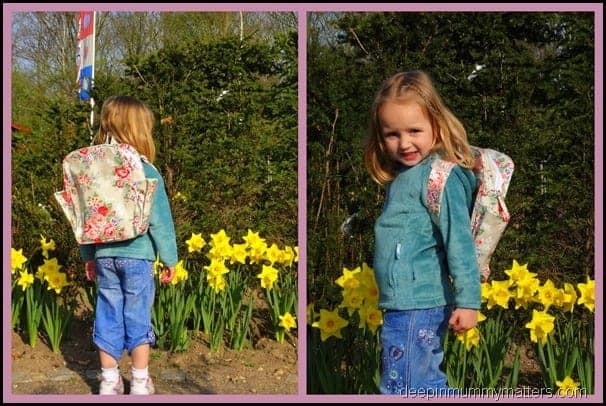 Little Bean has really put her new bag to the test over the last couple of weeks as we have been out and about all over the place. We have had a couple of trips to London on the train and so it has been her companion carrying all her travel essentials; snacks, drink, Leapster Explorer, colour books, crayons and finally a teddy bear for when she wanted to snuggle down.
Last weekend she took her bag to Nanna's for a sleepover and used it to carry her favourite soft toys, comic and a few toys that she couldn't bear to be parted from. Then on Friday we went out shopping and she said that she NEEDED to take her bag too "in case I do some shopping too Mummy" although I wasn't sure where she was getting her spending money from?
The Minene Child Bag is the perfect size for preschoolers and upwards as it has adjustable straps and more than enough room for those childhood essentials whatever yours may be. It is made from a wipe-clean material and has a beautiful pink and white polka dot lining. There are pockets on the sides for drinks bottles or sunglasses and a little pocket on the front which could have a favourite picture or even their very own pretend train ticket. There are bags for girls and boys with a design to suit even the pickiest of youngsters! The Minene Child Bag is the perfect accompaniment for the child on the move, it would make an ideal purchase for holidays in the UK or abroad, great for carry-on luggage to keep them occupied on a plane or on a trip to the beach.
RRP £17.00
One lucky Mummy Matters reader can win the bag of their choice by entering the simple Rafflecopter Giveaway below . . .
DISCLAIMER: I was given a Minene Child Bag to review for the purpose of this post. All words, opinions and photographs are my own and may not be copied without my permission.
Latest posts by Sabina Green (see all)