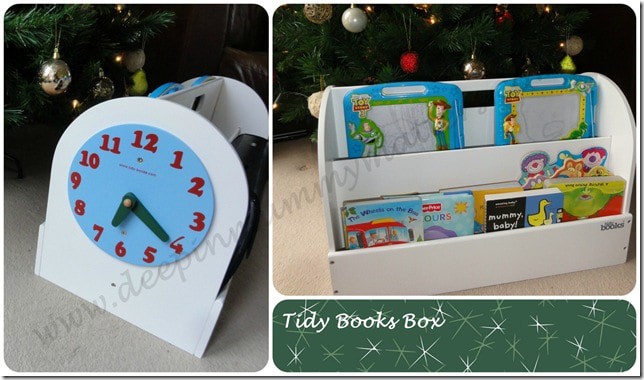 Jelly Bean is now 10 months old and I am very pleased to report that he is showing just as much interest in books as the rest of the family. When I was asked if I would like to be an ambassador for Tidy Books and to choose the three products I would like to review, I went for the Tidy Books Box initially to go in the boys' shared bedroom but when it arrived I had a different idea. Although it doesn't technically fit with my lounge furniture, I have decided to keep the Tidy Books Box in my lounge to keep some of the childrens' books downstairs so that they don't have to keep running up and down the stairs every time they want to read books. On the one side we have started to fill it up with a selection of their books and on the other side I have turned it into a magazine rack and somewhere to keep my project book.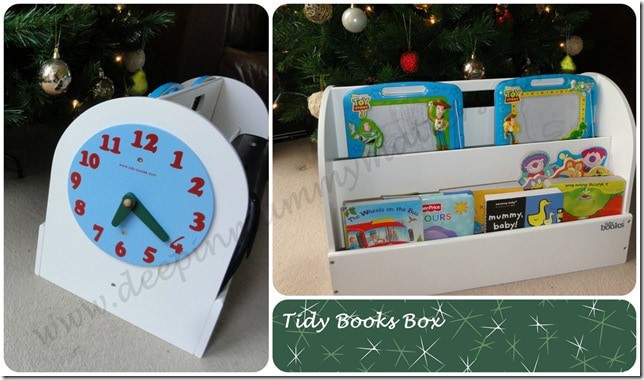 The Books Box is the perfect way to store books for young children as the books are displayed with their covers facing outwards making it easy for the children to select their book and it doesn't matter how tall they are as they will still fit. The box holds a surprising amount of books and the handy carry handle is perfect to pick the book box up and move it around (although it can soon get pretty heavy).
The other feature which has become a favourite in our household is the clock on one end. Beanie Boy is completely fascinated by the clock and so we now used it throughout the day to help him prepare for events. If I want him to tidy up or if we are going out at a specific time, I will set the hands on the clock to the time I want a task completed by or when we want to leave and then he watches the real clock to see when it matches. I do have to giggle at him though as he has a new catchphrase – "when the clock gets to the big hand Mummy". I have obviously said to him a few times "when the big hand gets to . . ." but he has misinterpreted what I have said and so now it's all about the clock getting to the big hand instead. I know that I should correct him but I just find it so cute when he gets his words muddled so I figure he won't speak like that forever and I can enjoy his cuteness for a little while longer.
As with all Tidy Books products they are made from sustainable wood and finished with their pioneering water lacquer which is better for the producers and for the environment so it's a winner all round.
Discount Code
Grab yourself a bargain with the Discount Code AMB15 to get yourself 15% off at the checkout.
Giveaway
Well now as part of my role as a Tidy Books Ambassador I am very happy to be able to offer one lucky Mummy Matters reader a Tidy Books Box to keep. To be in with a chance of winning all you have to do is enter using the Rafflecopter Entry form below;
DISCLAIMER: As part of my role as Ambassador for Tidy Books I have received the above Tidy Books Box free of charge. All words, opinions and images are my own and may not be copied without my permission. I have not been instructed what to write.