This time last week . . . Great Yarmouth!
This time last week was our first morning waking up in our caravan at Broadlands Holiday Park in Corton near Great Yarmouth. I should probably add that our morning began at 5.30am when Little Bean decided she'd had enough sleep. The beautiful sunshine that we were hoping for had, apparently, gone on holiday too and guest posting for the week were wind and rain!! It was hard not to feel a little downhearted but I'm a fighter, I don't give in that easily – this was going to be a great holiday, we were not going to let a little bit of wind and rain stand in our way of a good time.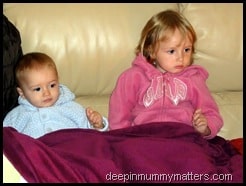 First things first, the caravan was freezing!!! As I looked once more at a control panel in the hallway I realised that what I had dismissed the previous night as air conditioning was in fact the controls for hot air heating system. A quick push of a button and a turn of a knob and hey presto, we had heat!
We decided that we would head into Great Yarmouth to see what it had to offer for a family with a pre-schooler and a baby and yes, I have to admit it, a spot of shopping. As we had driven along the A12 on Sunday afternoon Mum and I spotted TK Maxx, Next and Outfit – well it would be rude not to pop in wouldn't it? And I needed to buy Beanie Boy a waterproof jacket as he had grown out of his old one, it looked like he would be needing it!
As lunchtime approached there'sonly  one option when on holiday by the seaside, fish and chips!!! So we waved goodbye to the retail park and headed to the seafront. The last time I had been to Great Yarmouth Little Bean was only 6 weeks old (and it was raining then too?) but I remembered the large car park on the seafront opposite the pleasure beach and headed straight for it. As I pulled in to the car park and was driving under the height restriction barrier I suddenly remembered I was sporting a roof box and held my breath as I waited for the box to be torn from the roof but thankfully we made it by the skin of our teeth.
So far, so good, the rain was just about holding off but we took the raincovers for the buggies as we weren't taking any chances. For those of you who don't know, I lived in Skegness for a good few years so that is my benchmark for seaside towns and I have to say, I'm proud to say that I lived in Skegness. I think it is a great seaside town, it has a lovely seafront which has been very well developed over the years, it has a good nightlife and a pretty good selection of shops and definitely the best chip shops for miles around!!! Great Yarmouth had a lot to live up to for me.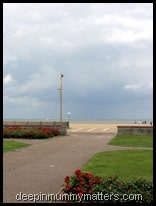 On first impressions, the seafront was very clean and had clear crossings at regular intervals for crossing the road. From a driver's point of view it was good that there is a separate lane altogether for the horse carriages and road train, at least you weren't getting stuck behind them every 5 minutes. We chose our chip shop and Little Bean decided that we should sit outside, alright for the little people snuggled up in blankets and raincovers but a bit chilly for Mum and me!! The chips were good but perhaps we hadn't chosen the best restaurant in town – oh well, we'd have to try others on a different day.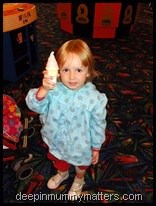 Unfortunately for us, the weather got progressively worse throughout the day and the rain didn't relent at all so we sought shelter in some of the many Amusement arcades so that Little Bean could spend some of the pennies that were burning holes in her pockets. She was very pleased with herself when she won these Ice Cream Bubbles. We picked up a handful of leaflets to help us plan the rest of our holiday, we needed fun for the children and fun is exactly what we had.
Come back tomorrow to find out about our day at Pettits Animal Adventure Park in Reedham.