The Story Museum presents The Royal Christmas Pudding
#AD – We received press tickets for this show.
We have just arrived home after a lovely festive day in Oxford, watching The Royal Christmas Pudding at The Story Museum and wandering around the stalls at the Christmas market.
The Royal Christmas Pudding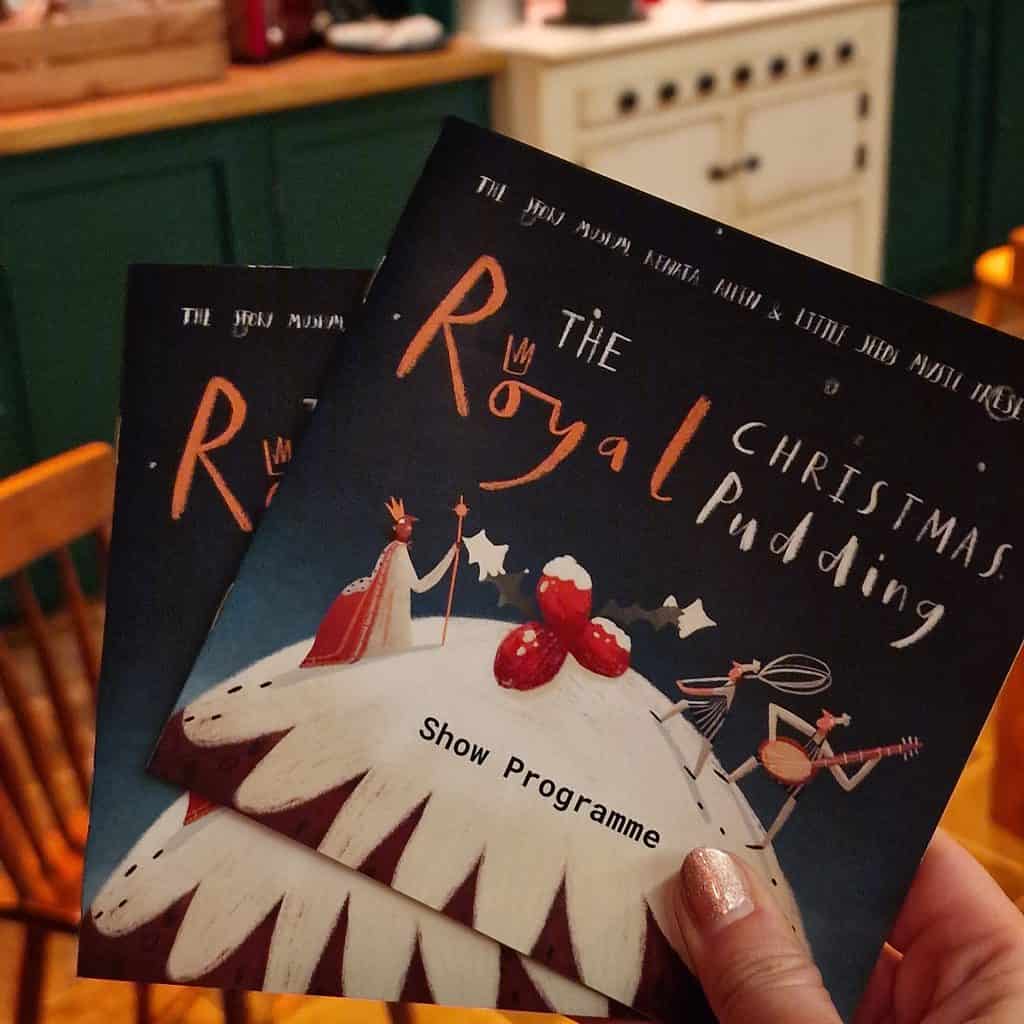 For as long as anyone can remember, the Royal cook has made the Royal Christmas pudding, but now he's retired, his son has taken over the job. However, there's just one problem… he's hopeless at cooking! It's up to his sister to save the day, as together they set out to make the perfect pudding, save Christmas, and make their wishes come true. Featuring traditional stories woven together with original songs and music, this festive treat promises to give even the hungriest of appetites a happily ever after.
From the moment the house lights dimmed, the two-person cast dazzled the audience with their beautiful voices, stories their Mum and Dad used to tell them and sibling squabbles. I found myself smiling in the way that you do when something warms your heart.
Sally and Ben are captivating storytellers. The way they slip smoothly from one accent to another to convey different characters in their stories and use everyday items in the kitchen to help tell their story is perfect. They aren't phased when some audience participation goes awry; they improvise well and carry on with the show.
We all thoroughly enjoyed the show and were enchanted by The Story Museum; it's definitely on our list to come back next year to explore further. We did manage a quick visit to the shop to buy a felted Christmas Pudding bauble for our tree as a reminder of our day.
The Importance of Stories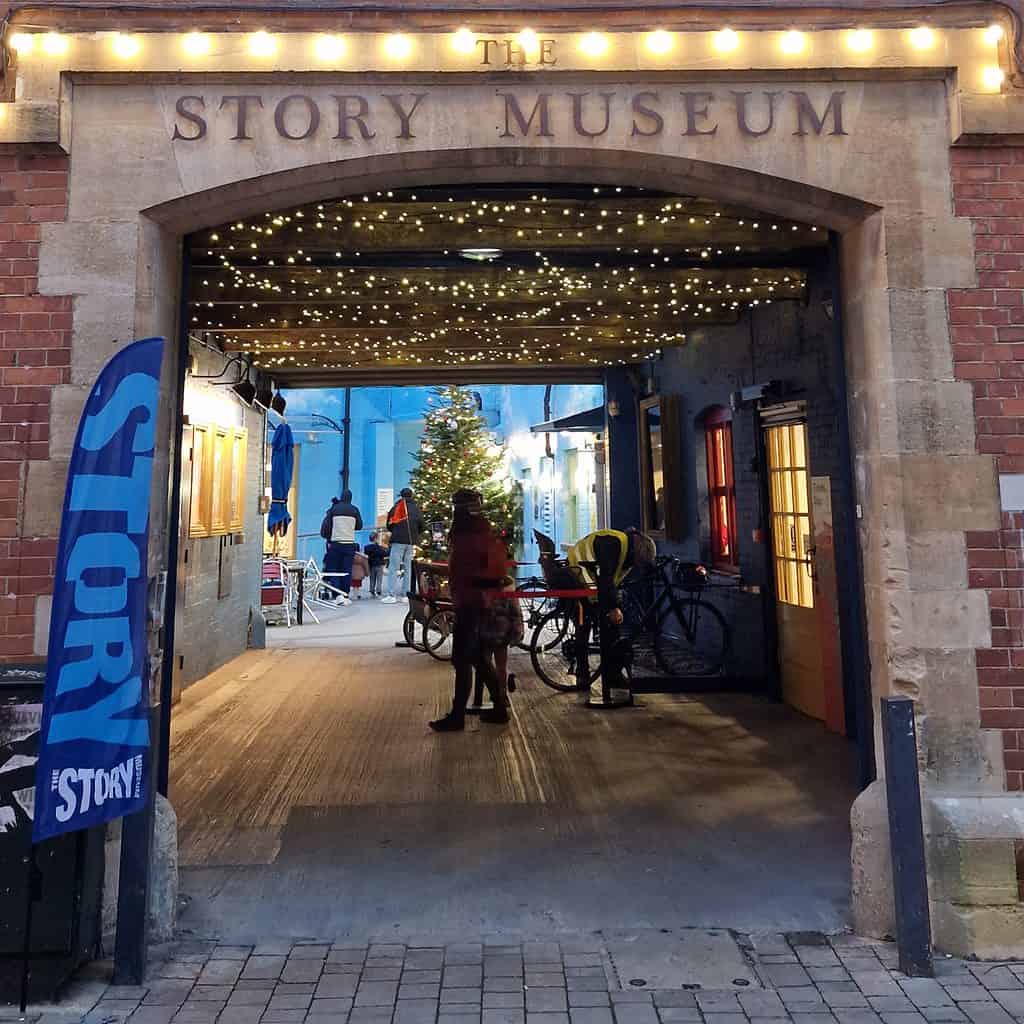 Some of my happiest memories are of sitting with my Mum as she read stories to me at bedtime, and it is just one of the family traditions we have carried through now that we are the parents. Even away from home, I attend Primary School one day a week to read with children because I believe it's essential. Reading and listening to stories teaches children so much more than just how to read; they learn things about themselves, others, and places and worlds they might never have imagined. It wakes up their passions and imagination; it gives them a place to escape and relax. I always find I have that same big smile I mentioned earlier when I read with my children or those at school.
Creating The Royal Christmas Pudding
The inspiration for the show came when David Gibb was scrolling social media last December and saw a statistic which made him pause in his tracks . . .
90% of children had never stirred a Christmas Pudding mix and made a wish!
This statistic brought back memories of his childhood when he and his brother would stir the Christmas pudding with his Mum to make a wish. Could he turn this into a story to inspire modern families to keep the tradition alive?
Stir-Up Sunday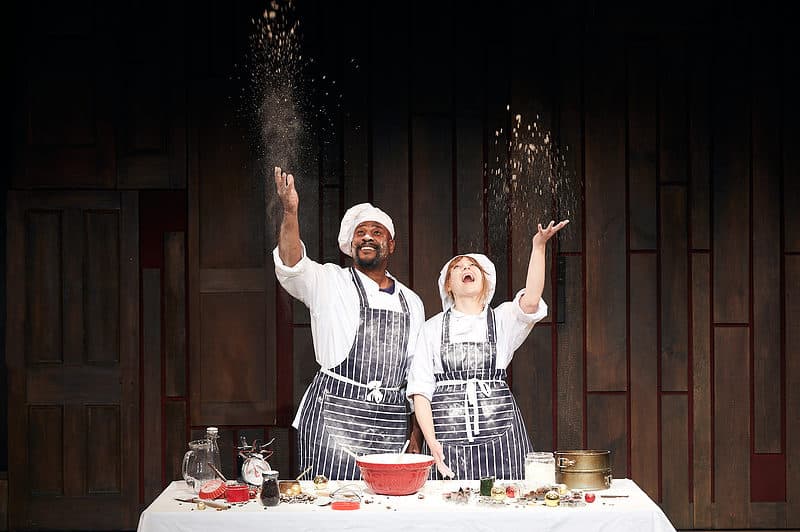 Stir Up Sunday is a traditional day that gets families together in preparation for the upcoming holiday season. It gives everyone a chance to join forces and get creative in making their very own Christmas pudding. This yearly event has been around for centuries, with many variations passed down from generation to generation.
The idea is that family members take turns stirring the pudding (anti-clockwise) as they make a wish. I remember taking my turn to stir the Christmas pudding when I was a child, but admittedly I have never made a Christmas pudding as an adult, and the stand mixer stirs my Christmas cake! I plan to change that this year and have a go at making a pudding myself, I may be a little late for the official Stir Up Sunday, but I figure it's never too late to start a new tradition.
Get your tickets now!
The Royal Christmas Pudding has daily shows twice a day. There are also Relaxed performances on 11th and 18th December for those who prefer a calmer environment, The house lights will not be dimmed, and people will be allowed to enter and leave the theatre freely. The audience will not be asked to sit still or remain silent. The performance lasts 60 minutes with no intervals.
Tickets: £12 per person
Book online at: www.storymuseum.org.uk or call the Box office on 01865 807600
The Royal Christmas Pudding is suitable for ages 5+