The best European resorts to bring baby in tow
What seems like a few short years ago, holiday hunting consisted of seeking out exotic resorts with bars, nightclubs and cheap drinks! Then life happened: I met my husband, got married and had a bouncing baby boy – so this summer, holiday hunting will consist of seeking out top notch family resorts with an activity programme for kids and a crèche to keep my beautiful boy happy and occupied. We've already got the research underway and here are the best three resorts we've come across so far.
Set on a beautiful beach framed by the turquoise Aegean Sea and with the fantastic Children's Paradise play area, LykiaWorld Village is heaven on earth for parents and children alike. While the Residence is ideal for singles, the Village is perfect for families and even has a special babies' beach with warm shallow water for safe splashing – and sun loungers for parents to unwind (hooray)!
The Baby Club (for tots up to three years old) has a 24-hour Baby Kitchen stocked with a fridge and fresh milk, a microwave and a sterilising machine. There is also a soft play area with cots and free babysitting services for babies aged six months and up – perfect!
Columbia Beach Resort, Cyprus
The Cypriots are very much a family oriented people, so families with babies can expect to receive a warm welcome. Columbia Beach Resort boasts its own secluded beach at Pissouri Bay, which is calm and clean – ideal for letting babies and toddlers safely splash and paddle to their heart's content.
Rooms are equipped with a kitchenette, which is handy for heating up bottles and preparing late night snacks. The hotel has thought of everything: they provide cots, babysitters, high chairs, baby listener devices – even the pathways are relatively flat to take the hassle out of buggy-pushing!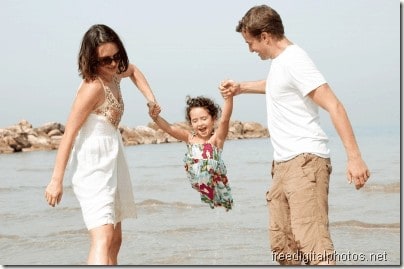 Le Mas Pandit, France
This charming seventeenth century converted dairy farm set in the balmy region of Languedoc-Roussillon provides a safe, creative and fun environment for three month olds to teenagers. The 'Country Kids' inspired concept offers week-long breaks for up to six families at any one time and is perfect for couples with babies.
The stunning cottage is well stocked with cots, night lights, sterilisers etc and there is a complimentary crèche open six days a week for under-fives, complete with a heated toddler pool and a soft play area. Little ones will especially enjoy feeding time on the farm and parents can enjoy some downtime in the relaxed environment, which has a BBQ area and an alfresco bar.
There's so much choice we're going to have trouble whittling it down to just one! However, with so much to do, including stocking up on beach gear, checking that the baby is covered in your travel insurance policy and checking airline facilities, it's good to know there are hotels that can take care of everything once you finally arrive!