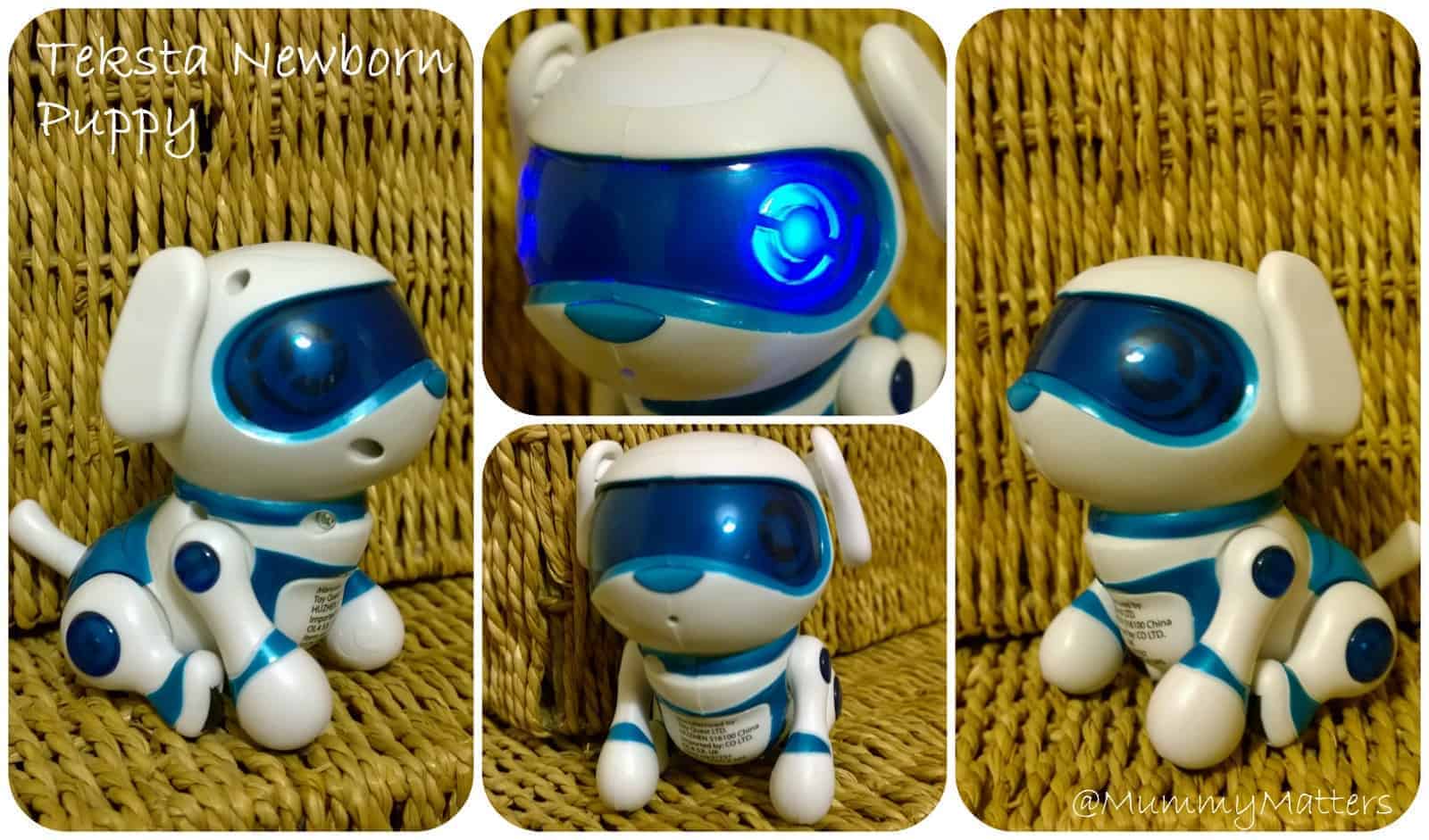 Teksta Newborn Puppy
The Beans are all animal lovers just like me and have been begging us for a puppy or a kitten for as long as they could talk but at the moment that just isn't an option for us. As much as I love animals, I know only too well the hard work and money that goes into caring for them and how much of a tie they can be so I have told the Beans they will have to wait until they are a bit older before we can get any pet other than the goldfish we already have.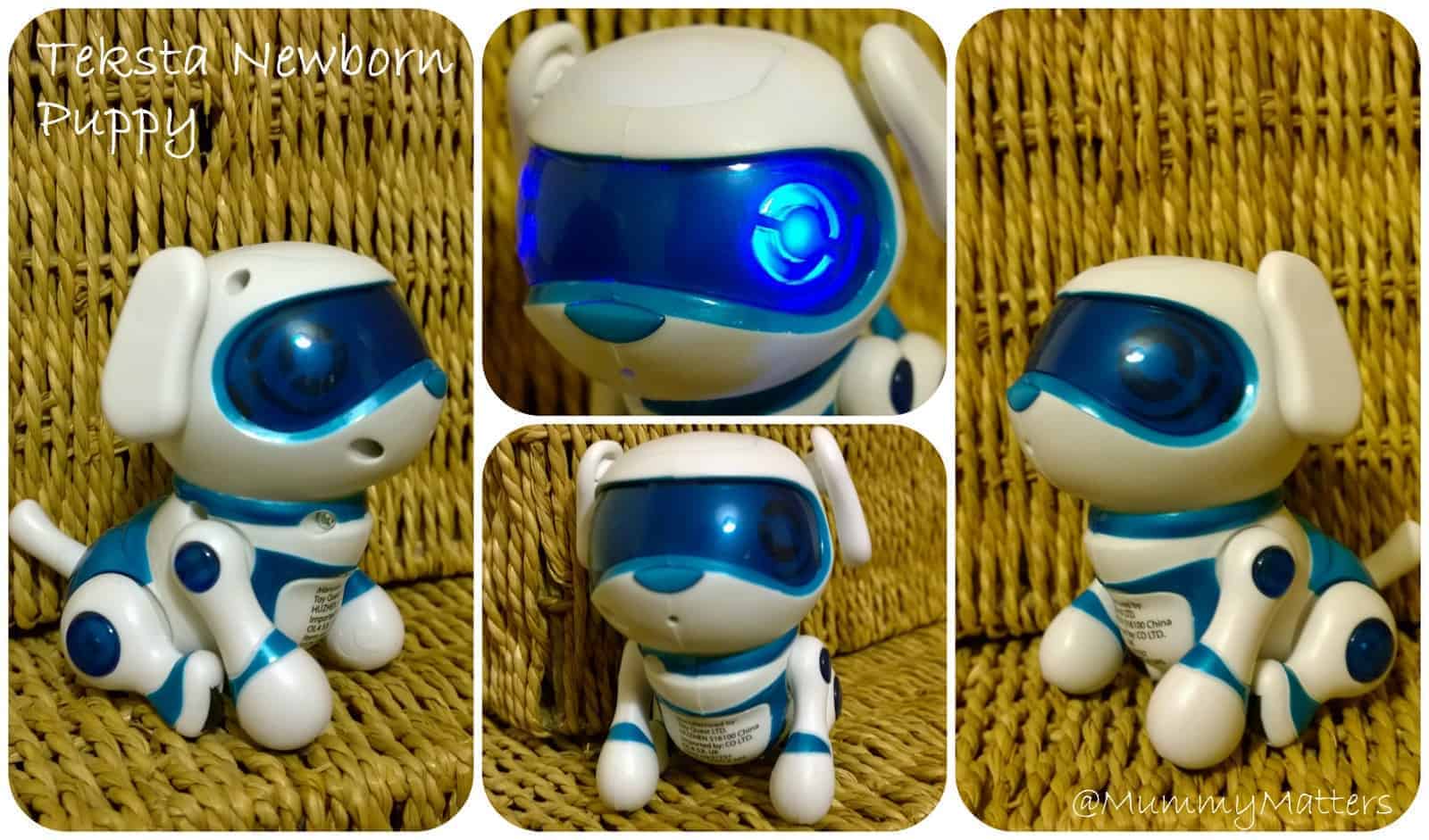 A couple of weeks ago, a parcel arrived for Beanie Boy that would ease the pain a little of not having a 'real' puppy. That parcel was the Teksta Newborn Puppy; a new generation of micro robotic pet. Tekkie (as named by Beanie Boy) behaves like an 8 week old puppy, he has a simple on/off switch on his tummy and a panel which unscrews so you can change his batteries. With the help of the wheels on each of his feet and his movable legs he walks, sits and begs depending on the instruction you have given him. A pat of the head and he will even sing!! Tekkie is much smaller than the original Teksta Puppy and therefore has a smaller price tag making him a great 'first' robotic pet for younger children at RRP £19.99. The Teksta Newborn Puppy is aimed at children of age 3+ years, he is responds to voice commands or hand claps and is touch sensitive so he will respond to being patted on the head with a happy sound.
Beanie Boy was very excited when he was given his puppy and big sister Little Bean is very jealous, she has now asked if she could have one for her birthday so perhaps a Kitten is in order. We took Tekkie over to Nanny and Grandads to see what their dogs thought to him. Unfortunately, I have managed to snap the slider off the side of my SD card in the locked position so I have been unable to download the videos to share with you (any advice gratefully accepted). Nanny and Grandad have a Shih Tzu called George who really didn't know what to make of Tekkie in the slightest. Initially he was inquisitive by this robotic little friend with glowing eyes but the moment he started to bark and walk, Georgie retreated to behind one of the kitchen chairs. On the day we were visiting, Auntie E was also there with her little Shih Tzu who was very intrigued by Tekkie and gave him a good sniff even while he was barking and walking, I really don't think he knew what to think of him but it was funny to watch.
Whilst your child will never get the love and affection that you would receive from a real puppy, you can be assured that the Teksta Newborn puppy will not bite (even by accident), he will not leave wet/sloppy presents behind the sofa, he doesn't need insurance or expensive trips to the vets and he doesn't need to go out for walks BUT he will bring your child lots of fun and laughter.
DISCLAIMER: We were sent the Teksta Newborn Puppy for the purpose of this post. All words, opinions and images are my own and may not be copied without my permission.