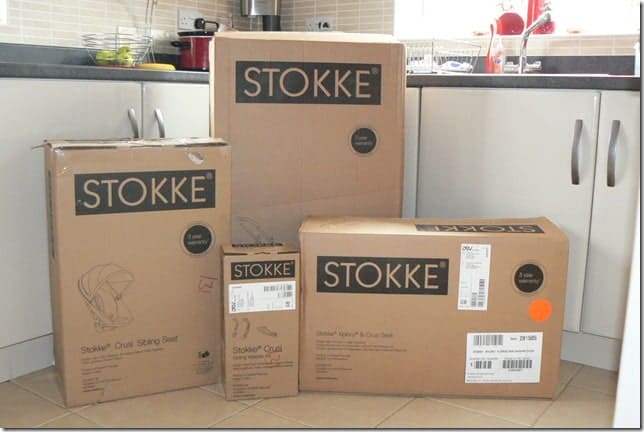 Stokke Crusi with sibling seat saved my sanity!
I have loved my Stokke Xplory forever, it has travelled everywhere with Beanie Boy and I. There was one problem with it when Jelly Bean came along though, there was nowhere for Beanie Boy. He is 2 years old now and although he does love to walk, he still gets tired easily and will often still fall asleep in the pushchair if we are out for the day.
My first week alone with the tiddlers and Jelly Bean didn't fall very conveniently as it was half term so I had all three of them at home. Being 2 and 4 years old, Beanie Boy and Little Bean are very active and like to be out and about doing things so I tried my hardest to continue in our previous routines, going for walks, visiting big open spaces and of course there was still the shopping to do. How I made it through the week with a full head of hair I will never know, it was the most stressful week of my life. Jelly Bean was a little star and slept most of the time we were out as he was snuggled up in Beanie Boy's Stokke Xplory but that of course meant that Beanie Boy was walking. He and Little Bean took full advantage of the fact that I couldn't get around as easily as them, running up and down stairs, hiding behind rails, trees and generally winding Mummy up a treat.
Then Stokke came to my rescue when this pile of boxes arrived on my doorstep . . .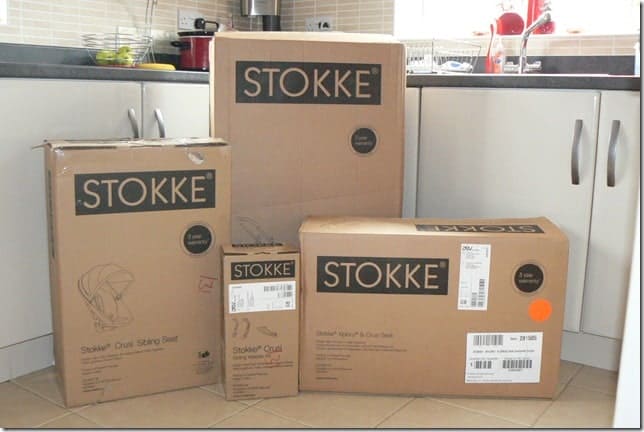 Assembling the Stokke Crusi with Sibling Seat
It was really easy to build by following the instructions in the booklet which comes with the pushchair. It was just a case of attaching the wheels to the chassis, opening the chassis up and placing the Xplory seat on the top half of the chassis. I did struggle a little when it came to putting the adaptors on which the sibling seat attaches to but I think that was more sleep deprivation on my part than with the Stokke. They have even made the adaptors which a large hole on one adaptor and a smaller hole on the other so that you can't be mistaken as to which side goes where but like I say, sleep deprivation!! The hoods needed attaching to each of the seats but they were really easy to do with the zip fastenings and this also makes it easy to remove the covers for washing (trust me I have done that many times!).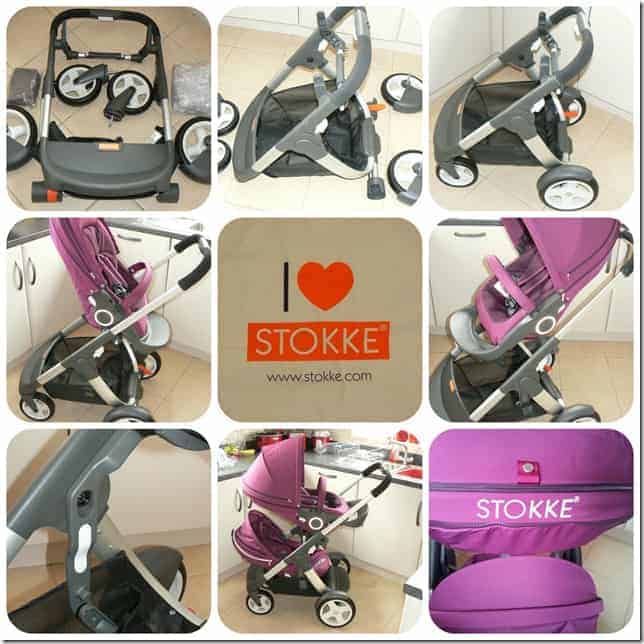 How the Crusi with Sibling Seat Works
Being a fan of Stokke anyway I always wondered how they would do a tandem but I'm so pleased they did. With the age difference between Beanie Boy and Jelly Bean being 28 months Beanie Boy doesn't really need to be in a pushchair all of the time but yet he still needs the opportunity to ride when he gets tired on days out. I had considered getting a Rider for the Xplory but he wouldn't be able to sleep on one of those so a pushchair with two seats was my only option. I didn't want a side-by-side because I didn't want to be pushing a 'wide load' around when only Jelly Bean was on board. This is where the Crusi is a winner but where many people possibly don't 'get it'. When I first started posting pictures of the Crusi on Instagram or when out in the street, people would say "ooh it's not very nice for the little one underneath" but the sibling seat is to be considered more as a seated buggy board, somewhere they can go when they get tired and just want to rest. I was worried that Beanie Boy wouldn't want to sit in the sibling seat because of it's reclined position but since he only rides in it when he is tired he is more than happy to be reclined because he soon nods off to sleep. He loves that he can climb into and out of the seat by himself because he is "a big boy now" as he is so keen to tell me these days. The only downside to the sibling seat when Beanie Boy is riding is that I sometimes forget that he is there, I panic and start shouting him thinking he has run off. Then I will hear a confused little voice saying "I'm here Mummy". After spending so long being able to talk to him face to face in the Xplory I miss looking at his gorgeous face but on the plus side when he is running around I get to see how much my little boy has grown.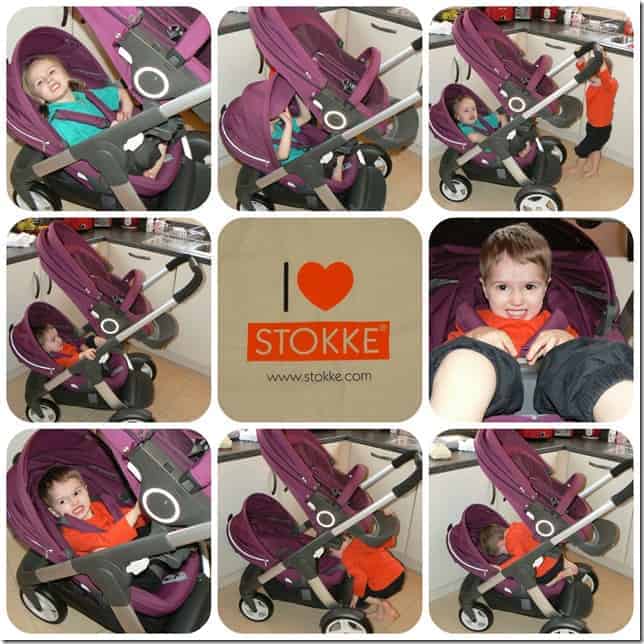 People also commented on the pictures of the Crusi before Beanie Boy got in that his seat looked a bit cramped but as you can see from the pictures above, his seat is very spacious and was even big enough for Little Bean who still likes to ride when she is feeling particularly tired.
Stokke Crusi in action
I won't lie to you, the Crusi is heavy when both children are on board but what pushchair wouldn't be heavy with two growing children in it. As with the Xplory, the Crusi is really easy to push (even one handed – so I can hold hands with Little Bean – two hands for up and downs kerbs).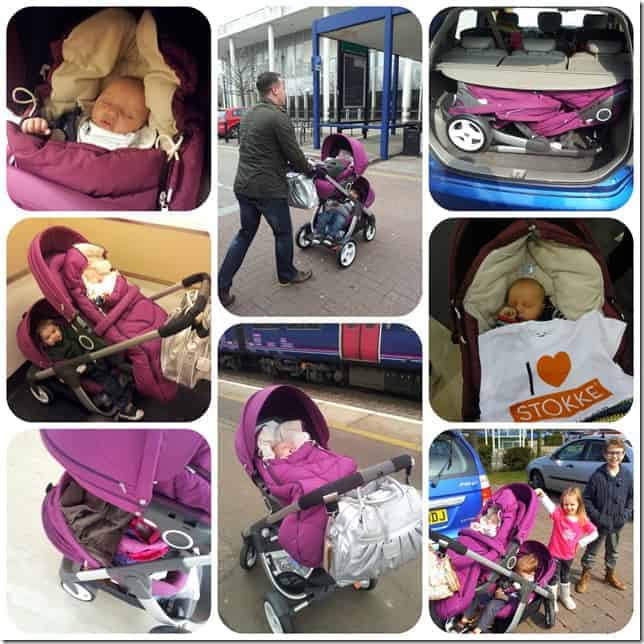 The Crusi has the same versatility as the Xplory, the main seat can be used forward facing when the sibling seat is not attached but both seats are parent facing when both in use. The main seat (used by the younger sibling) has two positions when parent facing. I use it fully reclined when Jelly Bean is sleeping and in the slightly raised position after a feed to help his reflux. If you prefer you can have a Carry Cot for baby instead which can also be used as a moses basket at home.
Both seats have the brilliant Stokke hoods which provide great protection from the elements and have a zipped top layer which can be opened to allow ventilation.
When the sibling seat isn't in use there is a large basket which is great for storage but unfortunately when the sibling seat is being used there is minimal storage space (unless you use the seat like we did for coats and then made everyone put their coats on when Beanie Boy wanted a rest!).
The only time I haven't been able to use the Crusi is on the school run as it takes too long moving Jelly Bean from his car seat to the pushchair but I was told yesterday that you can get a Stokke Car seat which attaches directly to the chassis so I shall be looking into this option.
I was convinced that it wouldn't fit in my car boot but I have to say it actually fits better than my Xplory. The chassis of the Crusi folds flat really easily and if you need to you can remove the large rear wheels to make it even slimmer (although I haven't needed to).
In summary, the Crusi has made my life so much easier to get out and about with three little ones, it still looks as cool as my Xplory, I STILL love the purple fabric and it receives lots of attention (not just for the cute occupants!). I used the Crusi as a singular pushchair for the first time this week on the train when Jelly Bean and I travelled to London. I was a little worried that the chassis wouldn't be big enough to get on and off the train by myself (I always used the Xplory for this reason because it made travelling so easy) and I'm pleased to say that the Crusi passed the test with flying colours. Hubby has commented that he prefers the Crusi because he likes how solid it feels and he likes the padded handlebar.
It's official, we are still a Stokke family!