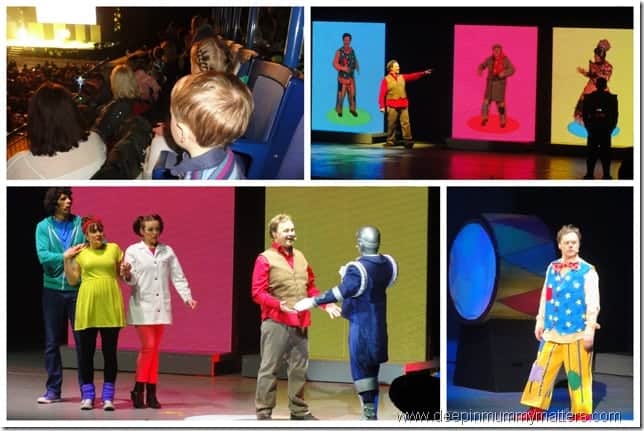 Review: Justin and Friends Easter Tour (Nottingham)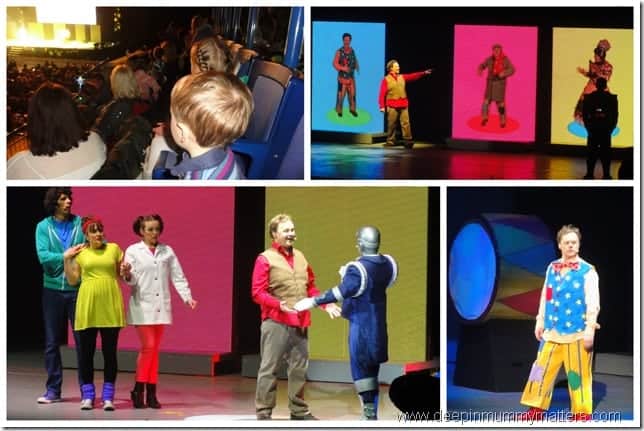 On Friday I took the tiddlers to see Justin & Friends at Nottingham's Capital FM Arena. Justin seems to cast a magical spell over children everywhere, they just LOVE HIM! Little Bean first introduced me to Mr Tumble when she was a toddler, she still loves him now and has introduced her little brother Beanie Boy to the world of Justin too, who is now an even bigger fan. I kid you not, every single day when we return from the school run in a morning Beanie Boy will ask "please me watch Justin Mummy?", they just never get bored of him.
Justin was joined on stage by Katie (I Can Cook), Andy (CBeebies/Wild Adventures), Nina (and the Neurons), Robert (the Robot from Justin's House) and Little Monster (Justin's House) as well as a host of dancers. Little Bean and Beanie Boy were beside themselves with excitement when the show began and I loved how right from the beginning they encouraged interaction from the children – I can't tell you how (that would spoil it) but believe me, the children do get involved.
It still amazes me that the children don't make the connection between Justin Fletcher and Mr Tumble. Little Bean had seen the posters and excitedly told me that Mr Tumble was going to be on so when Justin and his friends came on stage, Little Bean turned to me, looking disappointed and said "Mummy, Mr Tumble hasn't come out yet?". Bless her, by the time he did come out she was over the moon.
The show featured various different sets which were cleverly created by large monitors which moved around the stage, everything was bright and cheerful with fun dancers which bring the show to life.
The only slight negative to the event was how loud it was, even Little Bean complained to me that it was a bit loud but other than that we had a great time and I will definitely take them back on another tour. Hubby and I have always been big fans of live shows, nothing beats the atmosphere of a live show and this is a brilliant way of introducing the children to an activity we love and hope they will too.
DISCLAIMER: We were given complimentary tickets to the show for the purpose of this post. All words and images are my own and may not be copied without my permission.