I really do love being pregnant, I love to watch my bump slowly expanding and the feeling of Jelly Bean wriggling around in my tummy, it's so special and magical. However, for all the lovely parts of pregnancy there are the low points too and the one thing which I have suffered with through each of my pregnancies has been a consistent string of coughs and colds. When I was pregnant with Little Bean this was an issue because my sister-in-law was going through chemotherapy at the time and so I had to stay away from her for much of my pregnancy for fear of her catching my cold, through my pregnancy with Beanie Boy I passed every little sniffle onto Little Bean and now with Jelly Bean it's Little Bean and Beanie Boy that are catching my colds.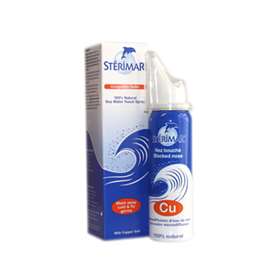 Little Bean is fairly resilient and so she manages to shrug them off pretty quickly but Beanie Boy really suffers with the colds which affect his eating, sleeping and general mood. Being pregnant means that I can't take cold & flu medicines so the colds just kept coming back, UNTIL Sterimar came to my rescue as well as that of Beanie Boy. Sterimar Congestion Relief and Sterimar Isotonic are both safe to use during pregnancy and have been my saviour, I use them daily to keep my airways clear and free from congestion which is helping me to sleep at night. Congestion Relief is perfect for when a cold strikes as it contains copper salt and manganese salt to wash away the germs of cold and flu. Sterimar Isotonic is an Isotonic filtered sea water solution which can be used daily as a nasal cleanser and is ideal for Ear, Nose and Throat disorders.
As for Beanie Boy he still loves Sterimar Baby as much as he did before and still asks for 'more' as soon as he starts to feel a little bit snuffly. People are often frightened about putting things up their infants noses but I can assure you that with Sterimar Baby you are perfectly safe. The cap has been specially designed so that it cannot be inserted too far up your little one's nose and the spray is so fine it won't upset your baby, Beanie Boy laughs when I do his nose so it can't be bad at all! With the help of Sterimar, fruit juice which Beanie Boy is just beginning to accept and antibacterial hand gels which we all use to try and keep the germs away I'm hoping that this winter will see our family being that bit healthier than in previous winters and with Little Bean now being at school I know that we will be tested more than other years but I feel good about it, we have a plan now!