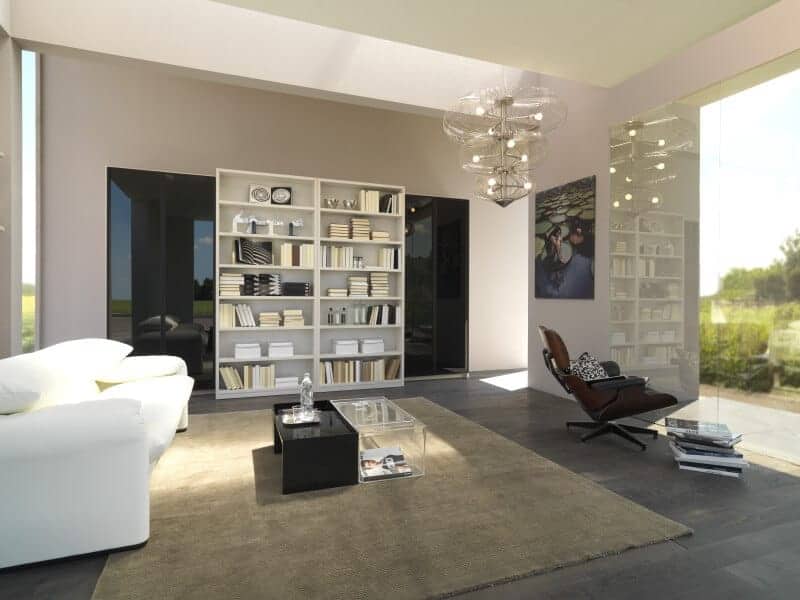 Squeezing Beauty Into Small Spaces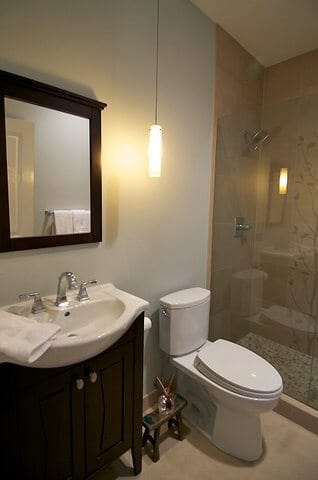 Luxury comes in many forms and when it comes to interior design, luxury comes with a territory. Decorating a small space requires some careful thinking. There has to be a very steady balance between colours and patterns, the use of the furniture and even the lighting. Small spaces need clever design ideas and if your whole house is on the small side, then you're going to have your work cut out for you. Don't panic, though. Small houses and small rooms can be incredibly beautiful, luxurious and designed in such a way that you forget that you are living in a small space.
Squishing a family, especially children, into a smaller house may feel a lot like chaos and let's be honest, it can be. Small houses with a lack of storage require organisation and a lot of planning and with children in the mix, storage needs to be maximised or even created out of thin air! Decorating a small house starts from the bottom up so take a look at our amazing tips for squeezing beauty into the smallest of spaces, and get creative with your house.
Always think upward for storage. Small rooms often don't have much floor space to work with, so when it comes to storage ideas you could get easily stuck. Look around you at the space you have for the walls and consider going up. Floating shelves like these for the walls are brilliant for ornaments and other trinkets. They're also out of reach for small hands and do not encroach on your floor space. For those of you out there who are literary lovers, consider sliding bookcases that can slide open to reveal the door to the next room. Alternatively, condense your book collection into Kindle books and have your library in one piece of technology. Of course, there's nothing like the smell of a new book, but when space is needed then changes must be ahead!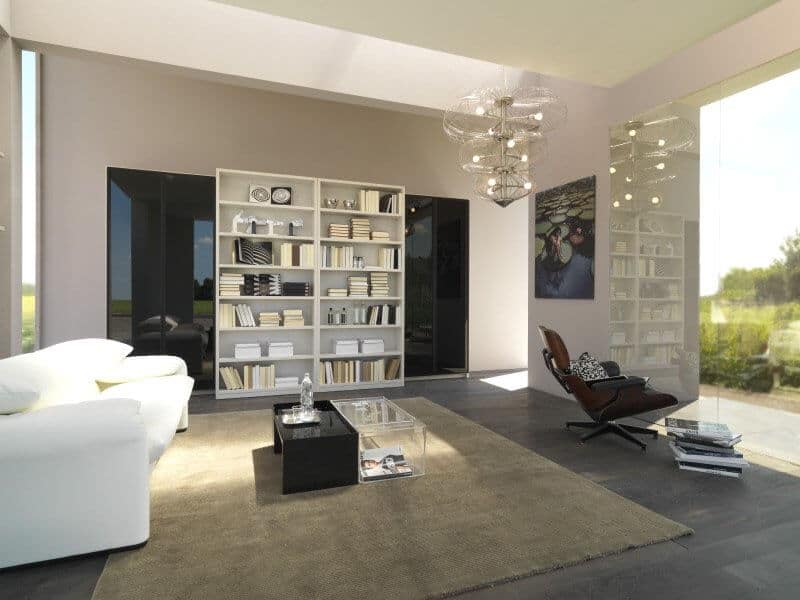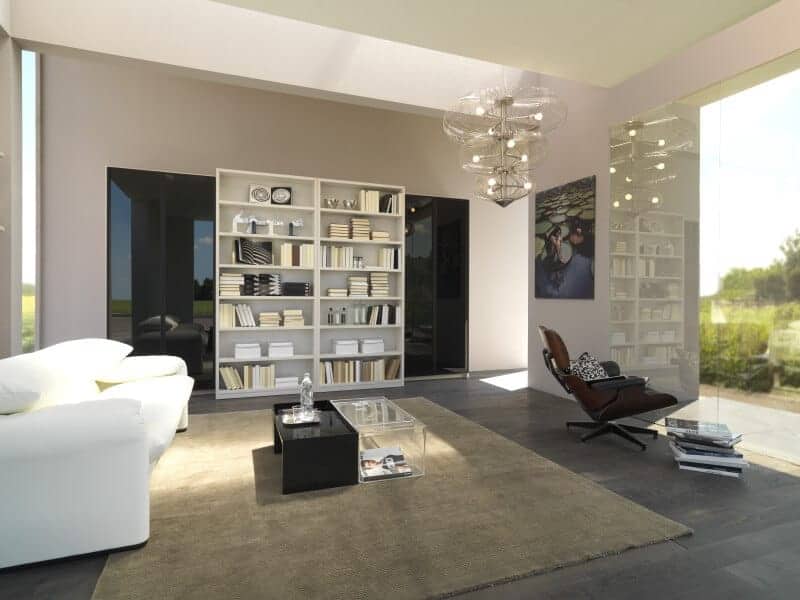 If you have a good space under the stairs, but you've been chucking all your things underneath so it resembles a pile of junk you've been hiding, it's time to rethink it. In a small house, storage under the stairs is like gold, especially with children. You can go so many ways with storage here, from installing drawers to cleverly hide all the 'things' that are too important to throw away, to installing a coat rack like this one and a shoe rack. As a family needing room to grow, you need to be clever about how you hang your outdoor wear and using the space under the stairs will be so valuable to you.
Vertical light and heat is the way to go for each small room in your house. Windows bring in a lot of light, even for the smallest of rooms. To fake a little height to your room, hang your curtains as high as you can. Usually, curtain rods are installed just above the window but if you go a few inches higher to install them nearer the ceiling, you give the illusion of height. You also let in more light doing this. It's important to understand how vertical design works and it gives a fantastic look to the room. This works wonderfully for designer radiators from Only Radiators as you can choose tall, vertical radiators instead of the standard low wall ones. This is a great way to bring heat into the room but without taking up precious wall space for furniture. Bathrooms that are tiny do so much better with heated, wall-mounted towel rails because they can be up off the floor, away from small hands and look like a luxury feature.
When you think about decorating your kitchen, go back in time. Retro appliances are not only made to be smaller in size in comparison to the huge, double-door American fridges we have in our kitchens. They also have a smaller environmental impact as they take up less energy. There are so many retro options out there and refrigerators like this Smeg one is 50's in style and is smaller than the average one. Owning a refrigerator that has a smaller width will mean that you have less space taken up in the kitchen – winning!
Smart furniture choices can also be found in the bedroom. When you are short on storage in the bedroom, look to the bed. There are so many bed designs out there such as the ones you find here, where you can lift the mattress of the bed and find storage in abundance. Use it for linens, towels and spare duvets as well as books and trinkets. These are fantastic for children as well, as you can fill the bed with the linens for their individual bedroom and it means that you don't have to pack it all into valuable cupboard space. imagine how much more space you could have by simply buying a bed with it all hidden inside?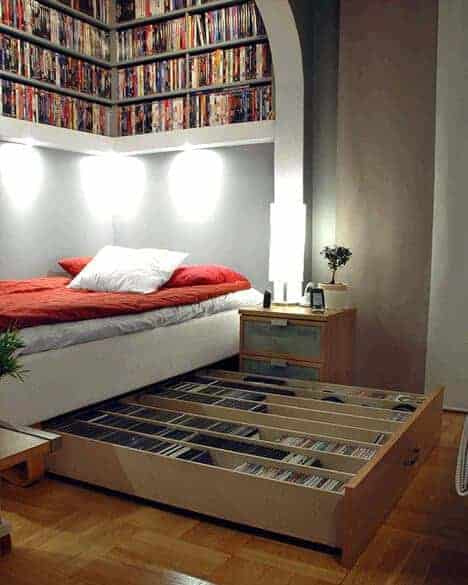 One of the biggest design tricks in the world to maximum space in a room is by reflecting it. Lining small hallways with mirrors or using mirrored tiles for backsplashes in the bathroom and kitchen will open the space astronomically. The light will bounce off the mirrors and increase the feeling of openness by letting the light reach every nook and cranny of the room. Large mirrors in the living room opposite the seating area will have the same effect, and if you place lighting fixtures close to mirrors, you'll brighten the whole room.
Colours are always difficult in smaller houses, as you want to be bold without closing the space. It's completely true that dark colours in a small room can make the room shrink. A dark, sultry red may make a bedroom feel luxurious, but you've just made an illusion of an even smaller room. Bold colours like that work for a study or a library, but not so much for a bedroom. Think bright and neutral for your colour palette for the walls and floors. By using block, pale colours like cream and beige you can make the space look bright and airy. If you carry this theme through the house, you avoid it being choppy through the house. The best part about a neutral painting palette is the fact you can accent this with splashes of beautiful, bright purples, yellows and pinks. If your living room colouring is cream, add a dove grey feature wall and darker grey and purple colours to complement the whole room. Children's bedrooms can bloom with personality simply by keeping the walls a lighter colour than the rest of it.
Ceiling lights in smaller rooms need to be thought out carefully. Giant chandeliers will not have a place in a tiny dining area. Spotlights work brilliantly for small homes and not just because they are installed in the ceiling. Most spotlights also come with built-in dimmer switches and also rotate, which means you can point the light to any space you like in the room. Lamps are always a feature to make a home look cosy, so go for wall-mounted sconces instead. They're usually reserved for outside the home these days, but a sconce over a reading area is such a classy statement.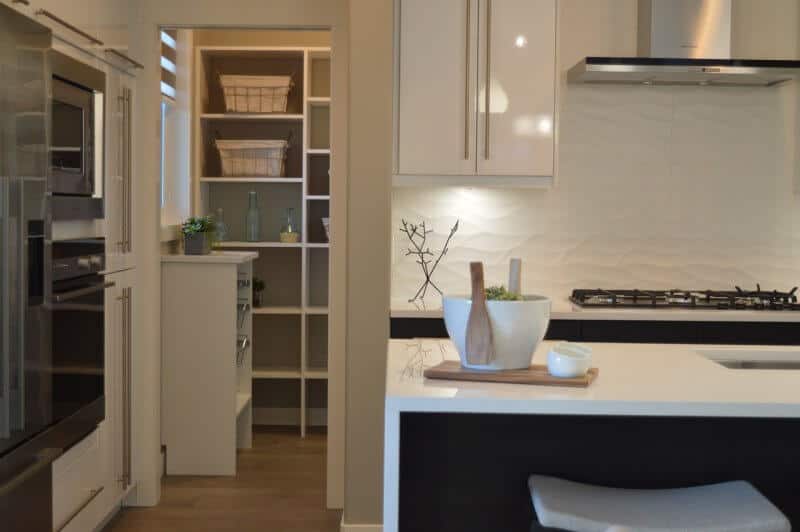 Your kitchen may be tiny, but you can still maximise storage here. If you don't have a pantry, create your own with open shelving and breathable baskets. A pantry is a space you keep the cupboard goods like packets and jars, and open shelves are fantastic for this. The shelves you use can be mounted on the walls rather than units if you don't have the floor space, and you can also choose to put dishes and baking ware on open shelves instead of in cupboards if you prefer. You can give your shelves extra work by adding hooks for pans or tea towels and you can do this on the inside of cupboard doors as well.
Maximising space in a small laundry room is hard, but if you look at installing extendable racks like this one, you can have an instant space saver for your clothes. This works especially well during the winter, when the clothes cannot go outside in the cold weather. If you build a thick shelf above the washing machine, you can stack the dryer on the unit on top so you create more space in the room. Obviously, this won't work if your washer opens at the top, but it's still a fun idea.
Your home doesn't have to suffer because of its size. There are so many clever ideas online on Pinterest and other design websites. Go one further and hire a designer for their opinion if you can't come to a good decision on the space you have. Ultimately, your house has to reflect your personality and stay organised all at the same time. It can be easy to do this, just trust your instincts and have fun with your own ideas.