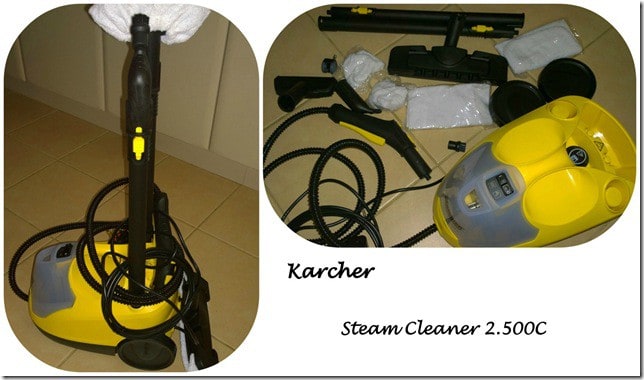 Spring cleaning has started with the Karcher Steam Cleaner
I remember the days when my house was always clean and tidy, when I would spend all day on a Saturday cleaning and could stand back and look at my home with a sense of pride. That was all before children, some days I don't let it bother me too much – afterall, do I want my children to say "we did lots of fun stuff with Mum" or do I want them to say "Mum always had a clean house", I guess in some ways I would like them to say both. I certainly don't want them to think that our house was dirty (even if it is a little messier than I would like) but that's where it's important to find things to help you do the jobs in half the time and to do them well.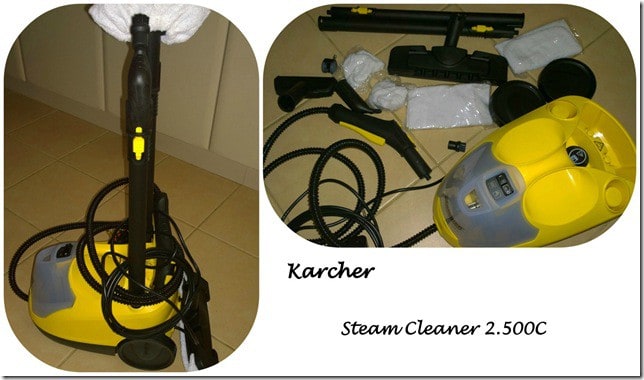 Just before Christmas I was contacted by Karcher and asked if I would like to be an Ambassador for them for 2014. I knew straight away who Karcher was, I remembered their distinctive black and yellow gadgets from my many trips around DIY stores. I even borrowed a friends Karcher Pressure Washer a few years ago to clean the grubby patio area in our old house, I was amazed by the difference it made. There was no way I was doing to turn this opportunity down. Over the course of 2014 I will be putting various pieces of Karcher equipment to the test and I have started my spring cleaning already with the Steam Cleaner.
I don't know about you but I have heard mixed reviews about Steam Cleaners. Some love them, some hate them, some wondered how they ever lived without them in the first place. Hubby and I have toyed with buying one for a long time but honestly, we just couldn't decide which one to go for and then he lost his job so we ditched the idea altogether.
When the Karcher Steam Cleaner arrived in my house I was firstly struck by how compact it is, I don't have oodles of space left to store things so I was worried that a monstrosity of a cleaner would arrive and take up space but it doesn't AND it all stores very easily onto the main machine itself so there are no stray bits to lose. Bearing in mind that I would be dealing with steam and how dangerous it is, I did for once sit down and read all of the instructions thoroughly. It's a good job I did too as I had been planning on using it to clean the walls of my oven. I had cleaned them myself recently but I wanted to try to get rid of the really stubborn stuff – it turns out you mustn't use the Steam Cleaner on any kind of electrical appliances. I guess it makes sense really!
So far I have used the Steam Cleaner to clean my bathroom, the sofa-bed in the playroom and the kitchen – I am hooked. Especially for the kitchen floor, it was sooooo quick and easy to use and with a crawling baby in the house it was great that I could clean the floor without any detergents and know that is was literally clean enough for him to eat his dinner off (he does tend to minesweep the floor if I don't hoover up fast enough after mealtimes!!). I would certainly consider having my hall and dining room floors tiled now as this would make life much easier.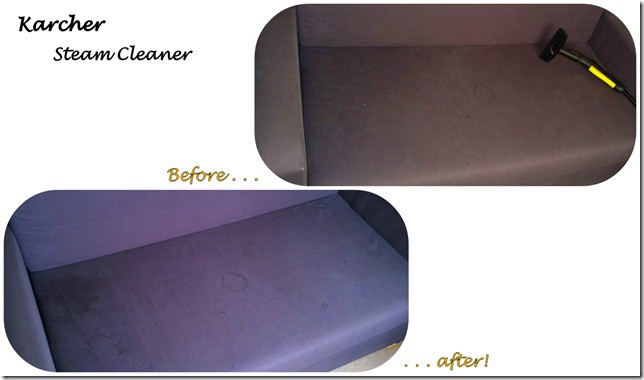 I had been wanting to clean the sofa bed in the playroom for some time. It was only a cheapie we purchased off ebay specifically for the playroom and it takes quite a battering. Over time the children have spilt so many drinks over it that there are a number of stains which I would love to get rid of. Naturally I had hoped that the Steam Cleaner might be able to shift them but as it turned out some of them where a little too hard to handle. Nevertheless, I could definitely tell the difference before and after. We shall also be using it to clean the upholstery in the cars.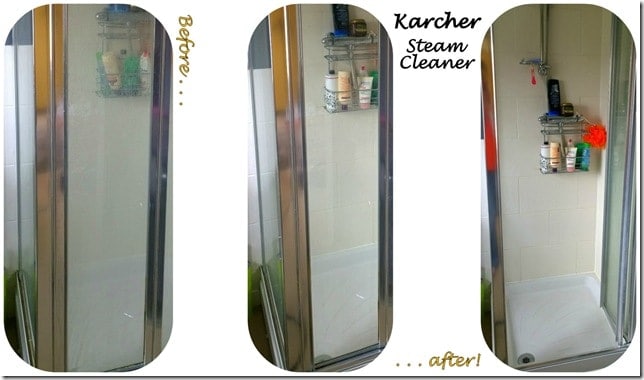 Thankfully I keep on top of cleaning my kitchen every day so there were no stubborn dirt marks to get rid off but I can't quite say the same for my shower cubicle in the en-suite. Whilst pregnant with Jelly Bean I'm afraid the shower became neglected as I wasn't quite as flexible for cleaning in a cubicle so it had some limescale build-up. I had tried using detergents and all of these all singing, all dancing limescale removers that didn't do what they said they would. Using the Steam Cleaner in the en-suite gave great results to the limescale and also my pores. It was rather like my own steam room by the time I had finished, great for clearing out the sinuses! It is really easy to use too, you simply fill up the tank on the front with cold water and switch it on. It was quite noisy as it heated up the water but was ready in just 6 minutes. I made sure I had the safety catch on just in case any of the children had snuck up behind me and grabbed hold of the steam gun. When you are ready to get cleaning you take the safety switch off and then you have a choice of two power settings, squeeze the trigger and off you go. Be warned though, it isn't quiet by any stretch of the imagination.
All Kärcher Steam Cleaners kill 99.99%* of all common household bacteria and also have the Allergy UK² seal of approval, giving allergy sufferers, conscientious parents and homeowners an improved cleaning regime.
The Range: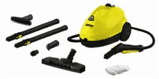 The SC 1.020 is ideal for floors, tiles, grouting, work surfaces, taps, mirrors, shower screens and much more. With an innovative new 'lamellae' floor tool, it cleans up to 35% more effectively than the traditional bristled floor tool. RRP £129.99.

Designed with two tanks, the SC 2.500C not only tackles the jobs that the SC 1.020 does but it also includes a removable and refillable tank for non-stop steam, so you can finish those tiresome cleaning tasks even faster. RRP £229.99.

The SC 5.800C is an evolution of the two tank design in the SC2.500, with the addition of a continuous steam flow control and  a Vapo-Hydro water function (for instant hot water), as well as a detachable steam hose allowing use of the steamer with a Kärcher steam iron. It also comes complete with a floor cleaning kit, hand tool, detail nozzle, round brush, and power nozzle. RRP £349.99.
DISCLAIMER: I received the SC 2.500C free of charge for the purpose of this post. All words, images and opinions are my own and may not be copied without my permission. I have not been instructed what to write.